Getting paid for your opinion sounds amazing, but it can be difficult to find a survey platform that you feel comfortable working with.
Too many survey sites will ask you to pay money in order to find paid surveys. It is a very common scam that people fall for every day.
A good rule of thumb is to never pay for an opportunity to make money. You should never have to pay to apply for a job or take a survey.
If you are paying for something along those lines, then it is likely a scam. Our review of Survey Junkie can help you see if this online survey site that pays users to complete surveys is for right you.

Summary
Survey Junkie provides an easy way for you to bring in extra money just for answering some questions. They have a Trustpilot score of 4.5/5 and an A+ rating with BBB.
Pros
Reputable survey company
Easy to use
Easy to cash out
Cons
Only two ways to cash out
Not a full-time job
Scams are scary and nobody wants to fall for one of those. Based on the fear of getting involved in a scam, some people avoid capitalizing on legitimate money making opportunities.
For example, many people are scared of getting caught up in a survey site scam. However, there are some legitimate survey sites. I took a closer look at Survey Junkie to determine whether or not the company falls into the scam or legit category.
Is Survey Junkie Legit?

Yes, Survey Junkie is a legitimate company with an A+ rating with the Better Business Bureau. They have paid out over $76 million to their members so far.
Additionally, Survey Junkie had a 4.33 out of 5 star rating on the Better Business Bureau website.
Trustpilot also gives Survey Junkie 4.3 Stars, showing that it is a legitimate survey site.
I signed up for the company and completed surveys in order to receive a PayPal cash out. Nothing shady happened at all while I was taking online surveys, and I feel very comfortable recommending this website to make money.
All of the signs show that Survey Junkie is a trustworthy business with a solid presence in the industry.
In addition to a great track record, you have the option of reading a detailed privacy policy that outlines exactly how Survey Junkie operates and what is expected of its members.
If you violate their conditions, then your account will be suspended. Just follow the rules and you will not have any problems.
What is Survey Junkie?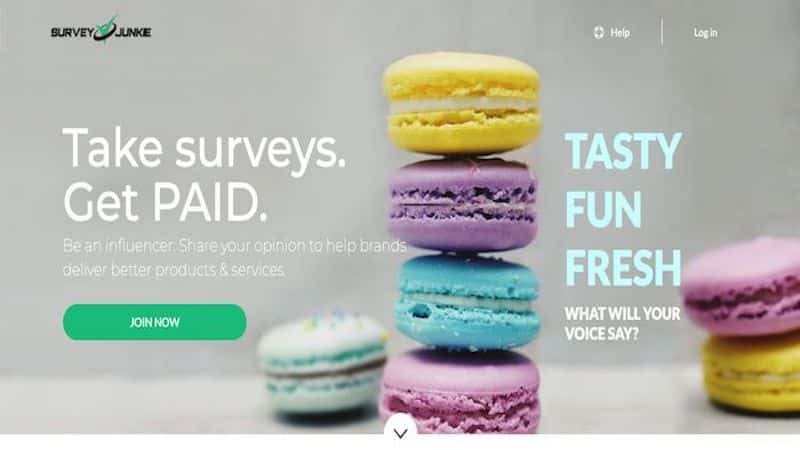 Survey Junkie is more than just a survey website, it is a well-known market research company that was created back in 2011. It is one of the more popular online survey sites.
The company also has over 20 million members, which means many people are taking advantage of this opportunity.
The company provides direct survey opportunities you can complete in your spare time which in turn, helps to facilitate communication between brands and their consumers.
You will not get rich overnight taking surveys however, this may be another way of making money.
As a member of Survey Junkie, you would have access to survey opportunities and be a part of helping brands make better products.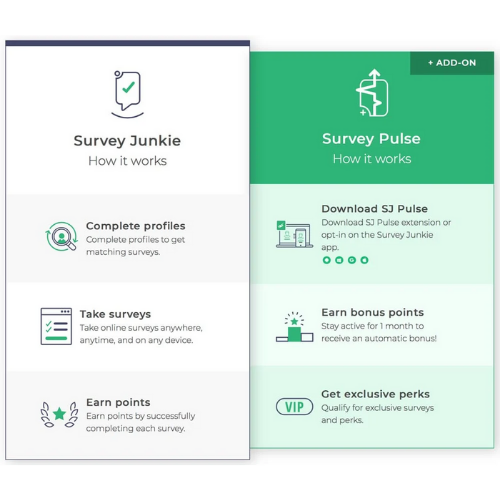 Not only would you be putting extra cash into your wallet, but you could be helping your favorite brands create a product that has more value.
In addition to the automatic direct survey opportunities, you can also sign up for third-party panels. You would not have to sign up for this option unless you wanted to, but it can be a good way to make a little extra cash.
Survey Junkie Highlights
You really just want to know if Survey Junkie is worth your time and if you can use it to earn money.
I think it is, so let's go over the high points of Survey Junkie.
After you go through the painless sign-up process, you can easily start reaping the membership rewards and make money.
The absolute best part of Survey Junkie is that there are so many available surveys. I have participated in many different surveys through many different companies.
Through that experience, I have found that the hardest part about earning extra money or gift cards through surveys is simply availability. Of course, that is after finding a legit company!
Many survey platforms just do not have enough surveys to satisfy the needs of their members. It is incredibly frustrating and time-consuming to constantly run out of surveys, but unfortunately, that happens with most of the available survey companies.
I did not experience that same frustration with the Survey Junkie app. I found that there were enough surveys to keep me busy most days.
In fact, it seems like Survey Junkie has a higher number of surveys than some of the other platforms, making it easier for you to make money online.
Competitors may have fewer surveys, or you may find that they have no more surveys for you to complete as you weed through potential options.
The few days when there were no available Survey Junkie surveys, it was not very painful because I had the opportunity to complete so many other surveys the previous days.
Lots of Surveys to Choose From
In addition to the sheer number of online surveys offered, Survey Junkie curates the surveys based on your profile. So even teens can make money.
You will be pre-selected to join surveys that you are more likely to qualify for, unlike other companies where you just have to start the survey in order to find out if you are even remotely close to what the survey maker wants.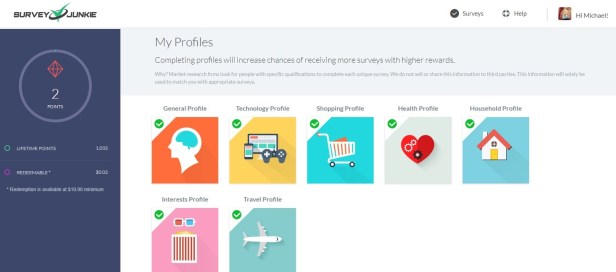 Although it is still possible to be disqualified in the middle of a survey, that problem happens much less often because the Survey Junkie app has pre-screened the available surveys to suit your needs. The value of this cannot be overstated!
It is super annoying to be halfway through a survey and then find out that you not qualified. If this happens to you at Survey Junkie, then you will still receive some points to compensate you for your time.
Overall, the company is great to work with and it is unlikely that it will cause you any major headaches. The website is user-friendly and they have options for you to use multiple devices to take surveys.
If you ever have any questions or problems, then do not hesitate to reach out to customer service. I found that the team was very responsive to questions I had along the way.
Are You Eligible to Join?
Survey Junkie is only available to residents in certain countries which include the United States, Australia, and Canada.
Other than this residency requirement, the only requirement to earn money by completing online surveys is that you have to be 18 years or older.
How to Sign Up For Survey Junkie
It is easy to create a Survey Junkie account. All you need to do is create a profile on their website. It only took me a couple of minutes to work through the profile setup.
The Survey Junkie site will ask you some basic questions about you, your household, your income, and your life in general. It was easy enough to answer these questions without giving away too much personal information.
After you complete the profile, you will have access to an available list of surveys and Survey Junkie will start sending you qualified emails about online surveys to take.
Every time you receive one, you are not obligated to respond. However, you may be missing out on a good thing.
Survey Junkie Reviews
Survey Junkie has been around for some time. The app store currently has this app ranked #45 in lifestyle.
Here's a look at some recent feedback from Survey Junkie users.
I read a couple of the other reviews & liked what one other reviewers said, it's not enough for an income but it's legit as a lil side money. I've made about $200 but have doing it for about 6 months consistently or so now. I mean you're getting free money to answer a survey. – Julie L.

I was going to give one star and definitely not recommend this app because I couldn't redeem. However, going back and forth with there customer service changed my mind. Not only was it exceptional they actually b talked. It wasn't a bot, and my issue was fixed and things have been great. Redemption is a breeze and hits my account instantly. Any problems with surveys, I figured was my fault for answering incorrectly, can't blame them. Highly recommend as a way to get some extra cash. – Ashley Y.
How to Use Survey Junkie Effectively
Now that you know that Survey Junkie offers a legitimate way to make extra money online, you probably want to know exactly how the Survey Junkie app works and how to maximize your earnings in your free time.
Complete Surveys
The surveys are available on Survey Junkie's easy to use website. You can either access the surveys through the website or through a link sent to you by email.
In order to maximize your earnings via cash or gift cards, I would check the website regularly because sometimes the good surveys get picked up quickly!
After I signed up, I noticed that I received many survey offers right away. After going through and completing a few of them, I ran out of surveys to take. I came back a few hours later and there were already more surveys for me to take!
Over the course of a couple of days, it became clear that the best way to find a survey was just to check back on the site often. Most days I was able to take multiple surveys, but there were one or two days that I could not find an available survey.
It is important to jump on survey opportunities as they come up. Although there may be more online surveys coming, you should always complete the available surveys when you check in. Otherwise, you are just letting points (and dollars) pass you by.
Many people know how great Survey Junkie is so sometimes the surveys can fill up fast. Don't wait to take a survey, just do it right away!
Join a Focus Group
Although I have not the opportunity to join a focus group yet, I have heard the focus groups offer a great deal. You get the chance to give your opinion in a less formal setting and make money faster in the process. If you have the chance to join a focus group with Survey Junkie, then take it!
Earn Points
As you take surveys and participate in focus groups, you will start to accumulate points in your account. You will need to accumulate at least 500 points before you can cash out. 500 points are equal to $5.
How long will it take you to cash out? That really just depends on how many surveys you are able to take. When you first sign up you will receive 25 points just for showing up.
The surveys all have an assigned point value. Most of these surveys are valued between 20 and 200 points, but occasionally surveys can be worth more points.
After you take the survey, your points should appear instantly. If they do not appear within 24 hours, please contact support. The helpful team will be able to assist in getting your points where they belong.
Remember to jump on opportunities as they arise! If you take advantage of survey opportunities, then it will not be too difficult to hit your first 500 points.
It took me about one weeks of taking surveys on a very irregular basis to see my points equaled over 500, but again it will really just depend on how many surveys are available for you to take.
If you are willing to check in more often, then you will likely hit you 500 points sooner.
Another thing to note about the points is that they won't expire. You just have to take at least one survey every 12 month period in order to keep your account active and your points. If you forget to take surveys for a year, then your points will vanish.
Cash Out
It is easy to earn the points and it is even easier to get paid and cash out. But does Survey Junkie pay?
The payout threshold for Survey Junkie awards is extremely low. It is a huge bonus that you do not have to build to 5,000 or even 50,000 points before you cash out. 500 points is a number that you can achieve in a short amount of time.
The short time frame may help to keep you motivated to reach the payout threshold. Plus, the points you earn can be converted into usable money faster to pay off debt on a credit card for example.
Completing just three surveys a day or more can earn you as much as $100 a month. An average survey payout is $.50 – $3.00.
Many survey sites allow you to do a bank transfer once you complete online focus groups, a survey panel or for completing surveys.
Survey takers with Survey Junkie have two options when it comes to cashing out. You can either get an eGiftCard to a retailer of your choice or you can have the money moved to your PayPal account where you can do a bank transfer.
This option to choose cash or gift cards is similar to other survey sites.
Some of the gift cards include Amazon, Target, and Walmart. All of these gift cards are worth having in my opinion.
You will only be able to select a gift card cash out if you live in the United States, otherwise, you will need to stick to the PayPal option.
You can use your points to partially cash out for an eGiftCard option. If you choose the PayPal option, then you will have to cash out all of your points automatically. With PayPal, you can always move the money to your bank account.
So, if you want to cash out some of your points for gift cards and the rest in PayPal, make sure to claim the gift card first. You might be forced to skip the gift card if you select the PayPal option first.
Also, if you have any issues with cashing out, you can contact customer support.
Alternatives to Survey Junkie
Survey Junkie isn't the only platform that will pay you for your opinion. Here are a few alternatives to consider.
Swagbucks
Swagbucks is a popular site that has paid out over $700 million to its members.
You can earn Swagbucks for taking surveys, watching videos, searching the internet, shopping online, and more. The points, or Swagbucks, you earn can be converted into gift cards at every day retailers or into cash via PayPal.
InboxDollars
InboxDollars will pay you to answer surveys, read emails, test products, redeem grocery coupons, shop online, search the internet, play games, and more.
The earning potential is between $0.01 to $30 for each activity you complete. But most activities will earn you less than $10.
The funds are paid out via PayPal, Visa e-gift card, or another e-gift card. You'll need a minimum cash-out balance of $15.
FAQs
Here are some answers to common questions about using Survey Junkie to make money.
Does it cost money to sign up with Survey Junkie?
No, it's free to sign up with Survey Junkie. As a rule, you shouldn't pay to sign up for an earning opportunity.
How old do you have to be to join Survey Junkie?
You must be 18 years or old to sign up with Survey Junkie.
How legit is Survey Junkie?
Survey Junkie is a legit company that offers to pay you for answering surveys. Although the amount you will earn varies, it likely won't replace your income. But it's a nice source of extra cash.
Does Survey Junkie have an app?
Yes. Survey Junkie has an app for iOS and Android devices available on the Apple App Store and Google Play.
What customer service options does Survey Junkie offer?
Survey Junkie has an extensive help section available to users. You can also get in touch with support using their website.
Summary
While it is unlikely (or impossible) that you will be able to replace your income by taking surveys with Survey Junkie, that does not mean it is not a worthwhile side hustle. Plus taking surveys is a great way to kill time.
Survey Junkie provides an easy way for you to bring in more money or earn gift cards just for answering some questions. You and your wallet will be happy with this little bit of extra money.
Simply create an account and get started earning money.