If you're looking to make money with YouTube, you're not alone. Each minute, YouTubers upload 400 hours of content. That's the equivalent of more than 16 days worth of video added to the platform every minute.
YouTube is the second largest search engine on the planet, garnering more than a billion views daily.
For people looking to make money on the internet, YouTube offers an opportunity to connect their content with the right audience and cash in.
But how much money can you really make on YouTube?
The highest-paid YouTube star is a British gamer named Daniel Middleton who goes by the name DanTDM and makes a reported $16.5 million a year by posting videos of himself playing Minecraft.
While you may not be able to earn millions right off the bat, there are a few ways you can make money with YouTube.
5 Ways to Make Money with YouTube
The good news about monetizing your YouTube channel is that your earning potential is not determined solely by the number of subscribers and views you have. It's far more important to have an engaged audience in a targeted niche.
We talked about million-dollar video earner Daniel Middleton above, however, a more realistic but equally engaging YouTube success story is that of Ryan Scribner.
In October of 2016, Ryan started the Ryan Scribner YouTube channel.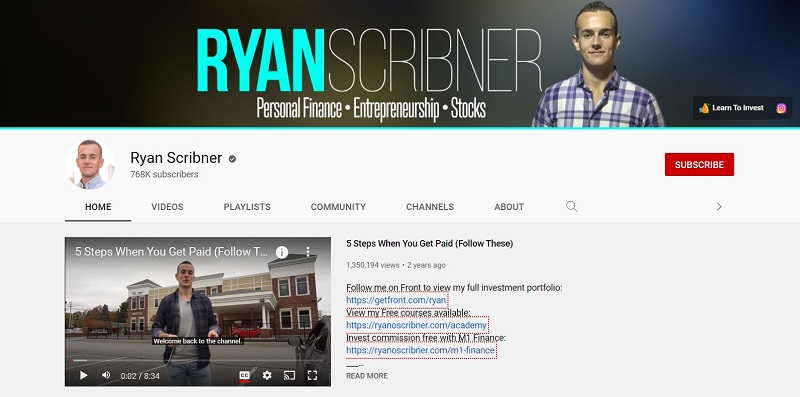 In less than a year, Ryan was able to quit his full-time job and focus solely on his YouTube channel and the blog he would eventually partner with it. Today he makes $6,000 a month from his YouTube channel alone.
Just like making money with blogging, you can earn revenue even with a small YouTube channel by creating multiple revenue streams. Finding the right audience and targeting them with the right type of content can skyrocket your earning potential.
1. Make Money From Ads as a YouTube Partner
If you have what it takes to build a big following and gain subscribers quickly, becoming a YouTube Partner will be an easy way to cash in on your content. As a partner, you'll earn revenue from companies that place ads throughout your videos.
This is a relatively passive income generating method that relies on getting enough traffic to your channel.
To join the YouTube Partner Program, you'll need 4,000 hours of watch time in a 12-month period and 1,000 subscribers. When you're just getting started, it can take a while to build up a loyal viewership.
Once you have, the average rate for a YouTube content creator is $7.60 per 1,000 views. That means that if you have a video that receives 2,000 views, it'll earn $15.20. For a video to make $1,000, it'd need to get more than 130,000 views.
Niche Matters
The amount of money you'll make from your ads does vary by niche as well. Ryan says that some niches, such as personal finance, pay more than other niches–even with the same number of views.
Keep that in mind as you choose your niche and try and grow your channel.
As a YouTube ad partner, you'll need to open an AdSense account so you can opt in to Google's advertising network and get paid. Once you've met the requirements, the setup is easy.
However, this is far from the most lucrative way to earn money on this platform. YouTube can still refuse to show ads on your videos if they believe you don't produce "advertiser-friendly" content.
In the past, the platform has been known to demonetize content without the knowledge of the content creator.
While creators now get notified when their content gets excluded from YouTube's advertising network, this is still not the best revenue stream. The platform gets to keep a 45 percent share of ad revenue, leaving creators with 55 percent.
Fortunately, there are other ways you can leverage your channel to cash in, some of which don't require a huge audience.
2. Sell Products or Merchandise
Selling products is a quick way to monetize your YouTube channel, even if you don't have a large audience. There are a few different ways to go about doing this and making money in the process.
Some people sell physical products such as T-shirts, coffee mugs, tote bags, etc. that represent their online brand and personality.
You can commission affordable designs tailored specifically to the products you're looking to sell through freelance sites such as Fiverr.
Another option is to sell digital products such as exercise routines, ebooks or online courses. You can direct customers to your website or an online store where they can purchase the products.
What you sell really depends on your niche and what resonates with your audience.
The big advantage of selling digital products is that you don't need to worry about taking care of shipping and handling for the orders.
3. Land Sponsorships for Your Channel
If you have a very targeted or niche audience that resonates with certain brands, getting a sponsorship deal may be a good way to cash in. This is where having an engaged audience can really pay off when trying to make money with YouTube.
Sponsors pay creators to promote or mention their products in their videos. This can be in the form of a lump sum, clicks on the company's website, or on a per-view basis.
Keep in mind that sponsors will want to know where their products will be featured, for how long, in what context, and so on.
Ryan Scribner says that sponsorship opportunities will probably come your way automatically once your channel starts gaining serious success. However, he says it doesn't hurt to approach companies you're passionate about to inquire about potential sponsorship opportunities either.
4. Work With Brands as an Influencer or Affiliate
Becoming a brand influencer or an affiliate is a great way to make money with YouTube, even without millions of views. Influencer marketing is gaining traction and many YouTube creators use this income stream to support their channel.
If your brand is a good fit for a company, you can negotiate a good deal with a brand to promote them in front of your audience. Mid-level influencers with 50,000 to 100,000 subscribers charge brands on average $500 to $1,000 per post.
However, it's important to be transparent with your audience and only endorse products that you believe in and support.
Affiliate Links
Another option is to become an affiliate for select brands. You'll make money through commissions from sales you generate from your channel. This works especially well if you review products on your channel.
Ryan says one key to his success regarding affiliate income is that he's very transparent about the affiliate connection in his videos. He'll mention the opportunity to get a product or service by clicking on a link in the description of his video.
Ryan says that he chooses transparency in this area for two reasons: First, he wants to be entirely honest with his viewers in order to build authentic relationships with them.
Second, he finds that if he tells people they can support him by clicking on affiliate links, they're much more likely to buy through the links because of the human nature we all have to want to help others. Especially when those "others" are providing valuable information to viewers.
5. License Your Content to the Media
Did you upload a video of your dog howling "Merry Christmas" and it went viral? You can license your content in exchange for money to TV news outlets, morning shows, online news sites, and so on.
If your video goes viral, other content creators may reach out to you to use it as part of a compilation. Alternatively, you can also list your videos in a marketplace such as Jukin Media where they will be easier for the right people to find and purchase.
Tips for Making Money on YouTube
Just like with other platforms, as your following grows and you gain a loyal audience, you'll have more options to monetize. Learning how to make money with YouTube takes trial and error.
It's important to take the time to figure out what works and what doesn't for your specific audience.
However, here are a few pointers that will accelerate your growth and make it easier to monetize your content.
Grow Your Audience
Growing your audience on YouTube is extremely important. If you've got great content, you will find growing your audience easier. But Ryan suggests some other tips for growing your audience as well.
Ryan started growing his audience by reaching out to family, friends, and acquaintances and asking them to subscribe to his channel. After that, he created a Twitter account.
He'd post links to his videos on Twitter, and then he'd seek out followers of popular experts in his niche–personal finance.
He'd follow other experts' followers, and then when they'd follow back, he'd send them a private message. Ryan would thank them for following him and share his YouTube channel link, asking them to subscribe.
Growth was slow at first. But eventually, his channel's growth started to snowball. He had 100 subscribers after 7 weeks, 10,000 subscribers after six months and 100,000 subscribers after 14 months. Today he has over 400,000 subscribers.
Know Your Demographics
Building a loyal audience who's interested in your content puts you in a great position to monetize in a variety of ways. However, you need to understand the makeup of your audience so you can be very targeted in the content you create.
Advertisers are looking to reach a specific audience so the more niche your channel is, the better you'll be able to make money down the road. Videos that appeal to someone in their 20s will likely not resonate with someone in their 50s.
Think about what the ideal person watching your videos looks like, wears, and does on a daily basis. Give them a name, face, profession, hobbies, etc.
This is your customer avatar, the person you'll be targeting with your content. Identifying your avatar will help you monetize your channel faster and make it easier to create content that resonates with your viewers.
Get Targeted with Keywords
Since YouTube is a search engine, keep in mind that it relies on keywords to rank content just like Google does. Certain keywords are more valuable than others and demand a premium in terms of advertising dollars.
This is why it's important to do your research and find keywords that are high in demand but lower in competition.
Use keyword research tools like KeywordTool.io specifically targeted to YouTube to find the keywords in your niche that will resonate with your audience and are also valuable to advertisers.
The more valuable the keyword, the fewer views you'll need to cash in on advertising dollars.
Create Other Avenues to Direct to Your Channel
Eventually, Ryan started a blog called Investing Simple. He and his business partner started the blog to share powerful investing tips. Ryan also includes YouTube videos with many of his blog posts.
This technique helps drive traffic to his YouTube channel and thereby increase his income.
Go Full-Time When You're Ready
Ryan quit his job to focus on his YouTube business full-time in June of 2017, just eight months after he started. He was only making $1,000 on his channel at the time, however, he had some safety measures in place before he quit.
For instance, he had $10,000 in an emergency savings fund. And he made himself a promise: If he blew through $5,000 of his emergency fund, he'd go get a job to supplement his income while he continued working on growing his channel.
Ryan also worked hard to minimize expenses by living with his mom. He cut costs where he could and lived frugally as he worked to grow and market his channel.
Luckily, his hard work and smart planning paid off. Today, Ryan Scribner works about 15 hours a week on his YouTube channel and marketing it, and another five hours a week on his blog. And he makes several thousand dollars a month working part-time.
Summary
If you're looking to make money with YouTube, don't rely on advertising as your sole monetization strategy. Making money with a small channel is possible but it does require that you explore multiple earning opportunities.
Take the time to create quality, targeted content that speaks to your audience, and focus on building your brand.