Looking for places that hire at 15 years old?
There are many employers who will hire workers as young as 15, and we've got a comprehensive list below.
Places That Hire 15-Year-Olds
Many companies are willing to hire responsible 15-year-olds for work. Also, there is independent work you can do as a 15-year-old.
The three main types of businesses that are willing to hire younger workers are:
Restaurants
Grocery stores
Entertainment venues
We've put together a list of well-known businesses that hire 15-year-olds. If there's one near you, you may be able to get a job there.
Restaurant Chains That Hire At 15
1. Arby's
Arby's Restaurants first opened in the 1960s. Today they have over 3400 locations in the U.S.
Many Arby's locations will hire 14 and 15-year-olds for positions such as cashier, food prep, and cleaning positions.
2. Burger King
One of my first jobs was at Burger King, and I started at age 15. They do hire 14-year-olds as well in some of their 17,000+ locations. Check with local locations for more details.
You can work in one of their fast food restaurants on the clean-up crew, as a cashier, or in other positions.
3. Baskin Robbins
Ahh, Baskin Robbins. The home of endless flavors of ice cream.
With stores in 46 out of the 50 states, you may be able to find job opportunities near you. Baskin Robbins will typically hire as young as 14 at most stores.
4. Kentucky Fried Chicken
KFC has over 4,400 locations in the U.S. and over 22,000 locations worldwide. People just can't get enough of that chicken!
KFC restaurant locations in some areas hire 14 and 15-year-olds as customer service providers or clean-up crew positions.
5. Ben and Jerry's
More ice cream. Ben and Jerry's is the home of famously surprising ice cream concoctions.
Ben and Jerry's has scoop shops throughout the U.S. They hire workers as young as 14 years old at most stores.
6. Dairy Queen
Dairy Queen has over 4,000 locations in the U.S. They hire workers as young as 14 years old. Available jobs vary by location.
You might work as a cashier, food preparer or cook, or a restaurant cleaner.
7. Culver's
Culver's restaurant is similar to a Dairy Queen Grill & Chill. They have nearly 700 locations in about half of the U.S. states.
You can find work at a Culver's restaurant if you are 14 years old or older. Available jobs vary by location.
8. Rita's Italian Ice
Rita's Italian Ice has over 600 locations throughout about half of the U.S. states. They serve Italian ice, ice cream, gelato, custard, and more.
The minimum age to work at most Rita's Italian Ice locations is 14.
9. Bruster's Real Ice Cream
Bruster's Real Ice Cream has over 160 locations in 20 U.S. states. You can work there as an ice cream scooper starting at age 14.
They require all employees to have a "teamwork" mentality and a happy attitude. Who couldn't be happy serving ice cream?
10. Boston Market
Boston Market has approximately 450 store locations in 28 states.
You need to be 15 to work at Boston Market. They typically hire dishwashers and servers at that age.
11. Chick-Fil-A
Chick-fil-A serves, well, chicken.
Chick-fil-A has over 2,000 restaurants in almost all 50 states. Most locations will hire teens starting at 14 years of age.
Bonus: You'll never work on a Sunday at Chick-fil-A. They're closed on Sundays.
12. McDonald's
I'm guessing there's probably a McDonald's restaurant near you. They have over 14,000 store locations in the United States alone.
You can start working at McDonald's at age 14 at most locations. You'll be hired to do various jobs such as serving, cooking, and restaurant maintenance.
13. Pizza Hut
Pizza Hut has over 7,000 locations in the United States. Many Pizza Hut locations will hire 15-year-olds with a parent's permission.
You might not be hired to work food prep at that age, but you may be hired to work as a cashier or do store cleanup.
Grocery Stores That Hire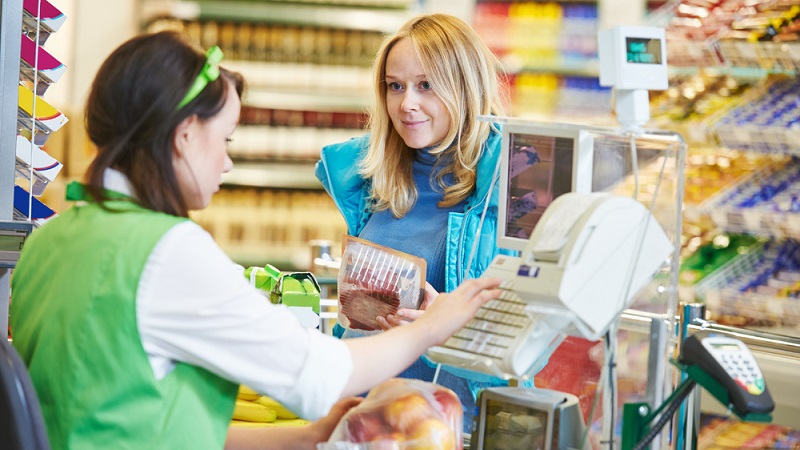 These grocery store locations may hire 14- and 15-year-olds to work at their store locations. Know that state labor laws can have an impact on hiring age at all places of employment.
14. Giant Eagle
The Giant Eagle grocery store chain has over 400 locations in the United States located in five U.S. states. They'll hire workers as young as 14 years old for various positions.
If you live in Pennsylvania, Maryland, Indiana, Ohio, or West Virginia, you may be able to find job opportunities at Giant Eagle.
15. Hy-Vee
Hy-Vee grocery stores have 240 store locations in the Midwestern United States. Some stores hire 14- and 15-year-olds and some don't. Positions for younger workers vary.
Since each store is independently operated, the minimum hiring age is up to store management.
16. Giant Food
Giant Food has over 150 grocery store locations throughout Virginia, Maryland, and Washington D.C. They hire workers as young as 14 years old in many locations.
Check with your local Giant Food store for details.
17. Kroger
Kroger has over 2,700 grocery stores across the U.S. They own stores under other names as well, such as Fry's, King Soopers and Smith's.
Some of these stores do hire workers as young as 14 years of age. You'll have to check with your local store to verify whether they hire at 14. This is because each state's laws vary regarding hiring age.
18. Publix
Publix has over 1,100 grocery stores located in seven states:
Alabama
Florida
Georgia
Tennessee
Virginia
North Carolina
South Carolina
They do hire starting at 14 years of age for cashiers, floral clerks or service desk clerks. Check your local store for available job opportunities.
19. Winn Dixie
Winn Dixie has nearly 500 grocery stores located in Alabama, Mississippi, Florida, Georgia and Louisiana. They hire for some positions starting at 14 years old.
See your local Winn Dixie to see if they have available positions for 14-year-olds.
20. Safeway
Safeway is a grocery store that has over 1300 locations throughout the United States.
Some Safeway locations hire 14 and 15-year-olds for jobs such as grocery bagger and cart runner.
21. King Soopers
King Soopers has grocery store locations primarily in Colorado and Wyoming. With manager approval, you can get hired as young as 14 in some locations.
You can work as a cashier or possibly in other grocery store job positions. They are now owned by Kroger, see job openings here.
22. Stop & Shop
Stop & Shop is a grocery chain with over 400 stores on the East Coast. Their Rhode Island and Massachusetts stores often hire kids as young as 15.
You can work as a cashier in their grocery, floral, or bakery departments. Or you can work in other grocery store positions.
23. Fareway
Fareway has stores throughout the Midwest, and they start hiring as young as 14 for grocery positions.
You might be able to find work as a cashier or stocking grocery items here.
Entertainment Venues That Hire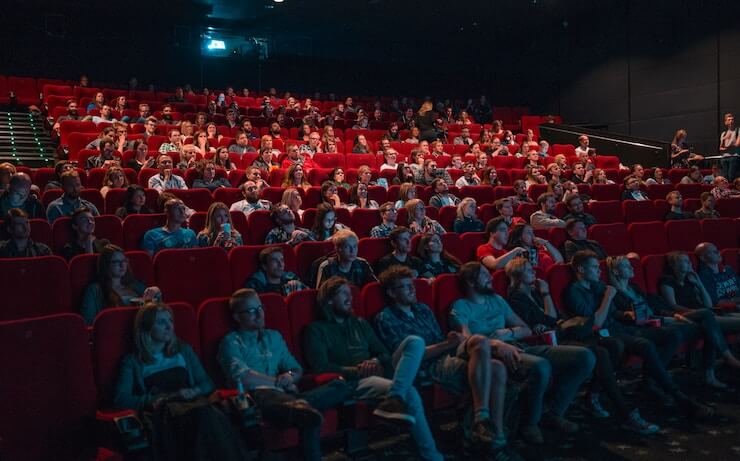 Many entertainment venues hire younger workers. Check out this list to see if there are places near you where you could work at 14 or up.
24. AMC Theaters
AMC Theaters has over 600 theater locations in the United States. Many locations will hire workers as young as 14, but not all locations.
Check with your local AMC theater if you'd like to work at a movie theater.
25. Six Flags
There are 26 Six Flags amusement parks and water parks in North America. You can work there as young as 14 years old.
Job positions vary by location and season. Contact your local Six Flags for more information. If you don't have a Six Flags park in your area, contact your own local amusement park or water park.
We have an amusement park where I live. It's not a Six Flags park, but I do know they hire kids as young as 14 to work there. Most larger metropolitan areas have at least one amusement park or water park.
Check with Local Indoor Entertainment Venues
Many cities and towns also have indoor entertainment venues, such as:
Rock climbing centers
Trampoline parks
Indoor water parks
Bowling centers
Arcades
Laser tag centers
And more. Most are independently owned and not chains. I'd encourage you to call your local entertainment venues and see what their minimum hiring age is.
When I checked with local entertainment businesses where I live, several were hiring kids as young as 14. These venues are kid-friendly types of businesses. Therefore, I think they like hiring younger teens.
Now, let's look at another income-producing option for 14- and 15-year-olds: starting your own business.
Local Jobs
Local businesses are always looking for help. Here's a look at local jobs.
26. Summer Lifeguards
Many neighborhoods that have neighborhood pools would love to hire local kids. If you live in a neighborhood with a pool, you may be eligible. Ask your parents to check the neighborhood facebook post or neighborhood flier.
Many neighborhoods post signs during the spring time saying now hiring lifeguards.
Also check with local pool swim clubs. Swim clubs are popping up everywhere and offer swimming classes to competitive swim clubs. They are always looking for lifeguards and help with tots swim clubs.
27. Car Washes
Full service car washes are popping up everywhere. And they need able bodies to help wipe down cars, vacuum and more.
If you like working outdoors, this may be a basic job for you.
Car wash companies need good workers to help with basic functions of car cleaning. This is a great job to get tips.
28. Mother's Helpers
Working from home is now the norm. Moms working from home need help when kids come home from pre-school and school.
Being a mother's-helper is a great way to earn some quick cash, get experience with kids, and flexible hours.
29. Tutor
Being a tutor as a teen is a great way to work on your school skills and make some quick cash. Plus many parents are open to paying more than minimum wage to help their kids grade go up.
My friend's daughter is a math wiz and excelled at geometry. Now she is tutoring other kids in geometry and getting paid cash.
If you excel at the basics; reading, writing and math, check with your neighbors to see if any other their kids could benefit from tutoring.
30. Landscaping
Many neighbors need a little help with keeping the weeds under control in the front yard to keep the HOA happy. If you are interested in a basic job to earn some quick cash, pulling weeds and other landscaping chores can be a great help to your neighbor.
To offer this skill, simply work with your parents to put a message out in the neighborhood facebook site, or post a note at the community neighborhood mailbox.
Another idea is to go house to house and ask. Have your gloves and bucket ready to go.
31. Dog Pooper Scooper
A friend of mine's son started Cooper's Pooper Scooper business when he was 13. Cooper put out fliers to the neighbors and his simple business of 1x a week for $10 a house took off. It grew to the point he needed to hire other kids to help him.
This job is easy if you can get past the poop and just scoop. Many neighbors will welcome cleaning up after their dogs. Especially if they are busy and don't have time. $10 bucks per visit is easy quick cash.
32. Power Washer
Many neighborhoods require home owners to keep their driveways clean and homes free of mold and mildew. Enter the power washer.
A power washer is a great tool to hook up to the homeowners hose and spray away. Clean driveways, houses, fences and more.
If you invest in a power washer, $80 to $350, you can pay it off in a few washes and then the rest is profit.
33. Dishwasher
Many of the restaurants listed above may have age requirements. Local restaurants offer 15 year olds opportunities to get started in the job field.
Being a dishwasher is a great way to get started in the restaurant business. Based on the restaurant tips method, you may be able to take home more than expected if they share the tips. Check with local restaurants to see if they are hiring.
34. Dog Boarding Helper
Dog boarding companies are typically owned by local owners and always looking for good workers. If you love dogs, this may be the perfect fit for you.
As a dog helper at a boarding company, you will typically be responsible to letting the dogs out, cleaning up after them, feeding them and more.
To find a job near you, simply look up dog boarding near you. Next stop by and ask to see the owner or a manager and ask if they are hiring.
My friend's 15 year old daughter worked the 6am to 1pm shift a few days each week this past summer at a dog boarder and loved it.
35. Dog Walker
If you have neighbors that have to commute to the city and also have pets, this job is for you. Being a dog walker is pretty basic if you love dogs.
Check your neighborhood facebook to see if anyone needs a dog walker or put a flyer up at the community neighborhood mailbox.
To be a dog walker, simply get the message out, set your price, walk those dogs, and get paid.
Labor Law Information
There are some things you need to know if you're going to try and get a job with a company and you're under 16. The federal government has child labor laws that dictate when and how you can work.
Here are the government rules for working if you're under 16 years old. There is a law in place in the U.S. called the Fair Labor Standards Act.
This act helps protect workers from unfair labor practices by employers. There are specific rules in this act that apply to workers under 16.
The first rule is that 14 is the minimum age for employment.
This rule does not apply in certain situations where there is no minimum age, such as:
Babysitting
Delivering newspapers
Working at a business your parents own (as long as it is a non-manufacturing/non-hazardous job)
Any work that involves theatrical employment, such as acting in commercials or movies
If you are working in any of these capacities, you can do so even if you're under the age of 14.
Number of Hours You Can Work
There are also limits on the number of hours and the times of days 14- and 15-year-olds can work.
The Fair Labor Standards Act says 14 and 15-year-olds may only work:
3 hours per day on school days
18 hours total in any given school week
8 hours per day on non-school days
40 hours per week maximum on non-school weeks
Also, 14- and 15-year-olds can only work between 7:00 a.m. and 7:00 p.m. This limit changes to 9:00 p.m. from June 1 through Labor Day.
To find out more about the laws regarding working as a 14 or 15-year-old, see the Fair Labor Standards Act (FLSA) government webpage.
How Much Should You Get Paid?
We did a little research in the local North Houston area for companies that hire 15-year-olds and their starting pay*.
| Company | Hourly Rate | Notes |
| --- | --- | --- |
| YMCA | $10 | |
| UT AUSTIN | $8.38 | |
| Armory Express Car Wash | $8.25 | |
| Papa Murphy | $7.50 | Tips |
| IHOP | $7.25 | Tips |
| Baskin Robbins | $7.25 | |
| Dairy Queen | $7.25 | |
| Chick-Fil-A | $7.25 | |
| Premier Theatre | $7.25 | |
*Sample rates based on local N. Houston area research. Rates may change based on franchise and location.
Check with your local retailer for specific rates and labor laws.
What you will get paid as a 14 or 15-year-old worker depends on a number of factors. As an employee, you must get paid at least minimum wage.
The federal minimum wage is currently set at $7.25 per hour. All states must pay at least this much to workers.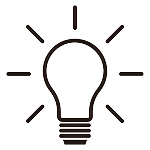 Tip: Did You know that different states have different minimum wages? For instance, California is $15.50 per hour and Washington D.C. is $15.20 per hour.
However, there are different minimum wage rules for youth. The FLSA states that youth under 20 years of age can be paid a minimum wage of $4.25 for the first 90 calendar days of work.
After the first 90 calendar days of work, they must be paid at least the federal minimum wage.
However, some states have their own higher minimum wage laws. In fact, most states have a higher minimum wage than what FLSA requires.
Two states, Georgia and Wyoming, have a lower minimum wage: $5.15 per hour. However, employers subject to FLSA rules must pay at least the federal minimum wage of $7.25 per hour.
Related: 15 Best After-School Jobs For 13-Year-Olds
Summary
If you are 15 years old, there are plenty of viable work opportunities for you. Just be sure you — and your employer — are following state and federal guidelines for youth workers.
If you're 16 or older, check out these retail stores that hire at 16.