If you are a parent, you might be looking for a debit card for kids that can make it easy to safely teach your children important financial lessons.
Chase First Banking helps your child get a free checking account and debit card. These financial tools can help them learn how to manage money, make purchases and receive payment for chores.
This Chase First Banking review looks at whether or not parents should open banking accounts for their kids with this company or if they should consider another service.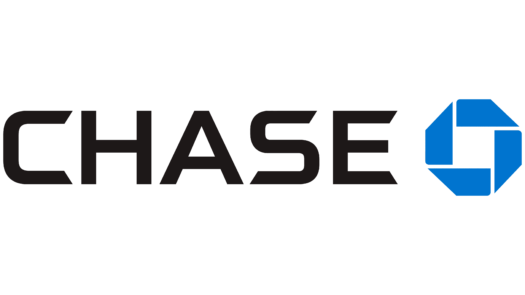 Summary
Chase First Banking provides a free bank account and debit card for up to five children. Parents can assign chores and schedule recurring allowances. However, the managing parent must have a qualifying Chase checking account to apply.
Pros
$0 monthly service fee
Allowance and chores
Customizable spending limits
Fee-free Chase ATM access
Cons
No co-parents
No direct deposits
Limited budgeting tools
Doesn't earn interest
What is Chase First Banking?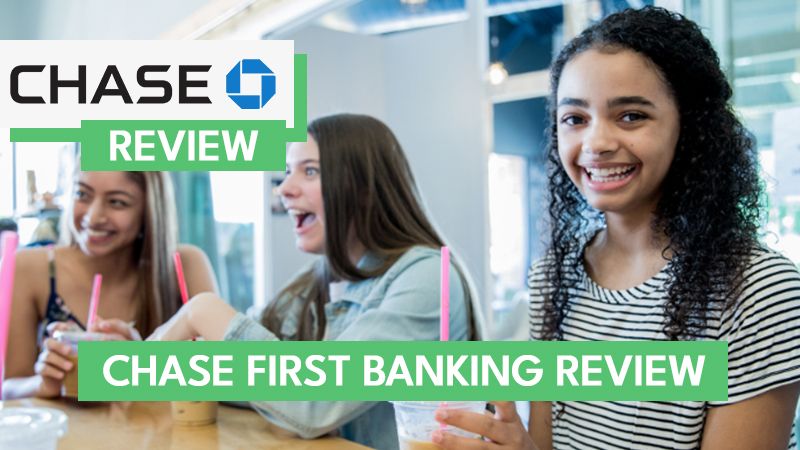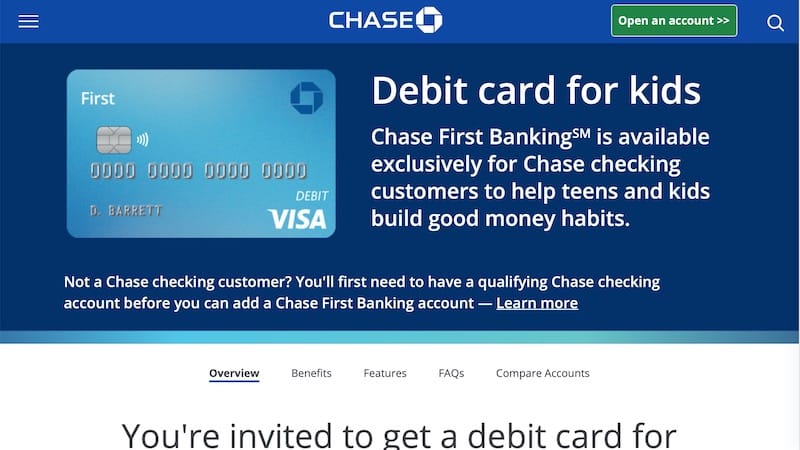 Chase First Banking provides a fee-free checking account and debit card for children ages six to 17. The $0 monthly service fee makes this program attractive because several competitors cost at least a few dollars per month.
However, this product is only available to qualifying Chase checking account customers. If you're eligible for a Chase checking account, you must open one before applying for a First Banking account.
Parents can instantly transfer funds to their child's account with one-time and recurring transfers through the Chase Mobile app. It's also possible to customize spending controls and receive purchase alerts on these checking accounts.
Children receive a Visa debit card with their name on it. This card lets them make purchases. They can also complete ATM withdrawals if physical cash is necessary.
This FDIC-insured bank account for kids also offers savings goals to help them learn budgeting basics.
How Does Chase First Banking Work?
Here is what you can expect from your Chase First Banking account.
Open an Account
You can open a Chase First Banking account online for up to five children. This limit is similar to most family banking apps.
There are no account opening or ongoing maintenance fees for your child's account.
The bank verifies that the applying parent has a qualifying Chase checking account. This means that only Chase customers can get this banking debit card for their children. Thankfully, entry-level checking accounts qualify.
Only one parent account can connect to a child's account. This account is the only way to send funds to the First Banking account, so it's best to have the parent that will primarily access and monitor the account apply.
After opening the account, the parent or guardian can transfer money from their linked checking account. Additionally, the child receives their own debit card within five to seven business days.
This bank account and child's debit card makes it easy to complete and plan for upcoming purchases. Parents can easily access each of their child's checking accounts and send money from the Chase banking app.
Spend
One of the best reasons to consider this service is so that your child gets their very own debit card. This debit card for children works for in-store and online purchases.
If your child runs low on cash, they can request a money transfer. Transfers go to their checking accounts. The funds automatically come from your checking account when you approve the request.
Free ATM withdrawals at Chase ATMs are available if you enable this capability.
Parents can also help their children avoid overspending through:
Customizable spending limits by store type
ATM withdrawal limits
Real-time account alerts
According to Chase Bank, this child account won't incur overdraft fees if it becomes overdrawn. In this situation, depositing new cash from the parent account is necessary to repay the shortage.
Save
While the account balance doesn't earn interest, a dedicated banking account can help children learn the importance of saving money.
Children can create savings goals and earmark deposits for these ambitions. Parents can also send money directly to a goal instead of to the general spending account.
This capability encourages kids to prioritize savings and make it a habit.
Earn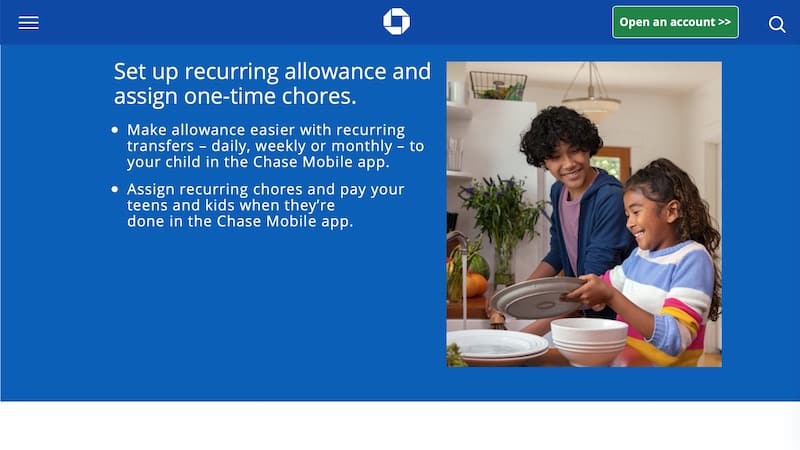 Parents can assign chores within the Chase mobile app, and children can mark them complete to receive payment.
The payment frequency can be daily, weekly or monthly. It's also possible to schedule recurring transfers without assigning chores if you want to pay an allowance with no strings attached.
Unfortunately, Chase First Banking accounts don't offer direct deposit for working children who need a place to deposit their paychecks. This means their paycheck can't go into their checking account with this product.
Instead, you should consider a Chase High School Checking account if your teen makes money with a part-time job.
How Much Does Chase First Banking Cost?
Fees for the Chase First Banking account are minimal. For starters, there are no monthly service fees on these checking accounts.
However, you may encounter monthly service fees on the parent's Chase checking account. Thankfully, the First Banking account balance can help satisfy the minimum balance requirements to waive this charge.
Chase ATM withdrawals are free, but non-Chase ATM transactions cost $3.00. This fee applies to balance inquiries, deposits and withdrawals.
Debit card purchases outside the United States are also subject to a foreign transaction fee.
Chase First Banking Account Daily Limits
While the following are not classified as a monthly service fee, the Chase First Banking debit card has several daily transaction limits.
These limits include:
Purchase limit: $400
Chase ATMs: $100
Non-Chase ATMs: $100
Parental controls allow you to reduce these limits to prevent overspending.
Key Features
Here are some of the best benefits that give parents and children hands-on access to their cash and allow them to make a basic spending plan using their Chase First Banking accounts.
Allowances
Parents can schedule a recurring allowance for kids at varying intervals.
Potential intervals include:
The funds automatically transfer from your checking account to the child's account. This feature helps your child understand the importance of earning and saving money.
Additionally, they can make a spending plan so that they do not run out of funds before the next scheduled allowance payment.
Chores
The Chase mobile app lets you assign one-time or recurring chores. You can also require completing the assigned duties before receiving an allowance payment.
One potential benefit of a chores-based allowance system is the ability to set a higher pay rate for challenging or time-consuming tasks.
This customization capability can help you save time by tracking your child's chore progress and ensuring they receive the appropriate pay for certain tasks.
Parental Controls
A kid's bank account is valuable for both parents and children as kids can track their savings balance. There's a clear boundary between "your money" and "their money" thanks to having individual checking accounts.
The parental controls can also help instill financial responsibility before your child becomes an adult.
Control features include:
Spending limits: Prohibit shopping at specific stores and set purchase limits
Money requests: Kids can request money when they have insufficient funds
Account monitoring: Parents can view debit card purchases and balances
ATM withdrawal limits: Parents can set daily ATM withdrawal limits
The child debit card won't work at controversial business categories or merchants that don't offer products to minors. For example, the card won't work at liquor stores or car rental agencies.
Place to Spend vs. Spend Anywhere Spending Control
In addition to the customizable spending limits for specific merchants or store categories (i.e., restaurants, coffee shops, retail stores), parents can restrict funds for a specific purchase.
When transferring money, the parent might designate the money for food purchases only.
If enough money isn't available in the assigned account for that merchant, then Chase Bank declines the transaction.
Account Alerts
Parents can request notifications and alerts through the Chase First Banking account.
Alert options include:
Balance & Spending
Security
First Banking
While the first two alerts are available on all Chase accounts, the Chase First Banking alerts are unique to this product.
With these alerts, when the child uses their debit card or requests money, parents receive an alert. It's possible to create your alert preferences within the Chase mobile app.
Easy Transfers
Parents can effortlessly transfer funds to their child's account through the Chase mobile app or website. One-time and recurring transfers are possible.
Unfortunately, this bank account doesn't integrate third-party apps such as Zelle, Venmo and PayPal. The transfers have to come through the parent account.
Since there can only be one managing parent, other family members cannot send money directly to the child. Instead, they must send it to the parent's account to then forward to the kid's account.
Chase First Banking Reviews
Before signing up for any financial service, it can be helpful to learn about the experience other users have had. Note, reviews are not based on the product alone.
Here's how Chase stacks up on the various rating websites:
| | | |
| --- | --- | --- |
| Website | Rating | Number of Reviews |
| Apple App Store | 4.8 out of 5 | 4.2M |
| Google Play Store | 4.4 out of 5 | 1.76M |
| Trustpilot | 1.3 out of 5 | 987 |
| Better Business Bureau | 1.1 out of 5 | 448 |
Here are reviews from current Chase First Banking account customers:
"I love banking with Chase… and have everything I need right in their app. I was even able to set up a kids first checking account and it carries the same benefits as that other service that charges you money and service fees" – Stephanie Savard
"The app is okay and works as well as all my other banking apps but the support is non-existent. I spent 20 minutes on the phone with their "IT" customer service trying to explain my issue and not even the supervisor could help." – A Google user
"Love this bank.. very customer focused.. a bit overcautious with security measures which is annoying, but I get that.. it's for my protection as well as the bank." – Frank
"Horrible customer service! I don't think I have ever experienced such bad customer service." – Angie Go
Alternatives to Chase First Banking
These child banking alternatives may charge a monthly fee, but they provide additional features that could be more valuable for your family.
Here are some of the top alternatives to Chase First Banking.
FamZoo
FamZoo lets you order multiple prepaid debit cards for each of your kids. Each card can be used for a specific expense type, which can make budgeting easier.
Children can also receive direct deposits, split payments and send money to other family members. The app even lets kids develop a give-save-spend budget along with specific savings goals.
Parents have in-depth parental controls for account safety. Additionally, they can assign chores, schedule allowances, offer parent-paid interest and provide informal loans.
This app can meet the needs of your whole family as children too young for debit cards can create an IOU account. This account makes it easy to track money that parents are managing for their children.
Monthly plans start at $5.99 for your whole family. That said, prepaying up to 24 months in advance reduces the monthly fee to as low as $2.50.
GoHenry
Children ages six through 18 can easily spend and receive money through GoHenry.
In addition to paid chores and allowances, friends and family can send money directly to an enrolled child. Working teens can receive direct deposits as well.
Teens can even participate in money missions to earn bonus cash and learn about various financial topics.
Parents have the usual parental controls to monitor spending and approve money requests. Unlike the Chase First Banking account, you can add a co-parent for additional accessibility.
The GoHenry debit card works at most merchants and has over 45 customizable designs. Teens can split purchases and send money to others when needed.
After a 30-day free trial, GoHenry's Family plans are set at $9.98 per family (for up to 4 children), and the individual child is priced at $4.99. Families with 3 or 4 children can pay one low rate for everyone.
Greenlight
Greenlight is one of the best debit cards for kids and teens. You can request up to five child debit cards and choose from three monthly plans.
The entry-level Greenlight plan costs $5.99 per month and offers easy-to-use tools to plan for spending, saving, earning and giving. This platform can also double as a savings account since cash deposits earn a 1% savings reward.
Additional features, such as a custodial investing account and earning 1% cash back on debit card purchases, are available with the advanced plans. These plans cost $7.98 or $9.98 per month.
This app has typical features, including allowance, chores and savings goals. It also provides interactive educational content to promote financial literacy.
There are several ways that Greenlight encourages saving extra money.
These include:
Debit card purchase roundups
Parent-paid interest
Auto-savings from allowances
FAQ's
These insights can help you determine if a Chase First Banking account is the right option for your kids.
Is Chase First Banking safe?
Yes. Chase Bank takes child privacy protection seriously. The institution only collects the information necessary to open an account and safeguards the data with standard industry practices.

Additionally, parental controls provide the managing parent full access to the account to set spending limits and receive transaction notifications. Plus, this account is also FDIC insured for additional peace of mind.
What customer service options does Chase First Banking offer?
Chase customers can request help online through the Chase website or through the Chase mobile app.

Additionally, in-branch assistance is also available from friendly local bankers. Or reach out to Chase customer service.
How do I replace a Chase First Banking debit card?
The parent or child can request a replacement debit card through the Chase Mobile app or Chase.com. After logging into the First Banking account, head to "Account services" and then tap on "Replace a lost or damaged card."

However, if you need to replace a card because it's stolen or you detect an unauthorized purchase, call 1-800-935-9935 immediately to start the replacement process.
Where can the Chase First Banking card be used?
The Chase First Banking debit card works at most online and local merchants that accept Visa within the United States and overseas. However, a foreign transaction fee can apply on international spending.

Additionally, card transactions can be automatically declined at prohibited merchants that sell illegal or adult products. Parents can also restrict purchases at certain store categories or merchant locations.
Summary
Chase First Banking is an exciting bank account option for children because it's fee-free and has several interactive features.
You may appreciate this platform if you're an existing Chase checking customer since it easily integrates with your current banking accounts.
However, you may find a different children's bank account more suitable for your needs.
Take the time to evaluate what features will benefit your kids the most. This will help you determine the right option to help your children learn important money lessons.