Need help managing your child's allowance? BusyKid provides a way to track your child's chore achievement and seamlessly deliver allowance funds.
Plus, the associated app offers itself as a teaching tool to help your children build smart money habits.
Let's take a closer look at what BusyKid's debit card for kids has to offer.

Summary
BusyKid offers parents an easy way to keep track of their child's chores and allowance. You can teach your child money management habits with the suite of tools included in this affordable service.
Teaches money management skills

5
Pros
Affordable pricing
Easy way to teach financial responsibility
Separate funding source options
Cons
High card replacement fee
Paid service
What is BusyKid?
BusyKid is a chore and allowance app that provides an easy platform to manage your child's weekly allowance based on the tasks they complete. You can set up a regular allowance deposit or provide one-time payments based on the chores completed.
The app was created by Greg Murset, a certified financial planner and father.
The company's goal is to teach kids how to manage their own 'invisible' money. Unlike a cash allowance system, the BusyKid Visa debit card allows children to make purchases in person or online.
Moreover, they'll get comfortable with the idea of money that isn't physically in their hands.
As the parent, you'll stay in control of the amount of money your child can spend.
This debit card for kids also offers the same protections as all other Visa debit cards. This should provide peace of mind for a safe experience.
Who is BusyKid For?
BusyKid is a good fit for families that want an app-based allowance system. If your children already complete chores for an allowance, BusyKid will help you create an easier way to manage your child's allowance.
Once your child receives the funds, they'll need your permission to load the money onto their debit card.
Although you have control up until this point, you'll have to trust your child's spending judgment from here. You won't be able to approve or deny purchases.
Instead, the child can use the funds on their debit card as they see fit.
With that, a BusyKid account is a great option for parents that have confidence in their child's spending choices.
If you don't want to give your child the power to make purchases in-person or online with a debit card, then you may not want to work with BusyKid.
However, this freedom to spend may help your child learn some valuable lessons and important money management routines along the way.
How Much Does BusyKid Cost?
BusyKid has two different subscription options.
These include:
Monthly: $3.99 per month
Annual: $38.99 per year
The annual option provides a 20% savings for paying for a full year upfront.
Both plans offer the same features as well as up to five BusyKid Visa Spend Cards. No matter which option you choose, your whole family should be covered.
BusyKid Features
Are you intrigued about this chore app and debit card for kids? Here's what you need to know about the product.
Chores and Allowance
Not all households run in the same way. But BusyKid is prepared for both options.
If you want to create an auto-allowance, your child will be paid on a regular schedule without any chore requirements. The schedule can be every Friday or bi-weekly payday of your choice.
With each payday, the funds will be transferred into various categories of your child's account.
These include:
After you set up the allowance, you can let it run on auto-pilot to automatically send money according to your ideal schedule.
Another strategy is to base the allowance your child receives on the chores they complete for the week.
In this case, you can create allowance amounts for chores or activities. Every chore that your child marks as 'Done' since the previous Friday will be included in the payday.
If you choose the allowance based on chores completed approach, you'll need to approve each payday.
Spend Card

Teaching kids to manage money can be difficult. Luckily, the BusyKid Spend Card opens the door for your kids to gain real-world experience managing how they spend money.
In order to load funds onto the Spend Card, you or your child will need to use their pin number. Within the app, the child will only be able to load funds from their "Spend' account.
When the child makes the move to load their card, the parent will need to approve the transaction via text.
As a parent, you can move any amount of money to your child's card. The child or parent can check the account balance at any time in the app.
Once the funds are on the card, the child is responsible for spending the funds appropriately. But if appropriate, you can always move the funds off of the card.
The Spend Card can be used in the same way that you use other Visa debit cards, allowing for in-person and online purchases.
The only big difference is that you will have to load the funds directly on the card instead of having the card connected directly to a checking account.
Investing
Kids can also invest their money through BusyKid easily. The app allows kids to invest in real stock in popular companies. A few of the available stocks include Disney, Apple, and Netflix.
They'll need at least $10 to start investing. But your kids won't encounter any fees to buy or sell stocks. That's a great way to encourage them to start investing (and subsequently saving money) for their future.
BusyPay
BusyPay is the latest BusyKid feature. It allows family and friends to add money directly to a child's BusyKid account. Anyone that wants to transfer money can provide a simple QR code to start the process.
BusyPay makes it easy for your child to accept money. With that, friends and family can forgo the process of hunting down a gift card and just transfer funds instead.
Plus, your child can easily accept payments for tasks completed outside of the home such as babysitting or yard work.
Charities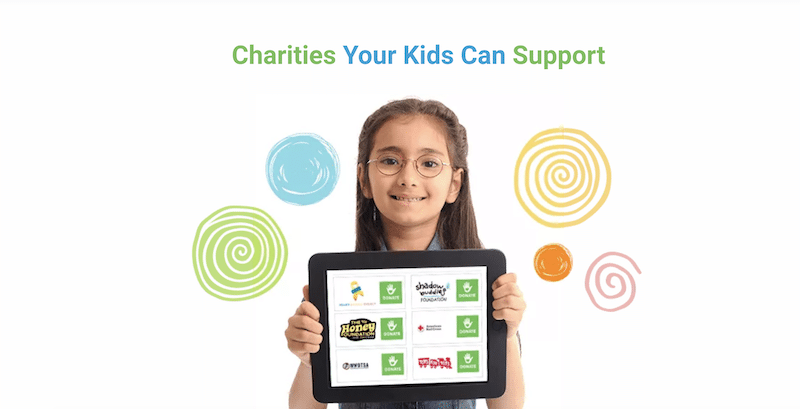 BusyKid makes it easy to help your kids learn a balanced approach to money. In addition to building savings and learning how to invest, your kids will have the opportunity to donate a percentage of their allowance to a charity of their choice.
There are dozens of charitable organizations that your child can help support with their allowance.
A few of the currently available charities include:
American Red Cross
Houston Humane Society
Special Olympics
The Salvation Army
Toys for Tots
Bonuses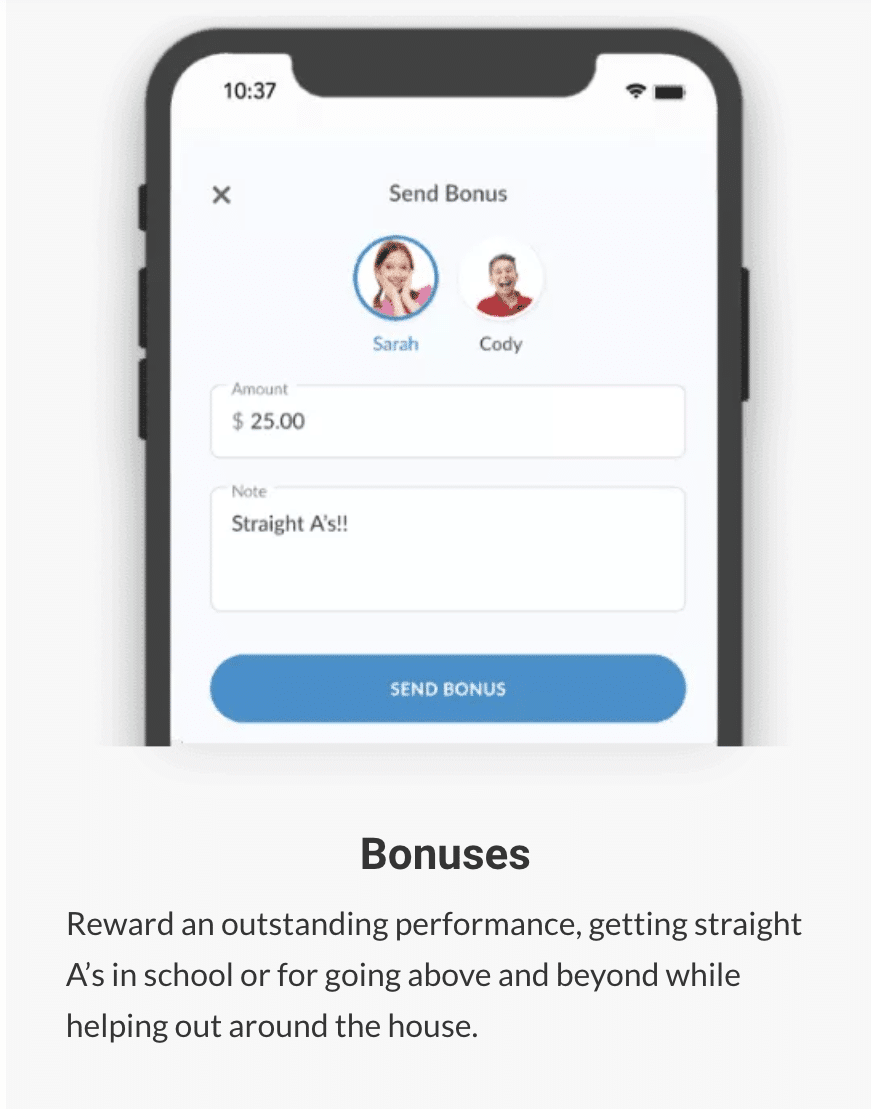 Did your child make an outstanding effort in their chores? Or excel at one of their other responsibilities, such as achieving straight As in school?
BusyKid gives you the opportunity to reward their actions with a Bonus. This is another great way to add money to their account.
Parental Controls
The ultimate goal of BusyKid is to help you teach your children smart financial habits. In some cases, that might mean you need parental controls to determine the movement of funds within your child's account.
When you initially set up an allowance, you have control over how the payday will be broken out into different categories. Once the money is in your child's account, you can choose to lock the Save, Share, and Spend categories to keep your child from overspending.
Additionally, you can regularly monitor your children's spending activities to stay in the loop.
Plus, you can help reward your child's savings habits through Parental Matching. That's a great way to encourage a savings mindset.
History
Your BusyKid account helps you keep track of what your kids are up to. You'll have a detailed history of chores, paydays and transactions to refer back to as needed.
Using this feature is a perfect opportunity to teach your children how to spend responsibly.
Satisfaction Guarantee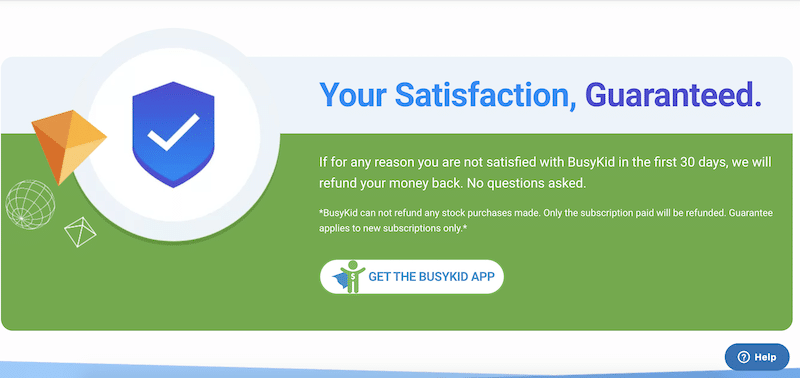 BusyKid offers a money-back guarantee. If you are not satisfied with any aspect of your BusyKid account, you can get a full refund within the first 30 days.
Keep in mind this only applies to new subscriptions. Refunds are not available for stock purchases.
Frequently Asked Questions
As we researched BusyKid, we found some common inquiries. Here are the top questions.
Is the BusyKid safe?
Yes, The BusyKid Visa Prepaid Spend card is issued by Stride Bank, Member FDIC. With that, the funds within the Save, Share, and Spend areas are insured for up to $250,000 based on the FDIC policy.

Additionally, the BusyKid Visa card comes with Visa's Zero Liability protection policy, which promises that you won't be responsible for unauthorized charges.
What customer service options does BusyKid offer?
You can get in touch with BusyKid via email at help@busykid.com. Additionally, you can reach out via chat on the BusyKid website with any questions you might have. Or, call to leave a voicemail for a prompt reply at 833-287-9543.
How do I get a BusyKid Debit Card for my child?
If you are ready to get a card for your child, the signup process is very straightforward.

Before you dive in, confirm that you are at least 18 years old, a US citizen or legal resident, have a U.S. phone number, and have a U.S. bank account. You'll need to meet all of those points to be eligible for sign up. Come prepared with your date of birth, your Social Security Number, and your child's date of birth for a smooth process.

You'll need to download the BusyKid app. Then provide some basic information such as your name, email, and zip code. From there, you'll create a password for your account and select a pin.

Once the account is set up, you'll be able to fund the account with your bank account or credit card to finalize the process.
BusyKid Reviews
BusyKid won a National Parenting Product Award in 2020. With that, many are impressed with the company's product.
Let's see what current users are saying about BusyKid.
Trustpilot
BusyKid has earned 3.6 out of 5 stars on Trustpilot with over one thousand reviews. Over 70% of customers report an excellent or great experience. But 13% of customers report a bad experience.
One customer with a positive experience says:
"My whole family has enjoyed using busy kids! I would appreciate child-friendly informational videos embedded in the app, however, that explain and teach kids about investing. There is the option to invest, which I LOVE, but nowhere that teaches kids exactly what it is before they do it."
Most complaints seemed centered around delayed shipping of debit cards in recent months.
Apple App Store
In the Apple App store, the BusyKid app earned 3.7 out of 5 stars.
Here's what one happy customer had to say:
"We've been with BusyKid a long time with 4 kids. We love the options of give, save, and spend; and the stock option is a huge bonus to my two boys who are learning the ropes of investments.
The app itself is easy to navigate. Payday is a cinch, and it holds my kids accountable to checking off their chores/responsibilities. And the bonus pay is helpful when I want them to "pay for their own" haircut, clothing, snack, etc."
Google Play
In the Google Play store, BusyKid has 4 out of 5 stars. Many complaints were focused on in-app glitches. BusyKid has responded with promises to update the app in the near future.
BusyKid Alternatives
Of course, BusyKid isn't the right fit for everyone. The good news is there are a few other options you want to find the perfect debit card for your kids.
FamZoo
FamZoo is a banking fintech designed for families concerned about financial literacy. The platform offers two options, an IOU account or a prepaid account.
The prepaid account connects to a debit card for kids. Within FamZoo, you'll find options for managing allowance, tracking chores, parent-paid interest, and more. If you choose to set up an IOU account, then you can easily track how much money you owe your kid.
The extensive customization options make FamZoo enticing. You'll pay $5.99 after a free trial.
GoHenry
GoHenry is designed for children ages six to 17. The goal is to teach them about money in an accessible way.
The prepaid debit card has a $0 minimum balance requirement, real-time spending notifications, and parental spending control options. One downside is the lack of a 'pay at the pump' feature for teenagers.
GoHenry focuses on four money principles: Earn, Save, Spend, and Invest. Family plans are set at $9.98 per family (for up to 4 children), and the individual child is priced at $4.99. At this price, you can use this framework to teach your child about money.
Greenlight
Greenlight is another alternative to BusyKid on this list of highlights.
You can use Greenlight as a tool to teach your kids about money. Parents maintain full control over how the child can use the card. It's easy to set up an allowance and build in spending controls.
What sets Greenlight apart is its investing opportunities. Greenlight Invest offers kids the chance to buy stocks through a SIPC-insured account. You'll still have the ability to approve transactions. But it's a great way for kids to start learning to grow their funds.
Related article: Greenlight Versus GoHenry
Summary
Teaching your kids to manage their allowance money via an app and debit card today can help prepare them for future responsibilities.
The BusyKid Debit Card could be the right fit to help teach your kids valuable money lessons.