If you have kids, a chore app can help you teach them critical financial skills. They simplify the process of assigning chores, monitoring their completion and paying your kids.
Beyond the chore functionality, these apps allow kids to learn about earning, spending and saving money.
We've found the best chore apps for kids and share how they can help your family stay organized.
Top Chore Apps for Kids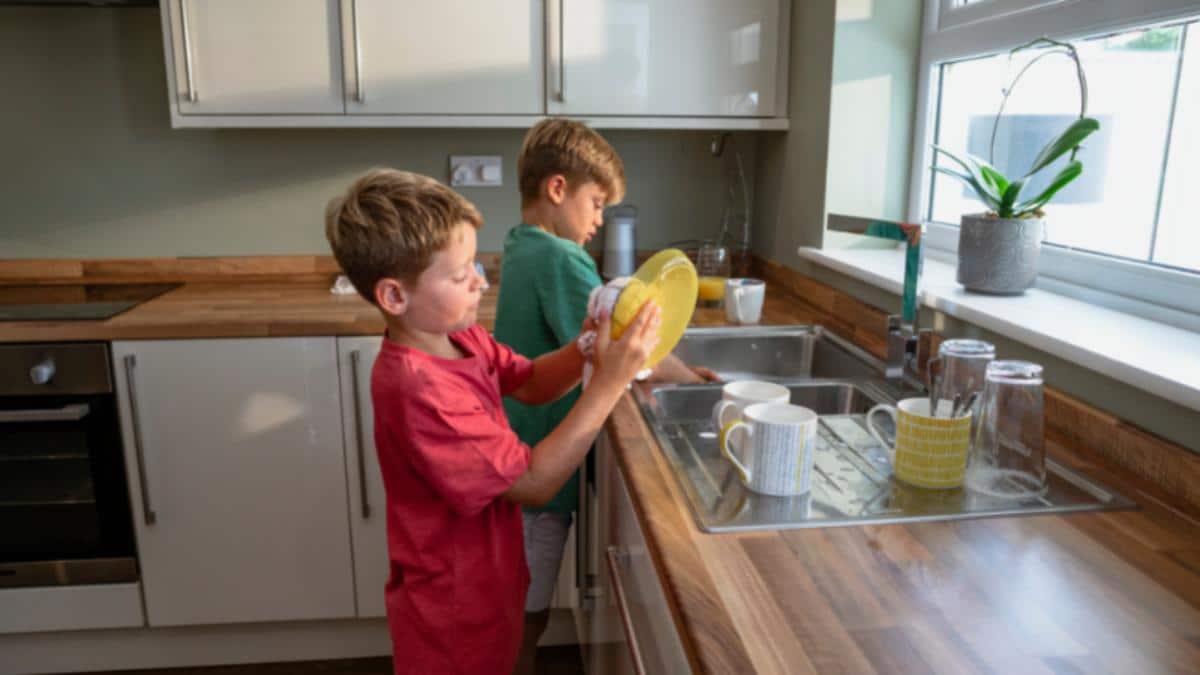 The best chore apps for kids have a few things in common, including simplicity, affordability and ease of use.
But which app suits your family best? These are the top options to motivate your kids to get their chores done.
1. BusyKid
The BusyKid app was created by a father of six who needed a way to keep track of his kids' chore lists.
Today, BusyKid has evolved into a full-service app for chores that makes it easy for kids to accomplish a number of financial goals as they complete their chores.
These goals include:
Earning
Saving
Sharing
Spending
Investing
All of these goals can be set and accomplished with the BusyKid app. The "spending" feature of BusyKid even allows children to spend via a prepaid Visa card.
Each task assigned to kids shows up in the app with a chore name, picture and an "I did it!" button they can hit when they're finished.
As a parent, you can choose the child's payday as an auto-fund on a preset day. Alternately, you can choose to fund completed chores immediately.
See our full BusyKid review here to learn more.
Cost: $3.99 per month (or $38.99 annually) for up to five kids/cards
Devices: iOS and Android
2. Cozi Family Organizer
The Cozi Family Organizer is a free family organizer that includes a chore feature. This app is the #1 family organization app on the market.
You can use the Cozi organizer to keep track of family member schedules with color-coded dots for each person.
Better yet, you have a daily agenda list that tells you who needs to do what for the day. You can even use the app to create daily to-do lists for each family member.
The app will also accommodate meal planning, recipes, shopping lists and more. Impressively, you can include up to 12 family members in your Cozi circle.
Cozi has a free subscription option that is supported by ads. You can also get an ad-free version for $29.99 per year.
Cost: Free for the basic version, $29.99 per year for Cozi Gold
Devices: iOS and Android
3. FamZoo
FamZoo was launched by Bill Dwight, a software developer who needed a way for his kids to track their own allowance so that he didn't have to be the go-between.
What started out as a simple spreadsheet eventually morphed into FamZoo. You can create one-off or repeating chores for your children using this app.
Kids get paid when they check the chores off as done. Each child gets a Spend account, a Save account and a Give account.
As the parent, you can choose what percentage of each child's income goes into each of their accounts.
You can pay your child interest as well. The app even allows kids to create savings goals and parents to "bill" kids for their share of recurring family expenses like cell phone bills.
See our full FamZoo review here.
Cost: $25.99 for six months, $39.99 for 12 months, $59.99 for 24 months
Devices: iOS and Android
4. GoHenry
GoHenry is a fintech company that boasts over two million members. With GoHenry, you can list chores for kids to complete and have kids paid immediately when the chores are finished.
Weekly allowances are automatically credited to make it easy for you as a parent.
GoHenry has categories that help your kids learn to manage money.
These include:
Better yet, there are a host of parental controls that allow you to work with your child as they learn how to spend wisely.
See our full GoHenry review here.
Cost: GoHenry's Family plans are set at $9.98 per family (for up to 4 children), and the individual child is priced at $4.99.
Devices: iOS and Android
5. Greenlight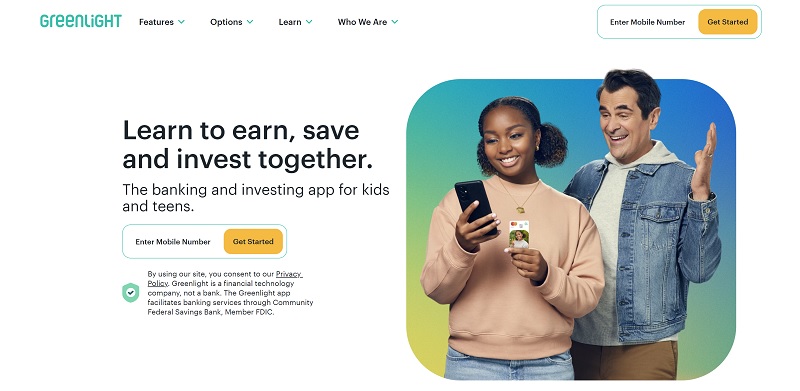 Greenlight is an app for chores and rewards that allows you to tie money to chores or set up an automatic allowance that can be dependent upon completing chores around the house.
As with other apps, Greenlight offers kids a Spend account, a Save account and a Give account.
However, if you upgrade your membership, your child also has access to Greenlight's Invest feature.
One interesting feature of Greenlight is that it offers up to 2% interest on savings balances and up to 1% cash back on spending purchases. However, these features are only available with the upgraded plans.
You can add debit cards for up to five kids with just one membership. Standard cards are included with your membership. Customized debit cards are available for an extra $9.99.
Cost: $4.99 per month for the basic member, $7.98 per month for Greenlight + Invest and $9.98 per month for Greenlight Max, which includes Invest and other benefits
Devices: iOS and Android
Related: Greenlight Vs. GoHenry: Which Debit Card Is Better For Your Kid?
6. Homey
Homey is an app for chores that is meant for the whole family. With Homey, you can assign chores, transfer money, save for personal goals, chat with the group and more.
Each member has assigned roles, including:
Parent
Teen
Child
Custom role
One nice feature of Homey is that it makes it easy to assign kids responsibilities as well as jobs.
Responsibilities are tasks that a child does simply because they're a part of a family. They are not typically paid for completing responsibilities.
However, jobs are extra tasks that you pay your child for. Differentiating between the two and having assignments for both is a feature that makes Homey stand out.
Homey has other features as well, including savings jars for kids.
Cost: Free for the basic account, $4.99 per month for the premium account
Devices: iOS and Android
7. iAllowance
Available on the Apple App store, the iAllowance chore app was designed specifically for iPad and iPhone users.
With iAllowance, you can assign and schedule chores, then have the earned money go into one or more of your child's piggy banks within the app.
The app also features a reward system that can be used to pay children with rewards other than money. This can include a new toy, screen time or something else your child values.
You can give kids rewards based on the number of chores they do or based on a monetary amount they're saving. In addition, you can track time-based activities such as video gaming.
Other features include the ability to sync the app with iCloud or Dropbox in order to back data up, unlimited kids and unlimited piggy banks.
Cost: One-time fee of $2.99
Devices: iOS
8. iRewardChart
The iRewardChart app is another app designed specifically for iPad and iPhone use. It's only available on the Apple App Store.
The design of this app is basic and suitable for younger children.
iRewardChart is more of a rewards program than an earning app. Parents set chores up within the app, and each chore receives a designated number of stars that the child gets upon completion.
In a separate feature, prizes are offered. Each prize costs a designated number of stars. For example, a child who cleans their room might earn five stars. A trip to the ice cream shop might cost ten stars.
The nice thing about this app is that you can reward kids not only for chores but for good behavior as well. For instance, a child may earn ten stars for playing kindly with a younger sibling.
Cost: Free (offers in-app purchases)
Devices: iOS
9. OurHome
The OurHome app offers home and task organization for families of all sizes. This app is available on both Google Play and the Apple App Store.
Features of the OurHome app include:
Task management
A grocery list
Family calendars
And more
The app's House Feed is the central communication center where members can stay up-to-date on household activities and responsibilities.
Children earn points for completed tasks, and points can be used to claim rewards. Rewards can be available for every child or can be child-specific.
This is a nice feature for families with children in different age ranges. For instance, you might want to reward your teen with an hour of game time but not have that same reward for a younger child.
Having this customization as well as additional features like the ability to make a grocery list sets the app apart from its competition.
Cost: Free
Devices: iOS and Android
10. S'moresUp
The S'MoresUp app was created to close the gap between the 80% of chores that are done by parents and the children who are capable of completing those chores.
This app designates itself as the Swiss Army knife of parenting and offers helpful features.
These include:
A family calendar
Customizable organization features
A parenting community
And more
Kids can create savings goals, earn rewards, get bonuses and more for each chore they complete.
There are two plans to choose from, including a Standard and Premium plan.
The free Standard plan offers comprehensive family planning, unlimited family members and devices and more.
If you upgrade to the Premium plan, you'll get advanced chore types, management, rewards and more.
Cost: Free for the Standard plan, $6.99 per month for the Premium plan
Devices: iOS and Android
11. My First Nest Egg
Created by two moms who did hundreds of hours of research with behavioral specialists and psychologists, My First Nest Egg helps kids learn financial literacy in age-appropriate ways.
While the app encourages kids to do everyday chores like making the bed and managing their time, it also helps them learn how to manage money.
My First Nest Egg gives kids virtual money they can spread throughout three accounts – spend, save, and give.
It does not use boring chore charts that kids lose interest in quickly. Instead, it uses an engaging puzzle format, where kids earn a puzzle piece for each task completed. They get congratulated but don't earn money immediately.
My First Nest Egg also has a social component that allows kids to see other users' accomplishments, such as saving a certain amount of money or reaching a particular goal. Kids can use this for encouragement to achieve their goals too.
The app doesn't work with real money. Instead, parents enter the funds they either give their child, help them spend, or that they give to charity.
Cost: $3.99 – $9.99 a month, but new users can sign up for free with the promo code WALLET. Hurry this deal is over at the end of October 2022.
Devices: iOS and Android
12. Dragon Family Chore Tracker
Dragon Family is a chore app that helps kids learn to manage their time and motivate themselves to do their chores.
There's no pressure to do their chores, but when they complete them, they earn points they can put toward specific rewards. Dragon Family puts kids in charge of what they do with their time, helping them understand the opportunity cost of choosing to do something other than their responsibilities.
The points system makes it easy for kids to want to do their chores instead of parents nagging them.
Cost: Free
Devices: iOS and Android
Frequently Asked Questions
If you still aren't sure that chore apps for families are right for your family, these frequently asked questions might clear up any hesitations you have.
Are chore apps for kids safe?
Yes. Most of these apps use high-level security to protect family data.
However, you'll want to review each app's terms, conditions and privacy policy.
Do chore apps for families cost money?
Some apps cost money, and others are free. Most apps offer a free version as well as a paid version with upgraded features.
Why is it beneficial to have kids do chores?
When you assign and schedule chores, it helps your children learn responsibility. Apps like the ones mentioned here can also teach kids that you earn money by working for it.
Should kids earn an allowance for doing chores?
The answer to this question has to be an individual one, as every family is different.

However, paid chores and unpaid responsibilities can both be beneficial to a child's development.
Chore App Comparison Table
| | | |
| --- | --- | --- |
| Chore App Name | Monthly Price | Best Bonus Feature |
| BusyKid | $3.99 | Friends/family can fund |
| Cozi Family Organizer | free-$2.50 | Up to 12 family members |
| FamZoo | $2.50-$4.33 | Family bill splitting feature |
| GoHenry | $3.99 | Gaming-type rewards |
| Greenlight | $4.99-$9.98 | Investing option |
| Homey | $4.99 | In-app member chat |
| iAllowance | n/a | Unlimited piggy banks |
| iRewardChart | free | Encourages good behavior |
| OurHome | free | Family calendar |
| S'moresUp | $0-$6.99 | Community feature |
| My First Nest Egg | $0.99 | Puzzle piece task completion |
| Dragon Family Chore Tracker | free | Redeem points |
Summary
The best chore apps for kids will help your child understand their responsibilities and encourage them to complete any necessary tasks.
These apps can bring organization, peace and responsibility to your home. In addition, they can make chore time more fun by offering allowances, financial goals and rewards.