Want to get paid to write poetry? You might be surprised at the myriad of literary publications that are eager to pay unknown writers for their content.
If writing poetry is something you are good at, there are several companies that will consider paying you for your rhythmic ramblings.
If you've got notebooks full of entertaining poems laying around, or if you have always wanted to write poetry, you might want to consider this side hustle opportunity as a way to make extra money.
Where to Get Paid to Write Poetry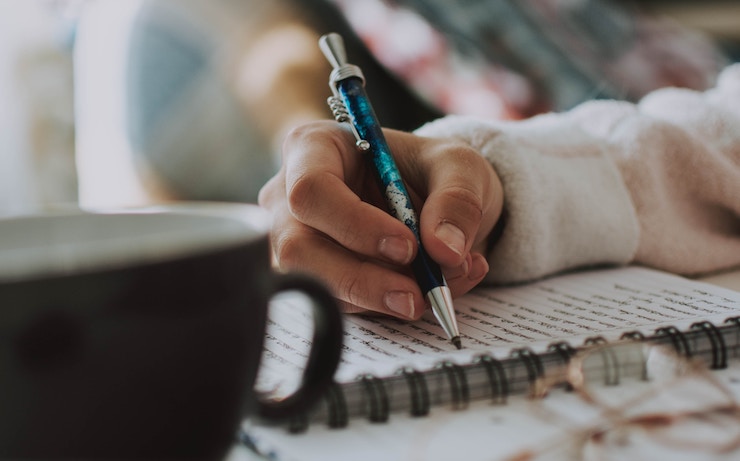 As you peruse the website links listed below, there are a few things you should know about submitting poetry for pay and publication.
First, many literary publications only accept poems that haven't been previously published. If they only accept non-published work, it will say that on their submissions guidelines page.
Second, it can take a while for poetry submissions to be reviewed, and accepted or rejected. It's not uncommon to have to wait for weeks or even months to hear back regarding your poetry submissions.
Near the end of the article, we share more information about how to submit poems in a way that will increase your chances of getting published and paid.
Although it's not a quick process, you may be able to begin to make a regular income by writing poems once you understand the publication process.
Because of potentially long submission processes regarding poetry publication, it's important to know that submitting poetry for pay probably isn't the best choice for you if you want to make money quickly.
If you are looking for ways to make money quickly, this article on ways to make $700 fast might be helpful.
If you're okay with the waiting process, the companies listed below are some of the most popular and well-paying companies for poetry submission.
1. The Three Penney Review
The Three Penney Review is a prominent literary magazine. They accept poetry submissions that are unpublished and are 100 lines or less.
While other items should be submitted double-spaced, you can submit poetry entries to the Three Penney Review either double-spaced or singled spaced.
The payout for poems chosen for publication in the Three Penney Review is high – $200.
2. The Boulevard
Another well-known literary magazine, Boulevard, also accepts unsolicited poetry submissions. You can submit previously unpublished works, up to five poems at one submission, with each poem including a maximum of 200 lines.
Boulevard pays a minimum of $25 and a maximum of $250 for each accepted poetry submission.
This is an awesome option to get paid to write poetry if you want to submit multiple poems at once.
3. Arc Poetry Magazine
Arc Poetry Magazine has been publishing "the best in contemporary poetry" for over thirty years. They accept unsolicited submissions of previously unpublished poems on any subject, in any form. Submissions can include a maximum of three poems.
They will pay at a rate of $50 per page for any poems they publish in their magazine.
4. Chicken Soup for the Soul
The famous Chicken Soup for the Soul book publishers are seeking submissions for poems for upcoming books. The poems they are looking for should contain an exciting, funny or heartwarming story written in the form of a poem.
Submitted poems should be written in the first person and should tell about an incident that happened to you or someone you know.
They pay $200 for all accepted poems.
The Ploughshares print and digital literary magazine is published by the staff at Emerson College. They accept poetry submissions of between one and five pages, and pay out a minimum of $45 for each accepted submission.
6. The Southern Review
The Southern Review accepts unpublished poems for review to be accepted in their national literary magazine. They require that you limit submissions to five poems or fifteen pages as a maximum.
Their payment for works published in their magazine is $25 per page with a maximum payout of $200.
7. The Capilano Review
The Capilano Review also accepts only unsolicited poetry works for their leading literary magazine. You can submit poems of up to five pages for publication consideration.
Accepted contributors are paid $50 per published page with a maximum payout of $150.
With compensation like this, The Capilano Review can be a great way to get paid to write poetry.
8. AGNI
AGNI is a decades-long running literature magazine that boasts an online magazine version as well. Their standard pay is $20 per page for poetry, however they occasionally pay more for poetry based on grants and donations that are sometimes applied.
The company accepts a maximum of five poems per submission.
9. U.S. Kids Magazines
The U.S. Kids Magazines company is the publisher of two famous kids' magazines: Humpty Dumpty and Jack and Jill. The publisher currently accepts poetry writings for Humpty Dumpty magazine, which focuses on kids aged two to six.
Poetry submissions should be 4-12 lines, and accepted submissions pay $25 and up.
10. Orion Magazine
The Orion Magazine, self-dubbed "America's finest environmental magazine", accepts poetry submissions that "offer fresh insight into the intersection of nature, culture and place."
Their guidelines allow for writers to submit one to three poems at a time, each having a maximum of forty lines.
They pay $100 for accepted poetry submissions.
11. New Myths
New Myths is a quarterly published "ezine" edited by a community of writers, poets and artists, according to their website.
They require that all poems submitted have a science fiction or fantasy element in order to be considered. Writers can submit up to five poems of any length at one time.
They pay 1.5 cents per word, with a minimum payout of $30 for published poetry submissions.
12. SubTropics
SubTropics is a literary journal published by the University of Florida. They accept submissions of up to four poems at one time via their online submission service. They will not consider previously published works.
The payout is $100 for each poem accepted for publication.
13. The Sun Magazine
The Sun Magazine is an ad-free magazine publisher that accepts submissions for essays, fiction, interviews and yes, poetry. There's no minimum word count for poetry submissions, and they pay between $100 and $200 for published poetry works.
14. Alaska Quarterly Review
The Alaska Quarterly Review, a popular literary magazine, accepts poems in traditional and experimental styles up to twenty pages long.
They pay $10 to $50 for published submissions and do accept simultaneous submissions as long as they are identified as such in your cover letter.
15. Blue Mountain Arts
Blue Mountain Arts is "one of the premier independent card and book publishers in the world", located in Colorado. They've been holding bi-annual poetry contests for over thirty years.
For their contests they accept any type of poem, and they assess entries on the basis of originality and uniqueness.
They do accept rhyming poems but also mention that non-rhyming poems read better so you might have a higher chance of your poems being accepted if you write non-rhyming poems.
There's no limit to the number of entries you can submit, and payment is high: $350 for first place, $200 for second place and $100 for third place winners.
16. Black Warrior Review
The Black Warrior Review is a publication of the MFA Program in Creative Writing at the University of Alabama. They pay a one-year subscription to their magazine and a "nominal lump-sum fee" for all works published in their magazine.
17. Rattle
Rattle's mission, according to their website, is to "promote the practice of poetry." They have both an online version of their publication and a print version of their publication. Rattle likes to see poetry submissions that are "unique, insightful, musical and that stand out."
They pay $50 for poems published in their online publication and $100 for poems that make it to the printed version.
18. Grain Magazine
Grain Magazine is a literary journal that publishes four times per year. The guidelines suggest you read an issue or two of their magazine before submitting your poetry so you can gain a clearer understanding of what types of poetry they're looking for.
They accept submissions of individual poems of up to a maximum of six pages.
Pay is $50 per page with a maximum payout of $250 per published submission.
19. The Iowa Review
The Iowa Review is run by the writing and literature programs staff at the University of Iowa. They accept previously unpublished poetry works for consideration of publication in their thrice yearly published journal.
Although they are open to considering all types of poetry, they do ask that you consider reading an issue of the Iowa Review before submitting a piece for possible publication so that you can gain an understanding of the type of content they prefer.
Pay for accepted poetry submissions is $1.50 per line with a minimum payout of $40.
20. FunforKidz
FunforKidz publishers accept poetry submission for their Hopscotch magazine, which focuses on girls aged 6-13.
The company wants submissions on subjects such as:
Pets
Nature
Hobbies
Science
Games
Sports
Careers
Simple cooking
Since the target audience is younger girls, they do not accept poems with themes related to dating, romance or fashion.
The company pays a minimum of $10 per poem.
21. VQR
VQR is a self-described "national journal of literature", that accepts poetry submissions of all types and lengths. Like most companies, they only accept work that has not been previously published.
The payout is high; $200 per poem for up to 4 poems, or, if you submit 5 or more poems that are all selected, they'll pay $1,000 if your poems are chosen for their print magazine.
22. Iron Horse Review
The Iron Horse review is a literary journal founded in 1999 by students and faculty at Texas Tech University.
They publish six issues per year, and accept poetry submissions for publication consideration at rolling intervals which you can find on the Iron Horse Review submit page on their website.
Like many other poetry publishers, Iron Horse has a personal submission page on Submittable where you can use to enter your poems for consideration. They ask that you submit three to five poems at one time.
Pay for published poems is $50 per poem.
23. Poetry Foundation
The Poetry Foundation is the publisher of the long-standing Poetry Magazine. The company pays for previously non-published works that are accepted for publication in their magazine.
Submission is limited to four poems for each submission.
They pay out at a rate of $10 per line for published poetry works, with a minimum payout of $300.
This is one of the highest paying options to get paid to write poetry.
24. The Nashville Review
The Nashville Review literary magazine accepts all types of poetry submissions for consideration in their magazine, including "tight formalism alongside sprawling, experimental work."
In other words, they love poetry that is traditional in nature as well as poems that are wild and unique.
Pay is $25 per published poem.
25. Slice Magazine
Slice Magazine is a Brooklyn, NY based non-profit print magazine founded in 2007.
The team at Slice accepts poetry submissions through Submittable and suggests you read an issue of the magazine before submitting your poems in order to get a sense of the type of content they like to publish.
As with many other literary magazines, Slice accepts only previously non-published works for consideration.
Payment for published poetry submissions is $75.
What to Look for Before Submitting Your Poetry
When searching for organizations to submit your poetry to, it's important to be aware of their guidelines before you send in your work.
By knowing what the guidelines are for each company you submit to, you can determine which publications are the best choices for submitting samples of your works.
Simultaneous Submissions
Many companies seeking out poetry submissions allow you to submit your work to other publications as well as their own, however, most require that you notify them in your cover letter that your work has been submitted to other publications for consideration as well.
Not all companies allow simultaneous submissions, however, and those that discourage simultaneous submissions generally say so on their website.
Previously Published Works
Most companies that allow poetry writers to submit poems for publication require that the work has not been published online or in print in any other venue – including a personal blog.
Make sure your poetry has not been previously published before you send it for consideration to a publishing company.
Poetry Submission Avenues
There are three general avenues that publication companies use for submission of poetry from writers. The first is by email form, which is usually included in the publication's website.
The second is via snail mail: many publishing companies still use snail mail as a means of receiving proposed literary works such as poetry.
The third submission avenue is through an online third party such as Submittable, which acts as a go-between for individuals and companies. Be sure to read thoroughly how each site requires you submit your poetry to them for consideration.
Poetry Submission Fees
Some literary companies – not all – charge a submission fee for those wishing to have their poetry or other writings considered for publication.
It's important to understand if there is a fee charged for submitting poetry pieces and be prepared to pay the fee even if your poem doesn't end up getting accepted for publication with the literary company.
Other Guidelines
Literary companies usually have other guidelines as well for poetry submissions that should be carefully heeded in order to increase your chances of having your poetry accepted for publication.
Some of those other guidelines include poem genre, number of lines in the poem and the dates in which queries are accepted. In other words, not all literary companies accept submissions at all times during the year.
Some have windows during the year where poetry submissions are accepted and others accept submissions all year round.
Knowing the details of each literary publication's submission guidelines will increase your chances of being accepted for publication.
Summary
If you have a knack for writing poetry well, submitting your poetry to organizations such as the ones listed above can be a great way to get paid to write poetry.