So you want to make money driving your car but you don't want to carry people? What about delivering packages instead?
Amazon Flex is a flexible side hustle that pays you to deliver packages in your free time.
If you don't mind driving your car to deliver Amazon packages, you might enjoy this side hustle idea. In this Amazon Flex review, you'll see what it takes to start delivering, and what to expect on your first delivery run.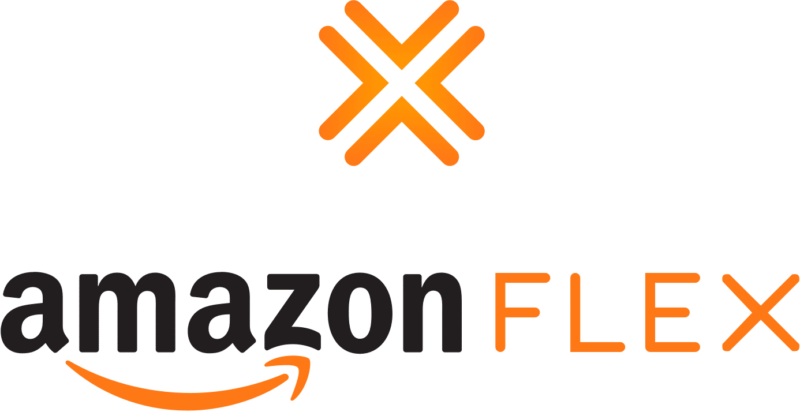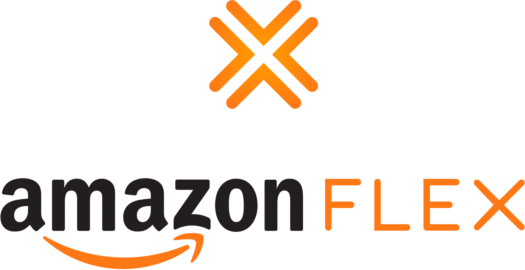 Summary
Amazon Flex lets you deliver packages in your free time driving your own car. If you want a physical side hustle and can commit to a three-to-four time block, you might like being an Amazon Flex driver.
Pros
Flexibility
Competitive pay
Work independently
Cons
Operational costs
Potential long hours
No benefits
What is Amazon Flex?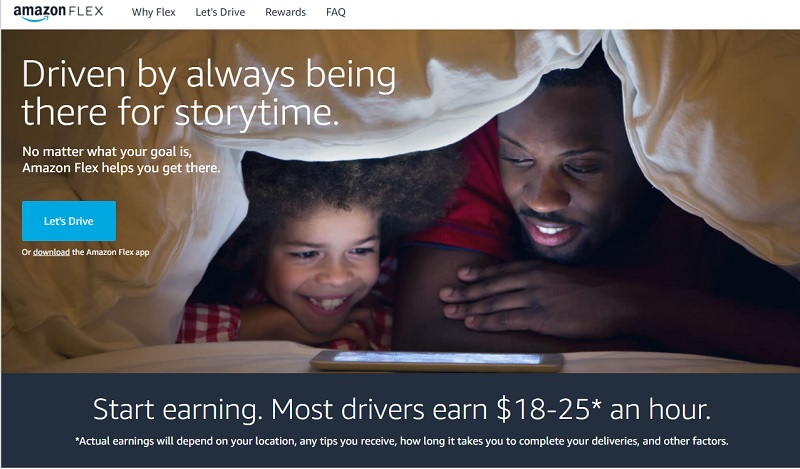 It doesn't take a rocket scientist to know that Amazon ships lots of packages each day. But what you might not realize is that private drivers like yourself can make Amazon deliveries.
Driving with Amazon Flex lets you deliver these orders:
Amazon.com
Prime Now
AmazonFresh
Whole Foods
Amazon Restaurants
Amazon Flex drivers are independent contractors. This means you're not an Amazon employee. You can drive with other delivery apps to diversify your income if you want.
You can drive as often or little as you want with Amazon Flex. But you must drive your own vehicle.
What are The Requirements For Amazon Flex?
If you've been thinking about becoming a rideshare driver, you know that the onboarding requirements can be strict. Because you're not driving people around, joining Amazon Flex can be easier.
These are the requirements to be a Flex driver:
Be at least 21 years old with a driver's license
Own a four-door sedan, truck or van
Have minimum state-required car insurance
Have an Android or Apple smartphone
Pass a background check
You will need to get out of your vehicle many times to make deliveries. Expect to climb stairs and lift heavy packages. Amazon doesn't provide a hand cart to make deliveries quicker. You must bring your own delivery aids if you want them.
If a physical side hustle isn't your cup of tea, try these online side jobs instead.
You Might Have to Join a Waitlist First
Sometimes Amazon Flex has enough current drivers in your city. Or it doesn't offer delivery in your city yet.
In either case, you can join their driver waitlist. When they have an opening, you can join the driver pool and begin applying for delivery blocks.
Vehicle Requirements
You need a reliable four-door vehicle. It can be a sedan, van, or truck with an enclosed bed. In select cities, Amazon Flex now allows you to deliver by bicycle.
Since you're not hauling people, the vehicle doesn't have the "like new" requirement that Uber or Lyft have.
Driving a larger vehicle lets you accept longer time blocks of work because you can carry more packages. Because your pay will be hourly, these longer blocks have higher total pay.
Expect to use every inch of cargo space to hold packages. If you drive a sedan, plan on filling up the backseat as well.
To give you an idea of a typical route, most blocks are three to four hours long. On most days you will deliver between 24 and 40 packages of different weights and sizes.
Unlike driving with Lyft or Uber, you don't need to carry rideshare insurance. Your regular automobile insurance is sufficient. You also have free Amazon Commercial Auto Insurance Policy when you're delivering packages.
Amazon Flex Delivery Blocks
You can search for all open delivery blocks in the Amazon Flex app. Blocks can be two to six hours long, but most are three or four hours.
The first blocks start as early as 8 a.m. and the last blocks usually finish around midnight.
You can schedule delivery blocks days in advance. Or you can look for last-minute cancellations up to 45 minutes before the block begins.
Delivery Routes are Random
While you can pick which hours of the day you drive, Amazon decides the route. If you deliver two days in a row, there's a good chance you won't have the same route.
You might deliver to all single-family homes that are nearby one day, and primarily apartment complexes or downtown businesses the next day. Or you might get assigned a rural route that has fewer packages but requires more driving.
This mystery can be a nuisance if you want full control over which neighborhoods you're going to deliver to.
Drivers Aren't Guaranteed Blocks
Most blocks are available on a first-come-first-served basis. This means you need to check the Flex app regularly to find open blocks.
As mentioned above, you can book blocks days in advance, or look for last-minute cancellations up to 45 minutes before the shift starts.
Amazon periodically reserves blocks for drivers. However, they don't guarantee how often you will receive a reserved offer. With this side hustle, a little initiative goes a long way to earning a consistent income.
In many cities, there are more idle drivers than available blocks. If you see a block you want, reserve it right away. You can always cancel within one hour if you can't make it.
Amazon only requires you to drive at least once every 180 days to keep your account active. It's up to you to sign up for blocks to stay in good standing.
Pay Attention to Delivery Center Locations
All available blocks are listed in the Amazon Flex app with information about the delivery center location. One potential downside is that the Flex app doesn't list your nearest delivery center blocks first.
If you're not paying attention, you might pick a block for a center that requires a long commute. Unless the delivery center usually offers routes you can quickly complete, the extra commute time and driving costs might not be worth the block.
Amazon Flex Pay
You won't be able to earn a full-time income delivering for Amazon Flex. Amazon even states that Flex is only to earn a part-time income.
The Amazon Flex website states you can earn up to $18 to $25 per hour before taxes and driving expenses. But this statement is slightly misleading because you earn a flat amount for each delivery block.
For instance, earning $72 for a four-hour block boils down to $18 an hour. This is how Amazon states your hourly rate.
Whether it takes you all four hours or you finish an hour early, you know exactly how much you earn for that block. If it takes longer than your allotted time to complete all deliveries, you don't receive extra payments, either.
Amazon plans most routes so that you should be able to finish within the allotted time. In fact, once you develop a routine, you may be able to finish with time to spare most days.
Receive Direct Deposit Payment
Amazon Flex deposits all earnings into your bank account. Payments process every Tuesday and Friday.
Amazon Flex and Income Taxes
Because Flex drivers are independent contractors, Amazon doesn't withhold taxes from each check. You will need to claim your earnings when you file your federal and state tax returns. When you file, you're responsible for paying income tax on your side hustle income.
Amazon will send you a 1099 tax form stating your taxable income for the year.
Current IRS rules require you to pay taxes on any self-employment income above $400. A friendly suggestion is to set aside 30% of your earnings for taxes. So for example, you should set aside $300 for every $1,000 you earn with Amazon Flex.
What to Expect Driving with Amazon Flex
What does a typical day look like driving with Amazon Flex? Here's a quick step-by-step glimpse into the life of an Amazon Flex driver.
Choose a Delivery Block
The first step is picking a delivery block in the Amazon Flex app. This block shows your delivery window (e.g., 12 p.m. to 4 p.m.) and payment amount.
Until you check in, you won't know this information:
Your delivery route
How many packages to deliver
Expect the delivery route to require all the hours Amazon schedules you for. And know that you'll constantly be in motion to finish in the allotted time. There will be minimal time to take a short break once your block begins.
To reduce personal stops, bring a snack and drink that you can enjoy between stops. Plus it's cheaper than buying food from a gas station or restaurant. You don't want to "eat your earnings" after all.
Check in at the Delivery Center
Drive to the address at the delivery center listed in the delivery block details. You can check in 15 minutes before your block begins.
On the premises, follow the signs showing you where to drive to pick up your boxes. Most likely, you will see a line of cars and people loading boxes into their cars.
Once you park, scan your QR code to get your route information. You will receive a paper that lists the number of zones you will deliver in.
If you're delivering in six neighborhoods, expect six different cluster codes. Organize your packages by cluster so you can quickly find them.
Deliver the Packages
After leaving the delivery center, it's time to start delivering packages. The Amazon Flex app lists each address and the number of packages that customer is receiving. Use the in-app GPS for turn-by-turn navigation.
For each package you deliver, scan the shipping label barcode with your phone. Most packages don't require a signature, so you can scan the barcode and leave the package in a safe place.
Contact Amazon Support if you have trouble delivering a package.
Return All Undeliverable Packages
There are some days when you can't deliver every package. This usually happens in these instances:
You run out of time
Customer must sign for a package and isn't home
You don't feel safe leaving the package unattended
Do everything possible to deliver the package. You don't have to return to the warehouse to "clock out" when there aren't any undeliverable packages.
The few extra minutes you spend delivering packages can still be shorter than driving back to the warehouse. It also saves another driver from having to redeliver them.
Amazon Flex Tips for Success
Here are a few tips to improve your Amazon Flex delivery experience.
Pack the Last Boxes You Will Deliver First
Rideshare blogger Harry Campbell says that most Flex drivers run out of time because they don't properly pack their vehicle. Spending a few extra minutes correctly packing your car at the delivery center saves time looking for packages on the road.
When you check in, Amazon gives you a list with the order of where to deliver first. Each area has a cluster code. One common trick is to work from the bottom of the list up. So you'll pack the boxes with the last cluster code into your car first.
This way, the last boxes you pack into your car are the first cluster code on the list and the first packages you'll deliver.
Compare Delivery Centers In Your City
It's a fact, some delivery centers are better to drive with than others. This is because you're more likely to get a route you can finish early. And some centers receive more packages, which means more driving blocks to choose from.
If you live in a city with multiple delivery centers, learn which centers have easier routes. For instance, some centers serve nearby urban neighborhoods.
These routes tend to have all their drop points in a smaller radius. That means less travel time between deliveries.
Other delivery centers serve widespread, outlying suburbs. These routes may require more driving, which means you're less likely to finish early. Besides driving more miles, you may also have to compete with heavy traffic. It's not your fault, but these variables can cause you to run out of time.
Follow this Driver's Example
You might follow the example of Flex driver Delia Washington, who lives near two delivery centers.
She delivers for Flex in her free time when she isn't running her own T-shirt business. With her preferred delivery center, she usually completes her four-hour blocks within three hours.
Most routes this center serves are residential and densely populated neighborhoods. On average, she delivers between 24 and 40 packages.
But if she delivers from another nearby center that serves more rural communities, she has to do more driving. On one of her first routes from this center, it took her five hours to complete the four-hour block.
Bring a Phone Charger
You will be using the Amazon Flex smartphone app during your entire shift. Make sure your phone has a full charge before starting. And use a car charger to keep your phone charged in between stops.
Deliver Packages to the Apartment Front Desk
If your route has apartment complexes, try dropping off the packages at the front office. Some apartments encourage this option as a security measure. This trick saves you time trying to visit multiple buildings within the complex.
Dress Semi-Casual
Amazon doesn't enforce a dress code for Flex drivers. But that doesn't mean you should dress sloppily. Most customers still expect someone in a delivery service uniform to deliver their Amazon orders. Poor dress can make it easy to confuse you for a package thief instead.
Dressing in comfortable semi-casual clothing helps establish trust with your customers. And dressing up can help you earn better tips on Prime Now and food delivery orders.
Use your best judgment. Put yourself in the customer's shoes and dress to their expectations.
Look for Blocks That Pay Tips
Try looking for Prime Now, Amazon Fresh and Amazon Restaurants blocks first. On these routes, the customer can pay you a tip. Make sure you provide friendly service to increase your chances of getting a tip.
Of course, these routes disappear quickly in the Flex app. And you may have to drive to a distant delivery center, which negates the potentially higher earnings.
Drive During Peak Hours
You can make more money at certain times of the day. Amazon will send notifications when peak-hour blocks are available.
Record Your Mileage for Tax Purposes
Amazon doesn't reimburse your driving expenses, but you can claim business-related miles on your federal tax return. Beginning Jan. 1, 2019, you can deduct 58 cents per eligible mile driven. This helps boost your Amazon Flex income.
Why We Like Amazon Flex
Flexible hours
Some block types can earn tips
Amazon processes payments on Tuesdays and Fridays
You don't have to drive people around to make money
Amazon Flex is one of the more flexible delivery apps because you pick your own shift. You can also schedule blocks in advance or find last-minute shifts.
This side hustle can also be less stressful than transporting people for Uber or Lyft.
Why We Dislike Amazon Flex
You can't pick your exact route, only the delivery block hours
Getting blocks can be highly competitive at times
Requires physical labor and driving your own car
Amazon Flex isn't available in every city
The largest drawback is that your delivery route is a complete surprise. You can predict how many hours it will take to deliver packages. But you won't know if the route is easy or hard until you check in.
Alternatives to Amazon Flex
You can also try one of these alternative delivery app jobs if Amazon Flex isn't a good fit for you.
DoorDash
To become a Dasher with DoorDash you will need:
Valid drivers license
Valid insurance
Be 18+ years old
And you'll know your delivery route before you accept a gig. In select cities, you can also deliver by foot, bicycle or scooter.
Postmates
Postmates is another delivery service that gives you more control over your routes. You get to pick the route.
This app might also have more delivery options in your city than Amazon Flex. Finally, you only have to be 18 instead 21 years old to deliver for Postmates.
Instacart
If you prefer delivering groceries, try Instacart. You can be an in-store shopper who doesn't deliver and only gathers orders in the grocery store. Or you can be a full-service shopper who shops and delivers the order.
Is Amazon Flex Worth It?
Delivering for Amazon can be an exciting and quick way to make extra cash. It can be less stressful than transporting people.
However, not being able to pick your exact delivery route can be frustrating at times.