If you are looking for ways to earn more cash and you like driving your car, you might want to consider working for a rideshare company such as Lyft.
Lyft was founded in 2012 and produced over $2.2 billion in revenue in 2018. Obviously, the idea has taken off.
Lyft drivers make money by taking people who don't want to – or can't – drive themselves to the places they need to be.
Related Post: Lyft Versus Uber: An In-Depth Comparison
Why Lyft is Appealing to Riders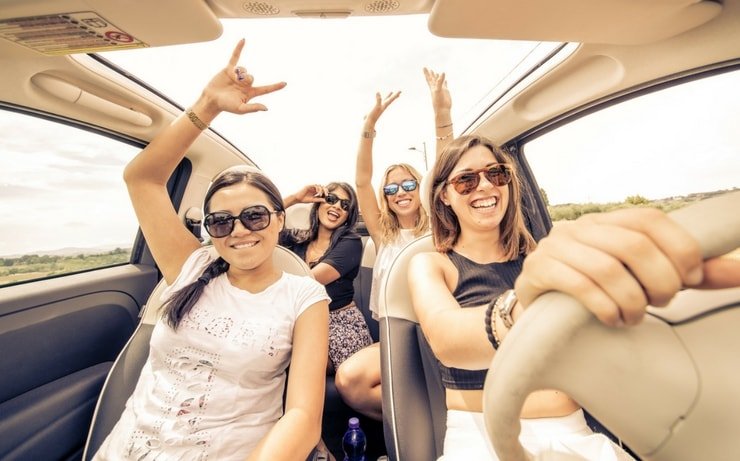 So, what's the appeal of using Lyft as opposed to a local taxi service? Well, according to recent studies, Lyft is significantly cheaper than typical taxi rates. Also, many riders find Lyft services more personalized than a local taxi service.
From a driver's standpoint, qualifying to be a Lyft driver is pretty simple and can often be accomplished in less than 48 hours, whereas qualifying to be a taxi driver generally involves a much more rigorous process.
That doesn't necessarily mean that riding with Lyft is riskier – the company has its own thorough safety standards in place that protect both drivers and riders, such as DMV and background checks, a driver and passenger rating system and strict vehicle standards.
They also have a zero-tolerance policy for drivers when it comes to alcohol and drug use.
Driving with Lyft Can Be a Great Side Hustle
As a driver for Lyft, there can be serious money to be made. Rideshare expert Harry Campbell shares how he has made enough money in the ridesharing industry that he was able to quit his full time job as an Aerospace Engineer.
However, driving with rideshare organizations such as Lyft doesn't result in the same massive earnings for everyone that it does for Harry Campbell. But rideshare experts will tell you that there are things you can do to increase your earnings as a Lyft or other rideshare driver.
If you are thinking about driving with Lyft – or currently driving with Lyft – here are some tips on how you can maximize your Lyft income earnings.
Run a Smart Lyft Business
Successful businesses aren't just successful because they offer a good product or service. They have to have something more: smart business owners. Here are some tips that will help you run a "smart" business as a rideshare driver.
Drive During the Busiest Times
One of the benefits of being a rideshare driver is that you get to choose the days and hours you are available for work. This means that you can work your Lyft side hustle around your primary job and around the rest of your life's obligations.
However, the people that make the most money driving with Lyft know that driving during the busiest hours means you'll have the potential to make the most money.
What are Lyft's most potentially busy hours? Nights and weekends. Nights and weekends generally mean big money for Lyft drivers because that's when people are going out and having their "fun" time.
Many rideshare passengers love the idea of being able to hit parties, entertainment venues such as concerts or the theatre, or being able to meet with friends for drinks without having the responsibility of driving home.
Using rideshare services such as Lyft allows passengers to be able to get to social commitments without having to worry about driving, parking, etc., and if you're willing to work those busy social hours you'll increase your chances of earning more money.
Drive a Fuel-Efficient Vehicle
Obviously, the less money you spend on gas as a Lyft driver, the more money that stays in your pocket. Driving a fuel-efficient vehicle will help you be able to transport passengers for less.
It also helps to maximize fuel efficiency while you drive. Some people call this hypermiling, but you don't have to go to that extreme. Following these simple rules will help you maximize the fuel efficiency for your vehicle.
Keep your tires properly inflated
Drive moderately – don't excel quickly or brake quickly
Keep your vehicle well maintained and perform regular tune-ups and oil changes
Don't have extra, unnecessary weight in your car or trunk
Minimize air conditioning use when possible by parking in the shade or using a sun protector to keep your vehicle cooler inside
Know the quickest routes to destinations
Maximizing fuel efficiency will help you spend less money on gas – and it will help your car last longer as well.
Know Where the Lowest Gas Prices Are
In my area, there is a certain Sam's Club that has gas prices that are often a good twenty cents lower than I'll find for gas prices anywhere else. That means we'll always fill up the tank when we're at this particular Sam's Club location.
By knowing where the cheapest gas prices are in your area, you can make sure you aren't spending more than you need to for fuel.
It's important to know too that it doesn't always make sense to drive out of the way to pay less for gas (unless the money you save will make up for the gas spent to get there), but if you know where the lowest prices are you can make sure to fill up there when you're in the neighborhood.
Know too that gas prices often jump up right before the holidays, so make sure you are filling up either well before the holidays or waiting until a few days after the holidays if possible in order to spend less on gas.
Use a Mileage Tracking App
If you put a mileage tracking app on your phone, you can make sure you keep track of all of the miles you drive with Lyft so that you can maximize your annual mileage deduction on your tax return. What are some of the more popular mileage tracking apps?
Installing a mileage tracking app like the ones mentioned above will help you keep better track of the miles you drive as a Lyft driver, and keeping better track of your mileage will help you maximize your profit.
Bonus tip: get a dash mount for your phone to make tracking miles with your app easier.
Take the Unwanted Rides
There are certain types of rides that attract fewer rideshare drivers:
Early morning runs
Late evening partiers
The early morning runs can consist of anything from a person wanting a ride to an airport to catch an early morning flight to a person needing an early ride home after a late night out.
Since many rideshare drivers want to get their sleep, you may find more opportunities to make cash if you are willing to be available for these early morning runs.
The same goes with the late-night runs. People are often seeking rides home after 10 p.m. after their social gatherings have ended.
While many drivers are in bed sleeping to prepare for the next day's work, you can be making money by picking up these late-night riders.
Know Where the Riders are in Your Area
Depending on where you live, you'll have a heavier concentration of riders in certain areas.
For instance, if you live in a college town you may find a lot of riders on or near the college campus, since college-attending adults tend to use rideshare programs more often.
Likewise, if you live in an area where the party scene is hopping, say in New York City, L.A. or Chicago, you might find a heavy concentration of riders at areas where there are lots of clubs.
As another example, this article about driving with Uber features Ryan Begin, who lives in Arizona and hangs out with his car near local spas and resorts, where there are often clients needing rides to and from the local airport.
Lyft assigns clients to the driver who can get to the rider's destination the soonest.
By knowing where the riders are in your area, you can help maximize availability by staying close by popular destinations where riders may need a quick ride home, and earn more money by being able to quickly get to clients in need of a ride.
Refer Potential Passengers and Drivers to Lyft
When you become a driver with Lyft, you'll be assigned a personalized code to your name. If you use that code to refer both potential drivers and potential riders to Lyft, Lyft will pay you a referral fee.
Lyft pays $10 for riders that you refer (as soon as they take their first ride) and up to $750 for each Lyft driver you refer. You can refer people to Lyft by handing out a specialized card that has your name and code on it.
Where can you hand out the cards in order to maximize referral income? Start by sharing your card and code with friends and family members you think might benefit from a Lyft riding experience.
You can also hand your card out to those who may want or need some extra income and might like to earn it by driving with Lyft in their spare time.
Another referral tip is to attend local social events such as fairs or concerts and hand out your cards there. Social venues like bars or restaurants are another option for handing out your Lyft referral cards.
Just share your card and the benefits of riding with or driving with Lyft with anyone you think might appreciate having access to fast and easy transportation, and as you share the benefits of Lyft with more people, you will increase your chances of earning more money with Lyft.
Keep Good Records
As a driver with Lyft, you'll be considered an independent contractor. In other words, if you drive with Lyft you'll be viewed as a business owner. This means that you will be responsible for reporting all of your income and expenses on your tax return at tax time.
The more detailed and organized you are about keeping track of your income and expenses, the more efficiently you can fill out your tax return in a way that produces the maximum profit for yourself.
Using a mileage app like the ones mentioned above is a good way to begin keeping thorough records, however keeping a ledger or spreadsheet of other expenses will help you have a more organized account of your business when tax time comes.
You can use a simple spreadsheet or ledger, or you can use a more comprehensive app such as the Quickbooks Self-Employed app mentioned above. The easier you make it to record your income and expenses, the more complete your records will be.
Don't forget to include expenses such as:
Extras like bottled water or candy that you provide to riders
Money spent on vacuuming or washing your vehicle
Money for maintenance items such as oil changes, tune-ups or tires
Money spent on any cards or business related signs that you pay for
Anything you spend that directly enhances, improves or benefits your riders can likely be deducted as a business expense on your tax return, which will maximize your profit in the long run.
Maximizing the Customer Experience
Another way to potentially maximize your income with Lyft is by making sure that the customers you give rides to have a pleasant and comfortable riding experience.
Although riders can't request a specific driver with Lyft at this time, riders do have the ability to rate drivers, and they are also encouraged to tip their driver.
By making sure your rider gets the most enjoyable Lyft experience, you increase your own chances of getting 5 star reviews and earning good tips. Here are some ideas that can help you increase customer satisfaction for your riders.
Keep Your Car Super Clean
It's important as a successful Lyft driver to be sure your car is immaculately clean at all times. Consider these helpful hints for keeping your car clean.
Wash and vacuum out your car on a regular basis so that every client gets a fresh and clean ride. A hand held portable vacuum might be something you want to keep in your trunk in order to be sure you can vacuum out your car between clients if needed.
Try to avoid eating in your vehicle if possible so that clients aren't greeted with the scent of your last meal. Many people are sensitive to certain smells and might not appreciate having to ride with the lingering scent of a gyro or super deluxe double cheeseburger. Bonus: not eating in your car will help cut down on your cleaning time.
Be careful about using scented air fresheners. Because certain people can be bothered by strong scents, it's important to be cautious about having perfumed smells such as air fresheners in your car. If you do choose to have an air freshener, be sure it's a very mild scent that won't overpower your riders.
Make sure your trunk is clean. Since you may be transporting riders to airports or other locations where they need to bring luggage or other items (such as a trip home from the grocery store), it's important to be sure your trunk is clean and in a condition that ensures riders will feel comfortable storing their things there.
Have your windows open in between rides if the outside air is comfortable. The more fresh air your car gets, the better it will smell and feel for riders.
By ensuring your vehicle looks and smells clean and pleasant, you can improve your rider's chance of using Lyft again.
Offer Rider Extras
Many successful Lyft drivers earn great ratings and tips by providing rider "extras". Some extras aren't worth what they will cost you as a driver, but other extras are well worth the money and will enhance driver experience (and potentially your rating and tip). Some ideas for extras include:
Car phone chargers for both Android and Apple phones
Bottled water (get the smaller bottles to save money)
Cheap snacks such as gum or hard candies
Small garbage bags (a necessity if you are transporting bar patrons)
Tissues
It's the little things that often make a rider sit up and take notice of their Lyft experience. The thoughtfulness that is shown by having these types of little extras available will be noticed by many of your riders, and will help ensure you get a good rating as a Lyft driver.
That being said, it is equally important not to go overboard when considering what extras you provide. For instance, while a few hard candies or a bottle of water is fine, you probably don't want to serve your client homemade cookies or go overboard on extras.
Doing too much to enhance a rider's experience might make them uncomfortable and be viewed as an obvious attempt to influence them.
Providing extras in a successful way means that the provisions don't take a lot of time on your part, nor do they cost a lot of money. Successful business owners know how to keep costs low while providing a great customer experience.
Have a Good Attitude
Riders enjoy their Lyft experience more when their driver has a pleasant and enjoyable attitude. Remember however that what's considered "pleasant and enjoyable" for one rider might be annoying to another.
This is why it's extremely important to take cues from the client as you bring them to their desired location. Start with a smile and an introduction after you pick them up. Tell the rider sincerely that you're glad to meet them.
Offer them a bottle of water and let them know about any extras you have in the car such as candy or a phone charger.
Make small talk without asking any unprompted personal questions such as "Why are you going to the airport?" Don't talk about yourself unless the rider specifically asks you a question about yourself. After answering, turn the conversation's focus back on the rider.
Avoid grumbling and complaining and try to keep the conversation positive and upbeat. Likewise, if you are sensing that a rider doesn't want to talk, respect that and keep quiet. Riders will appreciate your respect and your focus on them as they ride.
Ask and Advertise for Ratings
Some Lyft drivers have signs that hang over the back of the front seat that politely ask riders to rate them a "5" if they've had a pleasant riding experience. They might also add a small line on the sign that reads something like "Tips not required but greatly appreciated."
Be sure to let riders know that you will be giving them a good rating too. Say something like "Thanks for being a great passenger; I'll be sure to give you a "5" rating with Lyft."
Be sincere when doing this and be careful about implying that you'll give them a "5" if they give you a "5". Instead, do it for the sake of benefiting your rider and hope they do the same in return.
Summary
Driving with Lyft has the potential to be a great side hustle for those willing to put in the time and effort.
While there are no guarantees that your Lyft business will be successful, you can maximize the income you make with Lyft by following the tips above and doing your best to promote yourself as a professional and pleasant Lyft driver.