If you are an expert on a particular topic, wouldn't it be nice to turn your knowledge into cash?
JustAnswer provides the opportunity to monetize your expertise. While you'll need to have specialized knowledge of a subject, the platform could be the side hustle you've been searching for.
This JustAnswer review can help you decide whether or not this money-making opportunity is right for you.
Summary
JustAnswer connects experts to people that have questions. As an expert, you can earn thousands of dollars each month.
Pros
Flexibility
High earning potential
Many topic experts needed
Cons
Experts may need more support
What is JustAnswer?
JustAnswer is a legit online service where users can ask questions about anything and get answers from experts. They have over 12,000 experts from more than 196 countries with knowledge of 700 different categories.
To date, the site claims that experts have answered over 16 million questions.
On the customer side, JustAnswer presents a streamlined way to get professional answers from the comfort of their couches.
For people who want to earn extra money from home, JustAnswer presents a unique opportunity to turn their specific expertise into a viable income stream.
A few of the experts JustAnswer works with include:
Doctors
Mechanics
Lawyers
Computer technicians
Veterinarians
Teachers
The site claims that side hustlers can earn money doing what they love, answer questions from anywhere and work as much or as little as they want. This makes it a flexible opportunity to earn money on the side.
How Does JustAnswer Work?
JustAnswer has two sides, including one for users with questions and another for experts who can provide answers.
Here's a quick look at both sections of the site and how they work.
For People with Questions
If you have a question, you'll start by asking an Expert's Assistant. This person will help you connect with the best expert for your needs.
Once you are connected to an expert, you'll be able to communicate back and forth. Experts are available 24/7, so you'll likely get your answer quickly.
Keep in mind that you will have to pay a membership fee to get an answer to your question.
For Experts
There are two steps to using the site if you are an expert. These include signing up and earning money by answering questions.
Become an Expert
If you are a professional with the right experience, you shouldn't have any trouble signing up for JustAnswer.
The process starts by providing your name, email address and topic of expertise.
From there, you'll be asked to provide a subcategory. For example, let's say that you choose 'Pet' as your category of expertise. You may select dog, cat or another animal as your subcategory.
Be prepared to provide your date of birth, country of residence, the last four digits of your Social Security number, educational background, work history and any additional documents proving your expertise.
After you submit your application, JustAnswer will run a third-party verification of your experience and complete a background check.
If you are approved, you'll receive an email from JustAnswer with instructions on how to answer your first question. It should take less than two weeks to finalize your application.
Earn Money Answering Questions
As an expert for JustAnswer, you'll have complete control over your schedule. You can log into the platform and start answering questions whenever you are available.
Within the platform, you'll have the ability to accept or reject questions. Thanks to this feature, you'll never have to answer a question that you don't feel comfortable addressing.
The amount you can earn per question varies widely. However, the JustAnswer website claims that experts can make anywhere from $2,000 to $7,000 per month.
Once you have at least $20 in your account, you can request payment. Payouts are processed by Hyperwallet. This enables you to receive money via direct deposit, PayPal or Venmo.
JustAnswer Pricing
JustAnswer is not a free service for customers. However, the cost varies widely based on your question's topic.
Customers can expect to pay between $5 and $70 (or more) for a monthly membership to JustAnswer.
Additionally, there can be premium service charges depending on if customers need a phone call with an expert or if an expert offers an additional service like document preparation.
As an expert, you can join for free.
Key Features
JustAnswer offers a unique side hustle opportunity. Here's what stands out about this platform.
Extensive Topic Options
If you are an expert in anything, JustAnswer will likely want to work with you.
Here's a look at some of the categories JustAnswer covers:
Relationships
Parenting
Weddings
Jobs
Firearms
Etiquette
Dream interpretation
Finance
Engineers
Legal
Medical
Veterinary
Taxes
Boats
Technology
Car repair
Home improvement
And more. If your particular area of expertise isn't one that JustAnswer covers, you can contact them to see if they need experts in your field.
Choose What You Answer
When you are approved, you'll have full control over which questions you choose to answer.
Although you can answer everything that comes your way, you can decline questions you don't feel comfortable answering. Plus, you won't be penalized for not answering every question that is sent to you.
Work When You Want
As a JustAnswer expert, there are no time commitments. You can pop onto the platform anytime you want to work.
The ability to choose your own hours is a nice perk for any side hustle. You'll easily be able to squeeze this opportunity in around your day job.
High Earning Potential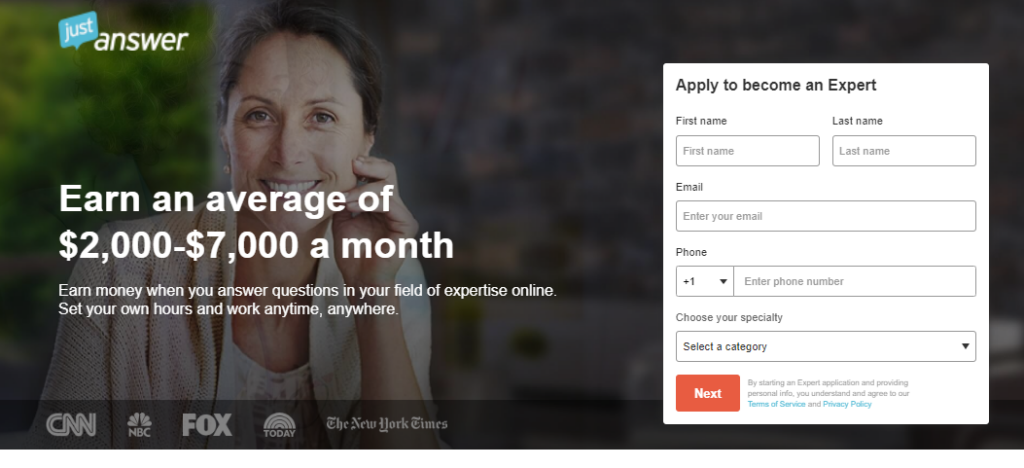 The amount of money you can earn via JustAnswer varies widely based on your expertise.
For example, a veterinarian can expect to earn more per question than a dream interpreter. But, regardless of your particular expertise, there are plenty of opportunities to earn money.
According to JustAnswer, you can earn an average of $2,000 to $7,000 per month.
Keep in mind that the amount you can earn is directly tied to your time. So, if you aren't able to commit too much time to JustAnswer, your monthly earnings won't be as high.
Easy Cash Payouts
Once you reach a $10 balance in your JustAnswer account, you can request payment. Hyperwallet handles payouts for JustAnswer, and you can receive money via PayPal, direct deposit or Venmo.
The ability to get your payment as cash can be a major perk if you prefer working with platforms that don't require you to redeem your earnings for gift cards.
Customer Reviews
JustAnswer received fairly positive reviews from both experts and members, indicating that you might have a good experience if you choose to use the site.
Here is how JustAnswer stacks up across the various rating websites:
| | | |
| --- | --- | --- |
| Website | Rating | Number of Reviews |
| Trustpilot | 4.2 out of 5 | Over 25.5k |
| Apple App Store | 3.9 out of 5 | Over 9.3k |
| BBB | 3.7 out of 5 | Over 4.2k |
| Indeed | 3.6 out of 5 | 16 |
| Google Play | 3.1 out of 5 | Over 2.7k |
Here are a few reviews from JustAnswer experts to give you a better idea of what to expect from the platform:
"I enjoy writing answers as an Expert for JustAnswer. I can pick and choose my jobs and when to work and get direct feedback from customers. The category moderators are helpful and feedback is encouraged." – Medical Expert
"Management is pretty much non-existent. There is little to no support provided for Experts. Any time there's an issue, responses are not helpful and inadequate. Complete lack of transparency with regard to policies and weekly pay." – Expert
"I enjoy writing answers as an Expert for JustAnswer. I can pick and choose my jobs and when to work and get direct feedback from customers. The category moderators are helpful and feedback is encouraged." – Medical Expert
"They do not listen to their experts, constantly roll out changes to their online platform that hinder more than help both customers and experts alike, and do nothing to ensure experts are fully compensated for their work." – Technical Support Expert
JustAnswer Alternatives
If you are looking for other ways to make money online by answering questions, here are some alternatives to JustAnswer that are worth considering.
Experts123
Experts123 offers the opportunity to earn money for posting articles about select subjects. As an expert, you'll apply to be a contributor.
If you are approved, you will get paid based on a revenue-sharing model. This means that if your article gets a lot of traffic, you'll earn more money. But, with time, you may graduate to getting paid per post.
Here are some of the categories that Experts123 offers:
Beauty
Cooking
Careers
Crafts
Entertainment
Health
Home improvement
Parenting
Pets
Travel
Technology
If you have expertise in any of these fields, this platform offers the chance to create a new income stream.
HelpOwl
HelpOwl rewards you with points for both asking and answering questions. You can also earn points for uploading product manuals.
Point values vary based on the activity you complete. For example, submitting a manual can earn you 250-1000 points depending on the length, while answering a question is worth 100 points.
It is important to note that you can lose points as well. If someone marks your answer to a question as unhelpful, 10 points will be deducted from your point total.
The points you earn can be traded in for gift cards at Amazon and Walmart. Although it will take a considerable amount of effort to earn enough points for a gift card, this site could be a nice option if you have spare time.
Keep in mind that the earning potential with HelpOwl is relatively low. That said, it's a flexible way to make extra cash.
StudyPool
StudyPool is similar to JustAnswer, but it has a twist. This platform focuses on helping students with school-related topics.
Some of the most popular subjects on StudyPool include:
Accounting
Algebra
Chemistry
Law
Writing
Science
As a tutor, you need to have a degree in higher education or be a current college student yourself to answer questions. While StudyPool will take at least 20% of your earnings, you can still earn a solid income.
In fact, StudyPool says that some of its tutors are making $7,500 per month. If you are an expert in a particular field of study, this could be an awesome source of extra income.
FAQ
Do you still have questions about JustAnswer? These answers might be able to help you decide if the platform is worth trying.
Is JustAnswer a legitimate site?
Yes, JustAnswer is a legitimate site. Although many customers with a question have left complaints about an automatic subscription sign-up, the experts and answers are legitimate.

As an expert, you can earn money each month through the platform.
How much does it cost to use JustAnswer?
If you are asking a question, you can expect to pay between $5 to $70 for a monthly membership. However, sometimes you might pay more. The exact fee will vary widely based on the particular topic.

Experts can use the site for free.
How does JustAnswer make money?
JustAnswer charges people who ask questions a monthly membership fee. The company pays some of this money to the expert who answers the customer's question and keeps the rest.
Does JustAnswer pay well?
According to JustAnswer, experts earn an average of $2,000 to $7,000 per month.
Of course, the amount you earn varies based on the time you put in. But, it's possible to make thousands each month based on your expertise and available time.
What customer service options does JustAnswer offer?
JustAnswer provides a customer care center where you can look up any site-related questions you have.

It also provides a chat feature and email address that you can use in addition to multiple phone numbers that customers around the world can call to get support.
Summary
JustAnswer offers the opportunity to turn your knowledge into money. You can work on your own schedule and only answer the questions you are comfortable addressing.If you are looking for a way to make money online, JustAnswer is worth trying.
However, if you want an opportunity that doesn't require specialized skills or knowledge, it might be worth considering other side gigs.