While most experts agree that buying a timeshare typically isn't a good financial move, many people have, use and enjoy them.
However, knowing how to sell a timeshare is important in case you decide you don't want to be locked into timeshare ownership anymore.
If you own a timeshare and have decided it's time to sell, we've found the top strategies that can maximize your chance of getting the best price.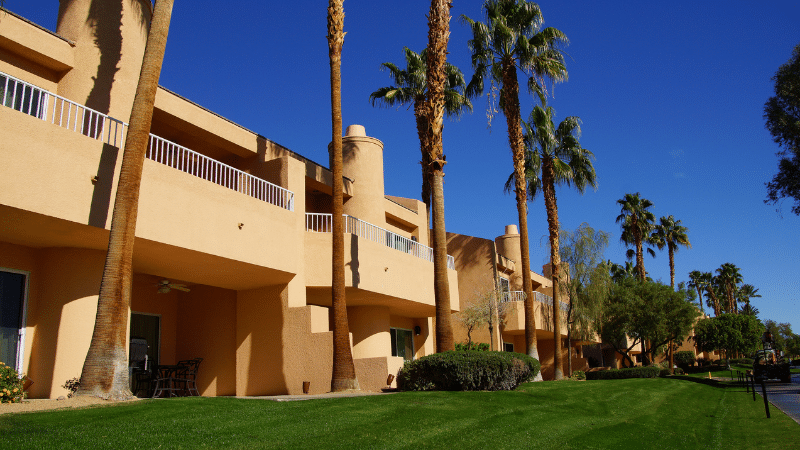 Timeshare owners may have various reasons they want to sell their timeshare. Whether they want to avoid timeshare maintenance fees or just want to travel elsewhere, they may want to know what the timeshare resale market looks like.
Fortunately, there are many legit options for getting out of a timeshare, especially if it is paid off. Making sure you understand each one can help you choose the right strategy for your situation.
In alphabetical order, here are the top ways to legally sell your timeshare.
1. Hire a Licensed Real Estate Agent
One method you can use for selling your timeshare is to list it with a local real estate agent.
It's important to keep in mind that, when it comes to selling a timeshare through an agent, you should look for real estate agents who are experienced in timeshare resales.
The process of selling a timeshare is different from selling traditional real estate. Having an agent who knows how to sell timeshares can ensure you don't run into any issues during the process.
There are often real estate brokerages in cities or counties where there is an abundance of timeshare resorts, such as Florida.
In fact, some brokerages specialize in selling timeshares or exist solely to serve timeshare owners. These brokerages really understand the timeshare resale industry.
As with timeshare listing companies, it's important to talk to a real estate professional or broker about what the fees and other terms will be if you hire them to help you sell your timeshare.
Most real estate brokerages that specialize in timeshare listings have programs with no large upfront fee. However, depending on your specific timeshare, there may be an upfront fee when you list.
Make sure to use the same precautions when selling with real estate agents as you would if you were selling with a listing company.
These include:
Knowing all fees upfront
Understanding the process
Reading independent reviews
Ultimately, using a real estate agent experienced with selling timeshares can mean less stress and effort on your end.
Potential Cost: A flat fee or a percentage of the sale
Pros
Less costly than listing firms
Agents motivated by commissions
Cons
Can take months
Possible up-front fees
When it comes to timeshare resale, timeshare listing companies connect timeshare sellers with potential buyers and/or renters. This is typically done in an online setting.
There are dozens of companies that will list your timeshare for sale on their site. One example is SellMyTimeshareNow.com.
This site will not only list your timeshare, but it will also help connect you with the professionals you'll need to help you legally execute the sale.
Buyers who are interested in buying a timeshare on the resale market can peruse sites like SellMyTimeshareNow.com in hopes of getting a good deal on a timeshare being sold by a private party.
Furthermore, people who are interested in renting a timeshare also use these types of sites to find timeshare rental opportunities. This could be another option to consider if you are having trouble finding a buyer.
When searching for a listing company that will post your timeshare for sale, there are a few things you should look for.
These include:
Transparency regarding fees and costs
Positive independent online reviews
Clarity and honesty about the process
If a listing company offers you a deal that seems too good to be true, it probably is. Always keep your guard up to avoid timeshare scams.
A legit listing company should tell you that selling a timeshare can take many months, will cost you money and you'll likely sell for much lower than what you paid.
When it comes to the price you can get for your timeshare, it's important to keep in mind that the goal is to get out of paying maintenance fees.
Therefore, it could be worth it to take a lower price than you might expect when you sell. This could end up saving you a ton of money in the long run.
Potential Cost: Between $500 and $5,000+
Pros
Easy method
Requires little effort from the seller
Cons
Fees may outweigh profits
Can take time to sell
3. Rescission Laws
Most timeshare sales come with the requirement to abide by state-written rescission laws that can help you get out of your timeshare. This can be helpful if you quickly start second-guessing whether or not your timeshare is worth it.
A rescission law, also commonly known as a "cooling off period," gives consumers the chance to really think through major purchases before they are fully committed to the contract they signed to make that purchase.
While this isn't exactly timeshare resale, these laws provide one of the few ways you can cancel a timeshare agreement.
When you purchase an item such as a timeshare and then decide soon after that you've made a bad decision, a rescission law can help you undo that mistake.
If you can take advantage of the rescission law of the state you bought the timeshare in, you can usually get all of your money returned to you.
It's important to know that rescission law periods are usually quite short. Many states have rescission laws that only last three business days.
Other states go up to seven, 10 or even 15 business days. Keep in mind that, according to the FTC, "business days" include Saturdays, but not Sundays or legal holidays.
Additionally, it's important to remember that there are often certain criteria that need to be met before the rescission period clock starts.
See your state's rescission period laws for specific details on rescission terms.
Potential Cost: None
Pros
Easily get out of your contract
Free
May get a full refund
4. Sell It Back to the Developer
There is a chance you might be able to return your timeshare to the developer who sold it to you. This is often called a "Deed-Back Program."
A deed-back program is written into some timeshare contracts. It either requires or allows you to sign the deed on your timeshare back to the timeshare developer should you want to release yourself from the timeshare obligation.
Did you notice that the previous paragraph mentioned the word "requires?" Some timeshare contracts actually mandate that you sign the deed back to the company if you want out of your contract.
Others don't require it, but they may provide "incentives" for you to do so. These can include a loss of rewards points or other benefits that the new timeshare owners won't get if you sell it by means other than back to the developer.
For that reason, you'll want to read your timeshare contract carefully before you sell it by means other than deeding it back to the developer.
Note that there could be fees associated with a deed back program as well. Plus, you rarely receive compensation for your timeshare with a deed back program.
Basically, this option simply gets you out of the contract and out of any annual timeshare maintenance fees or other obligations. While it's not immediately lucrative, it will keep more money in your pocket over time.
Potential Cost: A small fee may apply
Cons
Not always available
May not get money back
5. Try to Sell It Yourself
You could consider selling your timeshare on your own as well. There are a couple of strategies you can use to sell your timeshare on your own.
For instance, you could go the traditional route of listing on eBay, Craigslist or other sites like it. However, it's important to know that these types of sites aren't designed for the timeshare resale process.
As a result, it could take longer for your timeshare to sell since these platforms are not the most common way to sell a timeshare.
Additionally, depending on which platform you use, the fees involved could be high while the end profit could be low.
Furthermore, it's important to note that if you do sell your timeshare on your own, you'll want to enlist a lawyer or other timeshare sales professional to help you close the deal in a legal and binding matter.
Timeshare resale can be complex, and you need someone who knows the industry. Without legal advice, you could end up with a contractual mess on your hands.
While legal assistance is beneficial overall, this extra expense can further dilute any potential profits you may receive.
You can also consult the American Resort Development Association to learn more about the timeshare industry and some of the legalities behind it.
Potential Cost: $0 and up for listing, additional costs to close and get legal advice
Cons
May need legal help
Additional costs can add up
Another potential option you can try if you've determined that your timeshare is no longer worth it is a timeshare exit company.
These types of companies work with you to discover all of the different ways you can legally get out of your timeshare. They know all the options since they know how to sell timeshare properties.
Knowing your specific options is important because every timeshare contract is different. As such, the strategies for getting out of your timeshare and getting the most money for it can vary.
There are scam timeshare exit companies, but there are also legit timeshare exit companies. You'll want to do your due diligence before choosing the company you want to work with.
The top timeshare exit companies can help you weigh each option for exiting your timeshare contract as well as what the potential costs and profits will be with each option.
Unlike listing companies that simply list your timeshare for sale or rent, timeshare exit companies can help you decide whether to list, cancel your contract or pursue a different option.
As the timeshare owner, you decide which strategy will work best for you. The costs can vary depending on which timeshare exit company you're using.
Your job is to be sure a company is upfront about costs, terms and that they have good reviews from independent sources such as Trustpilot.
Potential Cost: $500 and up
Cons
Fees can be high
Beware of scams
FAQs
Do you still have questions about selling your timeshare? These answers might be able to help.
Who buys timeshares?
Timeshares are purchased by individuals or families who want an established vacation option.

They may also be purchased by businesses looking for rental properties or companies that want to resell your timeshare for a higher price.
How can I determine what my timeshare is worth?
Talking with a timeshare exit company representative or listing company that doesn't have anything to gain by you selling at a lower or higher price could be a good idea.

Both these options can tell you the resale value of your timeshare, helping you to sell your timeshare for the best price.
What are the costs associated with selling a timeshare?
The costs associated with selling a timeshare can vary widely, but you can expect to pay at least $500.

However, sometimes the cost to sell your timeshare can be thousands of dollars.
Are there timeshare scams I should watch out for?
Yes. Beware of companies that call you with unsolicited advice or offers.

Additionally, be sure to get everything in writing and read your contract thoroughly. It's also wise to check independent online reviews with sites like Better Business Bureau and Trustpilot.
How can I get the most money for my timeshare?
Timeshare owners who take advantage of rescission laws get the most money for their timeshare because they essentially get a full refund.

However, since there is a brief window of opportunity to take advantage of these laws, you'll want to compare the fees and extra costs associated with other selling methods to determine the best and cheapest option for your unique situation.
How long does it take to sell a timeshare?
It depends. Some timeshares may sell quickly, while others might take months.
Factors that impact the process include your listing price, the location of your timeshare and the current supply vs. demand.
Are there any helpful resources I can use to learn about the timeshare industry?
Yes. The American Resort Development Association is one good resource to look into.
Summary
Knowing how to sell a timeshare and get the most for it can be valuable when you want to end your contract.
There are many factors to consider, such as the details of your contract, the number of options you have for selling your timeshare, cost and more. You should also read online reviews in order to avoid scams.
At the end of the day, it's important to remember that your end goal is to get out of your timeshare contract, even if that means taking a lower offer. Timeshare ownership can be costly, so being able to avoid things like annual maintenance fees can be ideal.
With a big-picture perspective and the right timeshare exit method, you can find get the most for your timeshare when you sell.