If you're stuck with a timeshare you no longer need or want, you may be wondering what your options are. Selling your timeshare may be difficult because the internet is flooded with people selling timeshares.
The top timeshare exit companies can help you get out of your timeshare contract legally. Read on to learn which companies may be able to help you.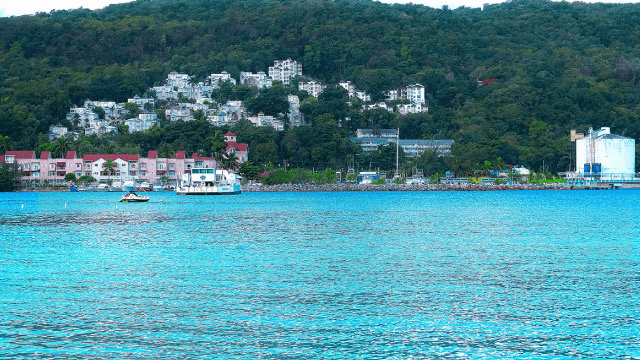 There are dozens of companies to choose from. While there are many ways to get out of a timeshare, there are also numerous timeshare scams out there.
These scams may cost you thousands of dollars and cause you to retain ownership of your timeshare. Be careful when selecting a company to use.
Here are some of the most highly-rated companies to help you get rid of your timeshare.
1. Newton Group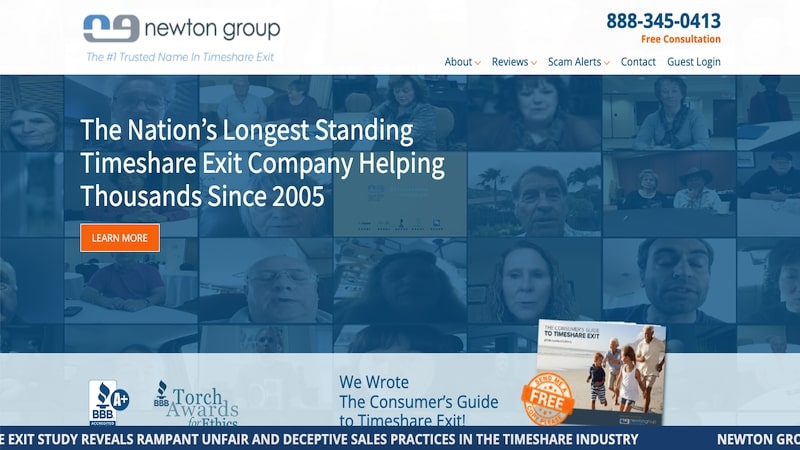 Newton Group calls itself the longest standing timeshare exit company in the U.S. They've been in business for over 15 years.
Newton Group can offer multiple options to help you get out of your timeshare. They work on a flat fee with no money upfront – low monthly payment options available.
Newton Group has a dual service including timeshare exit services and legal representation as well.
This dual approach helps you cover all of your bases when it comes to timeshare exit services.
Newton Group will give you a free, no-obligation consultation about your situation.
The Newton Group website doesn't mention anything about a money-back guarantee. However, they do have great ratings on several popular sites, including Trustpilot.
Best for: Those looking for a company with long-term experience and high ratings
Learn More: Newton Group Transfers Review
2. Vacation Ownership Consultants
Vacation Ownership Consultants has been operating since 2014 and is based out of Scottsdale, Arizona. They offer no money out-of-pocket today with 0% interest payment options available.
One thing that sets this timeshare exit company apart is that they charge a one-time, flat fee. Additionally, they pride themselves on being the low-cost leader in the industry for the services they provide. They also promise that there are no hidden fees.
VOC offers an attorney-based process. This consulting service functions in conjunction with attorneys and other industry-related strategic partners to help owners find the best solution. This includes an in-house team skilled with industry experience, a contracted legal team, and strategic partners in a streamlined process.
Traditionally, hiring an attorney can cost you roughly $300 to $500 an hour. And possibly a retainer fee, with no guarantees. All of this can add up to thousands of litigation efforts.
The website says that this technique has helped them create a more affordable solution for those wanting to get out of a timeshare.
Vacation Ownership Consultants guarantees are backed by 100% satisfaction rates and 5-Star ratings.
To get started, simply book a no-cost consultation.
Best for: People focused on affordability
Learn More: Vacation Ownership Consultants Review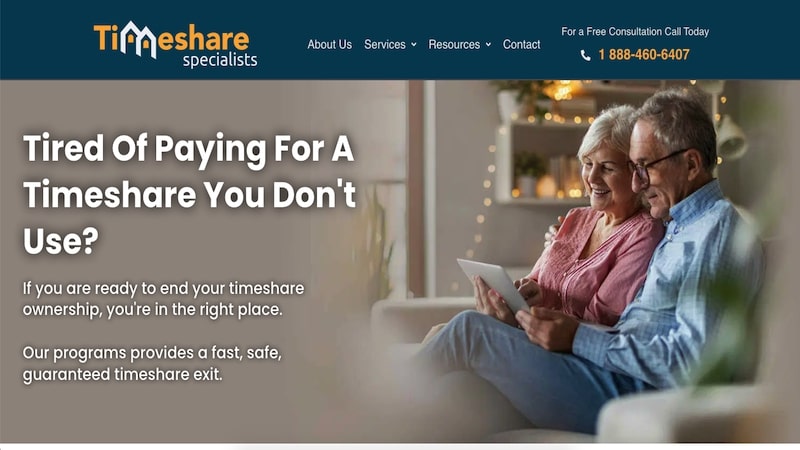 Timeshare Specialists have been in the timeshare exit business for over 15 years. They offer free consultations and are located in Bozeman, Montana.
The Timeshare Specialists website says that, in most cases, they can have you free of your timeshare obligations in eight to 12 weeks.
One thing that's different about this company is that they offer various exit strategies, including listing your timeshare for sale. Most of the other companies listed here don't provide that option.
Similar to Timeshare Compliance, Timeshare Specialists also have a timeshare calculator on their website.
The company works in tandem with an escrow company and says that you won't pay any money upfront. Instead, you'll pay after your timeshare transfer paperwork is complete.
Note: They may not be able to help if you have an existing mortgage or owe maintenance fees.
Best for: Those who want to pursue most options to get rid of their timeshare
Timeshare Compliance is based in Aliso Viejo, California. As with other companies, Timeshare Compliance offers a free consultation to see if they can help you exit your timeshare.
This company's website says it focuses on customer satisfaction. It has quotes and links to reviews to back up that claim.
The site also says it may take up to 24 months to get rid of your timeshare, although it reports the process is often a lot shorter.
One other nice feature on the company website is the timeshare calculator. This calculator can help you figure out how much you will pay for your timeshare in the years to come.
You can use the calculator to determine how much money you can save by exiting your timeshare. Timeshare Compliance does have a satisfaction guarantee as well as an escrow option available.
Best for: Timeshare owners focused on customer satisfaction
5. EZ Exit Now
EZ Exit Now is based out of Houston, Texas. The company's website says they're a faith-based organization with a long track record of community involvement.
They are also supportive of the U.S. Armed Services. If you contact EZ Exit Now, they'll give you a free one-on-one consultation to see if they can help you get rid of your timeshare.
After they've confirmed they can help you, you'll sign a contract and wait for them to get you out of your timeshare.
While numerous review sites mention a 100% money-back guarantee and an escrow option for EZ Exit Now, the company's website doesn't verify either of those things.
You'll want to find out the details of those possibilities when you call the company to check them out. Also, ask about any additional fees if you decide to use the escrow option.
Similar to Seaside Consulting, EZ Exit Now doesn't talk about their prices for timeshare exit services.
Best for: Military members or those who value community involvement
6. Seaside Consulting Group
Seaside Consulting Group is based out of Encinitas, California. Their website says they have a proven timeshare exit strategy.
The company also claims to have a 100% customer satisfaction rate. They offer free consultations to see if you are eligible for a timeshare cancellation.
Seaside Consulting Group works primarily with timeshare owners who signed contracts based on deceit, high-pressure sales tactics, misinformation, and misrepresentation.
All clients who work with Seaside will be assigned an attorney for legal representation during the process.
The company offers credit protection as well. This prevents the timeshare developer from "dinging" your credit for lack of payment.
Pricing isn't listed on the Seaside Consulting Group website since services and fees vary. However, the company does reveal that it takes about eight to 12 months for services to be completed.
Seaside offers a satisfaction guarantee. They also offer an escrow option for an additional fee.
Best for: Those who were manipulated into purchasing a timeshare
7. Wesley Financial Group
Wesley Financial Group has offices in Tennessee and Nevada. The company offers a free consultation to see if they can help you exit your timeshare contract.
Wesley says it offers a one-of-a-kind process and can help you eliminate timeshare mortgage debt as well. Not all timeshare exit companies help eliminate timeshare mortgage debt.
This company boasts a 97% success rate and claims it's given nearly $2 million in fees back to the other 3% of clients. As of this writing, they've helped over 16,000 clients get out of timeshare agreements.
The website says that, in some cases, they were even able to refund part or all of the timeshare purchase price. However, this seems to be a rare occurrence.
Wesley Financial Group offers a 100% money-back guarantee but doesn't advertise an escrow option.
Best for: Those with timeshare mortgage debt
The main goal of a timeshare exit company is to legally get you out of your timeshare contract. These companies provide a valuable service to timeshare owners who no longer want to own their timeshare.
It's true that timeshares can provide a wonderful vacation avenue. However, they can also cost hundreds (or thousands) of dollars per year in maintenance fees, resulting in people wanting to offload them.
What is an Escrow Option?
You typically have two options regarding payment and your satisfaction with services performed.
Some companies provide a money-back guarantee if they cannot get you out of your timeshare.
Other companies use a third-party holding company to hold the funds you pay for their services. This third-party company is called an "escrow" company.
If you're not able to get out of the timeshare contract, you can contact the escrow company to get your money returned to you.
Trying to figure out what you have? Timeshare exit and timeshare resale are the two options available to almost all timeshare owners.
It's important to understand that the two types of companies provide very different services.
Timeshare exit companies like the ones described above exist solely to get you out of your timeshare commitment.
In contrast, timeshare resale companies advertise your timeshare for other people to buy or rent.
Keep in mind these two things:
Timeshare resale companies will charge you a fee
Timeshares typically sell for a tiny fraction of what you paid for them
In fact, some timeshares don't "sell" at all. Your "profit" will simply be the benefit of having the timeshare off of your hands and passing along annual fees and other responsibilities to someone else.
It's critical to expect that you might have to pay out of pocket when using a timeshare resale company like you would with a timeshare exit company.
How Much Does It Cost?
If you're wondering how much timeshare exit companies charge, you're not alone. The answer to that question depends on your individual timeshare contract and purchase situation.
It also depends on the timeshare exit company. Some companies charge a flat fee, while others charge a dollar amount based on your individual situation.
However, most companies agree that it will cost anywhere from $1,000 and up. Most timeshare exit company websites say that the cost is less than continued ownership of the timeshare.
You can use one of the timeshare calculators on the Timeshare Compliance or Timeshare Specialists websites to see if that is indeed the case.
Sadly, there are scams in the timeshare exit industry, just as there are scams in nearly every industry. How can you avoid getting ripped off when you try to get rid of your timeshare?
Here are some tips that can help.
Be Wary of Unsolicited Calls
It's not uncommon for timeshare owners to get phone calls from these companies. Watch out for these types of calls.
Unless you have specifically reached out to a certain company requesting information or assistance, proceed with caution if you get an unrequested call from one of these companies.
Check BBB And Other Ratings
Check BBB and other ratings such as Trustpilot when you're searching for a timeshare exit company.
Read reviews and make a personal determination regarding how you feel about a company based on the information you've gathered.
Get Everything In Writing
You'll want to get all of the details of the costs and procedure to exit your timeshare in writing.
Read the contract very carefully. Be sure you understand your responsibilities, the company's responsibilities, and all the other terms.
If something feels like a scam or something just doesn't seem quite right about a potential timeshare exit company you are considering working with, trust your gut.
Also, be sure to keep in mind that if it seems too good to be true, it likely is.
| | | |
| --- | --- | --- |
| Company | BBB | Trustpilot |
| Newton Group | A+ | 4.7 |
| Timeshare Specialists | A+ | 4.9 |
| Vacation Ownership Consultants | A+ | 4.9 |
| Wesley Financial Group | A+ | 4.8 |
| Timeshare Compliance | A+ | 4.5 |
| EZ Exit Now | A+ | 4.2 |
| Seaside Consulting Group | A+ | N/A |
Frequently Asked Questions
What happens if I stop paying on my timeshare?
If you stop making the payments you agreed to the timeshare company, they will likely send your account to a collections agency. They will also report any delinquent payments to the main credit bureaus.
Can I act on behalf of a family member in order to exit a timeshare?
Yes, but you will need to get a power of attorney in order to do so.
Summary
Everyone has different ideas about if a timeshare is worth the cost and responsibility. Some timeshare owners love their timeshare.
Unfortunately, that's not the case for all timeshare owners. If you own a timeshare you want to get rid of, expect that it might not be easy and that you'll have to pay some money to do so.
When choosing a timeshare exit company, the important thing is to choose one that is reputable and has safeguards in place for you to get your money back if need be.