Do you own a timeshare and want to get rid of it? If so, you aren't alone. Studies show that a large percentage of timeshare buyers regret their purchase.
However, getting out of a timeshare contract is more complicated than it sounds. This is where a company like Vacation Ownership Consultants can help.
Our Vacation Ownership Consultants review can help you determine if this company is the right solution to help you get rid of your timeshare.
Summary
Vacation Ownership Consultants helps timeshare owners navigate the timeshare cancellation process. Although fees may be somewhat high and the process may take time, the company does boast proven results for former timeshare owners.
Pros
Proven timeshare cancellation options
Upfront honesty
40+ years industry
Solid customer service ratings
Cons
Fees could be too costly for some
Process may take months or even years
What is Vacation Ownership Consultants?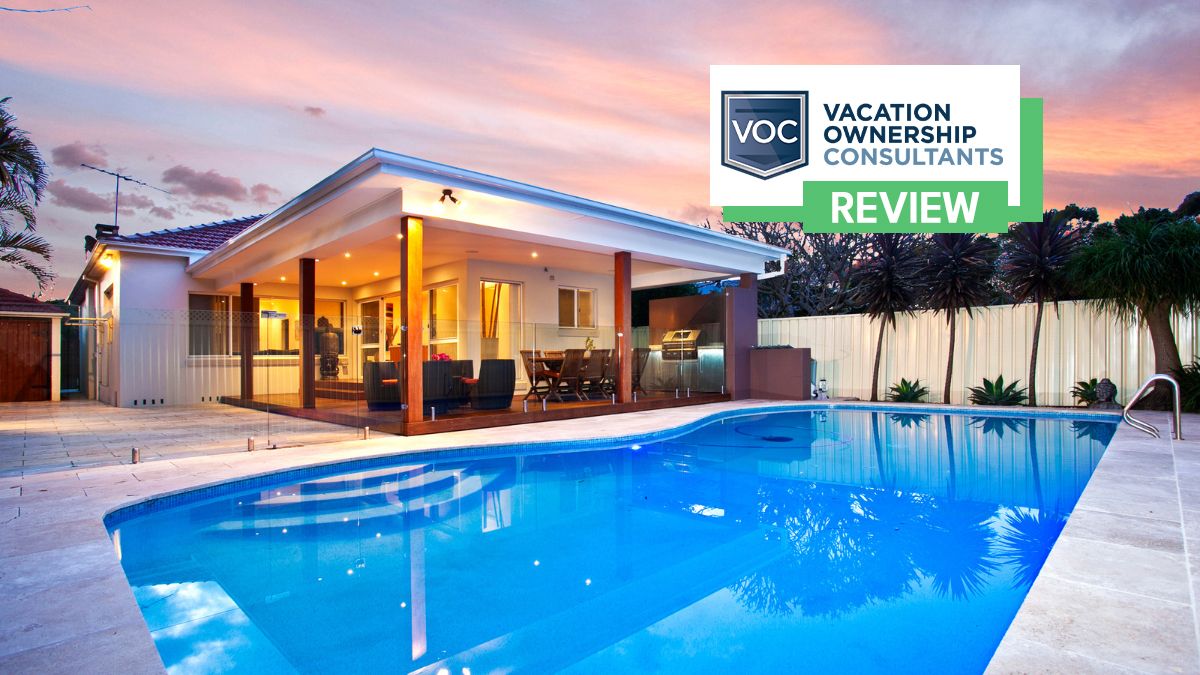 Vacation Ownership Consultants (VOC) is a timeshare cancellation company. Some timeshare exit companies give you more than one strategy option for releasing your timeshare.
For example, a timeshare exit company may help you transfer your timeshare. Alternately, they may arrange for you to return it to the timeshare company.
A timeshare cancellation company works specifically to help you legally cancel your timeshare contract.
According to their website, Vacation Ownership Consultants is the low-cost leader in timeshare cancellation.
How Does Vacation Ownership Consultants Work?
Vacation Ownership Consultants says that their proven method of helping you get out of a timeshare has resulted in high satisfaction rates from clients.
Here's what you can expect if you work with the company.
Exhaust Your Potential Options
Before reaching out to VOC, it's important for timeshare owners to contact their timeshare company first. This will help them determine if they can sell their timeshare or if VOC is a viable option for their needs.
If your timeshare company is not willing to offer a solution to help you get rid of your timeshare, you can contact VOC.
Organize Documents and Complaint
Once you've exhausted your other options, you can fill out Vacation Ownership Consultants' eligibility form.
During this process, you'll need to provide your:
Most recent timeshare billing statement
Original timeshare purchase agreement
Deed or point certificates
These documents will help VOC evaluate your options.
Evaluate Cancellation Eligibility
Next, your consultant will evaluate your cancellation eligibility. They'll go through every aspect of your application in order to determine whether or not you're eligible to cancel your timeshare.
After VOC analyzes your eligibility, they will contact you with more information.
Free File Analysis
If your consultant determines that you are eligible for Vacation Ownership Consultant's timeshare cancellation services, you'll get a free analysis of the next steps to take.
This analysis includes the fees that VOC will charge. Fees are based on the type of timeshare you own and other factors.
Enroll in Vacation Ownership Consultants
Once you've decided to enroll in the Vacations Ownership Consultants program, you'll fill out the appropriate paperwork and pay the coordinating one-time fee. This fee is all-inclusive and even includes attorney costs if necessary.
If finances are an issue, Vacation Ownership Consultants offers a six-month interest-free financing option.
Take Action and Get Results
Once you're enrolled in the program, the rest is up to VOC.
The company will make sure to educate you along the way so that you know what to expect. This will give you peace of mind that VOC is working hard to get you out of your timeshare contract.
How Much Does Vacation Ownership Consultants Cost?
Vacation Ownership Consultants does not mention the cost of their services on their website. This is because each situation is different. Therefore, fees will vary based on the type of timeshare you have and how your individual timeshare contract works.
However, based on what most timeshare exit companies charge, you can expect to pay thousands of dollars for timeshare exit services.
Is Vacation Ownership Consultants Worth It?
Many timeshare owners find it worthwhile to pay fees to get out of a timeshare since they no longer have to pay the annual association fees that most timeshare companies charge.
That said, the answer to the question of whether or not VOC is worth it depends on the individual.
VOC has high ratings on the Better Business Bureau website and Trustpilot. This means that, according to many users of the service, the fees are worth being able to get out of a timeshare obligation.
For example, let's say you pay $800 per year in timeshare association dues. If Vacation Ownership Consultants charges you $3,000 to get out of your timeshare contract, you'll earn your money back in just under four years.
If you keep your timeshare, you could be paying your association fees for the next several decades.
Selling your timeshare could be a solution as long as you can find a buyer. However, if other options for getting out of your timeshare contract fail, you may want to try VOC.
Key Features
Vacation Ownership Consultants advertises several key features that you might find beneficial if you're searching for timeshare cancellation services.
Experienced Professionals
Vacation Ownership Consultants is comprised of a seasoned team with ample experience in the timeshare exit industry. Better yet, the company is committed to helping you with your unique timeshare exit needs.
The founders of the company were working in the vacation rental industry when they noticed the high turnover rates of timeshare ownership. They sought to learn why the turnover rate was so high.
During their research, the founders spoke with hundreds of people who had stories about timeshare ownership regret. As a result, they worked to develop a timeshare cancellation company that would help people get rid of their timeshares.
Compassionate Business
As a result of their research and interviews with many timeshare owners, Vacation Ownership Consultants have built a business that prioritizes its clients.
The company's many years of experience have given them a peek into what timeshare owners looking to get out of timeshares go through. That experience helps VOC agents have compassion for their clients.
When you work with this company, you can expect them to assess your unique situation thoroughly. They want to hear and understand your story so they can serve you effectively.
Trusted Solution
Some timeshare exit companies are known for taking advantage of clients. Vacation Ownership Consultants wanted to build a company that clients could trust.
With Vacation Ownership Consultants, you can expect:
Realistic promises
A consistent approach
Detailed processes
Reliable delivery
VOC's carefully chosen team is composed of agents who stand by the company's goals and values.
Vacation Ownership Consultants Ratings
As with any company or service, knowing if current and previous customers have had a good experience can be beneficial.
It is important for a timeshare owner to know who they are hiring by reading timeshare exit company reviews and validating timeshare exit company information.
Importantly, it's also wise to evaluate a company's time in business to ensure they have the experience needed and the ability to deliver on their promises to their customers.
These are Vacation Ownership Consultants' scores on different rating websites:
| | | |
| --- | --- | --- |
| Rating Site | Rating | Number of Ratings |
| Better Business Bureau | Very high | 60 |
| Trustpilot | Very high | 87 |
| Google | Very high | 50 |
| Facebook | Very high | 53 |
Here are a few Vacation Ownership Consultants reviews from customers:
"I had a great experience with Vacation Ownership Consultants……I trust them completely and highly recommend them to anyone." -Sylvia V.
"It took awhile to resolve this issue, but the company would keep us abreast of the latest developments." -Wayne A.
"Vacation Ownership Consultants were awesome! They were precise and told me up front what to expect out of the process." –Laniece Simmons
"We figured it was better to extricate ourselves from the annual maintenance fees by hiring VOC with a 2+ years cost balance of $0." –Dennis Mowery
Frequently Asked Questions
If you are still unsure whether Vacation Ownership Consultants is the right option to help you get out of your timeshare, these questions might be able to help.
Summary
Vacation Ownership Consultants provides tried-and-true solutions that helps people get out of timeshare ownership.
As with most timeshare exit companies, it may take some time to get you out of your timeshare contract. Plus, you can expect to pay fees for doing so.

Nevertheless, if you aren't sure that your timeshare is worth it, consulting with Vacation Ownership Consultants can help you navigate the process of getting out of your contract.