Are you considering opening or switching your investment account? If so, you need to consider Ally Invest.
To help you navigate the seas of investment brokers, this review of Ally Invest will show you how a brokerage firm should work.

Summary
Ally Invest is an online discount brokerage firm. The company is growing quickly and even recently acquired the well-known investment firm, TradeKing. They offer low fees and no minimums for investors.
Pros
Low minimums
Zero fee stock trade
Cons
No futures and fractional shares
Slow transfer of funds
What is Ally Invest?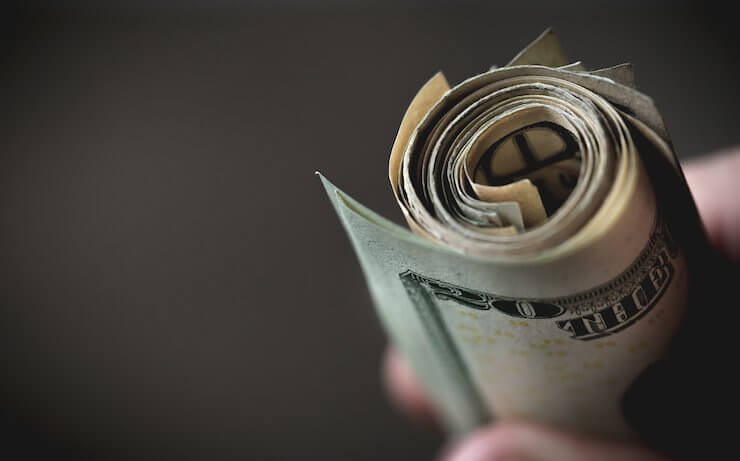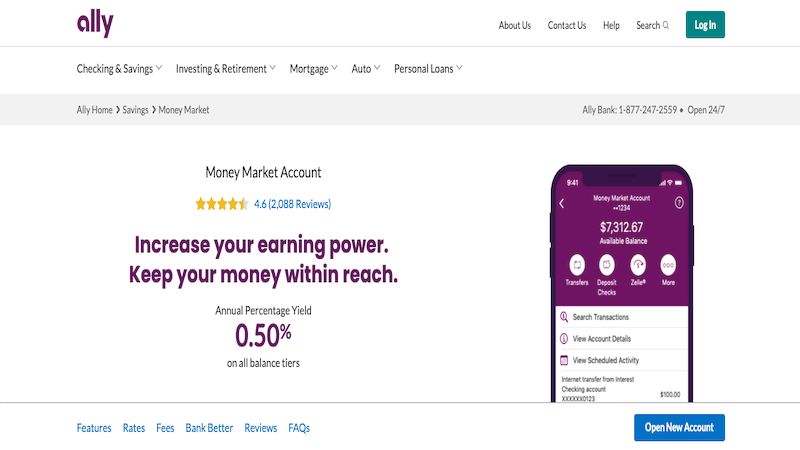 Ally Invest is an online brokerage firm. The company is growing quickly. In fact, they recently acquired the well-known investment firm, TradeKing.
Investors can buy and sell various investment products with Ally.
Some examples are:
Securities such as stocks and bonds
Mutual funds
Options
Exchange-traded funds (ETFs)
IRAs
And more. All of which can be traded on their electronic trading platform. Ally Invest doesn't just help you with investments.
Ally Financial is a bank and investment firm. Overall, Ally Bank pays some of the top interest rates in the country. Right now they pay one of the highest interest rates on their online savings accounts. And they pay some of the highest rates on CDs as well.
Ally History
Ally Financial was a brick and mortar bank in the Philadelphia area for many years. They started as GMAC Bank in 1919, nearly 100 years ago. In 2010, they changed their name to Ally Bank.
For years their focus was on brick and mortar banking. You know, the personal touch. But they knew they had to keep up with the ever-changing world. Their transition to servicing clients online for all banking needs helped them expand their reach.
With online banking, they can benefit clients around the country.
For people who are already Ally customers, there are added benefits. This new venture into online banking gives customers online access to their savings and checking accounts.
However, it seamlessly integrates their checking and savings accounts with their managed direct account too. And it connects their Ally Invest brokerage account as well.
This helps Ally customers manage all their Ally accounts all in one place. Who doesn't want to have more time on their hands? Being able to streamline our tasks gives us more time.
Trading Fees
So what does Ally offer that other investment firms might not? You can't talk about trading without talking about fees. It's how these companies make their money in the first place. Let's discuss Ally's trading fees.
Depending on your level of investment activity, you may be making multiple trades. Do you make several trades on a daily or weekly basis? If so, the trading fees add up quickly.
What are Trading Fees and How Does Ally Invest Stack Up?
Trading fees are the price you pay to complete a trading transaction. In this case, we are talking about stocks, ETFs, options, and bonds.
Every investment firm has set prices for what they charge for a trade. For instance, it could cost $8 for you to buy shares of a stock. Typical trading fees run anywhere from $5 up to $20 per transaction or more.
Let's say you're making infrequent trades on your investments. A $15-per-transaction difference could still make a dent in your profits.
However, if you're a frequent trader, those fees could add up. They could equal tens of thousands of dollars in investment losses over time.
Fortunately, Ally Invest has really competitive trading fees. Their affordable fees apply to all types of trades.
Fees for Stocks
Ally charges nothing for stock trades. Yes, that's what I said: zero fees for stock trades. They used to charge $3.95 or $4.95 per trade, depending on how many trades you made in a quarter.
But no more.
I don't have to tell you that this is a bargain. Many other brokers charge around $10 or more per trade. So even if you're a light trader, you can save a couple of hundred bucks a quarter. This means more money to invest in more stocks. And more money to earn compound interest with.
For example, let's say you make ten trades per month on your portfolio. The difference between other firms' $19.95 trades and Ally's $0 trades adds up.
Bonus: Ally Invest won't charge you for ETF trades or options trades either, although there are some contract fees.
I won't go into too much detail about bond fees. However, I will tell you that Ally has competitive prices on those types of trades too.
Bond Fees
As you can see, Ally strives to charge affordable fees. This works to benefit you and Ally. The more money you save, the more you have to invest with them.
Does Ally Invest Have Financial Advisors?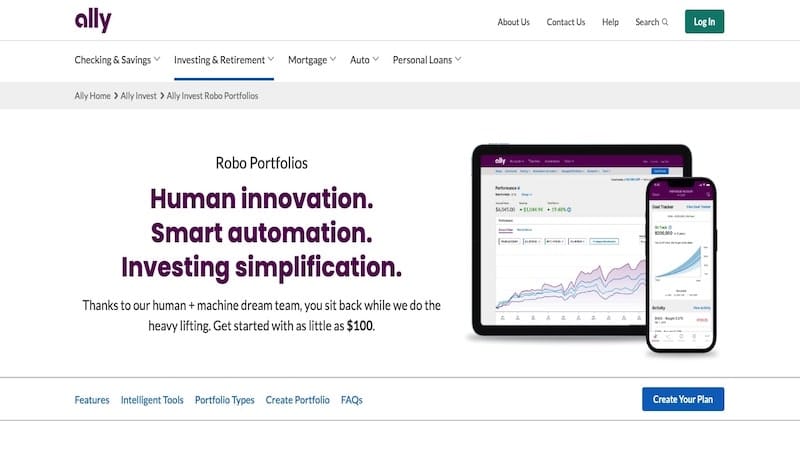 When it comes to investing, most of us want guidance at times. Making decisions based off of emotions is easy. When doing so, you may not consider sound financial principles. Because of this, it is worth consulting an advisor at times. A professional who can help manage your investment account for you. One who knows your long-term financial goals.
This way you have someone to talk you through decisions in rough times. Someone who can help you manage market tribulations. An advisor may be less likely to make emotional decisions regarding your investments. However, hiring an advisor can be expensive.
Some brokers charge over 1% of assets under management. So, if you have $1 million in investments, you'll pay $10,000 per year in fees. Ally Invest's Cash-Enhanced Managed Portfolio is free of advisory fees.
A Cash-Enhanced Managed Portfolio allows you to talk to a representative 7 am to 10 pm EST, 7 days a week. And you can reach them online or via phone.
The difference in fees may sound like a small thing, but I assure you it's not. It can save you thousands of dollars over the long haul. For that reason, you'll want to be aware of the fees that financial advisors charge.
How to Access Your Ally Invest Account
You might wonder how you can access your Ally account. Luckily, you have a few options. You see your investments by logging in on a computer. And, Ally has apps for Android and IOS devices as well.
This makes trading and viewing your portfolio easy. You can trade a stock sitting in your recliner and watching TV if you want.
Of course, it's not smart to manage your investments without being focused. You might make some serious mistakes, as I've learned first hand.
I recall one time I was transferring money from my bank to my investment account. After that, I placed a trade that was going to be covered by the money being transferred in. However, I was in a hurry and not paying attention. Therefore, I transferred the money into the wrong account.
The result? A few fees and a lot of anxiety. Yes, apps do make it easier to place trades. Even so, it is also important to make sure that you are focused on the task at hand. That way you can avoid situations like I had.
As an FYI and this is also in the fine print:
Ally Invest has a $30 returned ACH fee and a $30 returned wire fee. Thus, make sure you have a handle on your accounts when you're moving money. Ally has other
Ally Invest makes trading easy and convenient with their secure online system. The lower fees are nice too. However, it's still up to you to be a responsible account owner.
Minimum Requirements
There is no money required to open an Ally Invest account. That means you can start investing today with Ally's self-directed account.
However, what if you decide to have Ally Invest manage your account for you? If that's the case, there is a $100 minimum investment.
Ally's no-minimum investment for opening a self-directed trading account is among the lowest in the industry.
Compare that with some of the other self-directed trading platforms. Many have a minimum investment range of $500-$2500 to begin. And that's for the self-directed platforms.
Ally makes it easy for a new trader to get started without a lot of money. And everyone should have a chance to start investing.
Customer Service
Many brokers have limited hours where you can speak to a live person. However, Ally Invest as of March 2020 offers long customer service hours from 7 am to 10 pm EST, 7 days a week.
This is a great benefit. It means you can reach a real person during business hours. And you can talk with reps by phone or online. They have a chat option that makes it easy to reach help. Or, if you'd rather, you can call and talk to someone on the phone.
It's nice to know you can talk to a customer service rep on your time. You might work a shift that doesn't allow you to talk during regular business hours. Ally's customer service center is a nice benefit in that case.
Other Cool Tools
Ally has other cool tools as well. As mentioned above they do have apps for IOS and Android. But one of the coolest features is Ally Invest LIVE. Ally Invest LIVE offers streaming quotes to non-professional users.
Quotestream is available to customers who trade more than ten times per month by request. Ally has many trading tools to help you invest. In addition, they give you roughly 80 performance indicators to use with your trading.
Ally's customized investing features are great for helping all levels of investors manage their accounts well.
Even better, you get access to a community of other stock traders. The Ally Do-It-Right page is where you'll find articles on strategy and market trends. This can help you learn a lot about investing.
Charts and Watchlists
Ally Invest has six different charts with almost a hundred chart studies. This will help you analyze the performance of stocks. The interactive charts allow you to change settings for pricing studies. And you can make a customized analysis.
The site uses a variety of interactive calculators. They're designed to help you make the most of your trades. Also, you can create your own watchlists to follow market data and segment your securities.
Want additional benefits? Ally keeps you aware of what's going on in the market. They supply a steady stream of live news and streaming quotes.
Account Protection
When you deposit your money in an FDIC insured bank, you get FDIC insurance. The FDIC protects your bank account for up to $250,000. When you invest in a SIPC insured investment firm, you get coverage too. Your investment account is protected by the Securities Investor Protection Corporation (SIPC). They'll cover you for up to $500,000.
SIPC account protection insurance is designed to help protect investors. They protect you from firms that aren't operating legally. However, SIPC insurance does not cover against market losses. If you invest in a specific company and that company goes bankrupt, you won't get your money back. That's not what SIPC insurance means.
What it does mean is that if Ally Invest were to go under, you'd be covered. Your assets would be protected for up to $500,000. This is a way to protect investors from unscrupulous investment firms. Firms that are SIPC insured have been investigated and found to be sound.
Ally Invest's Awards
You have many options to choose from when it comes to investment brokers. Therefore, it helps to set apart brokers that receive awards for services they offer.
Awards are given by independent investment watchdog groups. This help clients know which investment firms are best servicing their customers.
Here are some awards that Ally Invest has received:
NerdWallet – Best Low-Cost Broker
StockBrokers.com – Best in Class in "Commissions and Fees" 2016
Barrons – 4 stars from 2007-2016
StockBrokers.com – Best in Class in "Offerings of investments" 2016
As you can see, Ally Invest is on the radar of these groups. And they're catching attention with their low fees.
Summary
Does this Ally Invest review have you thinking about investing? Investing can be scary and expensive. And some firms' high minimum account balances make investing impossible. Some people can't save up $500 or more quickly. Also, high fees can eat up any investment profits you may gain.
In short, it's time to stop paying hefty fees for investing. After all, everyone should be able to start investing.
It doesn't matter if you are looking to start investing or are a seasoned investor. You deserve to save more money. Ally Invest is worth considering because of their low fees. Their $0 minimum balance helps too. As a bonus, they'll give you great customer service and other investing tools.
With a minimum opening account balance of $0, Ally's self-directed trading account is a great choice. It's perfect for those looking to get started investing. Are you ready to start building a stock portfolio? If so, consider Ally Invest.