If you enjoy working with numbers, you may consider a career in bookkeeping. One benefit of becoming a bookkeeper is the number of opportunities to earn a good income while working remotely.
For those who have experience as a bookkeeper, many companies are hiring for work-from-home bookkeeping jobs. You can find both part-time and full-time positions, and some come with full benefits.
Those who don't have previous experience or want to start their own bookkeeping business can benefit from Bookkeeper Launch. It recently changed its name from Bookkeeper Business Launch.
The course promises to help you start a 100 percent virtual bookkeeping business even if you don't have any experience. But is it legit?
Let's look at what Bookkeeper Launch is and if it can help you earn money from home.

Summary
Bookkeeper Launch (formerly Bookkeeper Business Launch) is an online program that teaches people of any level of experience bookkeeping skills. It also gives you the ability to start your own virtual bookkeeping business. It's a bit pricey, so sign up for the free introductory series to see if it suits your needs.
Pros
Easy to use
Quality content
Extra features
Cons
Price
Minimal free courses
What is Bookkeeper Launch?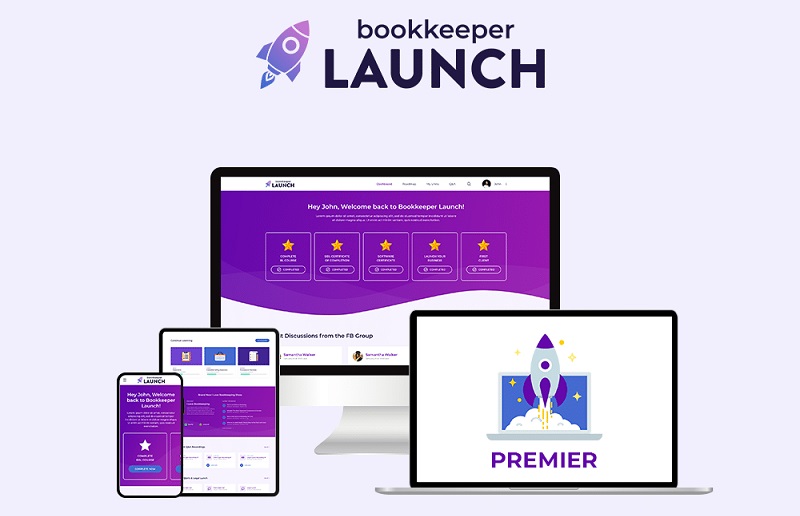 Bookkeeper Launch is an online program that teaches you the skills to become a bookkeeper and start your own virtual bookkeeping business.
You don't need to have any prior experience to take the course.
The program was started in 2015 by Ben Robinson, a certified public accountant and a U.S. Air Force veteran who has helped more than 8,000 people learn the ins and outs of bookkeeping.
He sold his CPA firm in 2014 and launched his training course to help those who wanted to start a bookkeeping business.
Since Ben has an accounting background, he knows what makes a good bookkeeper. He also teaches his students the skills of starting a successful business and getting your first few clients.
If you want to get a better idea of what you will learn in the course, you can sign up for the free introduction series.
Course Overview
Bookkeeper Launch promises to teach you step-by-step how to set up a bookkeeping business in 10 weeks or less. Besides learning bookkeeping skills, you will get training on how to set up and market your business to get clients.
Here's what you can expect when you sign up for the program.
Training Classes
There are three main sections of the Bookkeeper Launch course: Skills, Clients and Systems. Each one is broken down into lessons that teach you the skills to become a bookkeeper and set up your own business.
Don't have any bookkeeping experience? The course is set up to teach the average person bookkeeping skills from the ground up. So it means you don't need to know anything about bookkeeping before taking the class.
Besides, the course will show you how to start your own business, market your services and attract clients. This is especially important if you want to be in charge of your schedule and make your hours.
The program will help you train as a bookkeeper using QuickBooks Online, one of the most popular accounting software programs. Since most bookkeeping software programs are similar, you will be able to transfer the skills you learn to other programs such as Xero and LastPass.
Here's what topics it covers under each of the three main modules:
Skills
Foundations
Setup
Transactions
Cleanup
Final Exams
Interpret & Advise
Clients
Get Ready to Earn
Yakkity Yak
Networking
Irresistible Selling Statement
Specialized Groups
Consult to Close
Systems
Lifestyle
Your Money
Processes & Checklists
Templates
Tools & Tech
There is also an advanced client module that comes with the premium version of the course. The modules within each topic give you a comprehensive overview and teach you everything you need to know about that subject.
Each module has individual lessons that break down the information into a digestible format. Also, you will get training on the importance of mindset and motivation. Plus, how to get over your fears to get started.
The updated version of Bookkeeper Launch offers real-world scenarios to hone your bookkeeping skills and expose you to some of the situations you may encounter when you get started.
You also get access to tests, exams and quizzes to help you measure how you are progressing and what you need to fine-tune.
Resources
Bookkeeper Launch comes with several great resources to help you succeed. You will get ongoing support as you go through the course, including access to a private Facebook group where you can ask questions and troubleshoot with other students.
Plus, you get weekly live Q & A sessions with Ben and the Bookkeeper Launch coaches to answer your questions and walk you through problem areas with new clients. If you need a question answered quickly, you can get a response via email in just a few hours.
Another great resource is access to an attorney to ask legal questions. Since getting legal advice can cost up to $500 per hour, it's a helpful resource to get legal advice on starting your business as part of the course.
You will also get process checklists that offer step-by-step guidelines on everything from onboarding to end-of-year closing. Pricing calculators help you price proposals for potential clients.
Bonuses
With all the great information the course offers, you will learn everything you need to become a bookkeeper and launch a successful bookkeeping business. The program also comes with two bonuses:
Bonus #1: Hacks and Facts
Bonus #2: Profit Maximizers
These can help you learn how to be a more effective bookkeeper and maximize your profits.
What Does Bookkeeper Launch Include?
There are two levels of Bookkeeper Launch: Pro and Premier. Here is what you get with each version to help you decide which one works better for you:
Bookkeeper Launch Pro
Bookkeeper Launch System
Access to the Resource Library
Bonus #1: Hacks & Facts
Bonus #2: Profit Maximizers
Access to the Members-only Facebook Community
Unlimited Course Access & Free Automatic Course Updates
Bookkeeper Launch Premier
With Premier, you get everything in the Pro package plus:
Group Coaching Sessions
Unlimited Open Mic Sessions
Fastest Path to Success
Accountability
The Pro option has enough information to teach you the basics of bookkeeping and help you start your own business. If you need additional support or accountability, the Premier option may be a better value for you.
Bookkeeper Launch Cost
The Pro option for Bookkeeper Launch costs $1,999 if you make a one-time payment. However, if you catch a sale, you can save several hundred dollars off the sticker price.
For those who can't afford the one-time cost, there is another option. You can choose 12 payments of $199, which is $389 more than the single payment.
If you'd like the Premier Bookkeeper Launch course's added support, the cost is $2,999 with a one-time payment. Do you prefer to pay in installments? You can elect the 12-payment plan of $299 each, which will cost you $589 more than a single payment.
In addition to the course cost, you will need a reliable internet connection and a computer – either a laptop or a PC. The course includes a 12-month subscription to QuickBooks Online. When you start your business, you will also need to pay the incorporation fees.
Bookkeeper Launch Reviews
With more than 8,000 students who have gone through the Bookkeeper Launch program, you can get a sense of the program to decide if you want to "take the plunge." Since this course can be a major investment, it's good to do your due diligence.
Better Business Bureau
One way to check if a business is legitimate is by checking with the Better Business Bureau. The BBB will give you an overall rating for the business and contact information for the company if you need to get in touch. It will also tell you if the business is accredited by the BBB.
Bookkeeper Launch shows a rating of A+ with the BBB. However, there were two complaints in the previous three years, with one of them closing in the last 12 months. Both of the complaints involved the advertising and sales of the course. The Bookkeeper Launch team addressed both grievances.
The BBB page also offers customer ratings, which can be very valuable when it comes to evaluating your purchase. It provides feedback from those who have taken the course to help you decide if it's the right fit for you.
What Others Are Saying
When you're looking to spend money on a program as expensive as Bookkeeper Launch, it's always good to see what others are saying. This is why we looked at reviews of the course to determine what feedback you can glean from others who took the course.
The overwhelming reviews we found for Bookkeeper Launch were very positive. The program has a five out of five stars rating on the Better Business Bureau page with feedback from current and former students.
Here are a few reviews from students:
"I bought this course almost 3 years ago now, and it has done nothing but improve exponentially since I did! This isn' t just a bookkeeping course, it's also a marketing course and a family you join when you sign up. The education portions of it are constantly undergoing revision to make them better (and they were pretty darn good to begin with), but not only that, Ben (our fearless leader) is constantly working to add more & more value to the program. The Facebook group you can join when you sign up is invaluable for getting questions answered along the way, and everyone is very courteous & helpful no matter what your question is. And you get lifetime access to all of it! It's bar none been the wisest investment I ever made!" – Kathy W
"Amazing program. There is nothing left out of this course. Lifetime access and above and beyond support. I wish I had found this course sooner and I am kicking myself for not signing up sooner. I have completed the course and I am about to officially announce my own business in a little over 3 months." – Lisa Z
"I can't believe I waited to purchase! One of my best investments in my accounting business. The training is easy to follow and complete. They continue to provide support after purchase and have a fantastic Facebook group that adds to the value. If you are on the fence- go for it. There is a 30 day money back guarantee- but I don't think you will need it!" – Rod S
Summary
While bookkeeping does not usually come to mind when it comes to side hustles or work from home jobs, it can be a great option. Besides being good with money and being organized,
it's important to find the right course to help you learn not only bookkeeping skills but also how to start your own business and get clients.
This is where Bookkeeper Launch shines. The course is well organized and designed to teach the necessary skills to someone with no bookkeeping experience. The glowing reviews from students are a testimonial to the quality you are getting when you enroll in the program.
Bookkeeper Launch is a big upfront investment, so you need to decide if you're willing to dedicate the time to complete the program and put what you learn into practice.
Sign up for the free introductory series to learn more about what the course has to offer and see if it's a suitable fit for you.