There is nothing quite like getting lost in a good book to help you relax and take your mind off problems. Reading is one of my favorite hobbies, but buying books can add up, costing a pretty penny.
Reading can also be a great side hustle. Here's how you can get paid to read books.
While I like to use my e-reader, there's nothing like the smell and feel of a printed book. If you love reading as I do, I have some excellent news: getting your next read doesn't have to break the budget.
For my fellow bookworms, I have compiled a list of the cheapest places to buy new and used books online.
You will find both online retailers and in-person stores where you can find the best prices on the titles on your reading list.
Cheap Websites to Buy Books
While the library can be a great place to get reading material, I've always loved owning books.
One of my dreams is to have a library in my home filled top to ceiling with hard copies of my favorite books and fresh ones waiting to be discovered.
If you also want to score copies of books, including pre-loved ones, here is a list of the best places online to buy cheap books and get your own library started.
1. AbeBooks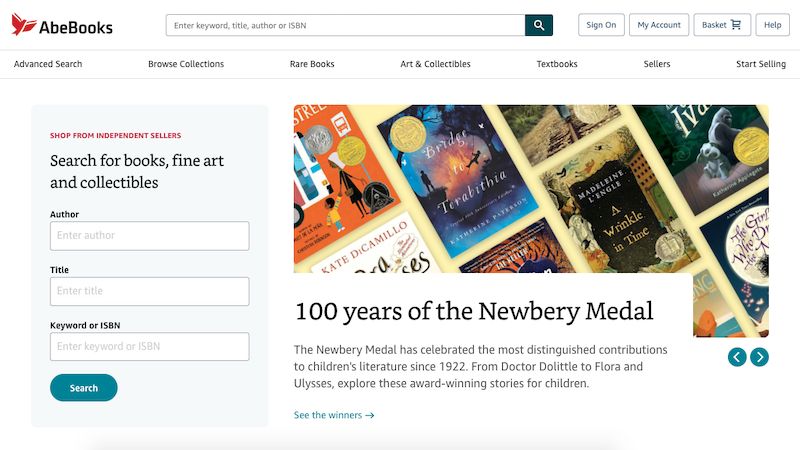 AbeBooks.com is a book collector's dream where you can find rare first editions of your favorites or signed copies by authors you love. You may also find out-of-print copies of books difficult to find elsewhere.
If you are looking for the latest bestsellers or a used copy of an old standby, check out AbeBooks.com. Its online marketplace model connects independent sellers from more than 50 countries with buyers like you.
Besides books, you can find manuscripts, new and used textbooks, art, vintage posters, old magazine copies, comics, maps and more.
AbeBooks.com is a treasure trove of new, used, rare, vintage and collectible items to suit your fancy and help you discover new interests.
The company has several international sites, including:
AbeBooks.com
AbeBooks.de
AbeBooks.co.uk
AbeBooks.it
AbeBooks.fr
IberLibro.com
ZVAB.com
The website is easy to use and has a great search function where you can find books by title, author, keyword or ISBN.
You can find softcover and hardcover books and textbooks at 50 to 90 percent off. Prices start at $1, and some sellers offer free shipping as part of the book's cost.
2. Alibris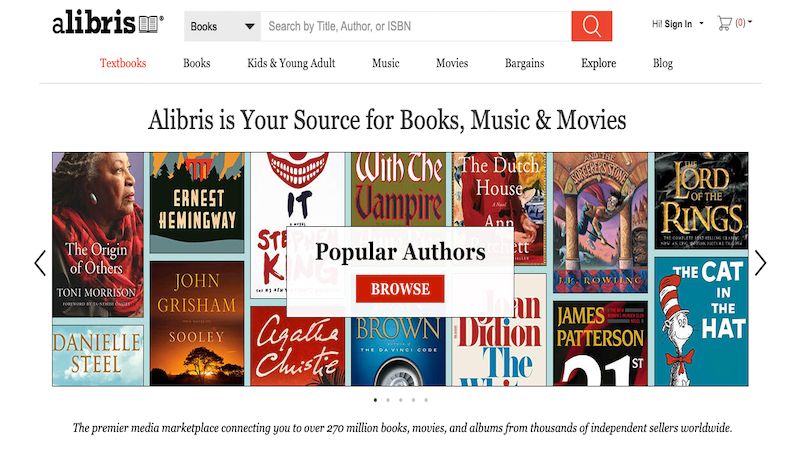 Alibris is a media marketplace that connects buyers with 260 million books, movies and albums from independent sellers worldwide.
You can shop by category or use the search function and find books by title, author or ISBN.
Besides the search option, you can shop by category, including:
Textbooks
Fiction
Romance
Business & Finance
Cookbooks
Children's Books
Crafts & Hobbies
Mysteries
You can find used books and movies but also rent textbooks, which can save you money. The website says that they have thousands of books eligible for free shipping.
On top of the good deals you can get through the marketplace, Alibris offers more ways to save through coupons and discounts.
If you join their email list, you can get a coupon for $5 off your purchase. They also run sales and discounts, so check back regularly.
3. Amazon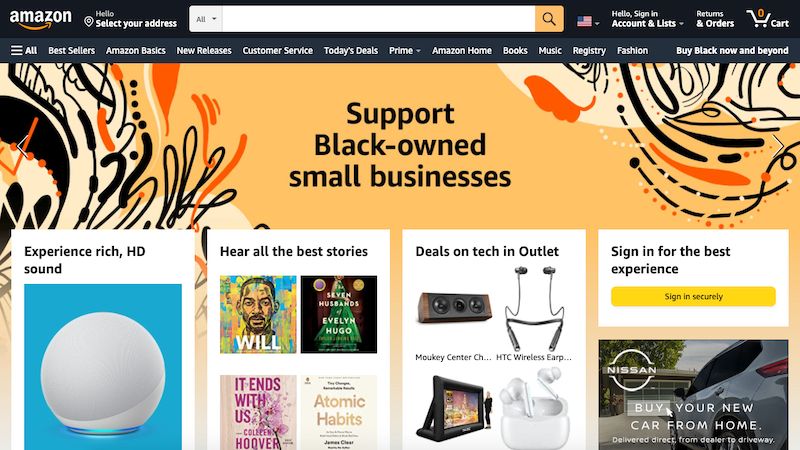 While you can find just about anything on Amazon from tweezers to t-shirts, did you know you can also find used books?
To be sure, there are plenty of new editions and e-reader options. However, you can also score used versions for less than retail.
Selling cheap books online is how Amazon got its start. They then started adding more items.
Today, Amazon is one of the world's biggest retailers, including fiction, non-fiction, children's books, and even textbooks.
There are two ways to find used titles for books on your reading list: by browsing the used section of the Amazon bookstore, or by searching for the book on Amazon and checking out the "used" option under the book's title.
When you click on the "Books" category on Amazon, you can select which type of books you would like to find. You will also see an option to rent textbooks or sell your books via Amazon.
Once you select the type of books you would like to browse, use the left menu to narrow down your options.
If you scroll to the bottom, you will see the option to click on "used" books, which will show you Amazon books that also have used copies you can buy.
The option is also available when you search for a book and click on the title. Select a printed version option (not Kindle or audiobook). Under the print option, you will see in small print "used" and "new" copy options.
If you click on the "used" link, it will take you to a page that shows all the used copies available for purchase, the condition of the book and the total price, including shipping.
4. BetterWorldBooks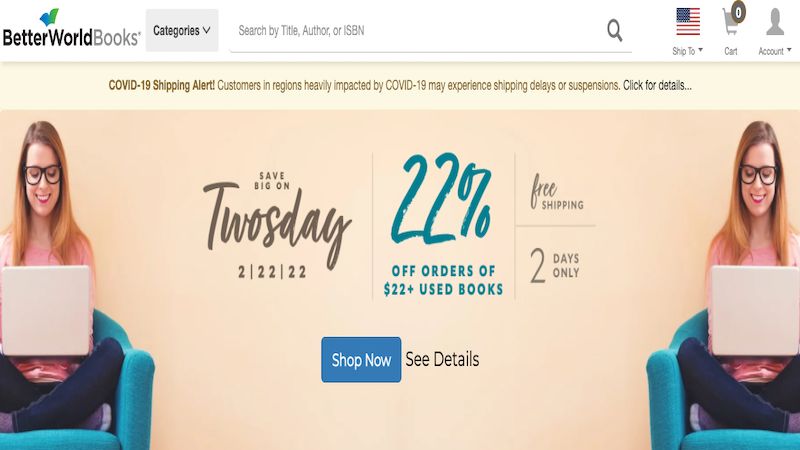 BetterWorldBooks was started in 2003 to buy and sell used textbooks. It transformed into an online marketplace that sells second-hand books in various categories, from mystery to children's books.
For every book you buy through BetterWorldBooks, the company donates a book to someone in need. Plus, part of sales funds global literacy and libraries through grants and donations.
The company has also partnered with libraries across the country to rescue discarded books and raise money for the libraries.
To date, BetterWorldBooks has donated more than 26 million books and raised more than $28 million for libraries and literacy.
You can find both new and used books on BetterWorldBooks.com and textbooks at up to 90 percent off. While the website is focused on print books, you can also find audiobooks, DVD movies and music CDs.
Check out the "Bargain Bin" section for big savings on used books or the clearance section for deeper discounts. The marketplace also runs sales and discounts to help you save more on your purchase.
Besides the great prices and worthy cause, you can also get free standard shipping on your book purchase through BetterWorldBooks, which is a great money saver.
5. BookDepository
With more than 20 million titles, BookDepository is a good option if you're looking for your next great read. The online retailer offers free delivery worldwide to more than 170 countries, which can be a big money-saver.
Most of the books are new, with prices lower than bookstores and even some used options. You search for books by keyword, title, author or ISBN. Not sure what you want to read?
Search by top categories like:
Children's Books
Fiction
Graphic Novels
Anime and Manga
Food & Drink
Crafts & Hobbies
Art & Photography
Biography
Crime & Thriller
Are you looking for more ways to save? Check out the Bargain Shop section, where you will find even deeper discounts on their already low prices.
6. BookFinder
There is nothing fancy about the BookFinder website with its simple layout and basic interface. Founded in 1997, the site's goal is to help you find any book at the best price.
It enables you to search the inventories of more than 100,000 booksellers from all over the world, offering you access to millions of books with just one click.
You can search by author, title or ISBN and refine your search to include new, used, out-of-print books, first editions and signed copies.
If you're looking for books in another language, you can search German, Spanish, French and Italian editions besides English.
The website is also an excellent place to find the cheapest textbooks and find the exact edition you need, shipping costs included. When you search for a book, you will also get the option to rent it along with a price so you can compare.
7. BookOutlet
Book Outlet focuses on offering good bargains with a large selection of books discounted 50 to 90 percent off the original list price.
Books on the website are new, unread and in good condition but may have a small line or dot marks from publishers since they were returns or excess inventory.
You can search for a book, browse the store or check out the new arrivals section.
You can also search by category such as:
Architecture
Art
Business & Economics
Cooking, Food & Wine
Gardening
Health & Fitness
Music
Religion & Spirituality
True Crime
Shipping to all U.S. states and Canada is free on orders of $35 or more. Orders that don't meet the $35 threshold will pay $5 in shipping.
Book Outlet also ships to international addresses, but rates are based on order rate and destination.
The site also runs sales and discounts, which can help you save even more on your purchase. It's a worthwhile option to add to your list for finding book bargains.
8. Half Price Books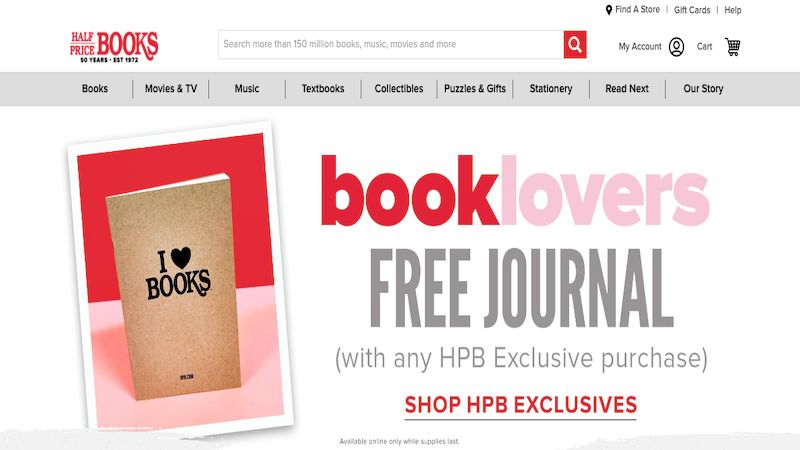 Half Price Books is a chain of used book stores that started in 1972 and has grown to 120 stores across the U.S. It's America's largest family-owned retailer for new and used books.
Besides the physical locations, Half Price Books has an online inventory of more than 150 million books, music and movies.
Search options include subject, popular subjects, trending now, staff picks, rare finds, deals and more.
If you're looking to maximize your savings, check out the "Superbuys" section with options starting as low as $2. You can also browse the sale section for additional discounts.
Keep in mind that shipping is not included. Standard shipping for books, music and movies is $3.99 per item, and delivery time is between 4 and 14 business days. Faster shipping options are available at an additional charge.
9. Powell's Books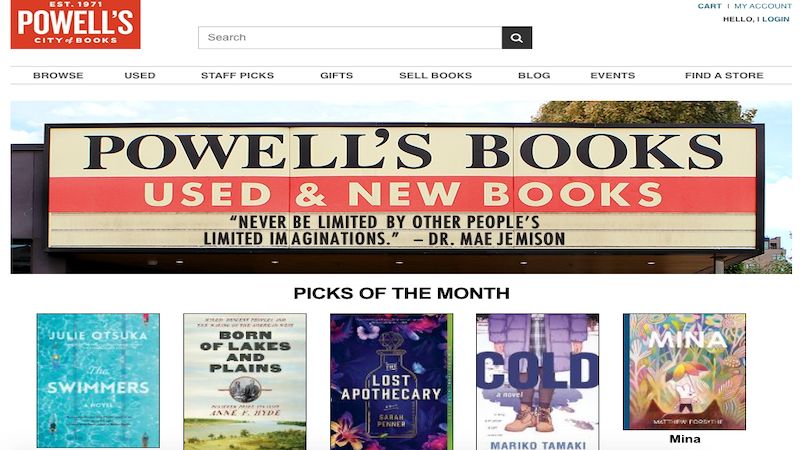 Powell's Books is another physical store with an online presence. Started in 1971 in Portland, Oregon, Powell's Books is an independent bookseller with a book inventory in excess of three million volumes.
You can find both new and used books by searching their online inventory by title, author, keyword or ISBN. Other search options include signed editions and award winners.
Book categories include:
Arts & Entertainment
Biography
Business
Children's
Fiction and Poetry
History and Social Science
Humanities
Pets
Young Adult
Orders of $25 or more qualify for free shipping via economy mail to U.S. states (including Alaska and Hawaii) and U.S. territories.
If you don't qualify for free shipping, expect to pay $3.99 economy mail shipping no matter how many books you buy.
10. ThriftBooks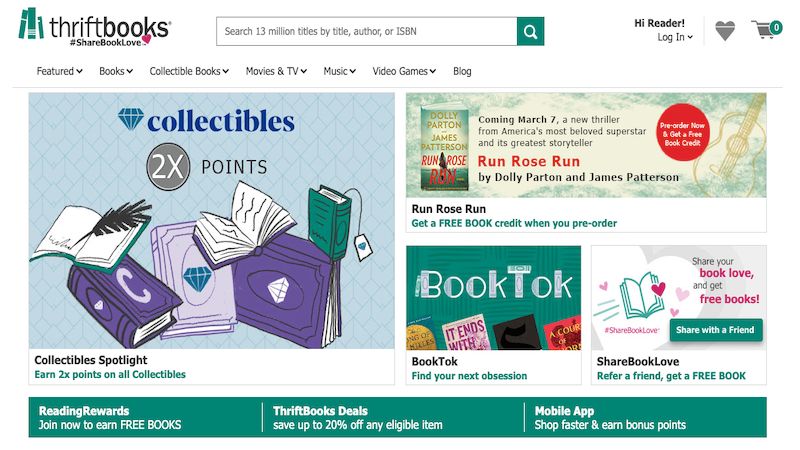 ThriftBooks is an online bookseller with an inventory of over 13 million titles from board books to classic literature.
You can search for a book by title, author, or ISBN or search by category. Besides books, you can find movies and TV shows on DVD and Blu-ray.
Popular book categories include:
Children's
Teen and Young Adult
Self-Help
Literature & Fiction
Mystery and Thriller
Sci-fi and Fantasy
Romance
Large Print Books
Rare & Collectible Books
Shipping is free on U.S. orders of $10 or more, and books are shipped in 100 percent recyclable packaging.
ThriftBooks also offers wish lists, which can help you find rare or out-of-print books. When you create an account, you can make a wish list that includes rare titles and be notified when a copy is available.
Buy Books Near You
While finding books online is convenient, shipping can cost more than the books.
If you enjoy browsing books in person, there is nothing like going to a physical bookstore to wander through the racks of books and find your next favorite read.
Here are the best places to buy new and used books near you:
11. Half Price Books
Half Price Books is my favorite place for finding bargains in new and used books. With more than 120 physical store locations in 18 states, chances are there may be a store near you.
You can find anything from the latest bestsellers to classics in the store. The layout is divided into sections to make it easier to find the books you want.
Store associates are knowledgeable, friendly and happy to point you in the right direction.
If you have old books lying around the house, you can sell them to Half Price Books and use the proceeds toward a few new reads. If you would rather have the money, you can also trade your voucher for cash.
12. Library and school used book sales
Many libraries run sales to get rid of excess inventory, raise money and make room for the latest bestsellers. Notably, my local library runs a big book sale once or twice a year.
Besides, my local branch has a section with used books for sale year-round, which can be an excellent place to find deals. I've seen everything from the latest bestsellers to classics and children's books for a fraction of the list price.
Our local school district also holds a large annual used book sale, which raised money for the schools.
It was my first year going, so I was surprised at the impressive assortment and prices. It's worth checking with the schools in your area to see if they hold a book sale.
13. Powell Books
Powell Books is another store with a physical location, but there is only one in Portland, Oregon. If you live in Portland or surrounding areas, Powell Books is a good place to find deals on new and old books and rare editions.
As an independent bookseller, you can get a different level of service than bigger box stores. However, because they only have one location, you may have to settle for their online inventory if you don't live within driving distance.
14. Target
While Target is not a bookstore, it sells books at reasonable prices. You won't find used books here, but I've gotten some great deals on new editions.
A few months back, I searched for a book and found it cheaper at Target than at the used book store.
The best part is that books are in new condition and you can get them immediately rather than waiting for them to be shipped.
15. Thrift stores
Many people don't realize that thrift stores sell books besides clothes and housewares. Since this is not a traditional bookstore, don't expect books to be organized by subject or even alphabetized.
Thrift store shopping for books is more like a treasure hunt. You never know what you will find, but it can be worth browsing.
They are great places to search for old and out-of-print books as many people donate them when they're cleaning out their homes.
Book Store Finders
If none of the options above work for you, there are tools you can use to find bookstores near you that sell new and used books at great prices.
Here are two options:
IndieBound
IndieBound.org is a community of independent local bookstores. The website has a handy tool to help you find ones near you.
You can search by zip code, city or address and adjust the radius depending on how far you're willing to drive.
Used Bookstores Near Me
Used Bookstores Near Me is another tool that helps you find the nearest places to buy used books based on your location. This list is divided by U.S. regions such as West states, Midwest states and East states.
Click on your state of residence, and it will take you to a list of cities within the state. The list is alphabetical, so find your city on the list and click on the name.
This will take you to a list of used bookstores in your area plus information such as distance from your location and phone number.
Summary
Buying books can end up costing you hundreds, if not thousands. The list above highlights the best places to buy cheap books online and near you to help you cut costs.
You can search from the extensive catalogs, compare prices and figure out the best place to find a particular book. It's good to know that you're getting the best price on the books on your reading list.