One of the more expensive categories on an individual's or family's budget list is grocery costs. Food costs money, and let's face it; everyone needs to eat. But is there a way to buy groceries on a budget?
The USDA's report on the average monthly food cost for Americans for a family of four with kids aged six through eleven ranged between $673.60 and $1339.80.
Here are some tips that can help you get more for less when you are on a tight grocery budget.
How to Grocery Shop on a Budget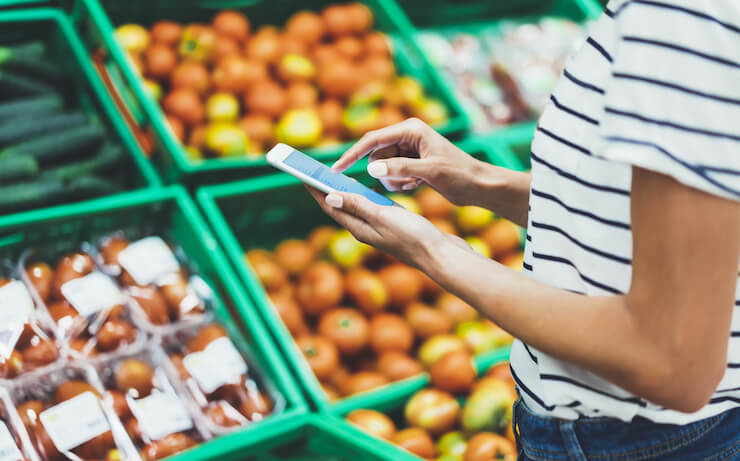 I feed my four kids (ages 21, 17, 16 and 14) and myself for roughly $650 per month. And the majority of the food we eat is organic. How? By following tips like the ones listed here.
These tried and true tips for buying groceries on a budget start with an old trick I learned from my mom when she was raising three kids on welfare:
1. Always Start With a Meal Plan
In my humble opinion, creating a meal plan is an important part of any smart and frugal grocery budget. Why?
Two reasons:
A weekly meal plan will help ensure you're buying groceries that coordinate with your family's food needs
A weekly meal plan will help ensure you don't end up spending too much money on last-minute pizza orders and restaurant take-out runs
Restaurants are expensive: even if you are hitting the local fast food place. Typically, you can't usually get a full meal at a fast food place for under five bucks. But if you really buckle down, you can feed your family at a fast food place for two or three dollars a person.
That's a minimum of $8 for a family of four. And probably closer to double that if you're realistic. With the meal planning system I use, it's not uncommon to make a family meal for the five of us that only costs five or six dollars.
Creating Your Meal Plan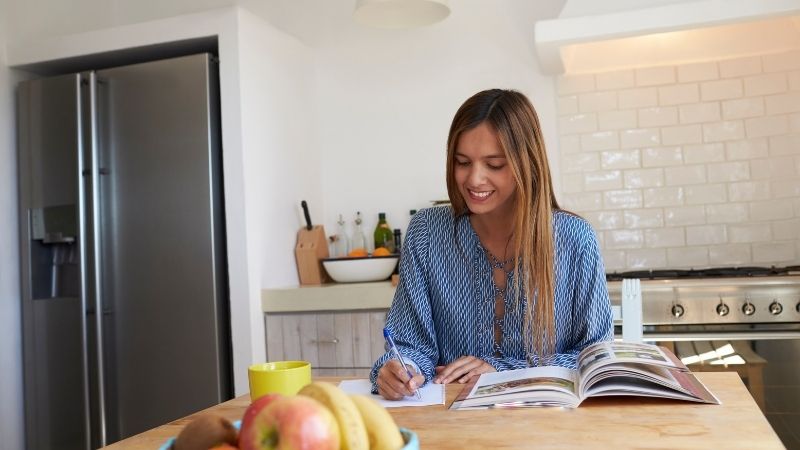 Creating a meal plan isn't terribly difficult, but it does take a few minutes each week. You can start by making a list of the breakfasts, lunches and dinners that your family will eat during the week.
When creating my family's meal plan, I usually try and sprinkle our menu with inexpensive meals. For example, bulk purchase quick oats oatmeal (just a few cents per serving) and a few more expensive meals such as chicken fajitas.
As you create your meal plan, write down the groceries you'll need to make each meal. You will likely need to purchase many of the items for your meals, but other items (such as sugar or flour) you may already have in the house.
After you've completed the grocery list that goes with your meal plan, add extras such as milk, bread, fruit, etc. And add on basic ingredients that you're out of or close to running out of, such as flour or sugar.
When you go to the grocery store to shop for the items you need to carry out your menu plan. Be sure to stick to the list and avoid getting sidetracked by extras.
By "extras," I mean those "fun," not-usually-cheap and rarely-good-for-you side items that will bust your budget, such as ice cream and bakery goods.
These items are fine to put on your grocery list occasionally. But extras such as those mentioned above and other purchases such as soda and chips will really hurt your grocery budget in the long run.
Sticking to the menu plan and coordinating the shopping list you have created will help you keep your grocery budget low.
Making Menu Planning Easier
If all of this meal planning stuff sounds like a lot of work, you can always use a grocery meal planner such as eMeals.
For as low as $5 a month (for a 12-month subscription), eMeals will help you plan great meals for your family and make your menu planning easier.
When you head to their site (you can try it for 14 days for free), you'll be able to choose from a large variety of recipes for every type of taste preference and nutritional need.
Here are some of the meal categories they offer:
Heart friendly
Gluten-free
Diabetic
Mediterranean
Vegetarian
Kid-friendly
Slow cooker
Paleo
They also offer many more. Since the meal ideas are right there (complete with the coordinating recipes), that means very little thinking on your part. You just choose the meals you want to make, and eMeals even creates the grocery list you need.
Once you start meal planning for your meals, you'll likely find grocery shopping easier. And if you do it right, you'll save money in the process.
Learn More: Emeals Review
2. Online Rebates and Coupons
Taking advantage of coupons and savings apps will help you buy groceries on a budget too. I'm not talking "extreme couponers" here, but there are a few easy and convenient ways to save more money on your groceries with coupons if you know where to look.
In the olden days, using coupons meant scouring through daily and weekend papers and searching through loads of coupons. Then having to carefully cut out the ones that were right for you.
Today things are much easier – and much more convenient – in the world of coupons and money-saving grocery discounts. You just have to know where to look.
Here are two popular ways to save even more money on your grocery purchases by using coupons and rebates.
Coupons.com
Coupons.com has coupons for hundreds of popular food and household items people buy every day. That means there are hundreds of opportunities for you to save money by visiting their site.
When I first heard about them, I thought, "Oh, just another coupon site." However, the site makes it so easy to save money I was hooked immediately.
When you go to the home page, you'll find their currently available coupons listed. If you find a coupon you like you simply click on the coupon and it's added to your basket.
After you "clip" a coupon, it's marked "clipped" so you know you don't have to click on it again. Plus, you won't forget which coupons you've added to your basket.
When you are finished scrolling through the coupons, just hit the "print coupons" box in the upper right-hand corner of your screen. The coupons will print out right from your home computer.
Coupons.com is free, so it won't cost you a thing to use their service. However, it will save you money on groceries and personal items.
Ibotta
Ibotta is an app that gives you cash rebates when purchasing certain items at the grocery store. Here's how it works.
Before heading out to the grocery store, you'll want to check your Ibotta app for available rebates. Ibotta lets you search by store and works with several stores and big-box chains, including Walmart, Target and Hy-Vee.
Ibotta currently partners with over 270 stores, which means there's a good chance your favorite grocery store will be on their list.
One cool thing about Ibotta is that they often have rebates for non-brand specific items, such as milk or eggs.
After you select your store, you are shown the available rebates for that store. When you choose a rebate, it's stored in your Ibotta account. At times, you may need to complete a small task to get a rebate, such as watching a video or answering an easy question.
Select and Shop
When all of your rebates have been selected, you go to the store and shop. After you are finished shopping, you take a picture of your receipt for Ibotta. Then they deposit your rebates into your account, generally within 24 to 48 hours.
The cool thing about using Ibotta is that you can use your rebate cash for any number of things. Ibotta pays out real cash and not points or gift card payments.
That means you can use your Ibotta earnings for whatever you want. You can use it to buy more groceries. Or you can use it to save up for school shopping, holiday gifts or your annual vacation.
It's a quick and easy way to earn cash back on your grocery purchases.
3. Learn to Cook from Scratch
The amount of money you can save by cooking from scratch is nearly unbelievable. Take homemade tortillas, one of our favorite "from scratch" foods.
Here's an example: A 10 count package of 6-inch flour tortillas at Walmart costs $1.98, according to their website.
By purchasing flour and mixing it with a bit of oil, water and salt, you can make your own flour tortillas for less than one dollar. And if you buy organic flour in bulk at Costco, you can still make them for less than a buck.
That's a fifty percent savings on just that one item alone. And as a bonus: there are no chemical preservatives in your homemade flour tortillas. That means they taste much better and are better for you as well.
The same money-saving value can be found in making other items from scratch. Part of the reason our grocery bill is so low each month is that we almost always make items such as cookies, cakes, biscuits, pasta meals and other foods from scratch.
We make pizza from scratch instead of ordering out or buying the frozen stuff. Plus, we make all desserts from scratch. We also make burritos and chimichangas from scratch instead of buying the pre-packaged frozen stuff.
I know it can seem overwhelming to eliminate your favorite processed foods and find made-from-scratch recipes to replace them. However, I think you'll find it a great way to save cash and eat healthier, tastier foods at the same time.
Healthy Meal Ideas You Can Make From Scratch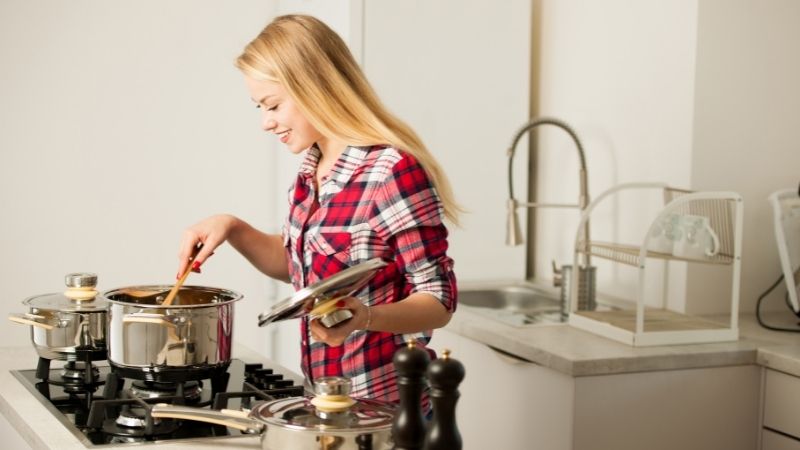 Here are some ideas for meals and snacks you can learn to make from home by finding recipes on the Internet (www.allrecipes.com is one of our favorite sites).
Or you can ask friends and family for their trusted recipes:
Desserts such as cookies, cakes, muffins and cheesecake
Pasta dishes such as lasagna, macaroni and cheese or Fettuccine Alfredo
Soups such as chicken noodle, bean and ham, chili or roast beef stew
Breakfast foods such as egg/muffin sandwiches or homemade granola
Although it will take some of your time when you first start learning to cook from scratch, I think you will likely find it easier and more convenient to do so after you get a system down.
For instance, many homemade foods such as baked goods and soups can be frozen and pulled out for later use.
At our house, we'll occasionally take a Saturday afternoon and bake a few dozen breakfast loaves of bread or muffins. That way, we can pull them out of the freezer on weekday mornings to make breakfast planning easier.
Or we'll store a few freezer bags full of soup or soup broth that is ready and available for adding our favorite meats or vegetables, making for a quick and easy dinner.
Learning to cook from scratch will help you buy groceries on a budget. And as a bonus, it can help you eat healthier too.
4. Avoid Processed Foods and Snacks
One very common grocery budget destroyer is processed foods and snacks. Confession: I have a bad habit of glancing at fellow shoppers' grocery carts to see how much soda, chips and other processed goodies are in their cart.
No judging here: it's just that I'm forever obsessed with America's paycheck to paycheck living troubles and peoples' inability to save.
I struggled so deeply with money troubles for nearly two decades, and I know what it's like to constantly be in the red in your checkbook.
I don't want anyone else to have to live like I did, which is why writing on personal finance topics is such a huge passion of mine.
And one way I see large amounts of cash going out of peoples' bank accounts is via processed food and snack purchases. This is why learning to buy groceries on a budget is so important.
Buying soda, chips and those delicious looking cupcakes at the store bakery all add up to less money for you to get out of debt and build wealth.
Consider trading in those purchases for net-worth-friendly and health-friendly items such as bottled water or strawberries. Or exchange the chips for air-popped popcorn with real butter.
It might be tough at first to tackle the junk food addictions. But, if you conquer them one at a time, you'll better be able to handle the changes.
Exchanging Processed Snacks for Healthy Alternatives
For instance, first, you can cut out the sodas and trade them up for bottled water. If you find the transition extra tough, try going with flavored water or flavored mineral water first.
Next, replace the chip obsession with carrots and dip or buttered popcorn. The "crunch" of those bagged snacks is often what is really satisfying. So replacing the processed crunch for a healthier crunch may not be as challenging as you think.
Got a sweet tooth? Try satisfying it with bananas, grapes, strawberries or some other fruit favorite. At the very least, replace bakery-bought sweets with homemade sweets using organic ingredients.
The goal is to get rid of the regular processed food purchase one by one, trimming your grocery budget and eating healthier along the way.
Training your taste buds to enjoy healthier food takes time and effort. However, by training your taste buds to prefer healthy snacks instead of processed foods, you might soon find that you prefer carrot sticks to potato chips.
5. Shop the Sales
Shopping sales is another way I save big money and buy groceries on a budget. Here are some tips on how we plan our week's menu around the current grocery store sales.
Check the Ads
The first step in saving money by shopping the sales is to check out which grocery items are on sale during the week at your favorite stores.
Sit down with the ads and circle which of your regularly purchased items are on sale, or list them on a separate sheet of paper.
Make Your Meal Plan
The second step you'll make is to base your week's meal plan on what's on sale for the week. For instance, if chicken is on sale, you can plan mostly chicken or vegetarian meals and avoid spending money on non-sale meats.
Or, if spaghetti sauce and pasta are on sale, you can plan to eat spaghetti, lasagna and homemade pizza for dinner that week.
The goal is to choose meals and snacks based on sales. For example, if apples are on sale, you can serve the kids apples in their lunches instead of other more expensive fruits.
By planning your meals around what items cost the least in a given week, you can save extra money on your grocery budget.
Stock Up on Sale Items
The third way to take advantage of weekly sales is to stock up on sale items you will use on a regular basis.
Here's an example:
Most of the time, we make bread from scratch, but there's a delicious baguette bread at our local grocery store that we absolutely love.
The normal price for a loaf of this bread is nearly two dollars, but once or twice a year, they'll have it on sale for a buck a loaf. When that happens, I buy twenty or so of the loaves and put them in the deep freezer.
The loaves are then ready to use when I want to serve them with soups and stews, and I've saved nearly fifty percent on our baguette bread purchases.
I try not to spend a ton of money on stock up items during sales. But if the sale item is something we regularly use and I know it will help me buy my groceries on a budget, I'll buy it and store it.
Some examples of the types of foods I stock up on during sales include:
Juice for the kids (they drink it at breakfast a few times a week)
Canned goods I regularly use, such as black beans or canned tomatoes
Flour, sugar, baking soda or other "cook from scratch" necessities
Meats I cook with regularly
Although it costs more money at the outset to stock up on sale items, you will save money over the long haul if you use all of the items as you would normally.
When a Sale is Not a Sale
Some grocery stores use the word "sale" when they are not really giving a discount at all. Also, some stores' "sale" prices are higher than buying an item elsewhere.
For this reason, I believe it's important to have a good idea of what the items you buy regularly are sold for at their regular price.
Some people have a good memory and can remember the normal prices of items.
Other people choose to keep a list of the regular prices in their wallet or purse. That way, they have a quick at-a-glance idea of what the regular price is for items they buy every month.
By knowing what the regular prices are on items you buy often, you can spot a "fake" sale and avoid falling for it.
You can also use your "regular price" menu to help you discover which stores are the cheapest for shopping in your area.
Now that I know the regular prices on the foods I buy regularly, I know that it's smarter to do most of my shopping at the local big box store to find cheap groceries to buy.
However, certain canned goods, produce and some staple items such as chocolate chips (yes, in our house, that's a staple 🙂 ) are cheaper at the local Aldi store, which is right across the street from the big box store in our town.
When I shop, I have two lists: the big box store list and the Aldi list. This helps me save even more money on food. Plus, knowing the regular prices for items I buy at both stores helps me know when a sale is not really a sale at all.
A Word About Warehouse Clubs
I also make a once-a-month trip to the warehouse club in the urban area about forty-five minutes away from my home. I usually make this run when I'm in the city anyway to save on gasoline costs.
Sometimes warehouse club prices are a great deal – sometimes they're not. Several canned good items are cheaper at our local Aldi than they are at the warehouse club.
Block cheese, however, is much cheaper at the warehouse club than it is at the big box store or Aldi.
When deciding whether or not a warehouse club membership is a good deal for you, you will have to do some investigative work.
You'll need to know the answers to questions such as:
How many food items would I consistently buy at the warehouse club?
How much money would I be saving on each monthly purchase?
Is the cost savings worth the price of the annual membership fee?
If you can answer each of those questions positively, a warehouse club membership might be a good money-saving key if you want to buy groceries within your budget.
If not, skip the warehouse club and stick to your usual stores.
6. Minimize Food Waste
The food waste statistics in first world countries are pretty staggering. A recent study shows that about one-third of the world's food is wasted each year. However, this number includes corporate food waste, as well.
Another study shows that the average household in America throws away $640 worth of food each year.
That's a lot of cash – cash that could be better spent elsewhere. How can you cut down on food waste? Here are some ideas.
Make – and Stick – to a Menu Plan
A menu plan like the one we talked about earlier means that you aren't buying a lot of food you won't use. Each food item is purchased with a specific meal or snack in mind.
Be Thoughtful About Meal Portions
When making your meals, be sure to pay attention to portion sizes as you are cooking. For example, don't make a whole 16-ounce bag of pasta if there will only be one or two people eating the meal.
Make a Plan for Using Leftovers
The exception to the portion rule is if you are certain you'll use the leftovers from a meal later. In our house, we accomplish this by designating a "leftover night" lunch or dinner if food from previous meals starts to pile up in the fridge.
I'll heat the available leftovers, and we have a sort of buffet-style meal where each person eats what they want.
You can also use your leftovers for your lunch at work or school the next day.
Learn How to Repurpose Leftovers
Another way to help reduce food waste in your home and buy groceries on a budget is to learn how to repurpose leftovers.
For instance, leftover pot roast becomes the next night's beef stew. Leftover spaghetti becomes the next night's spaghetti casserole by adding some mozzarella and Parmesan and baking it in the oven.
By repurposing your leftovers, you can cut back on food waste and get more creative with your meals too.
Avoiding food waste in your home will take some work. However, it'll feel great (and save you money) knowing you aren't throwing food (i.e., money) into the trash any longer.
7. "Cheap and Easy" Meal Nights
I know this might sound taboo to some of you who grew up in homes where there were always complete and fancy meals at the dinner table. But I save serious money on my grocery bill by serving a couple of cheap and easy meals each week.
Some ideas for cheap and easy meals might include:
Popcorn night
Buttered noodles with broccoli
Homemade vegetable soup
Homemade chipotle rice with black beans
Eggs and fried potatoes
You get the idea. Just pick out some really cheap menu items such as noodles, eggs, etc., and go super simple.
Many of the meal ideas mentioned above can be made for under three dollars for a family of four or more.
And no feeling guilty about serving your family a super cheap meal; I can assure you many, many people around the world eat a lot worse. In fact, you might find your kids enjoying cheap meal options once in a while.
Cheap But Healthy
For instance, I'm a bit of a stickler about serving a host of veggies and minimally processed foods. So my kids consider buttered noodles a treat, even if they have broccoli or another veggie mixed in with them.
Popcorn night (along with juice boxes and a favorite family movie) always goes over really well too. And it costs me no more than $2 to make, even with the organic butter and non-GMO popcorn I use.
By finding ways to make it fun, a few cheap meal nights can turn into a super easy meal making experience for you (or the kids) and can save you a few bucks as well.
Summary
Learning to buy groceries on a budget doesn't have to be difficult or time-consuming. You can begin by implementing some time-honored tips and tricks and taking a bit of effort to incorporate some streamlined systems into your grocery planning.
By doing so, it's possible to trim your grocery budget in ways that really add up.