If you find it tedious to put meals on the table every day, then you may want to check out eMeals. While this service won't fix your food for you, it will help you plan your meals.
It will also send your grocery list to the store of your choice to make ingredient pickup or delivery easy.
Since eMeals makes meal prep easy, you are less likely to spend money dining out. Better yet, the service helps you save time.
This eMeals review will give you the information you need to determine whether or not it's right for you.
Summary
eMeals is a good solution for anyone who is looking for a budget-friendly meal planning option. The service is sure to save you time and ensures your dietary preferences are always met.
Pros
Save time and money
Choose dietary preferences
14 day free trial
Cons
Two person or four person
Difficult to cancel
What is eMeals?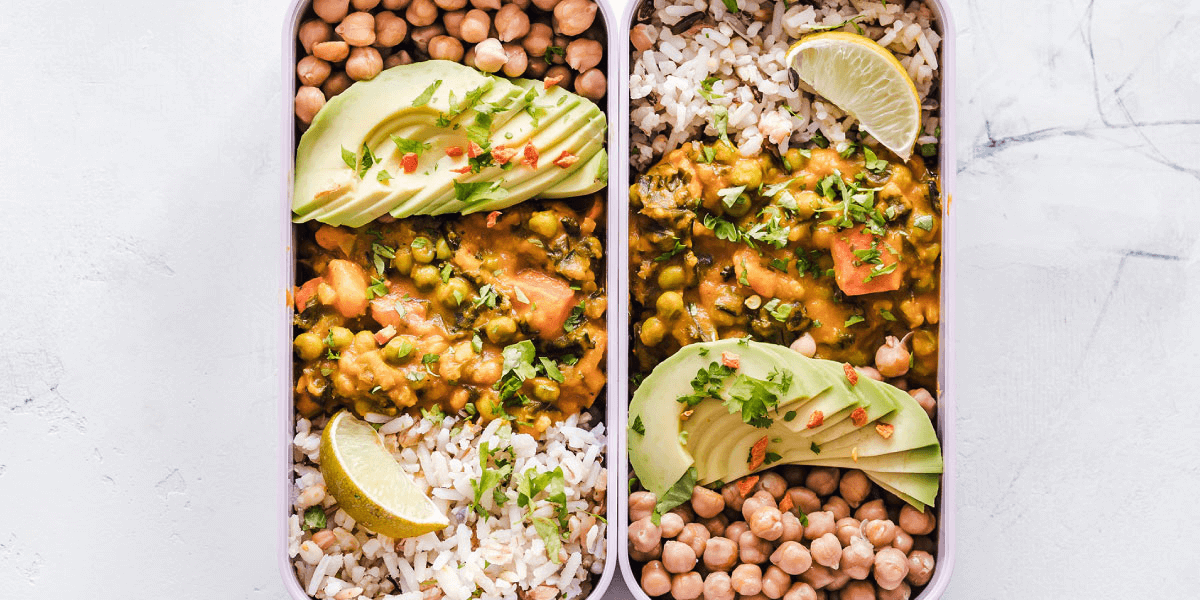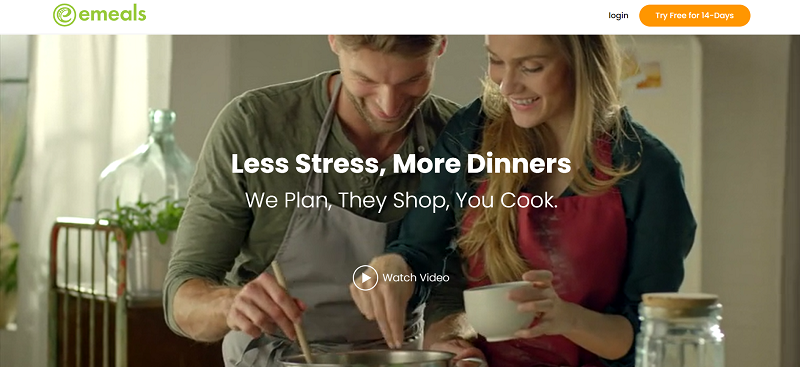 eMeals is a subscription service that helps you plan your weekly meals. These include breakfast, lunch, dinner and special occasions. The service is web-based and also comes with an app.
Based on your dietary preferences and budget, eMeals will offer you different meal options. Every week, you'll receive a new batch of recipes that you can swap out to create your meal plan.
To get started with eMeals, you'll choose the recipe category that works best for your family. You'll then select the number of people you are cooking for and add the necessary groceries to your shopping list.
You have the option to purchase the groceries yourself or send your grocery list to Amazon, Walmart, Kroger, Instacart or Shipt for pickup or delivery. Once you have your ingredients, you can create a homemade meal on a budget you can afford.
eMeals comes with a 14-day free trial so you can try it out and see if you like it. After the trial is over, you'll either pay for a three-month or a one-year subscription.
Is eMeals Worth it?
Yes, most people can benefit from an eMeals subscription. The service is particularly useful for busy parents who need help with their weekly meal planning. There are recipe options for every family.
For people who are trying to eat out less often and save money, eMeals is a wonderful service. Paying for a yearly eMeals subscription costs considerably less than eating out on a weekly basis.
You may even find that your family is healthier because they're eating homemade meals.
eMeals is also a helpful solution for anyone who enjoys cooking but hates meal planning. You'll receive a variety of recipes every week and you can change your plan at any time.
This will add more variety to your weekly meals without extra effort on your part.
However, eMeals is not a good option for anyone looking for premade meals. If you have no interest in cooking dinner for yourself every evening, then eMeals probably isn't the service for you.
You might benefit from the free 14-day trial if you are on the fence about the service. Just remember to contact the company and cancel if you're not interested in continuing with the service to avoid unnecessary charges.
The History of eMeals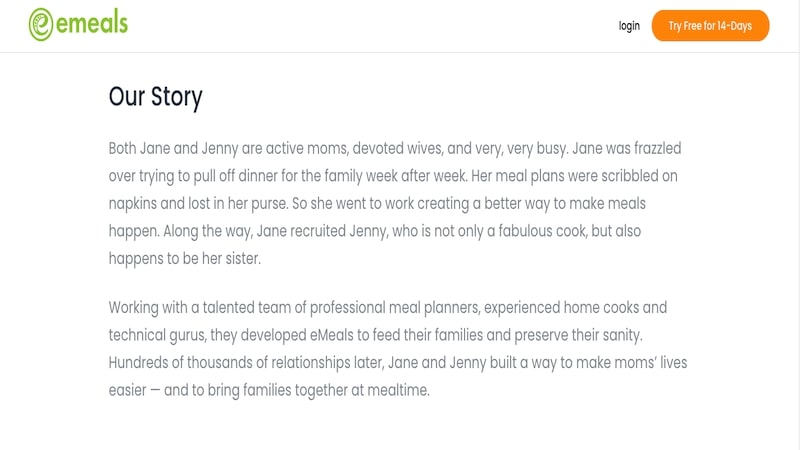 Sisters Jane Delaney and Jenny Cochran founded eMeals in 2003. Jane and Jenny both experienced the frustration of trying to plan meals for their families.
The sisters launched the company with the goal of making meal planning and preparation easier. They used professional meal planners, cooks and technology to make this goal a reality.
eMeals is endorsed by personal finance expert Dave Ramsey. He believes the service can help families save money by planning their meals purposely and avoiding dining out.
His endorsement has helped fuel the company's success over the years.
Creating a Meal Plan with eMeals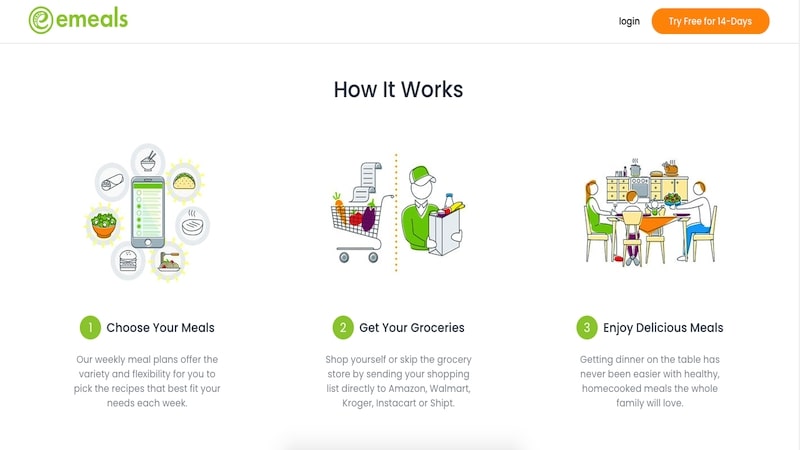 eMeals lets you pick your plan based on the size of your family, your dietary preferences and the grocery stores you frequent.
Meal plan options:
30 minute
Budget friendly
Clean eating
Diabetic
Gluten free
Heart healthy
Keto
Kid friendly
Low calorie
Low carb
Mediterranean
Paleo
Quick & healthy
Slow cooker
Vegan
Vegetarian
You can easily swap out your plan at any time, allowing you to always have meals that fit your needs.
Sample Plan From Emeals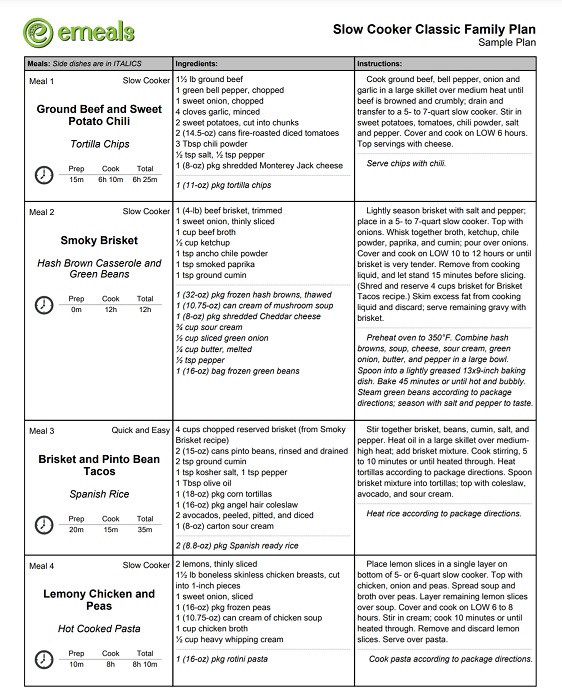 How Much Does eMeals Cost?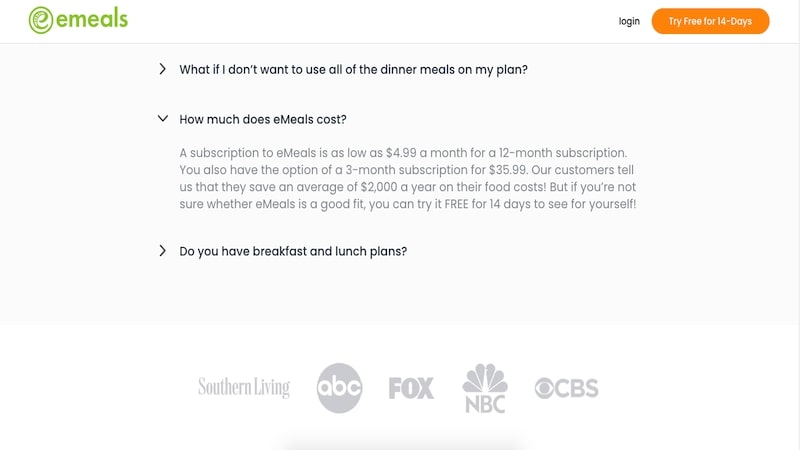 eMeals costs $59.99 per year, however, they do offer a free trial for 14 days. Should you decide to continue using the service, you can pick either a three-month or 12-month subscription.
The three-month plan is $29.99 which makes the yearly plan more affordable if you think you'll commit to using eMeals. If you're not sure it'll work for you long-term, it may make sense to start with the three-month plan.
In the event you decide not to continue with the service, you need to contact the company directly to cancel your subscription. Otherwise, it will automatically renew and you'll continue paying for a service you're not using.
Pros and Cons
If you're a busy parent who struggles to get dinner on the table, eMeals could be a great service for you to try. That said, it won't be the right choice for everyone. Let's look at some of the biggest advantages and disadvantages of using eMeals.
Pros
eMeals has many useful benefits. Here are some of the most noteworthy perks.
Select a plan based on your dietary preferences
If you follow a specialized diet, then you know how challenging it can be to find meals that meet your needs. Fortunately, eMeals likely has recipes that will accommodate your diet.
Budget-Friendly
Subscriptions to eMeals are incredibly affordable. Furthermore, if you dine out regularly, using eMeals to plan your weekly meals can save you money in the long run.
Get access to new meals
It's easy to fall into a rut where you're making the same meals repeatedly. Luckily, that is unlikely to happen with eMeals since the service rarely uses the same recipe twice. The company adds innovative new meals every week.
Save time
Coming up with ideas for your weekly meals can feel just as challenging as actually making the meals. With eMeals, you'll save yourself time and frustration by having new recipes sent to you automatically.
Easy to use
eMeals is easy and straightforward to use. Once you choose your weekly meal plan, it automatically tells you what groceries you need. It even chooses meals that use some of the same ingredients so you don't spend more money than necessary.
Try it before subscribing
You can use the 14-day free trial to see if you like the service before committing long-term.
Cons
As with any service, eMeals does have a few downsides.
You have to cook the meals
It's worth reiterating that eMeals is not a meal delivery service. The company will provide you with a weekly meal plan and make it easy to have the ingredients delivered. However, you have to make the meals yourself. If you think this could be a challenge, you may want to look into a meal delivery service like Freshly.
There are only two meal size options
When it comes to meal size, eMeals only offers two options. These include meals for two people and meals for families of four to six people. Also, it can be hard to get the portions right and know what it will take to feed your family.
Difficult to cancel
A common complaint about eMeals is that it is difficult to cancel. The company won't let you cancel your subscription online. Instead, you must call eMeals directly.
It's also important to keep in mind that you'll continue to be charged if you forget to cancel since the subscription auto-renews.
FAQs
Here are some of the most commonly asked questions about using eMeals.
Do I have to get my groceries delivered?
No, grocery delivery is just one option you can choose to get your ingredients. You're free to use the eMeals app and shop for the ingredients yourself at your local grocery store.

Nonetheless, many people find that they prefer the convenience of having their groceries delivered once they give it a try.
Can I try out any of the meal plans?
Yes, the goal of eMeals is to provide an experience that's flexible and provides its customers with a variety of meal options. You are free to switch to another meal plan if your dietary goals or lifestyle changes.
Do I have to use all of the meals that eMeals sends me?
No, you're free to use the weekly meal plans you like and discard the rest. You have access to meals from the current week as well as all of the previous options eMeals has sent you.

This means you will have a catalog of recipes to create your weekly meal plan.
Does eMeals offer breakfast and lunch meal plans?
Yes, you can sign up for breakfast and lunch plans. Additionally, if you have a special occasion coming up, you can use eMeals to find a suitable menu.
Is there an app or do I have to use the website?
eMeals offers an app for all iOS and Android users. Once you've signed up for a subscription, you can download the app and log in. The app makes it easy for you to plan your meals and create a grocery list no matter where you are.
Summary
eMeals is a good solution for anyone who is looking for a budget-friendly meal planning option. The service is sure to save you time and ensures your dietary preferences are always met.
If you constantly find yourself buying fast food and eating out, you should give eMeals a try. The service can help you save money and simplify your weekly meal planning routine.