Have you heard of EveryDollar? EveryDollar is a budgeting app that was created by famed financial expert Dave Ramsey.
The budgeting app is meant to piggyback off of Ramsey's most popular book, The Total Money Makeover.
In the book, Ramsey describes his seven "baby steps" to financial independence. Budgeting is a big part of his plan, and thus, the EveryDollar budgeting app was born.
In this article, we'll go over the features and other details of the app.
We'll give you plenty of information so you can decide whether the EveryDollar budgeting app is worth your time and money.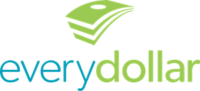 Summary
EveryDollar is a great app. I found it easy to use even for me, a self-admitted non-techie person. The one and only thing that bugged me about the app was that it costs money. Although $10.75 a month (averaged out if you pay annually) isn't terribly expensive, it can be hard to part with if you're uber-frugal like me. Plus there are plenty of other, free, options to choose from.
Pros
Easy to use
Unlimited budgets
What Is EveryDollar?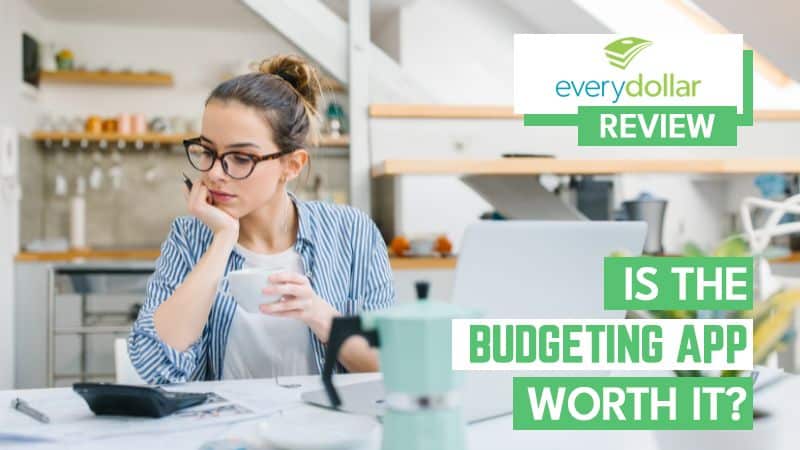 EveryDollar is a budgeting app that was created by the team over at Ramsey Solutions.
The goal of the app is to help you take back control of your money and make a plan for spending it before your paycheck arrives.
EveryDollar helps you set up a budget in just 10 minutes. The EveryDollar app works on the premise of the zero-sum budget.
In other words, you create your budget in a way that gives "every dollar" a job to do, even if that job is just hanging around waiting to be spent on something fun.
When you give every dollar you earn a job, you can help minimize financial waste and be sure that all of your dollars work as hard as you do.
How Does The EveryDollar App Work?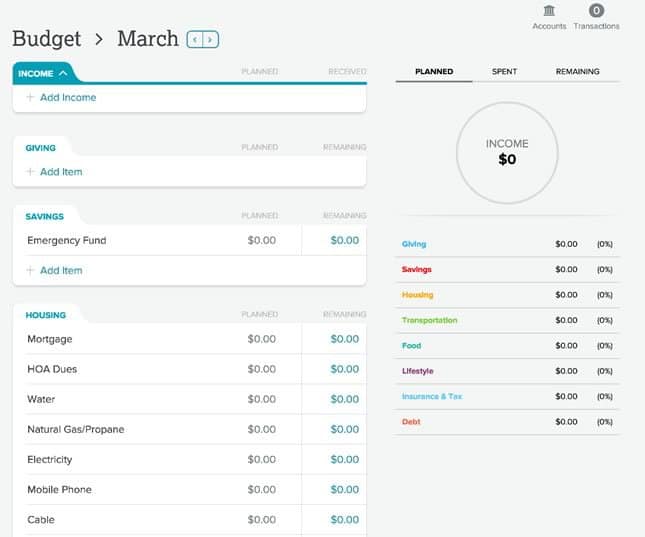 The signup process for EveryDollar is very simple. You start by visiting the EveryDollar home page and clicking the "Sign up — it's free" button.
After you click on that button, you'll get directed to a short signup form. It'll ask for your name, email address, ZIP code and country of residence.
In addition, you'll need to create your EveryDollar password on this page.
Once you've entered all of that information, you'll click "Create My Account." At that point, an email verification will be sent to the email address you entered when you signed up.
After you've clicked on the verification box contained within the email, you'll get taken to a landing page with a "Take me to my budget" box.
Click on the box and you're ready to get started!
How to Get Started Using EveryDollar
From the "Take me to my budget" landing page, you'll get directed to a goals page.
Choose one or more of the following six goals:
Pay off debt
Save for retirement
Stop living pay to pay (paycheck-to-paycheck)
Pay for kids' college
Save for a home
Travel
You can choose as many of the six boxes as you'd like. I chose the first three: pay off debt, save for retirement, stop living pay to pay.
Questions you will be asked:
Whether you own or rent your home
If you have a car
Whether or not you're married
If you have kids or pets
Again, you'll simply choose all that apply here. In the next step, you'll enter your monthly income.
There's a space to add each source of income you have. The default for one person is two pay sources. However, you do have the ability to add more if necessary.
After you've entered your monthly income, the site will take you to the actual budget. This is where you'll enter your basic expenses.
From there you will be able to create and customize your budget using different features depending on whether you've signed up for the free or the premium version.
Personalization
The boxes for budget line items all have default names, but you can change the names of the boxes. For instance, one default box asked for our monthly water costs.
Since we live in a rural area and get our water from a well, I don't have a monthly or quarterly water bill.
So I changed the name of that default expense box to Phone/Internet and put our monthly costs for that bill in there.
The default budget has several boxes for listing expenses but gives you the ability to change names and add more as needed.
And you can drag and drop to arrange them in any order that suits you.
Giving Categories
EveryDollar lets you add giving categories into your budget as well. There are two default boxes in this section: Church and Charity.
You can modify them as you see fit, and you can add additional boxes.
Savings Funds
The system will also ask you about savings habits. You can use the default Emergency Fund box or edit/add your own savings goals.
Save for anything you want, from college expenses to annual vacations. EveryDollar adds your savings fund line items into your budget to make saving easier.
How Much Does EveryDollar Cost?
EveryDollar has two plans you can choose from: The Free Plan and EveryDollar Plus.

Free Plan
The EveryDollar Free Plan is, obviously, free.
It comes with the following features:
This is a good basic starter plan. However, it does require you to add in all of your expenditures manually.
Premium Plan
The EveryDollar Premium Plan does cost money. However, it also includes some great added benefits. The main one is the ability to auto-download transactions from your bank.
When you sign up as a member of Ramsey Plus, you get the premium version of EveryDollar plus a host of other benefits.
You get access to all Financial Peace University teachings and other audiobooks and courses as well.
Ramsey Plus costs $129 per year, billed on an annual basis. This works out to an average of $10.75 per month.
They do have other payment options where you pay $59.99 every three months or $99.99 every six months. You can't get the premium version of the budgeting app as a standalone.
You have to sign up for a Ramsey Plus membership to have access to EveryDollar Premium.
Note: Since Ramsey touts paying all bills with cash/debit cards, you can't pay for your EveryDollar Plus membership with your credit card. Debit cards only, please.
If you want to sign up for the premium plan and get your transactions automatically downloaded, you'll have to let the system connect to your bank account.
Key Features of EveryDollar
Here are some of the key features of EveryDollar. The free version has all of the basic features you'll need; the premium version has additional features.
For instance, the free version of EveryDollar has everything you need to create and operate your budget.
You can add transactions, create savings goals, and make a plan to pay down debt.
The premium version comes with these additional features.
Due Date Reminders
A Due Date reminder version is included with EveryDollar free and premium.
This feature helps you keep track of upcoming bills so you can avoid late payments and the fees that can come with those late payments.
Bank Connection
If you use the free version of EveryDollar, you'll need to input transactions manually.
With the paid plan, the system will automatically download your transactions from your bank. It lists them in the right sidebar.
From there you can easily drag each transaction into a budget category. As you do, it'll show you the remaining budget in that category.
If you don't want to list a certain bank transaction on EveryDollar, you can just delete it. The system really does make it easy to work on your budget, including entering modifications.
You can add transactions manually at any time to your budget. You don't need to go solely off the updates from your bank.
I was a little worried at first that the system wouldn't allow me to download my credit card transactions. I use my credit card for rewards points and then pay in full each month.
But the system did have a place for that and it worked just fine in conjunction with my credit card purchases.
Also, when my credit card information downloaded from the bank, the balance didn't automatically enter into my debt list.
I liked this feature, since I'd already entered the debt manually.
Debt Tracking
The EveryDollar debt tracking feature helps you keep track of all of the information for each debt you have.
You can track minimum payments, interest rate, total balance, and more. The Debt Tracking feature is only available with the premium version.
Budget Insights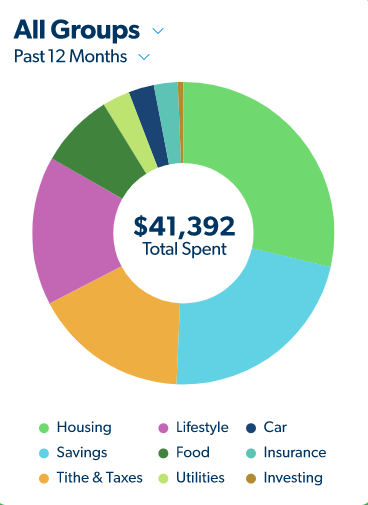 Budget insights is another feature of the premium version. This feature helps you see where you've spent money during past time periods.
You can customize your budget insights list to show monthly, annual, etc. spending.
Printable Transaction History
The premium version will also let you export and print your transaction history. This is a great feature if you like old fashioned budget tracking.
Histories are exported and printed in CSV file format.
The Debt Snowball
I had a bit of trouble figuring out the Debt Snowball part of the system. It doesn't give you an auto-prompt to set it up.
However, the EveryDollar Help Center showed me how to do that quite quickly, and it's pretty easy.
Just click on the debt where it lists the monthly payment for your budget. A separate box will pop up that will allow you to enter each debt's balance.
After you've added in all debt balances, you have an option to sort the debts from smallest to largest. This is a nice feature if you're using the debt snowball to pay off your debts.
As you make payments toward your debts, you'll be able to see the balance you started with for the month.
You'll also be able to see your budgeted payment, whether or not you've made the payment. And you'll be able to see the new total balance.
The Big Picture Dashboard
EveryDollar's dashboard is attractive and functional. One of the things I really like about the dashboard is that it summarizes the percentages of your income spent on expenses.
If you like the thought of staying within recommended budget percentages as you manage your money, this is a great feature.
Budget Breaking Accommodations
I did a test to see what happens if you go over in a budget line item. I'd put in my average electricity bill of $130 a month when I made my budget.
However, the actual bill for December was $157.73. (No, we're not energy hogs. We live in the North and part of our heating system will run on electric depending on the temperature.)
When I dragged the energy payment transaction to my budget, it showed it as a negative number remaining to be paid.
From there I just had to adjust my budgeted amount for electricity. Then, I had to adjust my total budgeting numbers, as the system's goal is to zero out your month's leftover money.
EveryDollar Reviews
Trustpilot rating EveryDollar a 3.6 out of 5 stars. However, this score was based on the single review that was on the site as of this writing.
And the only complaint the reviewer had was that they wished the app worked for users outside of the U.S.
As of this writing, only United States and Canada residents can use EveryDollar, and you can't automatically download your transactions if you're outside of the U.S.
Ramsey Solutions has an A+ rating with the Better Business Bureau. There have been 18 complaints in the last three years, all of which are closed.
FAQs
Here are answers to a few common questions about EveryDollar.
What if I make a budget and it just isn't working for me or if I simply get off track for a few months?

EveryDollar has a reset feature that allows you to wipe the slate clean and start fresh. You can reset your budget by clicking the "Reset Budget" button at the bottom of your budget month's page.
Can I link to multiple bank accounts with EveryDollar?

Yes! You can link as many bank accounts to your EveryDollar account as you'd like.
Can EveryDollar work with the Dave Ramsey Debt Snowball app I am using?

Yes! The Debt Snowball app and the EveryDollar app work together.
Summary
EveryDollar can be a great way to manage your money. I found it easy to use even for me, a self-admitted non-techie person.
If you're not committed to a Challenge Everything Budget system where you challenge every expense, the cost is probably pretty easy to stomach.
After all, $10.75 a month isn't going to break most people.
However, if the cost of the EveryDollar app really bothers, you might want to consider using a free budgeting tool such as Empower.
But the EveryDollar app does what it says it does. It makes budgeting and personal finance management easier.