Empower, previously known as Personal Capital, was created to make your financial life easier and more organized. In this in-depth Empower review, we'll share all of the details about what it can offer you.
We'll tell you about all of the features this software program offers, what reviewers are saying, and more.
This way you'll know if Empower is the right choice for helping you manage and grow your money.

Summary
Empower is a free budgeting tool that is robust and offers investing tools for free as well. For those interested, they do offer financial planning services.
Pros
Free budgeting tools
See net worth in minutes
Great customer service
Cons
Wealth management fees
No credit monitoring
What is Empower?
Empower is an online tool that is similar to Mint. It helps you manage your finances. The company was founded in 2011 and registered with the SEC in 2012.
Today, Empower has over $21.9 billion in assets under management. They have over 3.1 million users in all 50 U.S. states.
However, they have an additional feature for customers. The focus is not just on your spending and cash flow, but on helping you manage your investments and net worth as well.
Empower also offers wealth management services for people of many different asset levels. Wealth management services are separate from money management tools.
It's a one-stop shop to view and manage all of your accounts in one place. Also, they offer the added benefit of having financial advisors and financial planners available to you.
You don't have to use that part of the service to take advantage of the financial management tools. However, it's there if you need or want to use it.
My Video Review of Empower
How Does Empower Work?
Using Empower is easy. You start using it by connecting your accounts to the software.
You can connect many different types of financial accounts, setting up your accounts to be viewable from the Empower site.
Here are the types of accounts you can connect:
Retirement investment accounts
Non-retirement investment accounts
HSA accounts
Bank accounts
Mortgage loan accounts
Auto loan accounts
Personal loan accounts
Credit card accounts
Student loan accounts
You can pretty much add any asset or liability account to Empower. Their ultra-secure system ensures that all of your information is safe and secure.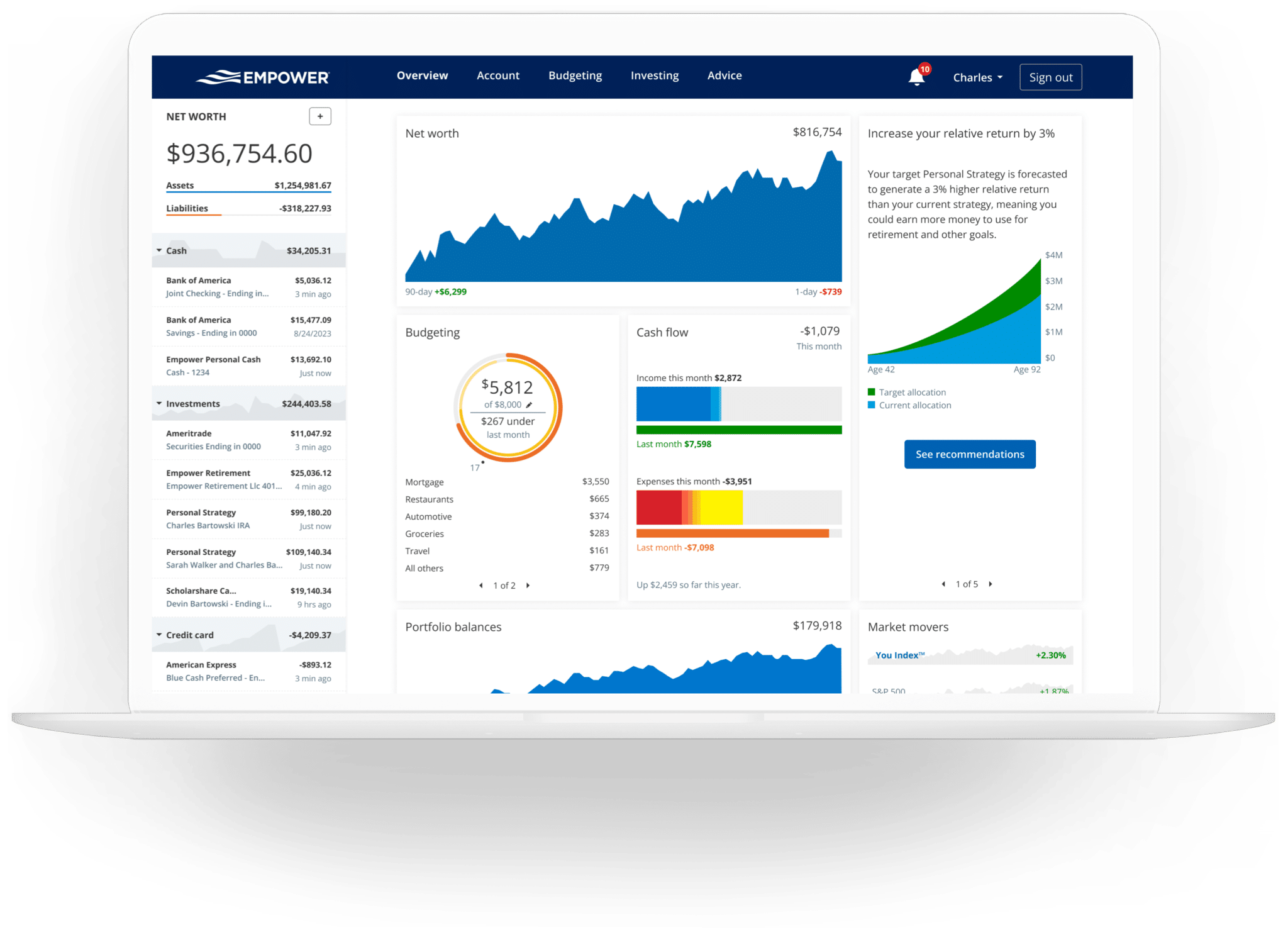 Once your account is set up, you can check in daily to see nearly every aspect of your financial picture.
You can monitor information such as:
Income
Spending habits
Your investment totals
Asset amounts
Liability amounts
Your total net worth
Having all of this information in one place can help you make asset and day-to-day money management easier.
With a few clicks of your mouse, you can see a big picture of your financial situation. In addition, you can see where you need to be with Empower's financial roadmap tool.
This "big picture" view can help you reach the financial and retirement goals you have set, all without leaving the Empower website.
How Much Does Empower Cost?
One of the best parts about Empower is that the company offers its money management tools totally free of cost.
All you have to do is open an Empower account in order to take advantage of the free money management tools.
Wealth management services through Empower will cost you money, although the fees are relatively reasonable:
| | |
| --- | --- |
| Investment Amount | Fee |
| $100,000 to $1 Million | 0.89% |
| $1 Million to $3 Million | 0.79% |
| $3 Million to $5 Million | 0.69% |
| $5 Million to $10 Million | 0.59% |
| $10 Million+ | 0.49% |
Empower fees for wealth management
However, you are not required to use Wealth Management in order to take advantage of the free financial tools.
Note that although Empower money management tools are free of cost, you will see advertisements for other financial services that are geared toward your activity on the site.
Next, let's talk about the features of Empower's financial management tools.
Key Features
Empower has a number of features you can use to help make managing your financial life easier.
Here's a brief summary of each of the features Empower has to offer.
Empower Financial Tools
Empower has several financial tools that can help you budget, track, and save your money.
Budgeting
Empower can help you automatically manage your income and expenses with its budgeting tool.
You'll be able to see how much money is going in, how much is going out, and where it's going.
From there, you'll be able to get snapshots of your income vs. your expenses. You can use Empower's pre-set budget categories, or make your own customizable categories.
When you hook your bank accounts and credit card accounts up to Empower, your expenditures will automatically populate for easy viewing and management.
Net Worth Tracking
Empower can help you keep track of your net worth when you add your bank accounts and investment accounts, along with loan accounts, to the site.
You can add your home value to your account as well. Empower uses Zillow to manage your home's value.
In addition, you can add the value of vehicles and other personal property to your net worth sheet on Empower as well.
Investment Checkup
After monitoring your risk tolerance and other factors, they'll recommend asset allocation for you.
For example, maybe you haven't rebalanced your portfolio in a while. It is possible that you could be too heavily invested in one area due to the growth being higher in that asset class than others.
If you click on the "Investment Checkup" in the "Investing" tab, you can get your recommendations. They might suggest a total rebalance of your investments.
Or it may be something simple. For instance, your asset allocation may be too aggressive. If so, Empower may suggest adding bonds to increase diversification.
Cash Flow Analyzer
Empower also has a Cash Flow Analyzer tool on their app. This tool helps you track weekly, monthly and yearly income and spending habits.
Tracking past information can be a great way to modify your money choices to create a more secure financial future.
It's those little, non-tracked expenses that can add up to big money spent before you know it.
Fee Analyzer
The Fee Analyzer is a tool that will analyze the fees you are paying for your non-retirement and retirement accounts like your 401k.
Also, it will show you how those fees will impact your investment account's growth over the years.
Plus, the availability of their free online resources, helps you make an informed decision on how to invest for retirement based on your individual needs and goals.
You Index
The You Index is a feature that tracks your financial investment performance. You can use it to compare that performance to benchmarks like the S&P 500.
Mobile App
This app is very comprehensive, yet easy to use. It helps you manage and track your money right from your smartphone. And the Empower mobile app is free.
Downloadable Data
If you use Chrome or Firefox as your computer browser, you can download the data from your Empower account onto your personal computer.
Bill Management
Empower also has a feature that can show you a list of your upcoming bills and their due dates.
This feature can be really helpful in ensuring you don't pay bills late and get hit with late fees.
Retirement Paycheck
This Empower feature can show you how to withdraw money from your retirement accounts in the way that's most beneficial for you.
It will help show you how much you can spend each month in retirement, and how long your money will last.
Education Planner
Another feature from Empower is the Education Planner. It can help you compare college costs and make a plan for saving for them.
Empower Cash Management
Empower also offers cash management services. The Cash Management account is available as a sole owner or joint account.
It's meant for holding and moving larger amounts of cash around. There is no minimum balance requirement for this account and no monthly service fee.
You can hook this account up for Direct Deposit and link to your checking account for monthly bills as well.
Withdrawals up to $100,000 per day are allowed, and there is aggregate FDIC insurance of up to $1.5M.
Empower's Cash Management account is an interest-bearing account. See the Empower website for current interest rates.
Empower Wealth Management Services
As mentioned earlier, Empower offers Wealth Management to their customers. They have three levels of wealth management services for you to choose from.
Investment Service
Their Investment Service is available for people with assets of $100,000 to $200,000.
With this service, you get access to the following features:
Access to free online tools and dashboard
Financial advisory team access
401k advice
24/7 customer support access
Support Priority Services
And more
This service is a great product for you if your assets meet the $100,000 to $200,000 level.
Wealth Management
The Wealth Management plan is for you if you've got between $200,000 and $1,000,000 in managed assets. You get all of the features mentioned above with this service as well as:
This service is for you if you've already made a solid start with your investment portfolio and want to improve upon it.
Private Client
The Private Client service is available to you if you move at least $1,000,000 of assets to Empower for management.
Besides the features above, as a Private Client member you'll get:
Priority access to CFP advisors, Investment Committee and Support
Estate, tax and legacy portfolio construction
Estate attorney and CFP collaboration
Private banking services
Private equity and hedge fund review
And more
It includes all of the added benefits that should come with the hard work you've done to establish this asset level.
As discussed earlier, Empower charges a set, low fee for their advisory services.
This means you can be assured that your Investment Advisor at Empower won't make investment suggestions to you based on which funds and products pay a higher commission.
Instead, your advisor will base their suggestions on what they feel is the best product or service for your goals.
What Customers of Empower are Saying
Empower has a Trustpilot score of 3.8, which is considered a "great" score.
As of this writing, 71% of the nearly 700 reviews listed on Trustpilot were "excellent." Poor and bad reviews comprised 8% of reviews.
Most of the negative reviews on Trustpilot revolved around connectivity or customer service issues.
Empower's rating with the Better Business Bureau is an A-. Note that the BBB only had 5 complaints listed for the past three years.
As with Trustpilot, most of those complaints revolved around issues with the dashboard and with customer service when working to get help with those issues.
Next, let's answer some frequently asked questions about Empower.
Empower FAQs
When it comes to understanding if Empower is right for you, we found a few common questions and answers.
Summary
Empower has something for everyone, from the young and just starting out to the independently wealthy avid investor, and everyone in between.
Empower can help you get your finances on more solid ground. Regardless of your income, debt load, net worth or current financial situation, they can assist.
So whether you need aid in tracking expenses and budgeting, or growing your plush nest egg to an even bigger number, Empower can be of use to you.
Are you searching for a one-stop shop that allows you to view, manage and assess every aspect of your financial portfolio?
If yes, then consider educating yourself on the benefits available from Empower. You may just find what you're looking for.