When it comes to your finances, the most basic budget planning can be daunting.
You may have trouble setting the right goals or sticking to the plan.
Shouldn't there be an easier way?
Top Budgeting Apps
New budgeting apps are popping up all the time. In most cases, the new technology has been helpful in making our lives and finances simpler.
However, some apps can make your life more confusing.
I have taken a closer look at the available budgeting apps to find the best ones for you.
1. Tiller
Tiller is a platform designed to track your spending in one easy spot. Instead of multiple budgeting spreadsheets, Tiller will track your spending from all accounts in one place.
Through this one spreadsheet system, you should gain a better understanding of where your money is going.
The tool will allow you to track all your spending in one place. That is a great advantage, especially if you have multiple accounts. Instead of logging into each bank or financial institution to determine where you stand, you can just check one spreadsheet.
The system will automatically update your spreadsheet on a daily basis. You will be up-to-date every time you check the spreadsheet.
Once you get a handle on your tracked expenses, it will be easier to create an effective plan for your finances. The spreadsheet is customizable, so you can tailor the information to your needs.
Tiller is currently only available on Google Spreadsheets. The company plans to be compatible with Microsoft Excel soon.
It is a good choice for those who want to see their tracked daily expenses each day. However, if you are looking for something that you can check on the go, then this may not be the best option.
Tiller has a 30 day free trial and then is as low as $6.58 per month.
Read our full review of Tiller Money here.
2. Empower
Empower is an app that makes it easy to take charge of your budget and your investments. The platform uses a combination of robo-advisors and human advisors to help you build a better financial future. The best part is that many of the financial planning tools offered by Empower are free.
Through the platform, you will be able to access an investment checkup, a 401k fee analyzer and a spending tracker. All of these things need to work together in order for you to build a stable financial future.
The 401k analyzer may help to save you thousands of dollars in fees over the course of your life. Additionally, the tool tracks your spending to ensure that you are able to meet your savings goals.
As you work with Empower, you can build a solid financial picture on the dashboard, which is a free feature. With all of your finances in one place, you will be able to see if you are on track to meeting your goals.
If you are not on track, the platform will offer suggestions on how to get closer to your goals. A few of the indicators shown on the dashboard are your net worth, available cash and portfolio details.
It is free to get started. But if you want to engage a human to help manage your portfolio, you'll pay 0.89% a year, which is higher than some other robo-advisory services. If your balances are more than $1 million, those fees are discounted.
So this service may make more sense for someone who's already amassed a big nest egg.
The program is browser-based, but there are apps for iOS and Android devices.
Relevant Article: Empower vs. Mint: Which Is Better?
3. Mint
Mint is one of the best budgeting apps available for free. It can help you build a budget that suits your needs and then help you to keep on track.
The app will track your spending and continually make recommendations to refine your budget. It will even send you an alert if you are about to go over budget.
In addition to tracking your spending, the app also tracks your bills. You can see all of your bills and accounts in one place. The reminders to schedule payments and get alerts about your bills can really help you see where your money is going every month.
Since the app is very versatile, you will have the ability to adjust your budgets as your needs change. Life is unpredictable.
Thus it's good to have all of your financial information in one place to help you make decisions along the way. The app will allow you to manage your finances from your phone. So it is a great tool for anyone with a busy life.
In addition to bill pay and expense tracking, Mint also offers a free credit score. If you need help improving your score, Mint will offer insight on how to get to where you want to be.
Mint is available for free for iOS and Android.
Check out our full Mint review here.
Related Article: 10 Alternatives to Level Money
4. You Need A Budget (YNAB)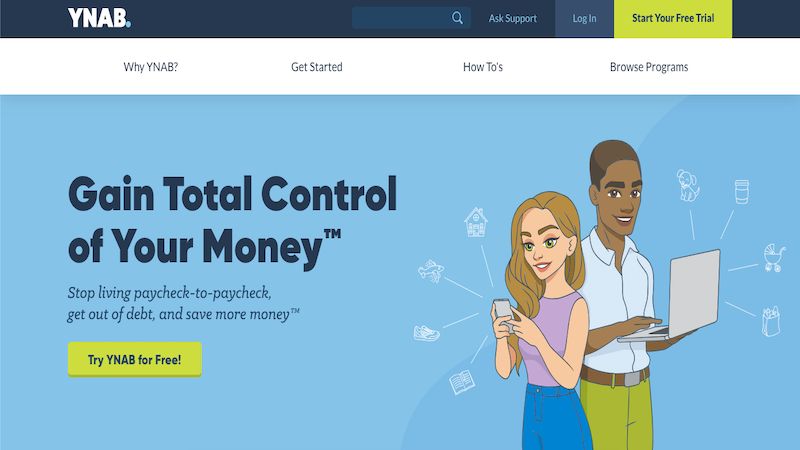 You Need A Budget is a perfect budgeting app for anyone who is ready to dive deeper into their finances. The program offers a very intense budgeting strategy that will help you keep track of every single dollar.
It is truly an amazing tool for hardcore budgeters. But if you don't have the time or energy to track every single dollar, then YNAB is not for you.
However, if a hardcore budget follower lives inside of you, then you may want to get started with YNAB ASAP! The message of YNAB is to create a solid budget but remember to not stress out about the changes that will inevitably happen along the way.
In addition to needing a strong commitment to your budget, you will also need to make a financial commitment to the software. You will have to pay $98.99 per year for the service (or $8.25 per month).
If you are a student, then you will be able to get a 12-month free subscription by providing your .edu email address.
Although it comes with a price, you can try the program for free. YNAB offers a 34- day trial, so test it out before you decide to pay for the software.
Once you start with YNAB, you need to put in the time to make it work for you. It won't solve all your money problems overnight, but it could help you get a better handle on your expenses quickly.
Many of the inputs need to be manually set up by you, but after the initial effort, it should be easier to work with over time.
YNAB is a browser-based tool that also has iOS, Android and Alexa device compatibility.
Relevant Article: 5 Great You Need a Budget (YNAB) Alternatives
5. Quicken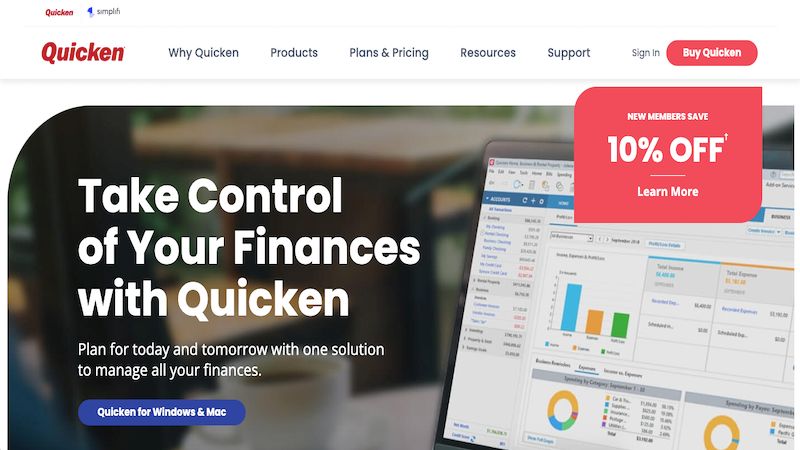 Quicken is another budget app that will allow you to view all of your finances in one place. You will have the ability to link your bank accounts, investment portfolios, retirement accounts, and credit cards to Quicken.
After you link all of your accounts, you will have the option to create a custom budget. The app will guide you on creating the perfect budget based on your income and expenses.
Quicken also allows you to see your bills as they come in. This will give you the chance to protect yourself from potential overdraft charges if you have set up autopay.
Overall, the app seems to have all of the tools you would need to create a successful financial picture. However, the reviews for the iOS version of the app are fairly poor. (1.5 of out 5 stars).
Before you decide to go with Quicken, check into the updated version of the app. If they have not reduced the bugs, then this may not be the best choice for you. This is especially important if you plan on using the mobile version of this service.
Also, it is worth checking out Quicken's app called Simplifi.
Related article: Simplifi Review: A New Money Management App From Quicken
6. Buxfer
Buxfer can be an excellent option if you want to sync your financial and email accounts from around the world with a single platform.
The platform supports American and international banking and investment accounts.
Some of the best features include:
Syncs to over 20,000 banks across the world
Upload statements from banks and other financial software
Add manual transactions
Interactive budgets with real-time alerts
Financial forecasts
Retirement planning
Supports multiple currencies
You can get a one-month free trial but must purchase one of the three paid plans to access all of the benefits.
Premium plans fees are $4.99, $5.99 or $11.99 if you pay by the month. Annual subscriptions cost $12, $60 or $120.
Each plan offers unlimited bank account syncing but you will need to choose the mid-tier or upper-tier plans to unlock the investment tracking tools and additional financial planning features.
This app is also a good option if you prefer data privacy. You won't see in-platform ads or have your personal information sold.
7. PocketGuard
PocketGuard is a simple app that can help you keep track of your finances without a hassle. The app can track all of your purchases and help you see exactly how much money you have left to spend for the month.
When you sign up for the app, you will be asked to link most of your financial accounts. This includes your credit cards, checking accounts, savings accounts, investments and any loans that you need to pay off.
As you spend money each month, the app will break that spending into categories to help you understand where your money is going.
Through this analysis, you may be able to find ways to trim your spending habits. Or at least move the money to categories that you actually want to spend money in.
Based on your bills, spending habits and goals that you set, Pocket Guard will create a simple budget for you to follow.
The app will also help you find ways to improve your financial health by negotiating for lower bills and saving more money with high-interest savings accounts.
Throughout the month you can check the app to see what you have available to spend. The app factors in your bills and savings goals before giving you the "safe to spend" number. So it will always be easy to know where you stand for the month.
You can always check the app before you make a purchase to ensure you have the money to spend. This is a free app for iOS and Android, so it is worth checking out.
Upgrading to PocketGuard Plus offers additional features such as a debt payoff plan and unlimited budgeting goals and categories. This upgrade costs $7.99 per month or $79.99 annually.
8. Mvelopes
You may have heard of the envelope budgeting method. It is a popular way for people to get their debt under control and keep their spending in check. The simplest version of the envelope system is that you take a look at your variable spending categories.
Next, you set up an envelope for each category and then place the monthly amount of cash in the envelopes.
If you run out of cash in the envelope, then you cannot spend the money from a different source. You can find out more in our article on the envelope budgeting system.
The envelope system is a great one, and it has worked for many people. However, it can be difficult to commit to only spending cash in our digital world. That's where Mvelopes comes in.
Mvelopes is an app that combines the effectiveness of the envelope system with modern technology. The app will force you to divide up your spending categories and place a limit on each one.
Once you have set the categories, you will need to stick to the spending plans. You can keep track of the totals through the app.
The main drawback to Mvelopes is that it is a paid service. The lowest plan starts at $6 per month after a 30-day free trial.
Although that is a fairly low price, it is important to remember that you could accomplish the same goals through this method with cheap envelopes and cash.
This app is only a good fit if you want to try the envelopes system, but know that you cannot make it work without the technology.
9. Good Budget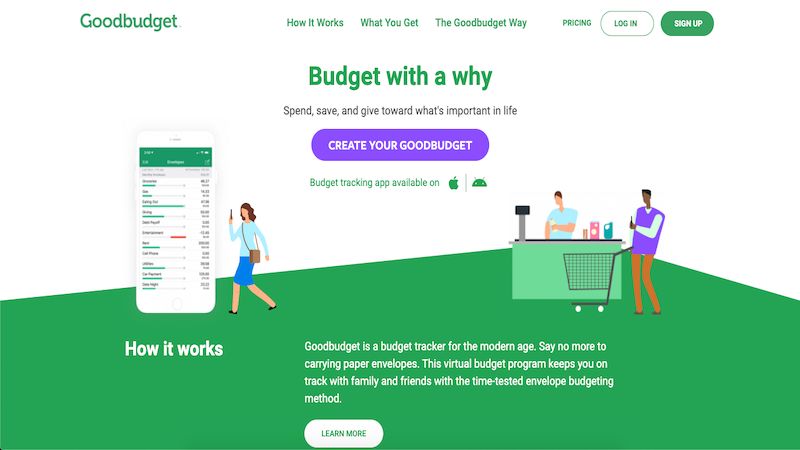 Good Budget is a great option for anyone who needs to take a significant other into account. Many budgeting apps do not allow you to add a partner to your spending habits, but Good Budget does.
By syncing your accounts, you will see how the budget is being affected by both spenders.
If you are sharing your finances with a partner, then this may be the best option to work together.
The app is based on the envelope system, which is used to divide your spending into categories. You can use up to 10 categories for free. After that limit, you will have to pay for extra envelopes ($7 per month or $60 annually).
At each payday, you will add to your envelopes. Remember, you can only spend what is in the envelopes each month. The electronic envelope system may be just what you need to keep your spending on track.
You can share your data between iOS and Android devices.
10. Nanci App
The Nanci App offers guided budget creation for the modern woman, according to its website. One of the goals of the Nanci app is to help people create a healthy relationship with money.
It does this by helping you create a custom budget to manage your money however you see fit, guilt free.
Nanci's basic plan is free, or you can pay $5.99 per month for the Premium plan. With the basic plan you'll need to add transactions manually.
If you sign up for the Premium plan you can connect your bank accounts for automatic download of transactions to help keep better track of your spending.
Summary
Creating and sticking to a budget can be a daunting task at times. As we all know, life is expensive. We cannot always plan for what is ahead, but we can make an effort to spend wisely today.
It is important to keep a positive mindset when working with a budget. Remember that budgeting is absolutely not a bad thing.
Too many people think that budgets are constricting, but they do not have to be. If you create the right budget and keep your long-term goals in mind, it should be easier to stick to the plan.
Do not feel too bad if you go over budget occasionally. It is not healthy to beat yourself up about it. Just use the tools available to get you back on the right track!