A personal finance app can be the perfect tool to keep your finances on track. There are multiple apps that help you manage your money, but Simplifi by Quicken stands apart from the crowd.
Simplifi offers an easy-to-use money budget app that shows you a complete view of your finances at a moment's notice.
If you are curious about how this app can help you, our Simplifi review shares all the details.
Summary
Simplifi is a personal finance app designed with helpful visuals to help you meet your money goals. The app pulls in your financial details from connected accounts to give you a complete view of your money picture. With budgeting tools, you can stay on track at a glance throughout the month.
Pros
Very visual experience
Easily set and track money goals
Extremely easy to use
No ads
Cons
Paid app
Minimal investment features
Credit score not included
What is Simplifi?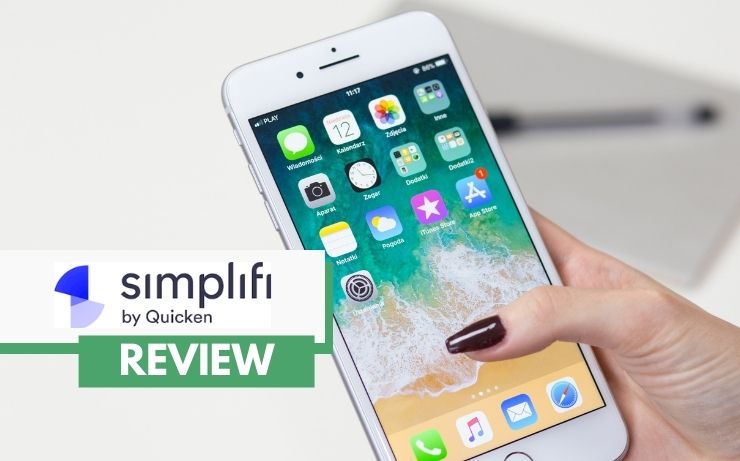 | | |
| --- | --- |
| Product | Simplifi |
| Product Type | Budgeting App |
| Cost | $47.99 |
| Promotion | 30 Day Free Trial |
Simplifi is a web-based solution for personal finance offered by Quicken. Quicken has a solid track record of providing customers with useful personal accounting software.
However, Simplifi represents an entirely new approach for the company.
Like Quicken, Simplifi helps you digest an extensive amount of personal finance information in a single place. But the similarities seem to end there.
Simplifi is focused on helping you visualize where you stand with your money as you work towards your financial goals.
With clear visuals, you'll be able to track your money progress in a matter of minutes.
How Does Simplifi Work?
Simplifi is extremely easy to use. Keep in mind that you'll need to be based in the U.S. to sign up.
Once you sign up for an account, you'll need to connect all of your personal finance accounts. These include your bank accounts, credit cards, loans, investment portfolios and more.
Simplifi's platform works with over 14,000 financial institutions. As a result, you'll likely have no trouble connecting all of your accounts to the service.
The most tedious part of the process is adding your account information. After that, it should be smooth sailing.
This platform will set up a flexible spending plan for you. From there, you can use the plethora of features to add your own watchlists, create savings goals and more.
With everything set up, you can easily check your finances whenever you want. A quick look at the dashboard will show you where you stand with your budget.
Plus, you can dive into your net worth numbers easily to gauge your financial health.
How Much Does Simplifi Cost?
Simplifi is a paid platform which means that you won't encounter any pesky ads to distract you while you try to wrangle your finances.
However, you will have to factor the relatively low Simplifi fee into your budget. You can pay $47.99 on an annual basis, which works out to $3.99 per month, or you can pay $5.99 monthly.
In either scenario, you'll have the option to take advantage of a free 30-day trial. That gives you the chance to give Simplifi a try before committing to the cost.
If you're interested in easily tracking your finances, giving the free trial a go could be worth it.
Simplifi Key Features
Simplifi offers several great features to help you manage your money.
Spending Plan
When you link your accounts, Simplifi will set up a spending plan for you. The goal of the spending plan is to show you what your income and fixed expenses will look like for the month ahead.
The difference between your income and expected expenses is your discretionary income, which Simplifi helps you create a spending plan for.
You can funnel that discretionary income towards any goal you have. Alternately, the money could be used to cover an unexpected expense.
The Spending Plan helps you understand what you can actually afford to spend.
For example, let's say you want to splurge on dinner out. Instead of basing your decision on the money you have in your bank account, Simplifi shows you how that purchase impacts your spending ability for the rest of the month.
Watchlist
The Simplifi Watchlist is the perfect tool for anyone that struggles to stay on budget. When you set up a budget category, you can choose to be notified when you spend any percentage of that category.
For example, let's say that you budget $100 for fast food this month. You can get notified when you spend any percentage of that goal.
If you want to know when you are almost out of fast food funds, you can set the reminder to go off at the 90% mark.
The notification is an easy way to keep your budget on track, and you won't have to constantly look over your bank accounts to stay on target.
Projected Cash Flow
If you want to track your bills and income, Simplifi makes it easy.
Beyond looking at the present situation in your bank account, Simplifi helps you project your income and expenses to see what your future account balances might look like.
With this feature, you can see when your bank account balance will likely drop. This peek into the future can help you plan out purchases to prevent any panicking when a big bill posts to your account.
Savings Goals
Everyone has a big money goal. Whether you want to take an amazing vacation or fund an early retirement, setting money goals is important.
Simplifi makes it easy to set money goals. More importantly, the app makes it simple to track your savings goals.
As you make progress, you can check in with Simplifi to see where your savings goals stand. This can be a useful feature if you set savings goals frequently.
Visual Reports
An app that collects all of your financial details in a single place is not that difficult to find. However, finding an app that makes this information visually appealing is more challenging.
Fortunately, you don't have to look any further. Simplifi truly makes your personal finances shine in a visual format.
It can be extremely helpful to see a report of your entire financial picture at any moment. Not only that, you can decipher the details easily through the charts and graphs.
Simplifi Reviews
For the most part, users seem to enjoy using the Simplifi app. It earned 4.1 out of 5 stars in the Apple App Store and 3.4 out of 5 stars in the Google Play Store.
Some of the biggest complaints stem from bugs, which developers seem determined to fix based on their responses to the reviews.
Here's what a few Simplifi users had to say:
"For the price, this is an incredibly useful budgeting/financial tracking program. There is room for improvement, but I'm willing to bet that most of the issues are already being worked on. It has become my go-to and would definitely recommend it." – Justin/Odd Autist
"Painful at first, but now I really like it. Just a little learning curve on transfers. Use mostly to keep track of bills and how much cash I need to make it through the month. Also has a nice line graph with income and expenses on the web app." – allanklu1
"This is a good app if you have one bank account and a couple of payments. Otherwise, the AI gets confused. It can't match scheduled payments with actual payments very well." -Byron Goodman
"Love this app. The ability to see a breakdown of all my finances and clearly identify what I am spending money on is great. Additionally, it helped me find two recurring subscriptions that I thought I had canceled months earlier." – Jeff Marsh
Simplifi FAQ's
Before you sign up for Simplifi, here are some questions that can help you determine if the app is right for you.
Are Quicken and Simplifi the same thing?
No. Users of Quicken will find that Simplifi is not the same thing.

Instead, Simplifi is an entirely new personal finance app that Quicken created to help people visualize their financial health more easily.
Is Simplifi free?
No. Simplifi is a paid app. You'll have to pay $47.99 on an annual basis or $5.99 monthly.

Opting for an annual subscription saves you roughly $2 per month.
How does Simplifi connect to my bank?
Once in the app, you can connect to a bank by entering the User ID and password you use to log in with your bank account.
Is Simplifi secure?
Yes. Simplifi prioritizes keeping your financial data secure. The company uses 256-encryption when transmitting data from your bank servers to ensure its safety.
What customer service options does Simplifi offer?
Simplifi has an extensive help center to answer any questions you may have. You can also use the help center to contact customer service from 8 a.m. to 5 p.m. PST.
Summary
Simplifi is a great tool for anyone looking to streamline how they manage their money. Once you link your accounts, Simplifi makes it much easier to stay on top of all of your transactions.
You can tap into Simplifi anytime you want to check in with your entire financial picture. You can also use it if you just want to make a minor budgeting decision.
Ultimately, Simplifi is a versatile tool that can help you visualize your budget, money goals and spending patterns. With a free 30-day trial, there's no risk in giving it a try.