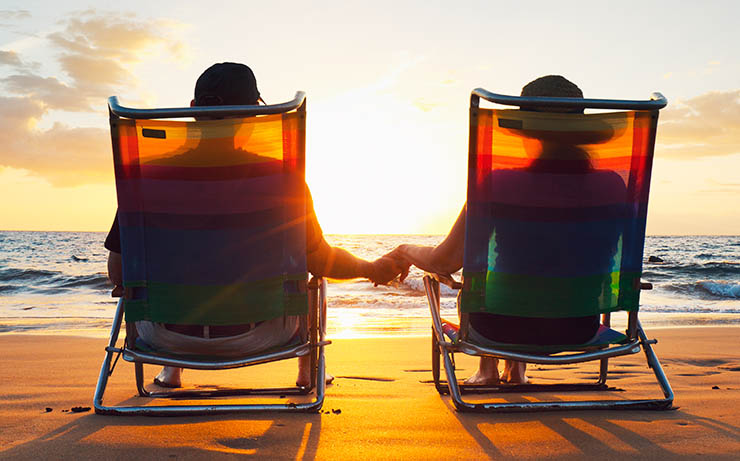 We've all seen the great stories of people like Mr. Money Mustache and Jacob from Early Retirement Extreme. While you may not want to retire as early as age 30, you might be entertaining the idea of at least being able to retire earlier than today's national average retirement age, which is currently 64 for men and 62 for women.
Related Podcast
If you like the thought of being able to at least have the option of retiring early, then this post is for you. Whether it's 5 years early or 35 years early, the ability to retire when you want brings an immense amount of personal and financial freedom in nearly all areas of life. Here is a financial road map you can follow if you seriously desire the ability to retire early.
A Road Map to Early Retirement
The road map to achieving the ability to retire early isn't difficult, but it does require the willingness to commit to a serious financial plan. People often blow all chance of early retirement simply because they are unwilling to make the necessary, simple steps to get them where they need to be financially for early retirement, trading those steps in for a "You Only Live Once" lifestyle. By choosing to follow the steps below – steps that will help you achieve a firm financial foundation – you can put yourself in a financial situation where early retirement is absolutely an option.
Make an Early Retirement Plan
By this, I mean that you sit down, figure out where you are in your current financial situation, and where you need to be financially to get to a place where retirement is an option. The easiest way to do this is to track your spending with a tool, like Personal Capital, figure out what (if any) debts you need to pay off (those wanting to retire early should make debt payoff a priority), figure out how much you'll need to live on annually in your retirement years, and figure out how many years you want to be able to live without working if you don't want to work.
By getting a handle on the numbers part of the equation, you'll better be able to formulate the next step of your journey toward the ability to retire early.
Research and Determine which Retirement and Non-Retirement Appreciating Assets Best Suit You
Both retirement and non-retirement investment assets are an important part of formulating your early retirement plan. Retirement investments will help support you after age 59 1/2, but those assets will do you little good if you're looking to retire early. For this reason it's important to have an ample supply of non-retirement appreciating assets and investments as well. You'll also want to make sure that your non-retirement assets are income-producing, so that you have the ability to gain income from those assets without having to access too much of the principal balance of those investments.
Some ideas for non-retirement, income-producing investments can include:
Real estate rental properties
Index funds
Dividend-paying stocks
Other forms of passive income such as book sales or royalty payments
It's important to research both your retirement and non-retirement investment options carefully as you formulate your early retirement plan. High risk investment plans can be beneficial while growing the wealth that you need to retire early, however; lower or moderate-risk investments are often best for keeping that wealth safe as you get closer to your early retirement date.  For that reason, it's important to determine the type of investor you are and to choose investments for your early retirement plan that best suit your needs and wants.
Learn the Art of Living Simply
Those who retire early (and stay retired early) aren't generally accustomed to a life filled with lavish material items. Instead, they've learned the importance of value-based spending and the art of living simply. Mr. Money Mustache, for instance, supports himself, his wife and their son off of a mere $25,000 a year in income. Because they have no debt and aren't drawn in by the lure of today's material world, they find they can support themselves very comfortably on that income, especially considering they have no debt. Their $2,000+ a month income even affords them travel luxuries each year. Because they've learned to budget wisely, practice value-based spending and appreciate the art of living simply, they don't need an exorbitant amount of income to live well.
Learning to live simply and enjoy means you'll need less money to retire on, no matter how old you are when you retire.
Persist in the Execution of Your Plan
This is where most people lose steam in their quest to achieve the ability to retire early. They make the plan, they implement the plan, but they get caught up in today's YOLO lifestyle and they don't stick with their plan. I get it: it can be tough to work to save a majority of your income for investments while the rest of your family and friends are blowing their cash on new cars and fancy houses. It's tough swimming upstream when the downstream path looks so much easier, and often more fun. But remember this: Ten years from now, when you've got a net worth of over a million dollars and don't owe a dime to anyone, all of those YOLO friends and family members will likely be struggling with the same debts and money problems they have today. It's at this point that you can make a decision to join the rest of the world in their financial que sera sera attitude, or to be different and follow the path to reach your life's dreams.
If you're serious about achieving the ability to be able to retire early, then make a decision right now that you'll persist in the early retirement plan you've developed, even when the going gets tough. Post charts on the wall, keep a picture of a tropical beach house in your wallet or do whatever else you have to do to remind yourself daily of your dream of financial independence. Here are some other tips for keeping motivated to persist in your plan to accumulate wealth while the rest of society is spending money:
Form a group of like-minded people who have similar financial goals. Whether that group be among your family and friends or online in the blogging world, just be sure to spend time daily with people who share your dream of being financially independent
Post visual reminders at home and at work of what you are working toward. Those visual reminders might be a graph on the wall, a picture of your dream life (travel, for instance), or a simple motivational statement posted on your fridge.
Use positive affirmations to keep you on track. While this may sound a bit corny, it really can produce results. People often self-sabotage their goals because they have negative messages in their head, such as "I'll never succeed." Make sure you don't allow any negative messages to keep you from achieving your financial independence goals, and practice using positive affirmations such as "By next year at this time I will be completely debt free" or "I will have 1 million dollars in net worth by the time I'm 40". By affirming with your mouth what you've declared in your mind and heart regarding your goals, you are verbalizing your goals and keeping yourself reminded of them daily.
When you first start considering a dream of retiring early, the numbers may look as though that dream is impossible to reach. However, if you choose to follow the steps above on a consistent basis, you will indeed accumulate the wealth you need to put yourself in a position to retire early. Every step you take toward financial success puts you one step closer to having the financial freedom you need in order to retire on your terms.
Have you ever thought about pursuing early retirement? How do you stay on track when pursuing a financial goal?