Have you ever heard of You Need a Budget (YNAB)? YNAB is a budgeting tool created to help you have better control over your finances. It's one of the most popular budgeting apps, but are there better YNAB alternatives?
Depending on your budgeting style, you might not find YNAB a good fit.
We'll show you some similar software programs to help you decide which budgeting program will be best for you.
There are many reasons why budgeting is important, and these tools will help you to do it better.
Top YNAB Alternatives
Free to use and automatically categorizes your expenses.
Automated spreadsheets help with debt payoff and budgeting.
Digital cash envelopes to manage your money.
There are a few different options you may want to check out if you're looking for an alternative to YNAB. Each one helps you reach your financial goals better, but they all work differently.
Here are some details on each of the five You Need a Budget alternatives we found.
1. Personal Capital
Personal Capital will help you manage your money. However, it does so in a much more comprehensive way than YNAB as you get to see the long-term financial results.
It also does provide budgeting tools where it will automatically categorize your expenses for you.
When you sign up with Personal Capital, you start by linking all of your financial accounts. You'll include checking, savings, credit card, loan, retirement and investment accounts.
Now you've got a complete picture of your entire financial situation in one place.
Next, you need to choose between the services Personal Capital offers. One is a free financial tracking service. The others are paid financial advisory, wealth management and private banking services.
Free Financial Tracking
The free financial tracking tools help you keep an eye on your overall financial situation. It's nice because you don't have to check each account manually online.
Instead, you just pull up your Personal Capital account and get a full view of your net worth and financial picture. This service is completely free.
That said, you will regularly get calls from advisers whose goal is to have you upgrade to a paid service. You may find these annoying. Just keep in mind that you are not required to upgrade.
As long as you follow the terms and conditions, you can use the free service for as long as you want.
Paid Advisory Services
Personal Capital also offers to manage your investments, for a fee. If you sign up for paid services, you'll get access to a team of financial advisers.
There's a $25,000 minimum investment for this service, which is higher than competitor websites. If you've got $200,000 or more, you'll get two dedicated financial advisers.
Personal Capital's Free Tool vs. YNAB
The main difference between YNAB and the free Personal Capital tool is that the Personal Capital tracking tool gives you a long-term view.
With YNAB, you can manage your budget in line with your paycheck. It'll help you manage your money for the current week, two-week period or month.
Personal Capital is able to give you a big-picture, long-term view of your money. This is because it includes retirement and other accounts.
Also, it shows you how your retirement savings picture looks based on your current spending.
It pulls together current spending numbers, spending goals and more to help make sure you're on track to save enough for retirement.
Plus, this version of Personal Capital is totally free. You'll only pay if you decide to use their advisory services.
Learn More: Personal Capital Review
2. Tiller
Tiller Money is an awesome alternative to YNAB. It's great for budgeting, expense tracking and debt payoff.
The main difference between Tiller and the other options on this list is that it uses Excel and Google spreadsheets.
When you sign up with Tiller Money, you link up your accounts, just as you do with YNAB. Next, you'll create customized spreadsheets to help you manage your money.
Here are some examples:
Monthly budget spreadsheet
Debt snowball spreadsheet (yes, it'll help you get debt-free using the debt snowball method)
Net worth tracker
Weekly expense tracker
The worksheets are attractively designed and super easy to view and use. In fact, I signed up for Tiller a while back and am loving it. It's thorough but easy enough for tech novices like me to use.
And it's affordable. Tiller Money costs $79 a year. That averages out to $6.58 per month.
Automated Email Updates
Another great feature of Tiller Money is that it'll send you an email every day. The email notifies you of any new transactions that occurred in your accounts in the previous 24 hours.
To me, this is a nice way to ensure you can catch any unauthorized transactions on your accounts early. And it's nice to see how much money I spent the day before at a glance. All in all, the system is pretty thorough.
Tiller Money vs. YNAB
The main difference between Tiller Money and YNAB is the customization aspect. Tiller Money does a great job at creating great spreadsheets that are completely customizable.
And it'll automatically update every spreadsheet you create.
Bonus: Tiller Money is cheaper than YNAB by about $2 a month. That's not a lot, but we budget-obsessed people know that it all adds up.
Learn More: Tiller Review
3. Qube Money
Qube Money was founded by financial health coach Ryan Clark, who has a passion for helping people overcome spending and budgeting problems.
He calls Qube Money "envelope budgeting for the 21st century." You set up Qubes for all of your budget categories by using the Qube app.
When you need to make a purchase, you go to your Qube app and see how much money is left in the Qube for the coordinating category.
Put in the amount of your purchase, and Qube automatically transfers the money from your bank account, providing you've got available money in that Qube.
With Qube, you can always see how much money you've got left in each spending category. That way, you can help ensure you stay in line with your budget.
Qube has three different plans to choose from:
Qube Basic: Free and includes 10 Qubes
Premium: $6.50 per month for unlimited Qubes
Family: $11.50 per month and includes cards for adults and teens
Qube vs. YNAB
Qube is a great tool for basic envelope budgeting. The inclusion of cards for adults and kids on the Family plan is a nice bonus.
And it's great that Qube's Basic plan is free. You won't find a free plan with YNAB. However, YNAB is much more comprehensive with its reports, goal tracking, etc.
If you simply want a helpful e-envelope system to ensure you're staying on budget, choose Qube.
If you're looking for something more comprehensive that includes goal charting, choose YNAB.
Learn More: Qube Money Review: Digital Cash Envelopes That Actually Work
4. Mint
Mint was founded in 2006 and is currently owned by Intuit. It offers you a way to budget and track your money in one place. And it's one of the most popular YNAB alternatives.
Like the other services listed here, Mint gives you easy access to your bank, credit card, investment and loan accounts all in one place.
It'll also send you alerts if your bank account is running low or you have payments due on loans or credit cards. This is a nice feature because it helps ensure that you won't accidentally forget to make a payment.
Late payments often result in late fees and raised interest rates. So in that way, Mint can help you save money.
In addition, Mint will let you know how much you're paying in ATM and other fees. And it'll alert you if there are any large or unusual transactions on your accounts.
Bonus: Mint helps you keep track of your net worth. It's displayed at the top of your account every time you sign in.
Mint vs. YNAB
Both Mint and YNAB do a great job of helping you budget. Their interfaces and features are pretty similar.
However, Mint is completely free. There's no charge to use it. That fact might leave you wondering how Mint makes money.
Mint makes money in a few ways:
It offers financial services to members and it gets paid a referral fee if you sign up
Mint has clickable ads on the site, which gives it the ability to bring in ad revenue
You can sign up for premium access to your credit report with Mint
Since the Mint and YNAB budgeting tools are pretty much equally great, the biggest reason Mint might be better for you is that it's free. And free is good.
In addition, Mint has several additional features that YNAB doesn't. It offers a more complete view of your finances and an alert system. Check out the Mint website for more information.
While Mint offers some exclusive features, YNAB gives you more control over the budget process. Its graphing and tracking tools can also be easier to use and worth the fee.
Related: Personal Capital Versus Mint: Which is Better?
5. CountAbout
CountAbout was founded with its main goal is to be a step up from Quicken. In fact, you can seamlessly migrate from Quicken to CountAbout.
The site will automatically sync your Quicken data into the CountAbout system. One nice thing about CountAbout is that you can rename spending categories as you see fit.
CountAbout's prices are also very reasonable. It costs $9.99 per year for the basic budgeting plan.
If you're willing to upgrade to the premium plan, you'll get an added benefit: automatic download of transactions. The premium plan is only $39.99 per year. That equates to a bit over $3 a month.
Along with budgeting tools, CountAbout also provides:
Graphs to help you assess income and spending
Ways to incorporate recurring transactions and split transactions
Apps for Android and iOS
It's a fairly thorough system that should meet the needs of most basic budgeters.
CountAbout vs. YNAB
The only big difference between CountAbout and YNAB is that CountAbout is a low-cost Quicken alternative. This platform also supports small business invoicing while YNAB is only for household use.
And of course, CountAbout is cheaper, even if you do choose to sign up for the premium program. Plus, you get a 45-day free trial instead of a 34-day period.
6. Simplifi
Simplifi by Quicken is a newer budgeting app that's also meant to be a step above the old school Quicken budgeting system.
In fact, the New York Times Wirecutter voted Simplifi the best budgeting app two years in a row.
Simplifi is similar to Personal Capital in that it allows you to view all of your financial accounts in one place.
You can view bank accounts, investments, 401ks, credit cards, loans and more on your Simplifi dashboard.
At just $5.99 per month (or $47.88 annually), Simplifi is cheaper than YNAB as well.
Simplifi vs. YNAB
Simplifi is attractive in that it automatically produces a spending plan for you based on your spending habits.
You can customize the plan as you like, too. However, Simplifi doesn't create your spending plan based of a zero-based budget.
If you're a fan of the zero-based budget, you may want to stick with YNAB. Like YNAB, Simplifi is only available in the U.S.
Learn More: Simplifi Review
7. EveryDollar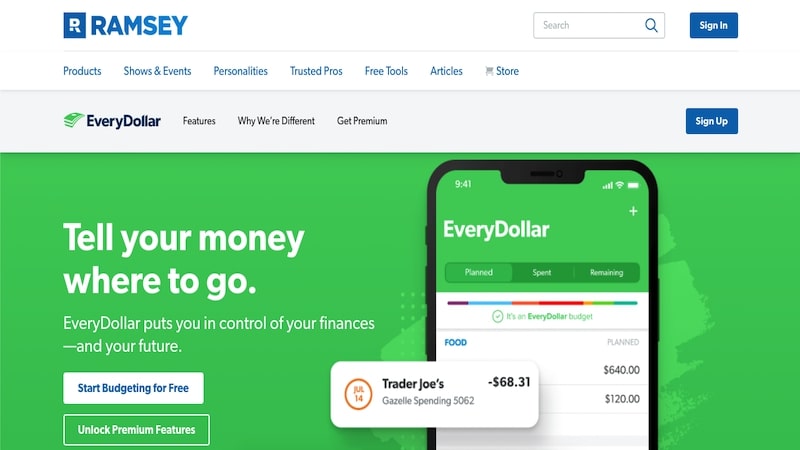 EveryDollar is the budgeting brainchild of well-known personal finance expert Dave Ramsey.
The website says it'll help you create your first budget in less than 10 minutes. It's a simple program that's fairly easy to use for people of almost any technical skill level.
EveryDollar is free and allows you to add income, spending, and budgeting information manually.
Consider upgrading to Ramsey+ if you want bank syncing, budget reports and downloading transactions to a spreadsheet.
After a 14-day free trial, a Ramsey+ membership costs:
$9.99 for one month
$99.99 for one year
EveryDollar vs. YNAB
There are a few differences between EveryDollar and YNAB. YNAB has investment tracking and bill management, whereas EveryDollar does not.
On the other hand, EveryDollar has tax reporting capabilities. YNAB does not.
In addition, EveryDollar is available in the U.S. and Canada, while YNAB is only available in the U.S.
Learn More: EveryDollar Review
8. Goodbudget
Goodbudget is a budgeting app that helps you determine the "why" behind your expenditures. In other words, it helps you create a value-based spending plan.
It's based on the cash envelope system and gives you electronic envelopes to put your spending money in when you create your budget.
You can sync your device with your partner too, so that you're working your budget together. The free version of Goodbudget includes 10 digital envelopes and works with one account for up to two devices.
The Plus version ($7 per month/$60 annually) includes unlimited envelopes, unlimited accounts, lets you partner on five devices and more.
Goodbudget vs YNAB
Goodbudget and YNAB are alike in that they both utilize an electronic version of the cash envelope system. The one downside to Goodbudget is that it can't sync with your bank so all transactions must be done manually.
However, you can download your bank statements into a supported system like Quicken and then import the info into Goodbudget.
9. PocketSmith
PocketSmith has been helping people budget since 2008. It touts itself as a budgeting app with unique features for every type of budget need, including those with multiple streams of income.
With PocketSmith, you can import your transactions from your bank using multiple bank accounts as long as they're from the same bank. You can track your income, expenses, net worth and more.
You can make a cash flow forecast and work in multiple currencies too. PocketSmith has a free plan that allows you to budget and import transactions manually.
The Premium plan from PocketSmith is $9.95 per month or $7.50 per month if paid annually. This is their most popular plan. It allows for automatic or manual transaction importation, a 10-year financial projection and unlimited budgets.
PocketSmith's SuperPlan allows for 30 years' projection of your financial picture and costs $19.95 per month or $14.16 per month if paid annually.
PocketSmith vs. YNAB
PocketSmith and YNAB are a lot alike: they both offer budgeting, bill management and the ability to sync to your bank.
However, PocketSmith has a cashflow projection/forecasting feature that budget nerds like myself might find appealing. This makes PocketSmith one of my favorite YNAB alternatives.
10. PocketGuard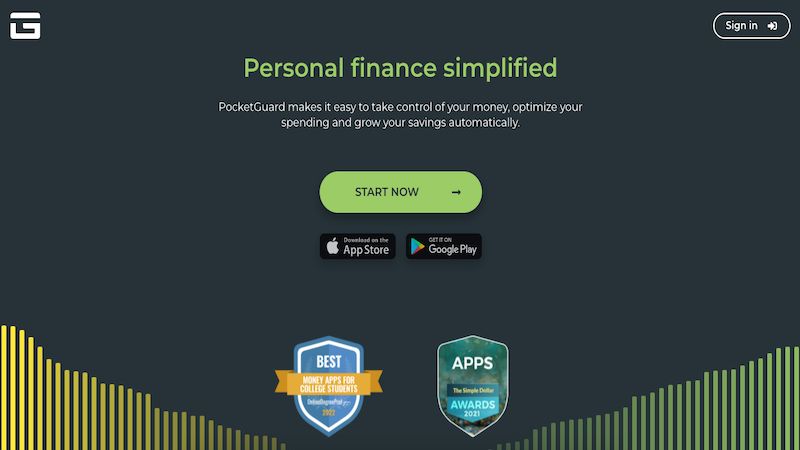 PocketGuard's big push is that it allows you to know how much money is in your pocket at all times. You can use it to make a budget, monitor your spending, and remind you when bills are due.
By knowing what's left in your "pocket" for the day, week, or month you can better make fluid spending decisions.
PocketGuard has a free version that allows for importing data from your bank and putting the data into preset categories.
PocketGuard Plus costs $4.99 per month or $34.99 per year when you pay annually. With PocketGuard Plus, you get added features like customized categories, unlimited goals, and more.
PocketGuard vs YNAB
While PocketGuard is great for knowing how much you have to spend and for basic budgeting, YNAB still rules the roost for its attention to detail.
The zero-based budgeting platform is great for the most detailed of budgeters.
11. Moneydance
Moneydance is a bit different from a lot of the other apps here in that it's not cloud-based and it's not really an app.
Instead, it's more like a Quicken alternative. It's a software program that allows you to budget, import banking transactions and track investments.
It'll help you see which bills are coming due and more. It costs $49.99 to purchase Moneydance as of this writing.
Moneydance vs. YNAB
The main difference between YNAB and Moneydance, is, of course, that Moneydance is a software program that keeps your information local, while YNAB is cloud-based.
That being said, you can save your YNAB locally–the app does have that option.
12. Wally
Wally is a free budgeting app that helps you set money goals and get insights on your spending. The downside with this and a lot of other free apps is that you have to input financial transactions in manually.
However, the app does offer the Wally Gold version.
Some of the premium services include:
Bank account syncing
Track foreign currencies
Manage joint accounts
As of this writing, Wally Gold was $74.99 for a lifetime subscription.
It's available for both Android and iOS, and the Wally app will also let you store photos of receipts.
Wally vs. YNAB
Wally is pretty basic compared to YNAB, although the Gold version offers a lot more features than the free version. And reviewers say that it's not quite as user-friendly as YNAB.
Add Wally to the long list of YNAB alternatives that could be a good choice for you. But YNAB is still among the top-rated budgeting apps.
13. Lunch Money
Lunch Money is a delightfully simple budgeting app that was created for today's spender.
One really cool thing about the lunch money app is that it supports multiple currencies including the dollar, euro, and yen.
This is a great feature for multicultural individuals or families, or for people who like to travel a lot.
Aside from a great budgeting app, other features of Lunch Money include:
The ability to import transactions
Crypto portfolio tracker
Customizable spending categories
Net worth tracker
The cost for Lunch Money is $10 per month or $70 for the first year (then $100 each renewal). Check the website via the link above for discounts on annual subscriptions.
Lunch Money vs. YNAB
Lunch Money stands out for its ability to intermingle currencies from multiple countries.
This is one newer budgeting app worth giving a try–especially if you like the cross-currency capabilities or cryptocurrency tracking feature.
14. Buxfer
Buxfer can be your best option if you want to track bank accounts in multiple countries and currencies.
The platform supports over 150 countries and 100 currencies.
Some of the primary features include:
Automatic bank syncing
Add manual transactions
Upload financial statements
Interactive budgets and graphs
Real-time alerts
Financial forecasts
Investment tracking
You can try a free product demo to test drive the service. When you're ready to use the full version, three different paid plans are available from $4.99 to $11.99 monthly. Discounts are available when you purchase an annual subscription.
Buxfer vs. YNAB
Either service can help track your financial account balances in real-time and also create a spending plan. Either platform also has excellent graphs and forecasting tools.
YNAB can be better for beginners making a budget for the first-time as it walks you through each category so you give every dollar a job.
Buxfer can be better if you're comfortable building your own budget or your financial situation is too complex for YNAB.
15. Mvelopes
Mvelopes was designed with the goal to make budgeting fast and easy. In fact, the Mvelopes website says it'll help you create a budget in less than 15 minutes.
Along with basic envelope budgeting tools, Mvelopes also has a debt reduction feature.
The site says it has helped users pay off an average of $17,425 in debt.
By helping people to give every dollar a job and create envelopes for current and future expenses, Mvelopes can help you find extra money to pay off debt, save for future expenses and more.
Mvelopes has three plans to choose from: Basic, Premier and Plus.
The Basic plan includes unlimited Mvelopes and auto-importing of transactions. It costs $5.97 per month.
The Premier plan costs $9.97 per month and includes access to the Debt Reduction center, the Learning center and to High Level Priority support.
The Plus plan costs $19.97 per month. It includes all of the features of the Premier plan, plus personal coaching and a personalized financial plan.
Mvelopes vs. YNAB
Mvelopes works on a cloud-based envelope system just like YNAB does. I'd say the biggest difference between the two is that Mvelopes' upgraded plan includes personal coaching.
If you are looking for personalized assistance as you plan your spending, Mvelopes might be a good choice for you.
How Do These Alternatives to YNAB Compare?
Here's a breakdown of how they compare.
| | | |
| --- | --- | --- |
| Company | Cost | Best Feature |
| YNAB | $98.99/yr. | Zero-based budgeting |
| Tiller Money | $79/yr. | Customizable spreadsheets |
| Personal Capital | Free | Comprehensive financial summary |
| Qube Money | $0 to $11.50/mo. | Individual and family plans |
| Mint | Free | Payment due date alerts |
| CountAbout | $9.99/yr.-$39.99/yr. | Supports small business invoicing |
| Simplifi | $5.99/mo.-$47.88/yr. | Intuitive spending plan |
| EveryDollar | $9.99/mo.-$99.99/yr. | Split transaction capabilities |
| Goodbudget | Free-$7/mo. | Partner syncing capabilities |
| PocketSmith | $9.95-$19.95/mo. | Cashflow forecasting feature |
| PocketGuard | $4.99/mo.-$34.99/yr. | Cost-effective zero-based plan |
| Moneydance | $49.99 (one-time) | Software program, not cloud-based |
| Wally | $0-$74.99/yr. | Track foreign currencies |
| Lunch Money | $10/mo.-$100/yr. | Multi-currency functions |
| Buxfer | $4.99-$11.99/mo. | Forecasting tools |
| Mvelopes | $5.97-$19.97/mo. | Debt reduction tools/personal coaching |
Summary of YNAB Alternatives
Using a budgeting program like the ones we've mentioned here is important. It helps you avoid common budgeting mistakes that can have a long-term impact on your finances.
You Need a Budget (YNAB) is a popular budgeting tool that's been around for a long time. It has a way of making budgeting more fun.
Bonus: The site has a light-hearted feel to it. Check out its "About" page for some laughs.
That being said, there are alternative budgeting options out there if you find YNAB isn't working for you. Depending on what you need, one of the budgeting programs here is likely to suit you.