Have you ever heard of You Need a Budget (YNAB)? YNAB is a budgeting tool created to help you have better control over your finances. It's one of the most popular budgeting apps, but are there better YNAB alternatives?
Depending on your budgeting style, you might not find YNAB a good fit.
We'll show you some similar software programs to help you decide which budgeting program will be best for you.
There are many reasons why budgeting is important, and these tools will help you to do it better.
Why You Might Want A YNAB Alternative
You Need A Budget is a very popular budgeting app, however, it does have some drawbacks.
First, it is $14.99 per month, which can be pricey since there are free and lower-cost budgeting apps out there.
Second, it does not have much when it comes to investment tracking or analysis.
This is why Empower is our top pick, since it is free and has robust investment tools as well.
Top You Need a Budget Alternatives
There are a few different options you may want to check out if you're looking for an alternative to YNAB. Each one helps you reach your financial goals better, but they all work differently.
Here are some details on each of the five You Need a Budget alternatives we found.
1. Empower
Empower will help you manage your money. However, it does so in a much more comprehensive way than YNAB as you get to see the long-term financial results.
It also does provide budgeting tools where it will automatically categorize your expenses for you.
When you sign up with Empower, you start by linking all of your financial accounts. You'll include checking, savings, credit card, loan, retirement and investment accounts.
Now you've got a complete picture of your entire financial situation in one place.
Next, you need to choose between the services Empower offers. One is a free financial tracking service. The others are paid financial advisory, wealth management and private banking services.
The free financial tracking tools help you keep an eye on your overall financial situation. It's nice because you don't have to check each account manually online.
Instead, you just pull up your Empower account and get a full view of your net worth and financial picture. This service is completely free.
Empower's Free Tool vs. YNAB
The main difference between YNAB and the free Empower tool is that the Empower tracking tool gives you a long-term view.
With YNAB, you can manage your budget in line with your paycheck. It'll help you manage your money for the current week, two-week period or month.
Empower is able to give you a big-picture, long-term view of your money. This is because it includes retirement and other accounts.
Also, it shows you how your retirement savings picture looks based on your current spending.
It pulls together current spending numbers, spending goals and more to help make sure you're on track to save enough for retirement.
2. Tiller
Tiller Money is an awesome alternative to YNAB. It's great for budgeting, expense tracking and debt payoff.
The main difference between Tiller and the other options on this list is that it uses Excel and Google spreadsheets.
When you sign up with Tiller Money, you link up your accounts, just as you do with You Need A Budget. Next, you'll create customized spreadsheets to help you manage your money.
Here are some examples:
Monthly budget spreadsheet
Debt snowball spreadsheet (yes, it'll help you get debt-free using the debt snowball method)
Net worth tracker
Weekly expense tracker
The worksheets are attractively designed and super easy to view and use. In fact, I signed up for Tiller a while back and am loving it. It's thorough but easy enough for tech novices like me to use.
And it's affordable. Tiller Money costs $79 a year. That averages out to $6.58 per month.
In addition, Tiller Money is cheaper than YNAB by about $2 a month. That's not a lot, but we budget-obsessed people know that it all adds up.
Tiller Money vs. YNAB
The main difference between Tiller Money and YNAB is the customization aspect. Tiller Money does a great job at creating great spreadsheets that are completely customizable.
And it'll automatically update every spreadsheet you create.
Bonus: Tiller Money is cheaper than YNAB by about $2 a month. That's not a lot, but we budget-obsessed people know that it all adds up.
3. Qube Money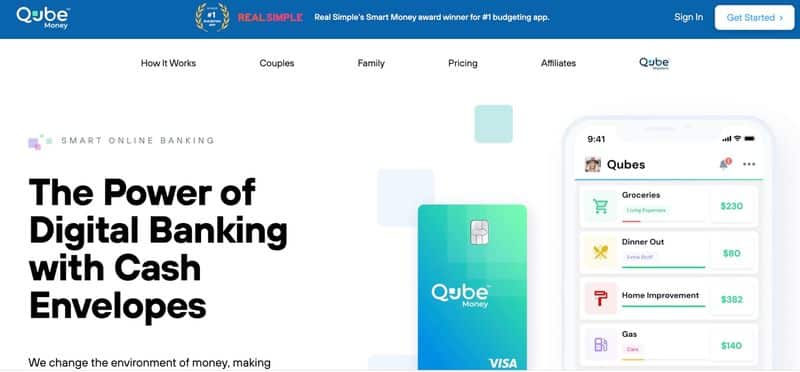 Qube Money was founded by financial health coach Ryan Clark, who has a passion for helping people overcome spending and budgeting problems.
He calls Qube Money "envelope budgeting for the 21st century." You set up Qubes for all of your budget categories by using the Qube app.
When you need to make a purchase, you go to your Qube app and see how much money is left in the Qube for the coordinating category.
Put in the amount of your purchase, and Qube automatically transfers the money from your bank account, providing you've got available money in that Qube.
With Qube, you can always see how much money you've got left in each spending category. That way, you can help ensure you stay in line with your budget.
Three different plans to choose from:
Qube Basic: Free and includes 10 Qubes
Premium: $6.50 per month for unlimited Qubes
Family: $11.50 per month and includes cards for adults and teens
Qube vs. YNAB
Qube is a great tool for basic envelope budgeting. The inclusion of cards for adults and kids on the Family plan is a nice bonus.
And it's great that Qube's Basic plan is free. You won't find a free plan with YNAB. However, YNAB is much more comprehensive with its reports, goal tracking, etc.
If you simply want a helpful e-envelope system to ensure you're staying on budget, choose Qube.
If you're looking for something more comprehensive that includes goal charting, choose YNAB.
ⓘ Learn More: Qube Money Review
4. Mint
Mint.com was founded in 2006 and is currently owned by Intuit. It offers you a way to budget and track your money in one place. And it's one of the most popular YNAB alternatives.
Like the other services listed here, Mint gives you easy access to your bank, credit card, investment and loan accounts all in one place.
It'll also send you alerts if your bank account is running low or you have payments due on loans or credit cards. This is a nice feature because it helps ensure that you won't accidentally forget to make a payment.
Late payments often result in late fees and raised interest rates. So in that way, Mint can help you save money.
In addition, Mint will let you know how much you're paying in ATM and other fees. And it'll alert you if there are any large or unusual transactions on your accounts.
Lastly, Mint helps you keep track of your net worth. It's displayed at the top of your account every time you sign in.
Mint vs. YNAB
Both Mint and YNAB do a great job of helping you budget. Their interfaces and features are pretty similar.
However, Mint is completely free. There's no charge to use it. That fact might leave you wondering how Mint makes money.
Mint makes money in a few ways:
It offers financial services to members and it gets paid a referral fee if you sign up
Mint has clickable ads on the site, which gives it the ability to bring in ad revenue
You can sign up for premium access to your credit report with Mint
Since the Mint and YNAB budgeting tools are pretty much equally great, the biggest reason Mint might be better for you is that it's free. And free is good.
In addition, Mint has several additional features that YNAB doesn't. It offers a more complete view of your finances and an alert system. Check out the Mint website for more information.
While Mint offers some exclusive features, YNAB gives you more control over the budget process. Its graphing and tracking tools can also be easier to use and worth the fee.
Related: YNAB Versus Mint: Which is Better?
5. CountAbout
CountAbout was founded with its main goal is to be a step up from Quicken. In fact, you can seamlessly migrate from Quicken to CountAbout.
The site will automatically sync your Quicken data into the CountAbout system. One nice thing about CountAbout is that you can rename spending categories as you see fit.
CountAbout's prices are also very reasonable. It costs $9.99 per year for the basic budgeting plan.
If you're willing to upgrade to the premium plan, you'll get an added benefit: automatic download of transactions. The premium plan is only $39.99 per year. That equates to a bit over $3 a month.
Along with budgeting tools, CountAbout also provides:
Graphs to help you assess income and spending
Ways to incorporate recurring transactions and split transactions
Apps for Android and iOS
It's a fairly thorough system that should meet the needs of most basic budgeters.
CountAbout vs. YNAB
The only big difference between CountAbout and YNAB is that CountAbout is a low-cost Quicken alternative. This platform also supports small business invoicing while YNAB is only for household use.
And of course, CountAbout is cheaper, even if you do choose to sign up for the premium program. Plus, you get a 45-day free trial instead of a 34-day period.
6. Simplifi
Simplifi by Quicken is a newer budgeting app that's also meant to be a step above the old school Quicken budgeting system.
In fact, the New York Times Wirecutter voted Simplifi the best budgeting app two years in a row.
Simplifi is similar to Empower in that it allows you to view all of your financial accounts in one place.
You can view bank accounts, investments, 401ks, credit cards, loans and more on your Simplifi dashboard.
At just $5.99 per month (or $47.88 annually), Simplifi is cheaper than YNAB as well.
Simplifi vs. YNAB
Simplifi is attractive in that it automatically produces a spending plan for you based on your spending habits.
You can customize the plan as you like, too. However, Simplifi doesn't create your spending plan based of a zero-based budget.
If you're a fan of the zero-based budget, you may want to stick with YNAB. Like YNAB, Simplifi is only available in the U.S.
ⓘ Learn More: Simplifi Review
7. EveryDollar
EveryDollar is one of the most popular YNAB alternatives and is the budgeting brainchild of well-known personal finance expert Dave Ramsey.
The website says it'll help you create your first budget in less than 10 minutes. It's a simple program that's fairly easy to use for people of almost any technical skill level.
EveryDollar is free and allows you to add income, spending, and budgeting information manually.
Consider upgrading to Ramsey+ if you want bank syncing, budget reports and downloading transactions to a spreadsheet.
After a 14-day free trial, a Ramsey+ membership costs:
$9.99 for one month
$99.99 for one year
EveryDollar vs. YNAB
There are a few differences between EveryDollar and YNAB. YNAB has investment tracking and bill management, whereas EveryDollar does not.
On the other hand, EveryDollar has tax reporting capabilities. YNAB does not.
In addition, EveryDollar is available in the U.S. and Canada, while YNAB is only available in the U.S.
ⓘ Learn More: EveryDollar Review
8. Goodbudget
Goodbudget is a budgeting app that helps you determine the "why" behind your expenditures. In other words, it helps you create a value-based spending plan.
It's based on the cash envelope system and gives you electronic envelopes to put your spending money in when you create your budget.
You can sync your device with your partner too, so that you're working your budget together. The free version of Goodbudget includes 10 digital envelopes and works with one account for up to two devices.
The Plus version ($7 per month/$60 annually) includes unlimited envelopes, unlimited accounts, and lets you partner on five devices.
Goodbudget vs YNAB
Goodbudget and YNAB are alike in that they both utilize an electronic version of the cash envelope system. The one downside to Goodbudget is that it can't sync with your bank so all transactions must be done manually.
However, you can download your bank statements into a supported system like Quicken and then import the info into Goodbudget.
9. PocketSmith
PocketSmith has been helping people budget since 2008. It touts itself as a budgeting app with unique features for every type of budget need, including those with multiple streams of income.
With PocketSmith, you can import your transactions from your bank using multiple bank accounts as long as they're from the same bank. You can track your income, expenses, net worth and more.
You can make a cash flow forecast and work in multiple currencies too. PocketSmith has a free plan that allows you to budget and import transactions manually.
The Premium plan from PocketSmith is $9.95 per month or $7.50 per month if paid annually. This is their most popular plan. It allows for automatic or manual transaction importation, a 10-year financial projection and unlimited budgets.
Lastly, PocketSmith's SuperPlan allows for 30 years' projection of your financial picture and costs $19.95 per month or $14.16 per month if paid annually.
PocketSmith vs. YNAB
PocketSmith and YNAB are a lot alike: they both offer budgeting, bill management and the ability to sync with your bank.
However, PocketSmith has a cash flow projection/forecasting feature that budget nerds like myself might find appealing. This makes PocketSmith one of my favorite YNAB alternatives.
10. PocketGuard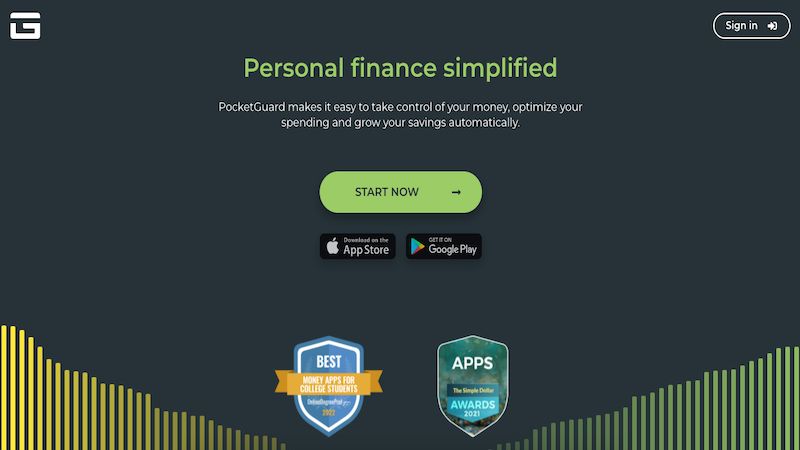 PocketGuard's big push is that it allows you to know how much money is in your pocket at all times. You can use it to make a budget, monitor your spending, and remind you when bills are due.
By knowing what's left in your "pocket" for the day, week, or month you can better make fluid spending decisions.
PocketGuard has a free version that allows for importing data from your bank and putting the data into preset categories.
PocketGuard Plus costs $4.99 per month or $34.99 per year when you pay annually. With PocketGuard Plus, you get added features like customized categories, unlimited goals, and more.
PocketGuard vs YNAB
While PocketGuard is great for knowing how much you have to spend and for basic budgeting, YNAB still rules the roost for its attention to detail.
The zero-based budgeting platform is great for the most detailed of budgeters.
How Do These Alternatives To YNAB Compare?
| | | |
| --- | --- | --- |
| Company | Cost | Best Feature |
| YNAB | $98.99/yr. | Zero-based budgeting |
| Tiller Money | $79/yr. | Customizable spreadsheets |
| Empower | Free | Comprehensive financial summary |
| Qube Money | $0 to $11.50/mo. | Individual and family plans |
| Mint | Free | Payment due date alerts |
| CountAbout | $9.99/yr.-$39.99/yr. | Supports small business invoicing |
| Simplifi | $5.99/mo.-$47.88/yr. | Intuitive spending plan |
| EveryDollar | $9.99/mo.-$99.99/yr. | Split transaction capabilities |
| Goodbudget | Free-$7/mo. | Partner syncing capabilities |
| PocketSmith | $9.95-$19.95/mo. | Cashflow forecasting feature |
| PocketGuard | $4.99/mo.-$34.99/yr. | Cost-effective zero-based plan |
Methodology
When we researched the best alternatives to YNAB, we looked at the following:
Pricing – We only included budgeting apps and services that were similar in pricing. We did include some free options that had similar features to YNAB.
Functionality – We included apps and services that had similar budgeting functionality. Some of the apps may work differently but all apps have budgeting at their core.
Customer reviews – We looked through countless customer reviews of these products to make sure that they are legit and that people are enjoying using them.
Summary
Using a budgeting program like the ones we've mentioned here is important. It helps you avoid common budgeting mistakes that can have a long-term impact on your finances.
As you can see, there are several YNAB alternatives out there if you find YNAB isn't working for you. Depending on what you need, one of the budgeting programs here will be a better solution for your needs.