Looking for a Quicken alternative? You're in the right place.
For years, Quicken allowed people to manage their money on a computer instead of on paper. You could create a budget, record banking transactions and more.
However, it's the 21st century now and things have changed. Although Quicken has done well at keeping up with changing technology, there are other amazing budgeting software's out there.
Some have better features and benefits than Quicken.
You might find that these Quicken alternatives are a better solution with you.
Top Alternatives to Quicken
Personal Capital
Completely free budgeting tools
EveryDollar
Works with Dave Ramsey plan
Tiller
Spreadsheet that links all of your accounts
Since Quicken launched over 35 years ago, many other companies have gotten into the money management market. Some have come and gone.
Others have stuck around. They offer services you might find valuable. Here are some of our favorite Quicken alternatives.
1. Personal Capital
Best Free Quicken Alternative
Personal Capital makes the top of our list for Quicken alternatives. It is an easy way to see all of your financial accounts in one place.
Bank accounts, credit card and loan accounts, investment accounts and more can all be tracked with your Personal Capital account.
Its easy-to-read dashboard gives you an overview of your assets, liabilities and your net worth.
In addition, it tracks your income and your spending, lets you create a budget and helps you see if you're on track to stay within your budgeted amount for spending.
And possibly best of all: It's free. Using Personal Capital won't cost you a dime.
Learn More: Personal Capital Review
2. EveryDollar
Best Quicken Alternative For Dave Ramsey Fans
EveryDollar is the budgeting app created by the Dave Ramsey team. The website says it can help you create your first budget in less than 10 minutes.
EveryDollar uses a zero-sum budget concept to help you make the most of money management. You can also set financial goals in line with Ramsey's Baby Steps program to help you improve your financial picture.
EveryDollar's basic service is free. However, there is another version called EveryDollar Plus that costs $99 a year.
The main benefit of EveryDollar Plus is that it will automatically download and sync your financial transactions to your EveryDollar account.
If you use the free EveryDollar account, you've got to manually enter your financial transactions.
Learn More: EveryDollar Review
3. Tiller
Best Alternative to Quicken For Spreadsheet Users
Tiller (also known as Tiller Money) is a great option if you love spreadsheets.
Tiller will automatically download your financial transactions from your bank to either Google or Excel spreadsheets in a secure manner. This makes budgeting super easy.
You can arrange your income and expense categories and make them custom-fit your money management style.
There are no bill-pay features or investment tracking features, but Tiller will make money management easier for you.
Tiller costs $79 per year to use. However, you can try it free for the first 30 days.
Learn More: Tiller Money Review
4. Simplifi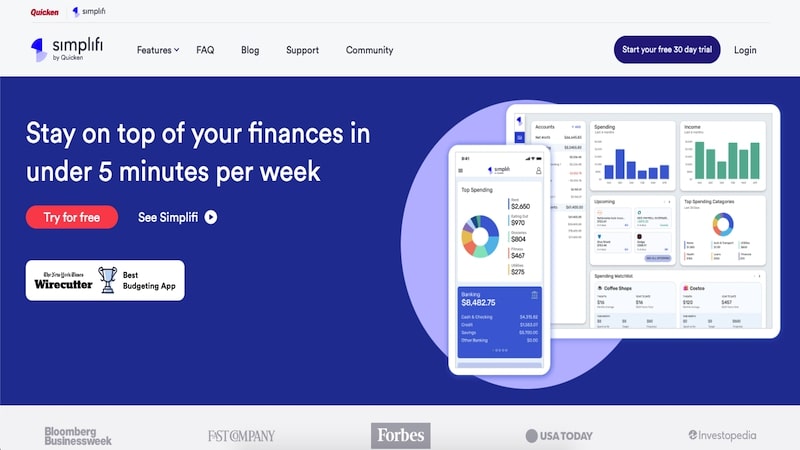 While Quicken is better for bookkeeping but can be too advanced and expensive for people wanting a basic budget. As a result, Quicken also offers Simplifi which is a cloud-based budgeting program.
Its features include:
Links to bank and investment accounts
Budgets
Categorize transactions
Project cashflows
Savings goals
Spending watchlists
You can access the platform from the web and mobile apps. There isn't any software to download.
This service is better for making a basic budget and comparing your spending and income.
After a 40-day free trial, you pay $5.99 monthly or $48 annually ($3.99 monthly)
Learn More: Simplifi Review
5. Mint
You may have heard of Mint by Intuit. Mint features a website and app that currently boast more than 15 million users. Mint's goal is to let you see all of your money in one place.
It has several features that can help you to:
Budget and manage your money
Track your bills
Categorize spending
Monitor your credit score
Track your investments
And more. Mint is a popular choice because of its thorough and easy-to-use interface.
Bonus: Mint is also free. You won't pay anything to use it.
Mint make its money by offering clients products and services. When you purchase a product or service, Mint gets a commission. Some of the other choices shown here do charge a subscription fee, but Mint doesn't.
The downside of this business model is that there are a lot of advertising messages throughout the site. But if you don't mind those, you can't beat the price of Mint.
Get all the details in our comparison of Mint vs. Personal Capital.
Learn More: Mint Review
6. YNAB
You Need a Budget is another tried and true option for money management.
YNAB has three main goals to help you accomplish with your money:
Stop living paycheck to paycheck
Get out of debt
Save more money
In order to accomplish these goals, YNAB will help you set up a budget that works with your lifestyle.
There are no right or wrong expenditures; it's all about spending in a way that helps you meet your financial goals.
From there, YNAB helps you plan for unexpected expenses and budget fails. Everyone has them, so there's no use in pretending they don't exist. Instead, YNAB will help you find a way to navigate them successfully.
Along the way, YNAB helps you get out of debt, save more money and live off of last month's paycheck. This way you're building a money cushion that can help you overcome unexpected expenses.
YNAB costs $84 per year, which equates to $7 a month. The first 34 days are free, so you can try it out and see what you think.
Learn More: YNAB Review
7. CountAbout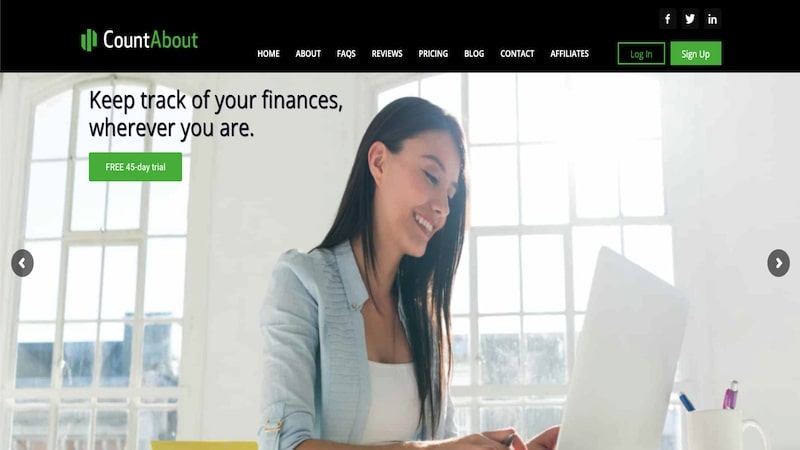 CountAbout is a budgeting tool that lets you import your information from Mint and/or Quicken. This makes it really easy to make the switch if you're looking for something different.
CountAbout's graphs and charts make it easy to see where your money is going. And the service will help you set up a budget that works for you.
CountAbout has two budgeting options: a $9.99 per year basic option and a premium option, which is $39.99 per year.
Note that the basic option doesn't come with automatic downloading of account transactions. You'll have to enter them manually.
If you choose the premium version, the service will automatically download your transactions.
8. GoodBudget
GoodBudget is budgeting app that's based on the cash envelope system. With GoodBudget, you create cloud-based envelopes for all of your spending categories.
Then you put money from each month's budget into those envelopes. You'll sync GoodBudget with your the info from all of your financial institutions so it can help you track spending in each category.
You can use GoodBudget with a spouse or partner, too. Each person will always know how much is left to spend in budget categories. GoodBudget can help you save for larger, future purchases as well.
GoodBudget has a free version that gives you 10 regular envelopes and 10 additional envelopes. You can tie one account to the free version and use it on two devices.
GoodBudget also has a Plus account. It costs $50 per year and gives you unlimited envelopes.
In addition, you can use the Plus version with up to five devices. This means you can get the whole family involved in household budgeting.
9. Kubera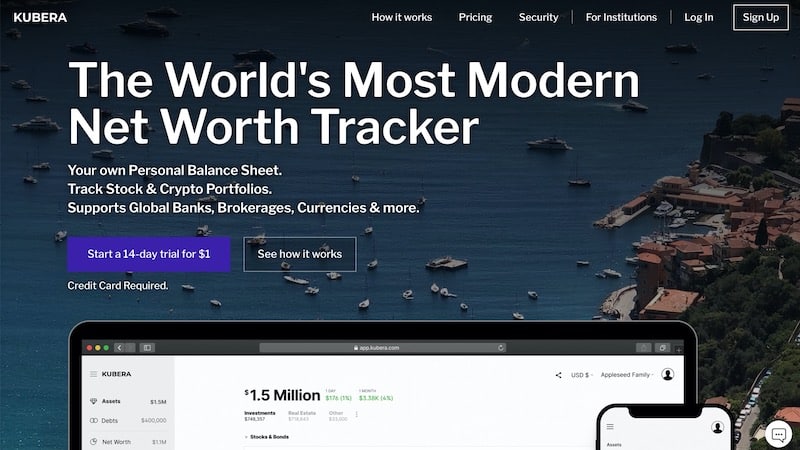 You will enjoy Kubera if you want a net worth tracker and portfolio tracker. It's possible to view the balances of your banking and investment accounts in real time and can share your account details with a financial advisor.
This service can also store your important documents such as as your last will and estate plan. Unfortunately, it doesn't offer in-depth budgeting tools like Quicken.
This program has a 14-day free trial. After that, you pay $150 per year upfront.
10. Moneydance
Moneydance is a personal finance program made for Mac, Windows and other platforms. It can help you budget, track your investments, manage online banking, pay bills and more.
The software also has a graphing tool that lets you create visual reports of your income and expenses. Other features include bill payment date reminders and a mobile app.
The program costs $49.99 and comes with a 90-day money back guarantee.
11. PocketGuard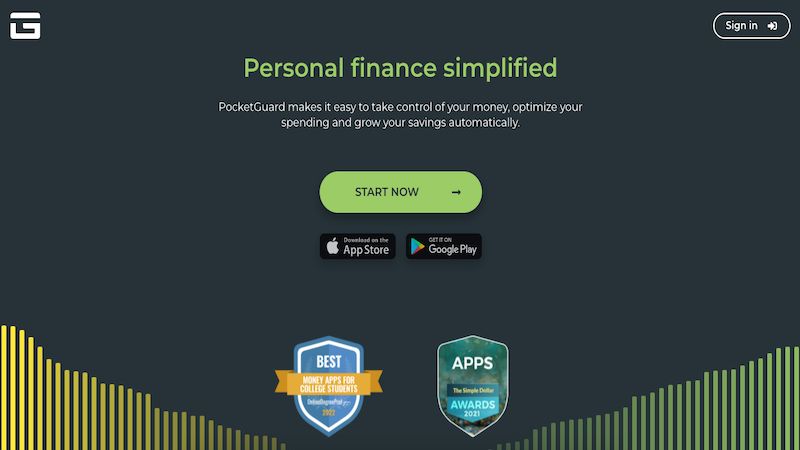 Consider PocketGuard if you want to prevent overspending. The app analyzes your income history and spending habits to calculate your disposable income.
From here, it will look for ways to help you save extra money by reducing unnecessary expenditures. PocketGuard can also negotiate bills on your behalf to secure lower prices and one-time discounts.
The free version links to your accounts and offers budgeting insights. PocketGuard Plus costs $4.99 monthly or $34.99 annually and offers more hands-on control for transactions and debt payoff plans.
12. GnuCash
GnuCash is free personal finance accounting software. It allows you to track bank accounts, income, stocks and expenses.
This is free, open source accounting software. Download for Linux, Microsoft or Mac.
Features include double accounting, stock / fund accounts, reporting graphics, import spreadsheets, scheduling transactions and financial calculator.
The latest version is 4.11. GnuCash also offers GnuCash 2.4 Small Business Accounting downloadable software.
13. PocketSmith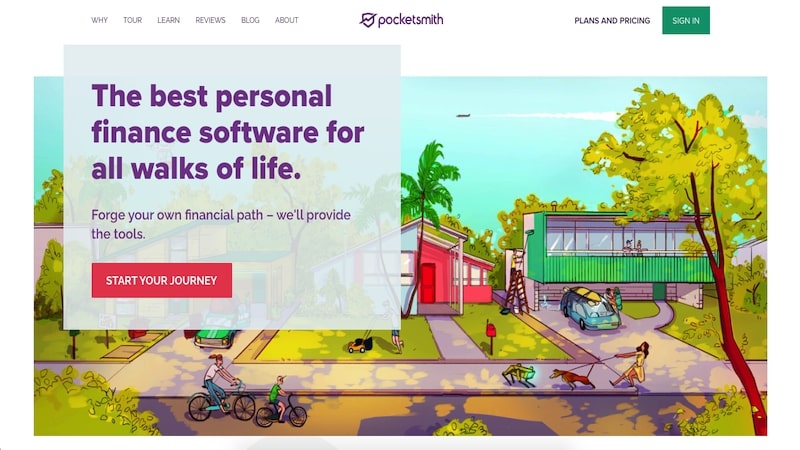 PocketSmith calls itself a time machine for your money. It's a personal software program with cash flow forecasts to help you better understand your money's potential.
It features automatic transaction feeds from your bank and a net worth tracker. In addition, you can use it to create a budget and track income and expenses.
PocketSmith has three programs to choose from:
A free version, which comes with manual transaction input.
The Premium plan, which lets you see 10-year financial forecasts and more for $9.95 a month.
And a Super plan, which lets you see 30-year financial forecasts and more for $19.95 a month.
The cash flow forecast feature can be a great way to get motivated to save more money. This software is worth a look if you like the idea of forecasting your financial future.
14. Banktivity
Mac and iOS users have exclusive access to Banktivity which can link to your accounts and categorize transactions. You can also track your net worth and generate customizable spending and investment reports.
The Workspaces feature lets you compare two accounts side-by-side which can make it easier to grasp your entire financial picture.
Banktivity is free for the first 30 days and then costs from $49.99 to $99.99 per year. There are three different plans and each one supports progressively more account types and advanced features.
15. Dollarbird
If you can't get by without using a planner to schedule your days, Dollarbird can be your best option as they offer calendar budgets.
You can make weekly and monthly budgets that provide more detail beyond comparing actual versus planned spending. However, this comparison tool is available to make sure you remain within budget.
The app and web platform let you add multiple users which makes this an effective option for joint finances.
There are two different subscription plans available:
Pro ($4.99/month or $39.99/year): Up to 20 calendars and three members
Pro Plus ($6.99/month or $59.99/year): Unlimited calendars and members
Frequently Asked Questions
Here are some questions people ask when looking for an alternative to Quicken.
Summary
Quicken has gained a stellar reputation as trustworthy personal finance software. However, with market competition and technological advances, it's no longer alone in that field.
There are many viable alternatives that may offer you a better personal finance management experience. It's worth your time to check those alternatives out to see if one might suit you better than Quicken.