I'm a big fan of tracking my spending. In fact, I've been doing so for over five years. I learned about spend tracking when I realized that our spending was out of control.
I started spend tracking to help us get out of debt. Tracking our spending helped me to know where we were wasting money. As such, I learned how we could cut waste and manage money better.
For years I used a basic Excel spreadsheet to track our money and spending. I liked that I could see an at-a-glance summary of how much I've spent in a day, month or year.
Managing all your account info on a spreadsheet can be cumbersome. Enter: Tiller Money. Tiller Money helps automate this process for people so they can be more aware of where their money is going.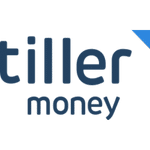 Summary
Tiller Money has done a nice job of creating a spreadsheet system that makes it easy to track your money. And, you can use their spreadsheet templates or create your own customized template.
Pros
Safe and easy to use
Variety of spreadsheets
Affordable
Cons
Not envelope system friendly
No mobile app
What is Tiller Money?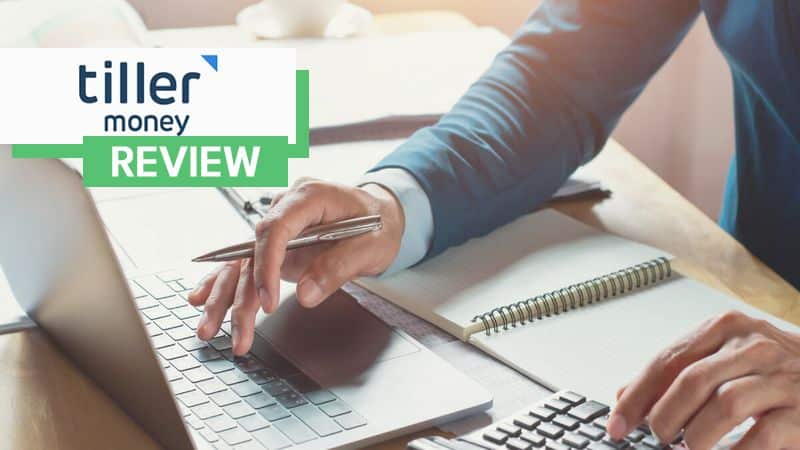 Tiller Money was founded by Peter Polson and his team after unsuccessfully trying other personal finance apps and tools.
They found that the other tools were either too simple or too complicated. They decided through their research that using spreadsheets offered the best mix of simplicity and customization.
So, they focused on making the best spreadsheets possible. They created a system that could offer members faster and easier ways to access their financial information.
And it worked. I can't tell you what a relief it is for me to no longer have to add my expenses and deposits manually into my self-created spreadsheet.
Now I can just pull Tiller Money up and get up-to-date information. The spreadsheets are attractive, well-formatted and easy to understand.
For instance, the budget spreadsheet includes sidebars that tell me how much of my budgeted money remains. They also tell me what my net cash flow is.
Tiller's goal of making money management 10 times faster worked. And you might find it will work for you too. Next we'll talk about the process of signing up for Tiller.
How to Sign Up For Tiller Money
Signing up for Tiller Money is easy. On the signup page, you'll enter your credit card number (for billing), your name and your address. For most people, Tiller costs $79 a year after an initial 30-day free period.
Tiller Money will then ask you to enter the accounts you want connected. You will have to enter your online sign-in information for each account. But don't worry, Tiller's security measures will keep your information safe.
When I entered my bank sign-on information, all of my accounts with that bank appeared.
Overdraft line of credit
Mortgage account
Credit card account
My daughter's credit card account (I'm a joint account holder)
After you add your first bank, you can add additional bank or credit accounts too. Next, Tiller Money asks you what your goal is in using their services.
This will help Tiller Money better serve you. Enter in your goals as you see fit.
The next step you'll take will be to link Tiller Money to an Excel Spreadsheet or a Google Spreadsheet. This is where they'll help you keep track of your accounts and transactions.
I chose to use an Excel spreadsheet only because I'm more familiar with Excel. You can choose whichever spreadsheet software you wish.
Now let's get into more details about how Tiller Money works. As I mentioned, I signed up for a Tiller Money account for myself so I could see what it really does.
How Does Tiller Work?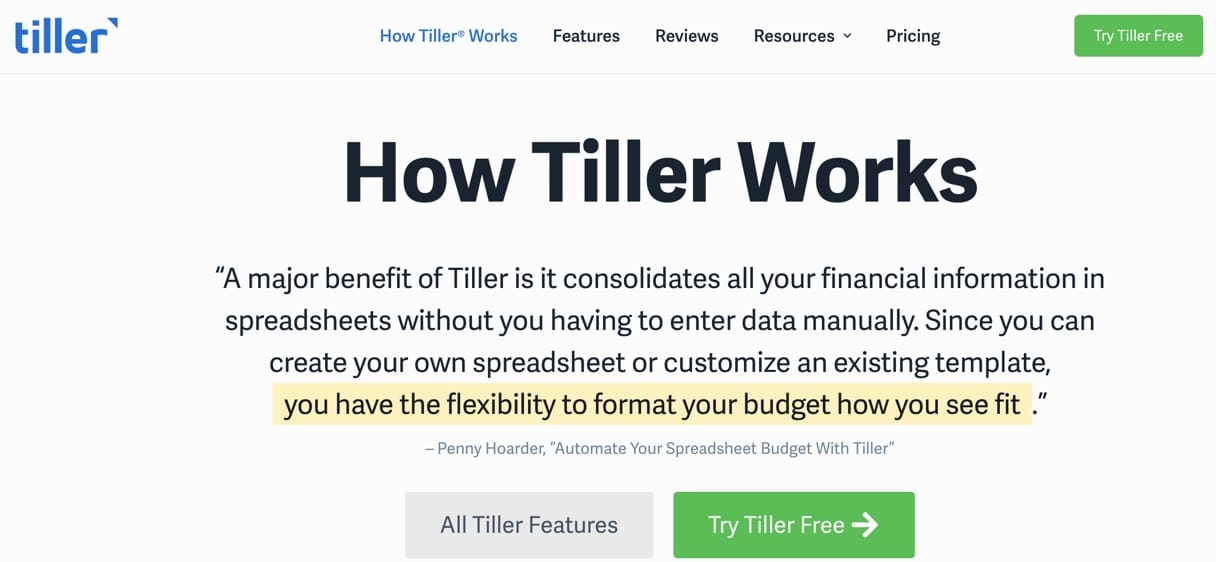 After you sign up for Tiller Money, you'll be able to access your updated spreadsheets as often as you like.
You create your own spreadsheets, but it's easy. We'll talk more about that in a bit. Just know that the spreadsheets are colorful, easy to understand and well-designed.
Even if you don't consider yourself a techy person, you'll like how easy it is to access and read your spreadsheets.
Daily Update Emails
One thing I noticed right after I signed up for Tiller Money was that it's very convenient. Every morning I received an email notice from Tiller. It's called my Tiller Daily Update, and it tells me one of two things:
Tiller found no new transactions in your linked accounts today
Tiller found "X" new transactions in your linked accounts today
If Tiller found new transactions, it gave me a brief and easy-to-read summary of the transactions. It shared the amount of each transaction, too.
This feature helps you spot fraud or unauthorized transactions right away. Since the updates are done daily, you can catch fraud and make calls to your bank or credit card company before any further damage is done.
In addition, the daily updates Tiller provides include current balances of each linked account. Again, this is a wonderful feature for those who like to keep track of their money.
No more signing in to each financial institution's login page. Instead, it's all there in one email. And it's summarized so you can have a quick, yet thorough, glance at your money situation.
Customized Spreadsheets
I talked before about how with Tiller Money you create your own spreadsheets. But don't worry, they make it really simple.
With Tiller, you can create your own customized spreadsheet or you can use one of their pre-made templates. The pre-made templates cover a variety of financial goals, including:
Tiller Monthly Budget: The most popular budget spreadsheet.
Simple Business Spreadsheet: A spreadsheet for business owners.
Net Worth Tracker: Keeps track of your overall net worth.
Debt Snowball Worksheet: Organizes and manage debt payoff.
Weekly Expense Tracker: Provides weekly charts and reports.
Values-Driven Budgeting: Inspired by Carl Richard, the author of the One Page Financial Plan.
Tiller Money has other spreadsheet options, too. I really like that Tiller works with multiple spreadsheets so that you can keep track of multiple financial goals.
Customers can also access the Tiller Foundation Template for Google Sheets as a simple but customizable template for tracking, budgeting, and cash flow management.
Once your accounts are linked into the Foundation Template, you have quick access to your recent transactions, balances, and easy collaboration with a partner.
This template also offers customizable categories for auto-categorization based on your own rules, monthly and yearly budgeting.
From there you can explore adding the other modular templates and tools offered through Tiller Money Labs such as Net Worth, Debt Progress, Business, and much more.
Spending Trends Dashboard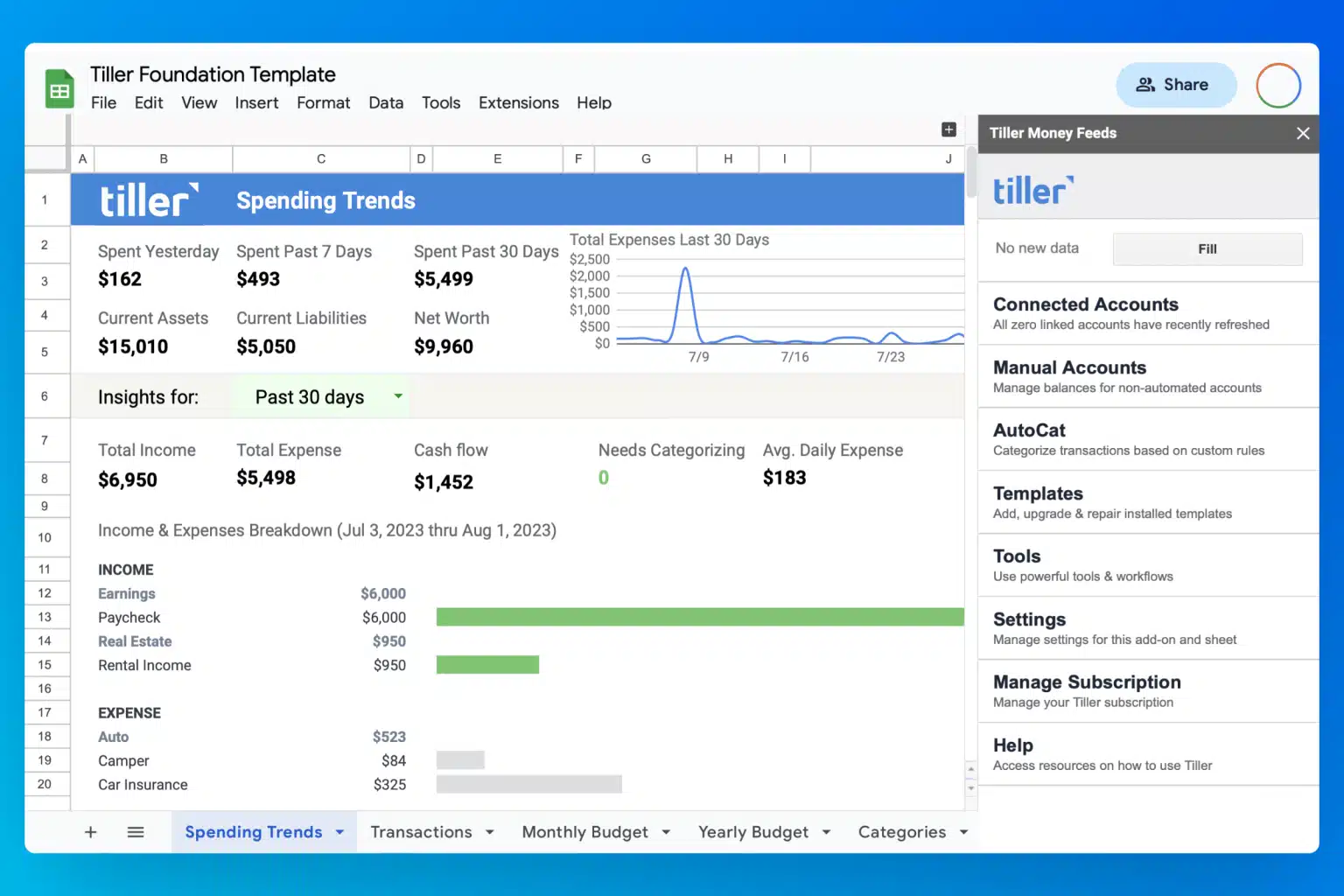 A recent feature that was added to Tiller is the Spending Trends dashboard. This feature makes it easy to see how your spending has been over the past day, seven days, and thirty days.
Easy, Instant Access
Anytime you like, you can access your spreadsheets. You can look at net worth, monthly budget, debt snowball progress or any other spreadsheet info you've created.
Each spreadsheet has tabs that contain your information. My main spreadsheet has tabs that include my budget, my transactions, my debt progress, and more.
For instance, on the "Transactions" tabs, I get instant access to all my deposits or purchases. I like to use my credit card for purchases for security reasons. I then pay the card in full with my budgeted money at the end of the month.
Tiller Money gives me fast access to every single transaction I've made. Then Tiller transfers the transaction info onto my budget tab.
This tab lets me see how my budget compares to actual spending. It gives me breakdowns by category, as well as other spending information.
In addition, Tiller Money can help you pay off debt, track your net worth and more.
Want access directly to your bank account? Tiller Money uses open banking technology to connect directly with banks. At this time they have a connection with Citi Bank and more to come soon.
But Tiller Money may not be for everyone. Here's some information on whether or not Tiller Money might be right for you.
Who Is Tiller Money For?
I think there are a lot of groups of people who could benefit from Tiller Money. Here are some of them.
People Who Like to Track Their Money
If you are like me, you LOVE having a serious handle on your finances. You want to know what's coming in, what's going out and what's left at the end of the day.
You want to know how you're progressing toward your goals, and what your net worth number is. If this is you, you'll love Tiller Money.
People Who Need to Track Their Money
Even if you're not a die-hard money tracker like I am, you probably should be. Why? It will help you improve your overall financial situation.
If you feel like your finances are out of control, you'll like Tiller Money. It will help you keep track of your spending, savings, debt and more. And knowing that information will help you improve your financial health.
People Who Have Tried Other Tracking Tools and Aren't Satisfied
Tiller Money is similar to Mint but just uses Google Spreadsheets instead. Each of those options has some great features.
Where Tiller Money excels is its ability to combine the good features of those options and makes a better product.
Have you been using another tracking tool that you're not entirely happy with? Try Tiller Money. You might find it has what you've been looking for.
People in most money situations could probably benefit from using Tiller Money. It'll help keep all of your financial information organized.
Is Tiller Safe?
Yes, Tiller takes several steps to ensure your information is secure. First and foremost, they partner with Yodlee, a third-party data aggregator.
Yodlee encrypts your account credentials so that Tiller cannot see or store them. This means Tiller has no ability to move your money.
And, Yodlee is a trusted company, used by nine out of the 15 largest banks in the U.S. to protect customer data. In total, more than 16,000 banks use Yodlee to keep data safe.
In addition, Tiller uses 256-bit bank-level encryption to protect the data it has on file for you. This means the only people that will ever see your data are you and those you choose to share it with.
So, yes, Tiller is safe. It works just as banks do to protect the information you share with it.
How Much Does Tiller Cost?
Tiller is affordable for almost any budget. It's got one simple, affordable plan. Your first 30 days are free. After that, you'll pay $79 per year to have Tiller help you manage your money.
That's just $6.58 per month. Your debit card or credit card is charged the entire $79 at the end of your 30-day trial period.
You can use an unlimited number of spreadsheets and link an unlimited number of accounts. And, if you find Tiller isn't for you, there's an easy cancellation process.
In addition, if you cancel within 60 days of signing up, you get a full, 100% refund of your $79.
Note: Tiller also offers a Student subscription plan. With the Student plan, you get Tiller for free for an entire year — not just for the 30-day trial period.
After your 1-year of free Tiller ends, you as a student will be charged the same $79 per year everyone else is charged.
How Else Does Tiller Make Money
You might be happy to learn that the only way Tiller makes money is by the $79 per-year subscription fee it charges. You won't be bombarded with ads to purchase products when you visit the site (at least, as of this writing).
And Tiller won't sell your name or other information to third-party sites. This is a lot different than how many other companies operate, and that's a good thing.
Tiller Money Reviews
I did try to find information on Tiller Money through TrustPilot and the Better Business Bureau. However, neither site had any reviews for Tiller Money.
Your best bet is to look for other unbiased reviews like this one from Jordan Leone to get your information on Tiller.
"I have always been historically "bad with money" and have tried every budgeting app on the planet. I found them all to be either too simplistic (NerdWallet) too complex (Mint), or a giant advertisement for credit cards (also Mint). One day I thought, "wow, can't I just connect to my bank's API and build my own app?" and discovered Tiller when searching for a solution like that. The learning curve for Tiller took a second, but their documentation and support team is so fantastic, it makes the onboarding process very simple! It took about a year of using Tiller to really customize it and streamline it for my exact financial management style, but having access to my raw financial data has helped me to completely take control of my finances and be debt free for the first time in my adult life! My favorite feature is the custom categories and different monthly budget amounts for those categories. It makes budgeting much more fluid and realistic. If you are a person who constantly wonders where your money is going, has a hard time budgeting for variable expenses and/or just want to have access to your raw financials to tinker with your own analysis, Tiller is absolutely the tool for you. I truly don't believe I would've turned my financial situation around without it."
Next, we'll go over a list of the pros and cons of Tiller Money.
Positives And Negatives of Tiller
Pros
Tiller has a lot of great things to offer. First, it automatically populates all of your financial data into spreadsheets. This is SO much easier than the manual way I was doing things on my self-created spreadsheet.
In other words, Tiller is a huge time-saver.
Second, I liked the wide variety of custom spreadsheets it offers. I have one to track my net worth, one to track my budget, one to track my debt snowball, etc.
And, my Tiller spreadsheets are attractively designed, which for me makes them extra fun to look at and work with. If you're a spreadsheet geek like I am, you'll like this feature.
Bonus: You can make your own spreadsheets, too. If you're a spreadsheet aficionado you might rather design your own.
In addition, Tiller is affordable. At less than $5 a month, I'm willing to spend the money to have an easier, more organized way to look at my finances. My busy schedule makes it worth the money.
Cons
There are two cons I found after my personal experience with Tiller Money.
You Need Basic Spreadsheet Knowledge
The first disadvantage is that you need some knowledge of how spreadsheets work to use it.
I'm not a very techie person, and it took me some time to understand how to formulate and navigate spreadsheets.
However, if you've got some "just above basic" knowledge of how spreadsheets work, you'll do just fine.
Tiller Money does have a blog and an FAQ page that can help you out. But, it'll take some time to learn the system if you're not a techie.
Only you can decide if the convenience Tiller Money provides is worth the time it'll take you to learn to use the spreadsheets.
Doesn't Work Great With the Cash Envelope System
The second con is that you will need to put in some effort if you're using the Cash Envelope System. We like the Cash Envelope System for managing money because it helps you stay on track with your budget.
However, with systems like Tiller Money, the money you take out for cash will show up simply as an ATM withdrawal.
Tiller Money has an add-on feature that will allow you to split a transaction. For instance, you can split an ATM withdrawal up into money for groceries, gas, entertainment, etc.
This will take additional time, but it can help you track money better if you're using cash to pay for fluid expenses.
Is Tiller Money Worth It?
The bottom line is that Tiller Money is an affordable, easy way to track your finances. Yes, it will cost you $5 a month. If you're like me, you consider every expense, even if it's just $5 a month.
I'm a believer in value-based spending and a Challenge Everything budget. This means that even $5 expenses get careful consideration. This may sound over the top, but it is helping me achieve my financial goals.
Some expenses are necessities. Other expenses are worth it because of the time you'll save.
For instance, you may occasionally pay for a rideshare or taxi if you're going someplace where parking is difficult to find. The convenience may be worth it, especially if you're stretched for time.
Tiller Money reminds me of one of those convenience expenses. It's a time-sucking pain to manually enter all of your financial numbers on independent spreadsheets.
Tiller Money updates your numbers automatically. In addition, it transfers numbers between the connected worksheets where necessary.
This means you'll have more free time to earn money, spend time with loved ones, etc. Is $5 a month worth having more time to do things you like more? It is to me.
However, your answer might be different. The bottom line is that Tiller Money is a fine tool for keeping track of your finances. And at $5 a month, it's affordable for most budgets.
Summary
I can't stress enough how tracking my finances has helped my personal financial situation. It's taken me from a financial "hot mess" to a steadily increasing net worth.
I sleep easy at night now. I know exactly how much money I have in checking, savings and investments. And exactly what my debt totals are.
In addition, I have a solid plan in place for spending, growing wealth and other financial goals. This is much better than waking up at night wondering how I'm going to pay the bills. I lived that way for a long time and it wasn't fun.
Now that I have a plan in place, I don't worry about my financial numbers anymore. I know what they are and where they're going.
It's nice to know there's a tool like Tiller Money that helps me keep track of those numbers more easily.
Tiller Money has done a nice job of creating a spreadsheet system that makes it easy to track your money. And, you can use their spreadsheet templates or create your own customized template.
If you're in need of a convenient way to manage your money, Tiller Money can help.