Need the best net worth trackers? Look no further.
Knowing your net worth can make a big difference in how you spend your money.
Tracking that number can even help you set financial goals for yourself or your family.
It helps you know when you need to make changes to how you spend your money.
We're going to share the best net worth trackers which can help you grow your assets over time.
Best Net Worth Trackers
Enter your account information and you're done!
Helps you by automating the data on your financial spreadsheets.
A free financial independence app that tracks your net worth.
Gathering up the dollar amounts on every single one of your assets and debts each month might seem like a daunting task.
Thankfully, there are easier ways to assess and monitor your net.
We're going to talk about the best net worth trackers you can use to simplify tracking your net worth.
1. Personal Capital
Personal Capital is a free tool that allows you to easily track your net worth.
With Personal Capital you can:
Have access to all of your financial accounts in one place
Plan for retirement
Monitor your investments
Uncover hidden fees
View, manage and categorize your expenses
Setting up your free account with Personal Capital is easy.
Just follow the instructions:
Go to Personal Capital and click the "Join for free" button in the upper right-hand corner.
Fill out the prompts to enter your email and other pertinent personal information.
Enter your bank account and investment account information.
That's it! Once you've entered the account information you want to be viewable and considered for tracking your net worth, you're done!
Personal Capital takes over from there. They monitor your accounts regularly.
This way, you have up-to-date balance information that will ensure you know your net worth at all times.
Don't worry: Personal Capital uses bank-level military-grade encryption. This ensures they guard your account information with the utmost of protection at all times.
And they have an added security measure as well.
No one – not even you – is allowed to move money from one account to another from the Personal Capital website.
The site is for viewing and tracking balances only.
Note that Personal Capital helps you follow other areas of your money as well, such as:
Investment gains and losses
Account balances and transactions
Categorized spending charts
Upcoming bills due
Projected investment fees
Income reports
So check out Personal Capital for an easy and free way to track your net worth.
They can help you grow your net worth so that you can achieve your financial goals faster.
Learn More: Personal Capital Review
2. Tiller Money
Tiller Money is a tool that helps you track your net worth by automating the data on your financial spreadsheets.
When you connect your financial accounts to your Tiller Money account, all data populates automatically.
Tiller has free templates you can use to create your spreadsheets, and you can customize categories and more.
Here's how you can sign up to get started:
Go to the Tiller Money homepage
Click on the Start Your Free Trial button at the top right hand corner of the page
Enter the financial account information you want to share.
Tiller uses 256-bit AES encryption, and they promise not to share or sell your data to anyone.
Also, they connect to your accounts via Yodlee and can never see your bank account login information.
With Tiller Money you can track your debt, create a budget, track expenses, track your net worth, and more.
You get a free 30-day trial with Tiller Money. After that you'll pay $79 per year.
Learn More: Tiller Review
3. Topia
Topia is a free app that describes itself as "the financial independence app. You can download the Android or iOS app and start tracking your net worth.
Whether you're new to the financial independence movement or already on the journey, you can evaluate your progress. There are eight steps that you can follow to make your plan with the first being debt-free.
First, you can connect your banking and investment accounts to tabulate your liquid net worth. This tool can also calculate your investment rate.
There are suggestions for each step so you know which actions to take to progress to the next level.
It will also look for opportunities to boost your savings cash flow by reducing expenses or earning more money. After completing a task, you can see how much sooner you can reach financial independence.
App users can also communicate with each other in the members-only community. You can ask questions or provide feedback to another FI-seeker.
4. Mint
Another online tool to monitor your net worth is Mint. Like Personal Capital and Topia, Mint is free to use. You can use Mint to track all of your bank accounts, investment accounts and more.
Mint can help you categorize your spending and gives you an overview of all financials. Also, it will alert you to when bills are due.
This way you'll have advance notice, so you don't miss a payment due date.
Mint's net worth tracker also lets you see fluctuations in your net worth over time.
This feature will help ensure your net worth is growing as you desire. Signing up for Mint is easy.
Just follow these instructions:
Go to the Mint.com website and hit the "Sign up free" button in the upper right-hand corner.
Enter your email address, phone number and create a password.
Fill in the prompts for adding your bank accounts, asset accounts and liability accounts.
Like Personal Capital, Mint is safe and secure. They use bank-level security and encryption to keep your information protected.
Visit the Mint website to find out more about how Mint works to help you track your net worth.
Learn More: Mint Review
5. YNAB (You Need A Budget)
You Need a Budget (YNAB) is another popular site for tracking your net worth. However, its primary purpose is to help you budget.
It has a system in place that will help you with three financial goals:
Get out of debt
Save more money
YNAB uses bank-level security to protect your information.
The net worth tracker is a bonus since the budgeting app is meant to help you manage money better.
However, the site's primary goal is not net worth tracking, but the net worth tracking feature on the site works well.
It's easy to sign up for YNAB too. Just follow these directions.
Go to the YNAB website and hit the "Sign up" button located in the upper right-hand corner
Enter your email address and create a password
Follow the prompts to enter your financial account information
Unlike the other apps, YNAB is not free. You can try it for free for the first 34 days. However, after that, you'll pay $14.99 monthly or $98.99 a year to keep the service.
That's roughly $8 a month if you choose the annual plan with a single upfront payment. While that's not a lot of money, it's money nonetheless.
Not interested in using an online system to track your net worth? You can always do it the old-fashioned way.
Learn More: YNAB Review
6. Monarch Money
Monarch Money is a money management platform that places emphasis on reaching your financial goals. As you work toward short-term and long-term financial goals, Monarch Money makes tracking your net worth easy.
Specifically, Monarch Money offers net worth syncing. Instead of adding up your assets and liabilities, Monarch Money will run the numbers for you.
All you need to do is have your financial accounts linked to Monarch for seamless net worth tracking. If you have physical assets without an attached electronic account, you can manually add this value to your net worth. For real estate, the platform uses Zillow data to determine property values.
Not only will you find an easy overview of your net worth, but you can also dive into the details of your assets and liabilities. With this tool, you'll be able to track your net worth changes over time.
Monarch Money offers both a free and premium version. The free version allows you to connect two bank accounts, while the premium version allows you to connect as many as you need.
The premium version costs $9.99 per month or $89.99 per year if you pay upfront. You can unlock a free seven-day trial to determine whether or not Monarch Money is a good fit for your net worth tracking needs.
If you want to sign up with Monarch Money, it's simple:
Go to Monarch Money to register for an account through the website or the mobile app.
Connect your accounts by providing financial information.
It's that simple to track your net worth with Monarch Money.
Learn More: Monarch Money Review
7. Net Worth Tracker Spreadsheet
Yes, the old Excel or Google spreadsheet. It may be tedious, but it is an option for tracking your net worth.
Using a spreadsheet definitely isn't the most simple way to track your net worth. You've got to enter all information manually on a regular basis.
When you use a site like Personal Capital, they enter the numbers for you. This saves you time, and time is money.
But the spreadsheet option does work. Just create a system that works for you and update regularly.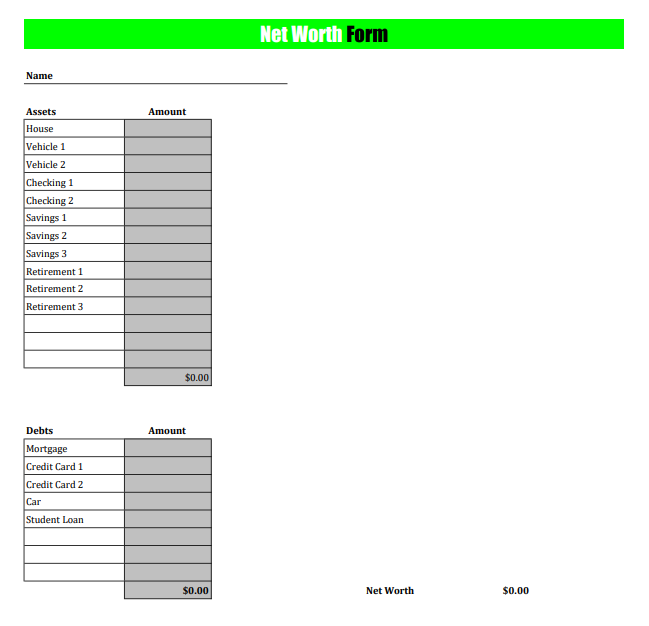 Some people like having their net worth information on their computer hard drive for backup reasons.
If the Internet goes down, you've still got access to everything.
However, you can always screenshot your information from the online site you use.
Then save it to your computer hard drive. But you won't be able to edit or update it this way.
Using a net worth tracker spreadsheet is a viable way to track your net worth. But you might like the convenience of tracking with a tool like Personal Capital.
Download our free Net Worth Tracker.
8. Albert
Albert is a personal finance app that tracks your income, expenses, saving, and investing. You can link all personal accounts to Albert to track your net worth and make critical financial decisions.
While it's not a banking app, the fintech company offers early access to your direct deposits if you set them up in Albert. They can also spot you up to $250 in an emergency between paydays.
What we love the most about Albert is it automatically sends money to savings that it determines is free based on your income, spending, and bills. You can also set up savings goals, and Albert will tell you how close you are to reaching them along the way.
You can also build a portfolio with just $1 and uncover hidden savings opportunities.
With all your information in one place, tracking your net worth and making essential changes to reach your financial goals is easy.
It's easy to sign up for Albert with these steps.
Go to Albert.com and click 'Get Started'
Scan the QR code to download Albert
Complete the personal information
Link your personal bank accounts
Albert is a cross between a net worth tracker and a personal finance app that helps you make important financial decisions.
9. Digit (rebranding to Oportun)
Digit is an all-in-one app that helps with all financial decisions, including saving, investing, and budgeting. Digit uses its AI to analyze your linked bank accounts to tell you what's safe to spend.
Digit doesn't only focus on today, though. It focuses on today, tomorrow, and the future, so you're always prepared no matter what life throws your way.
Digit moves money to your bills account based on your monthly bills, so you always have your housing, utilities, and other vital bills paid. It also sets money aside daily for your savings, so you reach your savings goals much faster.
Digit costs $5 a month, but if you want an app that tells you where your money must go and simplifies reaching your important goals, it can be worth it.
After setting up your account and linking important bank accounts, you'll see at a glance where you stand and which financial decisions you should make to reach your goals.
Consider Digit, your personal financial assistant. It takes less than five minutes to set up and be on your way to reaching financial success.
10. Financial Snapshot by Budgets Are Sexy
J. Money offers a free Financial Snapshot and Budget template among other templates on their site. The template offers you the ability to track net worth, pay, expenses, compare actuals to estimates, savings tracker and credit card balances.
This spreadsheet allows you to see your budget summary and in-depth at the same time. Of course you have to enter in all the data yet the summary page is a great visual.
The spreadsheet is free and compatible with Google Sheets and Microsoft Excel.
How to Calculate Your Net Worth
What exactly makes up your "net worth"? It's the actual value of the things you own. It is "net" because you need to deduct the amount you owe others.
So net worth is the value of everything you own after you subtract your loans, mortgages and other debts.
Calculating your net worth is fairly easy. You can figure out your net worth with these three easy steps.
Make a list of all of your assets. Add the value of your house if you're a homeowner, any cars you own, retirement accounts, savings accounts, investment accounts and items like boats, recreational vehicles, etc.
Make a list of all your liabilities. Next, you'll list all of your liabilities (i.e., debts). Include your home mortgage, any car or other personal loans, revolving and other debt.
Subtract your liabilities from your assets. Now it's time to get your result. Subtract your liabilities from your assets. The answer you get is your net worth number.
How did your number come out? Was it a positive number? A negative number? Here's why it's important to know your net worth.
Why Do I Need to Know My Net Worth?
You might wonder why it's so important to know what your net worth is. There are three main reasons.
First, knowing your net worth gives you a clear picture of your current financial situation.
Being aware of your financial situation allows you to make money decisions that benefit you financially.
It gives you an awareness that you need to turn things around if your net worth number isn't as high as you'd like it to be.
Second, knowing your net worth helps you to monitor the progress of the financial goals you've set.
And regularly tracking your net worth helps you to see your big picture financial progress.
Lastly, tracking your net worth is a motivator for continuing to take steps to reach the financial goals you've set in place.
Summary
Peter Drucker, famous business consultant and author, has a great quote. It says "If you can't measure it, you can't improve it."
In other words, those things that get measured can more easily be improved.
Tracking your net worth gives you a catalyst for increasing it. It helps you keep an eye on expenses and debts, and make changes where needed.
Besides, it helps motivate you as you see your numbers progress.
As discussed, there are several tools for tracking net worth.
For me, online tracking with a free and thorough site like Personal Capital makes it easy.
However, the important part is that you're tracking it – whatever method you choose.