Many people don't know what their net worth is. However, being aware of it can make a big difference in achieving your financial goals.
Knowing your net worth can make a big difference in how you spend your money. It can even help you set financial goals for yourself or your family. A person's net worth is like a snapshot of their current financial situation.
Having a "big picture" view of your finances easily accessible at all times is valuable. It helps you know when you need to make changes to your money management system to reach your financial goals faster.
What exactly makes up your "net worth"? It's the actual value of the things you own. It is "net" because you need to deduct the amount you owe others.
So net worth is the value of everything you own after you subtract your loans, mortgages and other debts.
How to Calculate Your Net Worth
Calculating your net worth is fairly easy. You can figure out your net worth with these three easy steps.
Make a list of all of your assets. Add the value of your house if you're a homeowner, any cars you own, retirement accounts, savings accounts, investment accounts and items like boats, recreational vehicles, etc.
Make a list of all your liabilities. Next, you'll list all of your liabilities (i.e., debts). Include your home mortgage, any car or other personal loans, revolving and other debt.
Subtract your liabilities from your assets. Now it's time to get your result. Subtract your liabilities from your assets. The answer you get is your net worth number.
How did your number come out? Was it a positive number? A negative number? Here's why it's important to know your net worth.
Why Do I Need to Know My Net Worth?
You might wonder why it's so important to know what your net worth is. There are two main reasons.
First, knowing your net worth gives you a clear picture of your current financial situation. Being aware of it allows you to make choices that benefit you financially or turn things around if it isn't as high as you'd like it to be.
Second, knowing your net worth helps you to monitor the progress of the financial goals you've set. Tracking your net worth helps you to see your big picture financial progress.
Also, it's a motivator for continuing to take steps to reach the financial goals you've set in place.
How to Track Your Net Worth
Gathering up the dollar amounts on every single one of your assets and debts each month might seem like a daunting task. Thankfully, there's are easier ways to assess and monitor your net.
We're going to talk about three of the ways you can simplify tracking your net worth.
1. Personal Capital
Personal Capital is a website that gives you numerous money tools to help you manage your money. And the best part: Personal Capital is free.
With Personal Capital you can:
Have access to all of your debt and asset accounts in one place
Plan for retirement
Monitor your investments
Uncover hidden fees
View, manage and categorize your expenses
And more
You can use all of Personal Capital's money tools for free. In addition, Personal Capital will help you manage your investments too.
And they charge a super affordable fee of only 0.49% and 0.89% a year to do so. This fee is a lot cheaper than many other brokerages charge.
Setting up your free account with Personal Capital is easy.
Just follow the instructions:
Go to Personal Capital and click the "Join for free" button in the upper right-hand corner.
Fill out the prompts to enter your email and other pertinent personal information.
Enter your bank account and investment account information.
That's it! Once you've entered the account information you want to be viewable and considered for tracking your net worth, you're done!
Personal Capital takes over from there. They monitor your accounts regularly. This way, you have up-to-date balance information that will ensure you know your net worth at all times.
Don't worry: Personal Capital uses bank-level military-grade encryption. This ensures they guard your account information with the utmost of protection at all times.
And they have an added security measure as well. No one – not even you – is allowed to move money from one account to another from the Personal Capital website. The site is for viewing and tracking balances only.
Check out our review of Personal Capital if you want more information before you sign up.
Personal Capital also helps you track other areas of your finances.
Note that Personal Capital helps you follow other areas of your money as well, such as:
Investment gains and losses
Account balances and transactions
Categorized spending charts
Upcoming bills due
Projected investment fees
Income reports
So check out Personal Capital for an easy and free way to track your net worth. They can help you grow your net worth so that you can achieve your financial goals faster.
2. Mint
Another online tool to monitor your net worth is Mint. Like Personal Capital, Mint is free to use. You can use Mint to track all of your bank accounts, investment accounts and more.
Mint can help you categorize your spending and gives you an overview of all financials. Also, it will alert you to when bills are due. This way you'll have advance notice, so you don't miss a payment due date.
Mint's net worth tracker also lets you see fluctuations in your net worth over time. This feature will help ensure your net worth is growing as you desire. Signing up for Mint is easy. Just follow these instructions:
Go to the Mint.com website and hit the "Sign up free" button in the upper right-hand corner.
Enter your email address, phone number and create a password.
Fill in the prompts for adding your bank accounts, asset accounts and liability accounts.
Like Personal Capital, Mint is safe and secure. They use bank-level security and encryption to keep your information protected. Visit the Mint website to find out more about how Mint works to help you track your net worth.
3. YNAB (You Need a Budget)
You Need a Budget (YNAB) is another popular site for tracking your net worth. However, its primary purpose is to help you budget. It has a system in place that will help you with three financial goals:
Get out of debt
Save more money
YNAB uses bank-level security to protect your information.
The net worth tracker is a bonus since the budgeting app is meant to help you manage money better. However, the site's primary goal is not net worth tracking, but the feature works well.
It's easy to sign up for YNAB too. Just follow these directions.
Go to the YNAB website and hit the "Sign up" button located in the upper right-hand corner
Enter your email address and create a password
Follow the prompts to enter your financial account information
Unlike the other apps, YNAB is not free. You can try it for free for the first 34 days. However, after that, you'll pay $84 a year to keep the service. That's roughly $7 a month. While that's not a lot of money, it's money nonetheless.
Not interested in using an online system to track your net worth? You can always do it the old fashioned way.
4. Track Your Net Worth Using a Spreadsheet
Yes, the old Excel or Google spreadsheet. It may be tedious, but it is an option for tracking your net worth.
Using a spreadsheet definitely isn't the most simple way to track your net worth. You've got to enter all information manually on a regular basis.
When you use a site like Personal Capital, they enter the numbers for you. This saves you time, and time is money.
But the spreadsheet option does work. Just create a system that works for you and update regularly.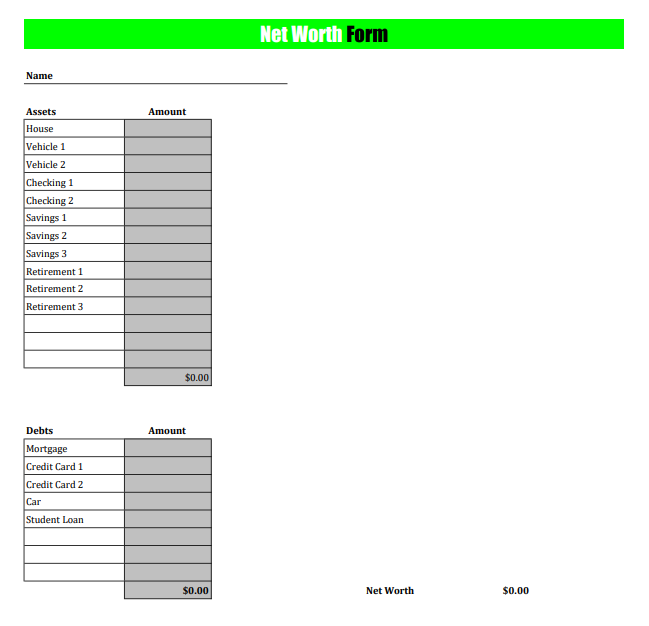 Some people like having their net worth information on their computer hard drive for backup reasons. If the Internet goes down, you've still got access to everything.
However, you can always screenshot your information from the online site you use. Then save it to your computer hard drive. But you won't be able to edit or update it this way.
Using a spreadsheet is a viable way to track your net worth. But you might like the convenience of tracking with a tool like Personal Capital.
Download our free Net Worth Tracker.
Summary
Peter Drucker, famous business consultant and author, has a great quote. It says "If you can't measure it, you can't improve it." In other words, those things that get measured can more easily be improved.
Tracking your net worth gives you a catalyst for increasing it. It helps you keep an eye on expenses and debts, and make changes where needed. Besides, it helps motivate you as you see your numbers progress.
As discussed, there are several tools for tracking net worth. For me, online tracking with a free and thorough site like Personal Capital makes it easy.
However, the important part is that you're tracking it – whatever method you choose.