If you are an investor looking for a new income stream, dividends could be exactly what you've been searching for. A dividend is a cash payment that companies give to their investors.
While a new source of income is always a good thing, dividend income does come with its challenges. Monitoring your earnings is one of the more complicated aspects of dividend investing.
Fortunately, the best dividend trackers eliminate this issue by helping you effortlessly monitor your dividend income.
Top Dividend Trackers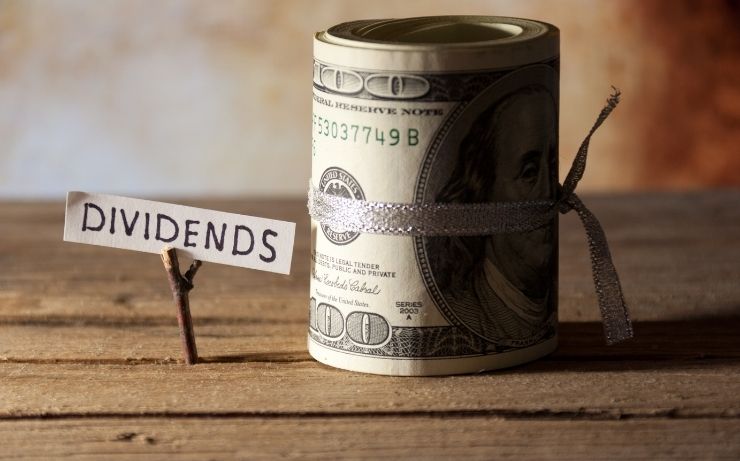 The Dividend Tracker
An app on iOS and Android that tracks your dividend investments and has dividend grades.
DivTracker
Monitor your dividend income across your investments and review thousands of stocks.
Empower
A way to track your finances for free, also tracks all of your returns on your dividend stocks.
These dividend trackers can help you easily keep an eye on the stocks you are holding, the dividends each one pays, news alerts and more all from a single platform.
In alphabetical order, here are the best dividend trackers that are currently available to help you monitor your dividend income.
1. The Dividend Tracker
The Dividend Tracker aims to streamline your dividend monitoring process with metric evaluations. The platform uses 'Dividend Grades' to assess how risky your portfolio truly is.
Once you have a clear picture of your current portfolio, The Dividend Tracker offers suggestions to help you build a more stable portfolio.
One of the coolest perks of The Dividend Tracker is the 'Payday' feature. This maps out how much income you can expect to bring in through your dividend portfolio for the next 12 months. It's a helpful way to predict your income.
You can give The Dividend Tracker a try with the free version that offers one manual entry portfolio. But, you'll likely want to upgrade to the premium version at $99.99 per year to gain full access to all the features.
This is a great option if you are looking to create a portfolio where you plan to live off of your dividends.
Now available on Android and iOS.
Pros
Free option
Payday option to predict your dividend income
2. DivTracker
DivTracker is a mobile-only option that currently only has an iOS app. With DivTracker, you can monitor your dividend income across your investments and review information for thousands of stocks.
Once you link your accounts, DivTracker creates a handy calendar. This will show you all of your expected dividend payments.
Additionally, the app provides news alerts that might affect your stocks. You'll even have complete control over the number of notifications you receive, and the app provides support for dark mode.
In order to get full access to the features, you'll have to pay a one-time $8.99 fee. You also have the option to remove ads for $2.99.
Pros
Highly rated by users in Apple App Store
Helpful cash flow information
Cons
Only available for iOS
Fee for full access
3. Finbox
If you have a portfolio with both active and passive components, Finbox is an option that offers diverse tools to suit your needs.
In order to track your dividend earnings, you can use a helpful Google Sheets add-on. This has several financial models built in.
Beyond the helpful tracking and analysis tools, you'll find up-to-date information for more than 100,000 stocks and 135 exchanges around the world.
The large number of data points the platform offers ensures that you have all of the information you need when executing trades.
FinBox offers the following plans:
Free
Starter: $10 per month
Executive: $25 per month
Professional: $66 per month
Each plan has progressively better features. Keep in mind that the prices listed are only available if you pay in full for the year. Opting to pay monthly costs more.
If you aren't sure about signing up for a paid subscription, you can take advantage of FinBox's free ten-day trial.
Pros
Massive amount of data available
Streamlined interface
Over 100,000 models updated daily
Cons
No mobile app is available
Rather pricey
4. Empower
Empower is not only a free dividend tracker, it tracks all of your finances in one place.
This site is not entirely dedicated to the ins and outs of tracking your dividends. It also tracks all of your returns on your dividend stocks.
Furthermore, this app can help you assess your wider investment portfolio. If it's relevant, the platform will provide advice on rebalancing your portfolio and reinvesting your dividends.
With Empower, you can even see your net worth, access a savings planner, create a budget and more. These features make it a useful financial tool for anyone who wants to improve their finances.
Want to learn more about this robust option? Check out our full review of Empower.
Pros
Free to use
Track all of your investments in one spot
Cons
Focus on overall investment portfolio
Offers fewer dividend specific tools
Sharesight is a stock portfolio tracker that can be used to track your dividends. Once you connect your accounts, you can take a retroactive look at your dividends for the last 20 years.
With the platform, you can access easy visuals to help you track your investments.
This portfolio tracker sets itself apart from the crowd by offering highly sophisticated tax information. You'll find the latest relevant tax information through the platform, regardless of what country you live in.
Sharesight offers four main plans, including:
Free
Starter: $15 per month
Investor: $24 per month
Expert: $31 per month
As you move up in price point, you'll gain access to more features, portfolios, holdings and reports. Keep in mind that these prices are only available if you pay in full for the year. Paying monthly costs more.
All paid plans include a free trial. If you have more than five portfolios that you need to track, you can upgrade to Sharesight Pro for $8.40-$12 per portfolio.
Pros
Mobile and desktop options
Advanced reporting options
Highly valuable tax reporting tools
Cons
Certain plans are pricey
Some complaints about the mobile app features
6. Simply Safe Dividends
Simply Safe Dividends promises to help you find more stable investments. As one of the best dividend trackers, you'll have access to a comprehensive selection of tools to stay on top of your dividends.
When you use Simply Safe Dividends, you'll be able to utilize a helpful scoring system that is designed to evaluate the potential for a company to cut its dividend.
The platform provides this score for almost 1,000 stocks and notifies you if it expects a company to raise, reduce or eliminate its dividends. According to the site, this tool has helped its members avoid 98% of cuts.
In order to access these tools, you'll have to pay $399 per year. If you aren't sold on that price point, you can give the platform a 14-day trial run.
Pros
Comprehensive tools for dividend tracking
60-day money-back guarantee
Helpful monthly newsletter
Cons
Cost of $399 per year
Web version only
7. Stock Rover
Stock Rover offers stock screening and analysis tools to investors. The platform prides itself on the ability to offer comprehensive comparison tools to help you make investment decisions that fit your risk tolerance.
That said, its 'Dividend Insights' tool will likely be the most valuable for dividend tracking.
This platform offers the following plans:
Free
Essentials: $7.99 per month
Premium: $17.99 per month
Premium Plus: $27.99 per month
The tools within each price level vary, and you can access more tools if you pay more. You can also get cheaper rates if you pay for a one or two-year plan.
Ultimately, you can use Stock Rover to evaluate a wide range of stocks. However, if you are a dividend investor, the tools available are more than sufficient to track and evaluate your dividend stocks.
Learn more with our review of Stock Rover.
Pros
Mobile and web options
Research reports on thousands of stocks
8. Dividend.com
Dividend.com offers a streamlined platform for anyone who wants to track their dividends. Unlike other platforms, this site places a strong emphasis on tracking and optimizing your dividend portfolio.
You can link brokerage account information to Dividend.com for a simple way to monitor your investments. The site quickly gives you a breakdown of each of your stocks.
This platform offers a limited free version that provides dividend strategy lists, dividend screeners, dividend stock profiles, relevant news and dividend payout information.
If you want to access watchlist alerts, data downloads and more, you'll need to upgrade to the Premium plan.
This costs $199 per year and comes with a 30-day money-back guarantee.
Pros
Extensive free educational content
Step-by-step instructions for strategies
Proprietary metric to help you score potential investments
Cons
Cost of $199 for Premium features
No mobile app available
9. TheRich
TheRich is an investment app that puts the spotlight on your dividends. Within the platform, you'll find a dividend calendar to keep track of your upcoming dividend payments.
This site has a robust community of other dividend investors. Within the community, you can access a timeline and popular articles.
The site even offers backtesting so you can see how certain investments would have performed over time.
You can also use The Rich's website to check out investments from billionaires like Warren Buffet, Paul Singer, Bill Ackman and more.
Pros
Web and mobile options
Free to use
Community of dividend investors
10. Track Your Dividends
Track Your Dividends is another free dividend tracker that offers investors a streamlined way to monitor their dividends automatically. You'll find a comprehensive dashboard to help you track the ins and outs of your dividend portfolio.
One great feature is the Future Value Projections tool. This provides a projection of what your portfolio may yield in five, 10 or 25 years. It can be useful if you will use dividend income as part of your retirement strategy.
Once your portfolio is linked, you can use the tools to see how well-diversified it is. If you want to make changes, you can evaluate your options using the platform.
Track Your Dividends is a free app, but you will miss out on key features if you don't have a paid subscription.
Upgrading to the premium version lets you eliminate ads, use the Dividend Screener, access the dividend idea list and create a personal watchlist.
This costs $9.99 per month and comes with a free seven-day trial.
Pros
Future value projection tool
Free version
Cons
The Premium version is required to unlock all features
Frequently Asked Questions
If you are on the fence about using dividend trackers, these frequently asked questions can help you determine why you should use this type of tool and which platform might be the best option for you.
Why should I use a dividend tracker?
The potential income stream dividends can provide is enticing, but the logistics of monitoring different stocks across multiple platforms can be daunting.

This is where a dividend tracker can come in handy. The ability to check on the performance of all of your dividend stocks in a single place is a big win.
What are the benefits of using a dividend tracker?
Since not all investments will bring in the returns you had hoped for, a dividend tracker provides the benefit of helping you spot underperformers to potentially cut from your portfolio.

Beyond keeping an eye on your current investments, you get to work with a platform that is able to help you identify potential stocks to add to your portfolio.
Ultimately, a dividend tracker should make your life easier when it comes to building an income stream based on dividend stocks since it simplifies the monitoring process.
What should I look for in a dividend tracker?
The right dividend tracker will depend on your goals. But, it's good if your tracker has aggregation across multiple accounts, stock notifications, accessibility, investment overviews and is affordable.

The bottom line is that you'll have to decide for yourself what tools you are looking for in a dividend tracking platform.
Are dividend trackers safe to use?
In most cases, dividend trackers provide top-notch security to keep your financial information secure.

Regardless, it is always smart to confirm that the security features are up to your standards before moving forward with any dividend tracker.
What To Look For In A Dividend Tracker
When it comes to tracking your dividends and managing your investments, it's important to find a dividend tracker that meets your needs and fits your budget.
Here are some key things to consider when choosing a dividend tracker.
How Much Does It Cost?
One of the first things to consider is the cost of the tracker. Some options are free, while others require a subscription fee. Be sure to compare the cost of different options and weigh the value of any additional features or tools against the price.
Can It Track Multiple Accounts?
If you have multiple investment accounts, you may want to look for a dividend tracker that allows you to track all of your accounts in one place. This can save you time and help you get a more comprehensive view of your portfolio.
Does It Have A Dividend Calculator?
Some dividend trackers include calculators that can help you estimate your future dividends based on the stocks you own and the dividends they pay. This can be a helpful tool for planning your investments and managing your income.
Can You Get Stock Alerts?
Alerts and notification options can be useful for staying on top of changes to your portfolio and any important updates. Look for a dividend tracker that offers alerts for dividends, stock price changes, and other important events.
Is It Reliable?
When choosing a dividend tracker, it's also a good idea to consider the overall reliability and reputation of the tool. Be sure to read user reviews and ratings, and seek recommendations from other investors or financial advisors.
By taking the time to find a dividend tracker that meets your needs, you can better manage your investments and achieve your financial goals.
Summary
If you are looking for the best investments for monthly income, dividend investing can be a great option. That said, tracking your dividends can be a hassle without the assistance of a dividend tracker.
Take the time to consider the tools and features that are most important to you, and then simplify your dividend monitoring process by using the platform that best fits your needs.
If you aren't sure which option to choose, take advantage of a free trial or use one of the free dividend trackers mentioned above.