Do you want to easily track your investments? An investment tracking app can make monitoring your investments so much easier.
Your portfolio likely includes several different assets, including stocks, mutual funds, ETFs and more.
That's why it can be helpful to find the right app to monitor and manage your investments.
Top Investment Tracking Apps
The right investment tracking app will give you an overview of your finances, help you manage cash flow, and see what your total net worth is.
The type of investment tracking app you end up choosing will depend on your preferences and investment style.
If you're looking for some ideas on how to get started, here are some apps you can consider:
1. Empower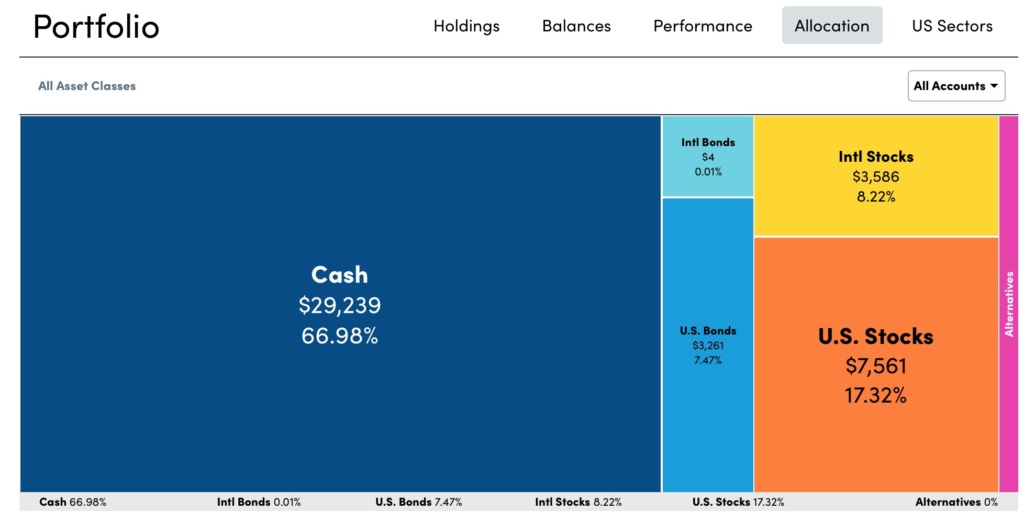 Empower (previously Personal Capital) is one of the most popular financial apps on the market, and for good reason.
This free tool will show you a complete breakdown of your portfolio by asset class.
As you can see, you have a quick overview of your investments, regardless of where you hold these assets.
You'll receive weekly email updates about your investment portfolio.
Empower provides a fee analyzer, so you can see how your retirement account fees affect your retirement date. This is also a good way to uncover any hidden fees.
Plus, you can use the Retirement Planner to make sure your retirement savings are on track.
Pros
The app is easy to set up and use
The app is completely free
Comprehensive investment management tools
Two-factor authentication
Cons
There is a $100,000 account minimum to use the wealth management tools
The wealth management tools come with hefty fees
Learn more: Empower Review
2. SigFig
SigFig is a robo-investor that works with third-party brokerage accounts to track and analyze your accounts.
Essentially, SigFig operates as the middleman between you and your financial brokerage firm.
The company will analyze your portfolio and help you diversify your assets and stay on top of any unnecessary fees.
The company does this through its free portfolio tracker. Once you've linked your accounts, SigFig shows you how your portfolio is performing.
Pros
The company's portfolio tracker is completely free
No management fees on balances under $10,000
The company's management fees are competitive
Tax-loss harvesting and investment diversification
Cons
Compared to services to Empower, SigFig offers limited investment platform options
The company doesn't always provide the best portfolio management advice
Minimum $2,000 balance for managed portfolios
3. Stock Rover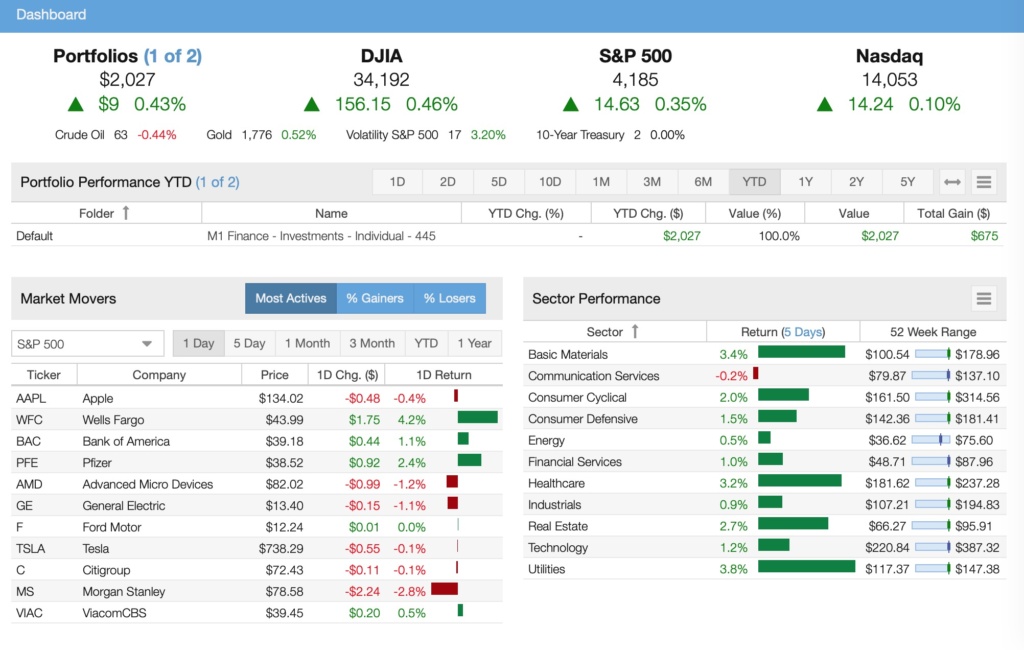 Stock Rover offers free and premium plans. This platform can be a good option for investors that want in-depth research tools along with a portfolio tracker.
The stock screener can help you find stocks, ETFs, and mutual funds that fit your fundamental and technical criteria.
In addition, members can also see analyst buy and sell ratings.
Premium plans start at $7.99 monthly and include different features that can make it easier to research stocks and track your investment performance.
All new accounts include a 14-day free premium trial with no credit card necessary.
Pros
Can link brokerage accounts
Model portfolios
Robust stock screener
Cons
Many research tools require a paid subscription
The platform can be more complex than other tools
Can be better for fundamental research than technical analysis
Learn more: Stock Rover Review: A Robust Stock Screener To Evaluate Stocks
4. Mint
Mint is a free web-based personal finance software that lets you monitor your investments.
However, you can also track your bank accounts, credit cards, and loan accounts.
With Mint, you can create a budget, track your spending, and set financial goals.
You can get started with Mint for free, and after signing up, you can link to your various financial institutions.
Every time you log in, Mint will automatically update your financial information.
The interface makes it easy to track your spending and see where your money is going.
Mint will also track and monitor your investments for you. The software will give you a bird's eye view of your balances and asset allocation.
Pros
The company provides budgeting and goal-setting features
The software automatically syncs with your various financial accounts.
You can track your credit score and monitor any changes.
Cons
Mint offers limited investing features compared to some of its competitors.
You can't reconcile the information against your bank accounts.
Mint no longer provides a bill pay feature.
5. Morningstar
Morningstar is an investment research firm that provides analyst ratings on these investment products:
Mutual funds
Stocks
Bonds
ETFs
The company manages over $220 billion in assets and has been around since 1984. It is one of the best services available for long-term investors.
And if you sign up for Morningstar Premium, you can apply these insights to improve your investment performance.
It's a subscription-based service that gives investors detailed information about various investments.
Although the service costs $199 per year, you can receive a discount if you sign up for multiple years.
When you pay for their premium version, you have access to a portfolio manager allows you to track your investments and monitor your investing strategy.
Bonus: You can try the service for free for 14 days.
Pros
Helps identify new investment opportunities
Gain access to insights you won't receive anywhere else
The yearly fee is a lot less than what you would pay an investment advisor
Cons
The tools in the free service are relatively limited
Learn more: Morningstar Investor Review: Is It Worth It?
6. Yahoo Finance
One of the best free stock research tools is Yahoo! Finance.
Investors can link their brokerage accounts or manually enter tickers to track the daily and total performance.
The free edition also displays these details:
Financial fundamental data
Watchlist
Stock screener
Interactive price chart
A paid Yahoo Finance+ membership costs either $25 or $35 monthly. This subscription offers analyst ratings and risk analysis.
The free version of Yahoo! Finance can be worth using as it provides a fair amount of research tools.
On the other hand, paid platforms may be a better value for some investors.
Pros
Free tracking and research tools
Can link brokerage accounts for tracking
Access to third-party research reports
Cons
The premium plan can be expensive
Basic charting tools
7. Ticker
Ticker lets retail investors have many of the same details as professional investors. There is a free and premium version of the platform.
The free version provides basic information like historical returns and dividend income.
However, you will need to sign up for the paid edition to unlock the best features.
An individual account costs $700 monthly and is billed annually at $8,400.
This is one of the most expensive platforms but includes these features:
Research investment strategies
Historical data
Economic data research
Investment ratios
The service is better for advanced research than portfolio tracking.
Active investors can benefit the most from this platform to view data that brokers and other research sites may not offer.
Pros
Advanced research tools
Customizable data feeds
Screen stocks by premade investment strategies
Cons
Expensive
Limited portfolio tracking tools
The free version has minimal data
8. Sharesight
International investors in Australia and Europe may benefit the most from Sharesight. This platform can easily link to non-American brokerages.
American investors with these brokers can sync to Sharesight:
Other brokerages, including Robinhood, will need to forward their investment portfolio positions to set up tracking.
Depending on the features you choose, a monthly plan costs between $0 and $31.
The top two plans track unlimited positions and include more reports, including future income projections.
Pros
Links to international brokerage accounts
Can receive price alerts
Tracks total investment performance
Cons
Cheaper plans don't track unlimited positions
Doesn't connect to every American brokerage
No investment research tools
9. Delta
Delta is one of the most comprehensive investment tracking apps for US and foreign stocks.
This service is mobile-only and available for Android and iOS devices.
The stock tracker offers these features:
Track daily and lifetime investment performance
Monitor stocks in local currency
Customizable graphs
Users will also be able to sync with their brokerages and receive investor communications directly from the company.
Delta also has crypto tracking to monitor Bitcoin and other popular cryptocurrencies.
Cryptocurrency investors can connect to exchanges and wallets to monitor portfolio performance.
This investment tracker is easy to use and free. However, the free version only connects to two brokerages.
Pros
Tracks stocks and cryptocurrency
Customizable graphs
Mobile-friendly
Cons
No research tools
No web platform
The free plan only connects to two brokerages
10. Kubera
Kubera calls itself the world's most modern portfolio tracker.
With Kubera, you can track all of your investments in one place, including cryptocurrencies and international investments.
In addition, you can even add assets such as your home, your vehicles, and any domain names you might own.
In other words, Kubera can help you track your total net worth quite easily, and it even includes the ability to track precious metals.
Kubera gives you access to all its features for $15 per month or $150 per year. And Kubera promises no ads on its website.
Pros
Track all types of investments, including your home and other assets
Storage vault for important documents
Automatic and manual updating capabilities
Affordable monthly fee
No ads
Cons
No portfolio analysis
Not free as some other trackers are
How Do These Investment Tracking Apps Compare?
| | | |
| --- | --- | --- |
| Investment App | Minimum Monthly Cost | Best For |
| Empower | $0 | Comprehensive asset analysis |
| SigFig | $0 | Low-cost investment advice |
| Stock Rover | $7.99 | Accessing analyst ratings |
| Mint | $0 | Budgeting/goal setting |
| Morningstar | $34.95 | Serious, long term investors |
| Yahoo Finance | $24.99 | Free research and tracking tools |
| Ticker | $0 | Active investors and advisors |
| Sharesight | $0 | International investors |
| Delta | $0 | Mobile device investment monitoring |
| Kubera | $15 | Tracking multiple investments |
How to Choose An Investment Tracking App
There are several things to consider when picking an app to track your investments. Here is what you should need to think about when choosing an app.
Are you a novice or an experienced investor?
The type of investor you are will play a huge role in the kind of app you end up using.
For instance, SigFig and Mint are better for beginner investors, while Empower and Morningstar cater to more serious investors.
How functional is the tracking software?
Does it require manual updates? Is it fairly intuitive to use, or is there a significant learning curve?
Consider the functionality of the software, and whether you think it fits with your habits and lifestyle.
What are the features you really need to be included?
For instance, if you only need a way to manage your budget, Mint will probably be your best bet.
However, if you need investment advice, then you're probably better off going with Empower or Morningstar.
Before choosing an investment tracking app, take some time to consider what features you need to be included.
Is there a monthly fee? And is it worth it to you?
If you're a serious investor, paying an annual fee for a service like Morningstar may be worth it.
But if not, you may be able to find a free service that will get the job done.
Is there a minimum investment to get started?
Many financial services don't require a minimum investment, but some do.
For instance, you'll need at least $100,000 in assets if you want to sign up for Empower's wealth management services.
How much information do you need access to?
Most people are drawn to the software and service with the most features. However, which of those services are you actually going to use?
Consider what you're looking for in an investment tracking software, and how much information you really need to manage your finances.
Summary
Every investor needs a way to track their portfolio's performance, and the right app can help you do just that.
That's because it can be difficult to keep everything organized when you're managing multiple investment accounts.
With the right investment tracking app, you can log into one account and see a comprehensive overview of your investments.
This will make it easier for you to manage your finances, set goals, and make decisions for the future.