With so many online brokers to choose from, it can be difficult to pick one and start investing.
TD Ameritrade is a popular choice for many new and experienced investors for its in-depth research tools, commission-free trading and many investment options.
If you're a new investor, joining a discount brokerage like TD Ameritrade can be a smart choice as you have more investment options and educational tools than most free investing apps.
As you will see in this review, TD Ameritrade can be a good option for investors of any experience level.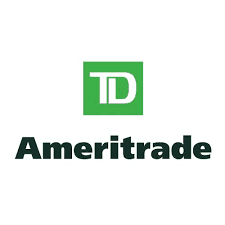 Summary
TD Ameritrade offers commission-free trading for stocks and ETFs. The online brokers offer some of the most extensive investment options, research and education tools for new and advanced investors.
Pros
Investment options
No account fees
No minimum balances
No trade commissions
Research & education
Cons
No fractional investing
Mutual fund fees
Complex dashboard
What is TD Ameritrade?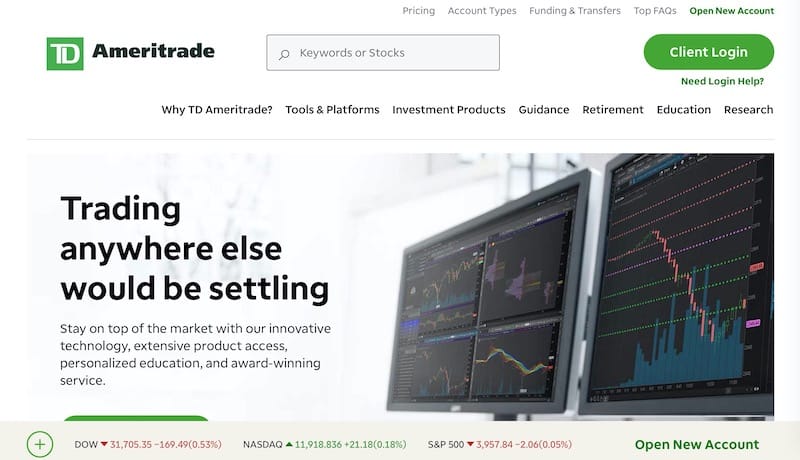 TD Ameritrade is a discount online brokerage offering commission-free trading for US stocks and ETFs.
Each account also provides complimentary access to in-depth investment research and educational tools.
Compared to free investing apps like Robinhood or Webull, TD Ameritrade has more investment options including mutual funds and bonds. Investors with a large portfolio balance can hire an advisor as well.
Do-it-yourself investors can trade stocks, exchange-traded funds (ETFs) and mutual funds using the TD Ameritrade web and mobile app.
Advanced investors can use the thinkorswim platform to trade stocks, options and futures with access to market data most online brokers don't offer.
Investors wanting hands-on help can schedule in-person and phone appointments with a TD Ameritrade financial consultant.
These one-on-one meetings can be helpful for retirement planning and creating an investment portfolio.
Costs will vary for these planning sessions and you will need to inquire with your local advisor.
It's free to join and there are no account minimum balances or annual account fees.
Charles Schwab recently completed its acquisition of TD Ameritrade.
According to the section of the TD site discussing this, it's business as usual for now, but investors can expect changes over the next 18-36 months based on the continued integration of TD Ameritrade into Schwab.
Account Options
You can open the following brokerage account types with TD Ameritrade:
Standard accounts: Individual or joint taxable accounts
Retirement accounts: Traditional IRA, Roth IRA, rollover IRA, SEP IRA, Solo 401k
Education accounts: 529 plans, Coverdell and UGMA/UGTA
Specialty accounts: Individual trusts (that an attorney creates first)
There are other account options available for the retirement, education and specialty accounts.
The minimum age to join TD Ameritrade is 18 years old but some states require the account holder to be at least 19 years old. Parents and legal guardians can open accounts for children under age 18.
Being able to open a variety of accounts is a good reason to use TD Ameritrade. Other investing apps may only offer individual brokerage and retirement accounts for adults.
Account Minimums
There isn't a minimum required balance to open a taxable, retirement or education account.
Pricing
One reason free investing apps like Robinhood became so popular was that they didn't charge trading fees while the "discount brokers" charged at least $4.95 per trade.
TD Ameritrade no longer charges trading fees for most online orders using the web platform or mobile app.
These online trades (buy and sell) are free on TD Ameritrade:
Stocks ($6.95 for OTC stocks)
ETFs
Options ($0 trade commission but $0.65 per contract)
No-transaction-fee mutual funds
The $0 trading fees apply to U.S. exchange-listed stocks, ETFs and options. Additional fees apply to foreign stocks that don't trade on the New York Stock Exchange or Nasdaq.
TD Ameritrade charges $49.99 per trade to buy or sell no-load mutual funds that are not included on the no-transaction fee menu. Load mutual funds have various fees.
Interactive voice response (IVR) phone system trades cost $5 each. Broker-assisted trades cost $25 each. These fees apply to buy and sell orders.
Investment Options
Another compelling reason to use TD Ameritrade is its wide investment selection.
Stocks
You can invest in stocks that trade on the United States stock exchanges such as the New York Stock Stock Exchange (NYSE) and Nasdaq.
TD Ameritrade also offers American Depository Receipt (ADR) tickers and over-the-counter (OTC) stocks. It's not uncommon for free investing apps not to offer these types of stocks due to the lower trading volumes and trading costs.
However, trading commissions can apply to ADR and OTC stocks.
ETFs
You can trade index ETFs that passively track a broad benchmark like the S&P 500. Actively-managed ETFs and sector ETFs are available as well.
Aggressive investors can also trade leveraged, inverse and commodity ETFs. These funds trade on the US stock exchanges similar to individual stocks.
One difference between TD Ameritrade and other discount brokers like Vanguard and Fidelity is that TD Ameritrade doesn't offer their own family of ETFs or mutual funds.
It's possible to search for ETFs by these traits:
Investing style
Industry sector
Commodity type
Country (for ETFs that invest in stocks for a specific country)
ETFs that hold a certain stock in its top ten holdings
Mutual Funds
Investors that prefer mutual funds to ETFs can find over 4,000 no-transaction-fee mutual funds.
Despite not paying any fees to buy or sell a position, mutual fund fees are higher than most ETFs. These fees can reduce your total investment returns versus similar ETFs.
Also, not all fund families offer no-transaction-fee mutual funds through TD Ameritrade. For instance, you won't be able to buy Fidelity, Vanguard or Dodge & Cox mutual funds without paying a commission.
If you're loyal to a particular broker's mutual fund family, you should create an account with that broker. You might do this if you want to access Vanguard mutual funds for example.
Bonds and CDs
Fixed-income investors can invest in individual bonds and certificates of deposits. Some of the bond options include U.S. Treasuries, corporate and municipal bonds.
Options
Experienced investors can use TD Ameritrade to purchase put and call options. Advanced options trading levels are available but require approval.
Futures and Forex
Aggressive investors with a higher risk tolerance and extensive investing experience can also trade futures and forex.
Trading hours for forex are from 6 p.m. to 5 a.m. Eastern Sunday through Friday in TD's thinkorswim platform.
Key Investing Features
TD Ameritrade offers several investing features that make the investing experience good for casual and advanced investors.
24/5 Trading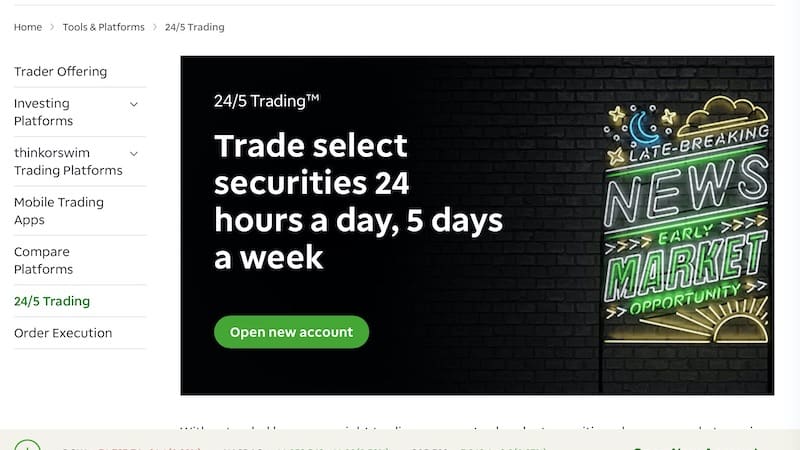 Most investors will use the standard TD Ameritrade web and mobile platform. In this instance, you will only be able to buy or sell stocks and ETFs during normal market hours but also during these two extended hours trading sessions:
7:00 AM to 9:28 AM Eastern
4:02 PM to 8:00 PM Eastern
In addition to free online trades, investors can buy or sell stocks and ETFs at any time on weekdays using the thinkorswim platform.
Other brokerages may only let you trade during normal stock market hours of 9:30 AM to 4:00 PM Eastern. However, the buy (ask price) and sell (bid price) can be less favorable during extended hours due to lower trade volumes.
While you have more trading hours available, TD Ameritrade doesn't offer fractional investing. You must buy whole shares of stocks and ETFs.
Dividend Reinvestment
TD Ameritrade lets investors enroll their investments in dividend reinvestment plans (DRIP). When a stock pays a dividend, TD Ameritrade can re-invest the income and buy more shares.
Other brokers may not re-invest the cash but place it into your brokerage account balance for your next stock purchase.
Market Calendar
Instead of only showing your portfolio performance, your TD Ameritrade account dashboard shows the key stock market events by calendar day.
Examples include earnings reports and government data releases. For brand-new investors, the amount of data may seem initially overwhelming.
Portfolio Planner
TD Ameritrade can recommend a target asset allocation that compliments your risk tolerance. You can see percentage recommendations of how much to invest in domestic and international equities and fixed income assets.
This free portfolio planner tool doesn't recommend specific stocks or funds to invest in. But you can use a stock screener tool to find potential investments.
Thinkorswim Platform
Active traders like TD Ameritrade for its advanced research and investing tools to trade stocks, options and futures.
One feature is thinkorswim, a powerful desktop platform for active traders. It's free to download and available to all users. There's also a web and mobile version that offers most thinkorswim features too.
Traders can also stream CNBC the exclusive TD Ameritrade Trader TV from the thinkorswim platform.
The thinkorswim platform also provides advanced Level II price quotes that show the real-time bid and ask prices for tickers.
Active traders can also benefit from the powerful technical analysis charts, in-depth economic data and the ability to make simulated trades.
Analyst Reports
Buy and hold investors may appreciate the analyst reports covering individual stocks, ETFs and the general markets.
These reports provide buy, hold and sell ratings and the reasons why the analyst team chose that rating.
If you currently invest with a well-known online broker like Fidelity or Vanguard, the analyst reports are similar to TD Ameritrade.
Most barebones investing apps like Robinhood or M1 Finance don't provide research reports.
As a result, investors need to use investment sites and pay extra to access premium research.
Local Branches
Access to a local financial consultant can be worth it if you have a high portfolio value or want to enjoy the perks of a full-service broker. Additional fees apply for in-office and phone consultations.
Independent Registered Investement Advisors (RIA) that work outside of TD Ameritrade can also help manage your portfolio.
Research Tools
TD has extensive research tools for casual investors and active traders.
Stock Screener
Most online brokers have a stock screener to search for potential stocks, options and funds. The TD Ameritrade screener is one of the more robust screening tools.
You can use prebuilt screens to search by a certain trend or analyst rating. It's also possible to make a custom screen.
Charting Tools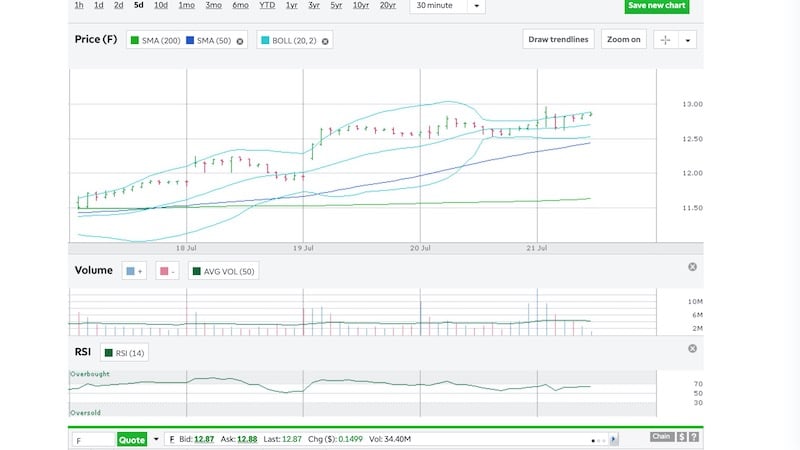 More investors are using technical analysis when researching stocks and options. The thinkorswim platform offers the most charting tools and over 400 technical indicators.
However, the standard web and mobile platforms are good for most investors.
Some of the technical indicators include:
Simple moving average
Bollinger bands
Relative strength index
Moving average convergence divergence (MACD)
Parabolic SAR
On any platform, you can zoom in and draw trendlines.
Analyst Reports
Free third-party research reports from reputable analysts can make it easier to research stocks and ETFs.
These premium reports are good for researching stocks on your watchlist. Each report shows the reasons why the analyst rates the stock as a buy, hold or sell.
For additional third-party research, you may consider reading the free opinion articles from Seeking Alpha as well. These articles provide the bull and bear case and can present details that the TD Ameritrade analyst reports do not.
Reading multiple reports can help ensure your perform your due diligence when researching potential investments.
You can read analyst reports from these research firms:
Argus
CFRA (previously S&P Capital IQ)
Ford Equity Research
New Constructs
TheStreet
Vickers
The Vickers reports lets you see when company leaders buy or sell shares. This information can give you insight if the leadership team is bullish or bearish on company performance.
Watch Lists
It's possible to add stocks that you're not ready to buy onto a watch list. This feature is similar to other investing apps. One neat option is the microcharts tool.
You can see the real-time performance of the stocks on your list by price and other fundamental metrics like the price-to-book ratio.
Option Chains
Options traders can research potential investments for puts, calls and advanced strategies. You can research options trades from the standard TD Ameritrade web and mobile platform or the powerful thinkorswim platform.
Education Tools
TD Ameritrade also has extensive education tools that can help any investor.
Online Education Center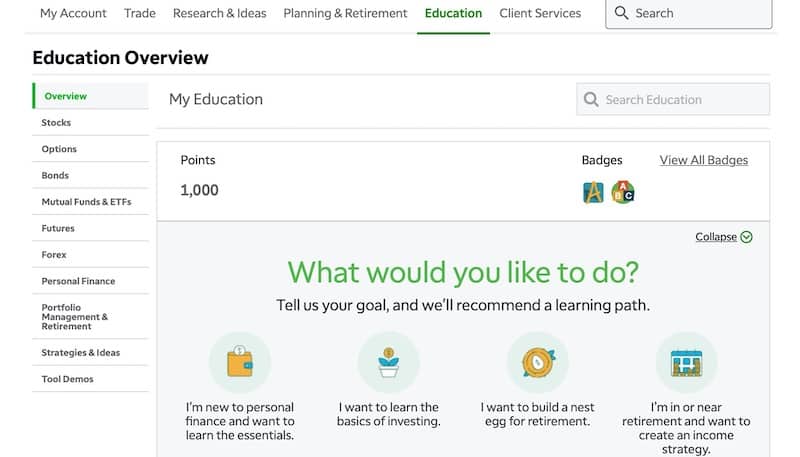 New and experienced investors can watch short videos and take online courses about different investment topics. You can learn about basic topics like starting to invest or planning for retirement.
As your skills and confidence levels increase, you can research advanced investing strategies like technical analysis.
Webcasts
TD Ameritrade routinely hosts free webinars about investing topics to learn or refresh your investing skills. Some webcasts can teach you about managing your portfolio.
Other webcasts highlight features of the TD Ameritrade platform.
TD Ameritrade Platforms
Investors can access TD Ameritrade from their web browser or by downloading the mobile app.
Either option is good for most investors but advanced investors should use thinkorswim to unlock the most trading and research features.
Web Platform
No download is necessary as you can access TD Ameritrade website from your computer or phone mobile browser. The web platform is good for casual investors.
Mobile App
Mobile-only investors can download the iOS or Android TD Ameritrade mobile app. The mobile app experience is similar to using the web platform.
You will be able to track your investment performance, read analyst reports and use the charting tools from your phone screen.
Investors can also remote deposit paper checks directly into the taxable and retirement accounts using the mobile app.
If you happen to have an Apple Watch, it can sync with the TD mobile app on an iPhone. The watch can display stock quotes, your watch list and market alerts.
Thinkorswim
Advanced investors wanting to trade options, futures and forex should consider using the thinkorswim platform. It is available to all TD Ameritrade members for free.
However, casual and inexperienced investors should avoid this platform as its many exclusive features can be confusing.
Other brokerages require a minimum number of monthly trades or charge a monthly fee to use similar trading software.
Thinkorswim is available as a downloadable desktop platform or mobile app. You can also access a cloud-based web platform if you don't want to download the software.
The desktop version is the most powerful, customizable and has the most features.
Some of the thinkorswim desktop features include:
Research company profile, earnings data and in-depth metrics
Federal Reserve economic data
Stock Hacker advanced stock screener
Options statistics
CNBC and Trader TV real-time streaming
PaperMoney trading simulator
The web and mobile platforms offer most of the thinkorswim desktop features. Each platform has different limitations.
Overall Performance
Let's take a deeper dive into some of the specific areas TD Ameritrade has to offer.
Customer Service
TD Ameritrade offers better customer service options than the free investing apps that may only offer email support.
With Ameritrade, you can use Ted which is an AI-powered virtual assistant to ask questions on the web and mobile platforms. Phone support is also available 24 hours a day. Or, you can email a question if you don't need immediate assistance.
Like any broker, the TD Ameritrade customer support team cannot provide personal investment advice. But they can answer your questions about certain products or help you navigate the platform if you need technical support.
Ease of Use
Overall, the TD Ameritrade web and mobile platforms are easy to use for most investors.
But navigating the platform can be initially confusing as TD Ameritrade offers more investment options, research and education tools than many brokers.
The thinkorswim platform can also be easy to use for advanced investors. However, investors that only want to trade stocks and ETFs for long-term investments will be confused by thinkorswim.
Is TD Ameritrade Good for Beginners?
TD Ameritrade can be a good option for beginners because there are no trading fees and you get more research and educational tools than most online brokers.
Being able to open many different types of investment accounts and the multiple investment options make it possible to use TD Ameritrade for any investing goal.
However, a robo-advisor like Betterment can be a better option for investors that don't have the time, knowledge or desire to self-manage their investments.
Is TD Ameritrade Good for Day Traders?
The thinkorswim desktop platform is a popular research tool for active traders. There are over 400 technical indicators and you can simulate trades.
Being able to trade directly from the platform is nice too. Not having to pay trading fees minus the $0.65 fee per option trade is beneficial too.
Like other platforms, day traders may have to maintain a minimum $25,000 margin account balance to comply with federal law. TD Ameritrade may have other requirements for certain stocks.
However, high frequency traders may wish to use a different platform to get better order execution by paying for trades.
Day traders may also consider a different platform if they don't like the design of the thinkorswim platform or want different research features.
Is TD Ameritrade Safe?
TD Ameritrade offers up to $500,000 in SIPC Insurance if the brokerage fails. This coverage is standard for any legit online broker.
To keep your personal information safe, TD Ameritrade encrypts your data and requires multi-factor authentication to log into your account.
TD Ameritrade Reviews
The online broker is a favorite destination for investors wanting a lot of data. Investors of any experience level will struggle to find a brokerage that offers more research.
However, the plethora of data is a double-edged sword as the platforms can be frustrating to navigate even after customizing.
"Once I finally got some basics covered and set up my trading setup, I found that there were soooo many ways to find and scan for stocks, get news, and other cool things like the Trade Flash. What was lacking, for me, is organization." — Roy B.
"TD Ameritrade is my go to brokerage for most investing due to their non-existent fees, great education system, and broad range of assets. Overall this is a great service and a great brokerage, but the app could be made a bit better." — BNT9876
"I used to love this brokerage, but lately they've gone downhill–steeply! Lately I'm having all kinds of problems moving money in and out of my account, including paying bills and completely. Now I have to call all the time." — Bruce A.
"I've been with TD Ameritrade for 30 years. The service and experience I have had with them has taken a considerable downward turn since the Schwab deal." — Justin C.
Alternatives to TD Ameritrade
These discount online brokerages offer similar research features and investment options. You may find their interface more appealing too.
Fidelity
Fidelity Investments is one of the largest brokerages and it can be easier to invest with small amounts of money. For example, you can buy stock slices of stocks and ETFs with as little as $1 through their mobile app.
The brokerage also offers several index mutual funds with no expense ratio or investment minimum. Many other funds have competitive fees and a minimum $1 investment requirement.
This platform also has interactive charts, third-party research reports and educational tools to help investors of any experience level.
Trustpilot score: 1.5 out of 5
E*TRADE
E*TRADE is also an appealing option for in-depth research and education tools. There are separate platforms for casual and advanced investors.
Stocks and ETFs are commission-free. There are also over 4,000 load-free, transaction-free mutual funds which can be more than TD Ameritrade.
Fractional investing isn't available which is this platform's most significant downside.
Trustpilot score: 1.3 out of 5
Ally Invest
Ally Invest offers commission-free stocks and ETFs plus competitive rates on options contracts. Mutual funds are likely to incur trading fees, similar to TD Ameritrade.
There isn't a dedicated desktop platform for advanced traders. Thankfully, the web and mobile platforms are easy-to-use and have many research tools.
The platform doesn't support fractional investing.
Trustpilot score: 2.6 out of 5
FAQs
How much does it cost to open a TD Ameritrade account?
It's free to open a taxable or retirement TD Ameritrade account and there is no account minimum.

If you opt for the fully-automated Essentials Portfolio, there is a $500 minimum initial deposit and a recurring deposit is necessary until your account balance reaches $3,000. The annual account fee for this account type is 0.30% of the total portfolio balance.
Does TD Ameritrade require a minimum balance?
TD Ameritrade doesn't require a minimum balance for accounts that investors self-manage. This includes taxable and retirement accounts.
Does TD Ameritrade have a monthly fee?
No, TD Ameritrade doesn't charge any account fees for their taxable and IRA brokerage accounts. Each online order to buy or sell stocks and ETFs are free. Options contracts have a $0 trade commission plus $0.65 per contract.
What account types does TD Ameritrade offer?
TD Ameritrade offers individual and joint taxable accounts as well as individual retirement accounts. The retirement account options include a traditional IRA, Roth IRA and rollover IRA. Self-employment IRAs and 401k plans are available too.
Summary
TD Ameritrade is one of the best online brokerages as there are many investment and research options along with no trade fees.
Beginner and advanced investors pursuing almost investing strategy will find everything they need at this free online broker.