Investing is important to building wealth and saving for retirement. In addition to investing in index funds and target-date retirement funds, holding individual stocks can boost your investment performance.
However, finding high-quality stocks to invest in can be time-consuming. Motley Fool can help you invest in individual stocks that you can produce long-term gains with two new stock picks each month and weekly updates.
This Motley Fool review can help you decide if this stock research platform can help you become a better investor.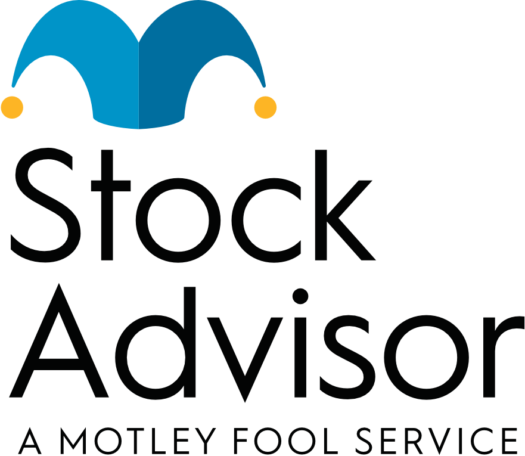 Summary
Motley Fool is a well-respected source of stock investing ideas. Stock Advisor is well known for offering two monthly picks to reduce your research time to invest in quality stocks as well as a depth of investment insights.
Pros
Two monthly stock picks
In-depth research
Full access to all active recommendations
Cons
Layout can be overwhelming
Not for short-term stock trades
Annual fee can be high for some investors
What is Motley Fool?
Brothers Tom and David Gardner launched Motley Fool in 1993 by researching stocks and giving investment ideas to ordinary investors.
At its core, Motley Fool operates under the belief that individual investors can "beat the market" by investing in single stocks.
To help investors achieve this goal, Motley Fool Stock Advisor is a premium newsletter that recommends two new stocks each month. The Fool analysts believe these stock picks can outperform the overall market for the next three to five years.
Additional newsletters are available if you have a more aggressive risk tolerance and want access to more monthly stock picks.
I enjoy the Stock Advisor insights as they take a long-term time horizon. While you hold stocks through bull and bear markets, this investment process isn't as time-consuming as short-term trading. It can also be potentially less risky.
When you're ready to buy a stock recommendation, you can buy shares through the best online stock brokerages for trading stocks.
How Does Motley Fool Stock Advisor Work
Most investors use Motley Fool for its Stock Advisor premium newsletter that launched in February of 2002. This service typically costs $99 for new members the first year and provides two new stock picks each month from growth industries.
Current Special: Special $89 Stock Advisor Introductory Offer for New Members– *Billed annually. Introductory price for the first year for new members only. First year bills at $89 and renews at $199.
You can also access a Starter Stocks and Top 10 Rankings list to quickly explore the best opportunities of previous recommendations. These two lists provide 20 additional investment ideas and I check them regularly and highly recommend new users do to.
The service wants investors to initially strive to hold 15 Motley Fool recommendations. Ultimately, Stock Advisor members should own at least 30 stocks.
According to Motley Fool, the total performance of the Stock Advisor portfolio is 396% since launch. The S&P 500 has only returned 115% over the same period (as of March 28, 2023).
This track record is impressive and is why Motley Fool is popular when many active investors lose money long-term.
To be transparent, not every Stock Advisor suggestion is profitable. For example, multiple active recommendations from 2021 and early 2022 have underperformed the market with the recent bear market.
When comparing stock picks, I will read the Fool's commentary but also perform independent research. It's also essential to decide if the company fits your investment strategy or if you need more diversification.
Investment Strategy
What makes Motley Fool different than most investing newsletters is its "buy and hold" mindset. Each recommendation has an anticipated holding period of at least three years.
Many other newsletters advise using trailing stops to reduce downside risk. Stock Advisor will hold stocks through sharp corrections if the stock remains a good long-term investment.
You won't see ETF or mutual fund recommendations in Stock Advisor. However, you will see many investing ideas for stocks in these industries:
Tech
Medical
Banking
Online shopping
Alternative energy
Consumer staples
While not every monthly recommendation makes money and they are naturally more volatile than an index fund, many recommended stocks have relatively low volatility.
You will likely be familiar with many of the names that Stock Advisor recommends. But you will also discover names that might become the next Amazon, Google or Apple stock.
These stocks are growing and tend to be leaders in their industry. Some earn dividends but are more volatile than a "dividend aristocrat."
Some of the most successful picks include Shopify, Amazon, Netflix and Tesla.
The recommendations come from a variety of industries so you can easily keep a diversified portfolio. Thankfully, many investing apps now offer fractional investing and commission-free trades so you can nibble on multiple recommendations.
Stock Advisor Portfolio Allocation
Most Stock Advisor recommendations are growth stocks in these sectors:
Information technology (35%)
Consumer discretionary (20.5%)
Communication services (13.4%)
Health care (9.2%)
Industrials (8.8%)
Financials (7.8%)
Consumer staples (1.8%)
Materials (1.8%)
Energy (1.8%)
With its current asset allocation, the Stock Advisor stock picks perform well when tech stock prices are in an uptrend. However, the performance lags when investors prefer safety and companies with less perceived risk.
Sector rotation is cyclical and a multi-year investment commitment can help you avoid selling early by timing the market. The service issues hold and sell bulletins when it appears a stock is unlikely to outperform in the long run.
One of the best reasons to consider Motley Fool Premium is the ability to track the performance of each active and closed recommendation. Many competing newsletters don't reveal their performance as transparently.
How Much Does Stock Advisor Cost?
Motley Fool Stock Advisor costs $89 for the first year, including a 30-day risk-free trial period.
After the first year, your subscription renews at $199. This annual cost is competitive with other investing newsletters. However, most Motley Fool alternatives only make one monthly pick.
Stock Advisor is an entry-level newsletter and is the Fool's cheapest product. It's probably the best service for most investors because of its affordable price and balanced risk tolerance. To be clear, its my favorite premium product.
More aggressive products cost from $299 up to $1,999 per year.
You can also read free market commentary articles that may feature stocks the premium services currently recommend.
Related Post: Motley Fool's Stock Advisor Canada Review
Key Features
Stock Advisor gives you several ways to find investing ideas.
Starter Stocks
To help you start investing, Stock Advisor provides a list of ten "Starter Stocks." The stock picking service also refers to them as "Foundational Stocks" and reviews the list quarterly to potentially change the recommendations.
These stocks come from a variety of industries and can be a good addition to your portfolio at any time during the year. They are usually industry dominators and can be less risky than the monthly stock picks.
Motley Fool believes these stocks are a good fit for most new investors ready to buy their first individual stock.
In fact, Motley Fool recommends buying some Starter Stocks plus the monthly picks.
When I first joined Stock Advisor, I browsed this list to find investment ideas I could add to my portfolio in between the monthly picks. These are companies that are periodically re-recommended becuase buying more shares of an existing position is sometimes the best option.
Here are some of the Stock Advisor Starter Stocks that have been on the list for at least a couple of years:
Amazon
Apple
Nvidia
Tesla
Trade Desk
Not many investing newsletters maintain multiple model portfolios. This foundational portfolio is an excellent resource for new and long-time subscribers.
Two Monthly Stock Picks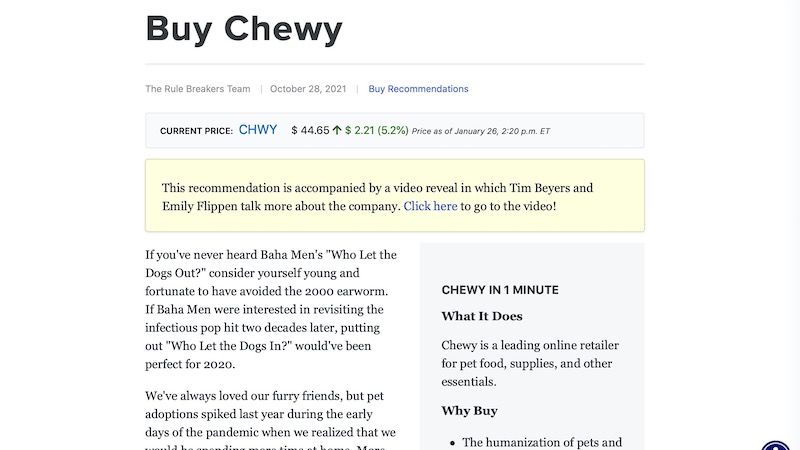 The new monthly stock picks arrive on the first and third Thursday of the month.
Each stock pick comes with a summary that you can read in several minutes and is easy to understand.
You may also be able to watch video reveals of new recommendations that can go into more detail than the written report. These sessions may also answer viewer-submitted questions in real-time with the live chat feature.
The research report includes these details:
Brief summary of what the company does
Key financial stats
Why Motley Fool likes the stock
Best reasons to buy the stock now
Potential business risks
Reading the report gives you a good idea of why you might invest in the monthly stock pick. You can also read the latest earnings call transcripts and other research articles for the Stock Advisor recommendations.
I also appreciate that the Stock Advisor caters on pick to a particular investing style:
Team Everlasting: Stock picks with a lower risk appetite but strong long-term potential. These suggestions are the first pick of the month.
Team Rule Breakers: Better for investors with a higher risk tolerance as these companies can have a smaller market cap and be more volatile. These picks are still not as aggressive as the Motley Fool Rule Breakers newsletter thought.
Timely Stocks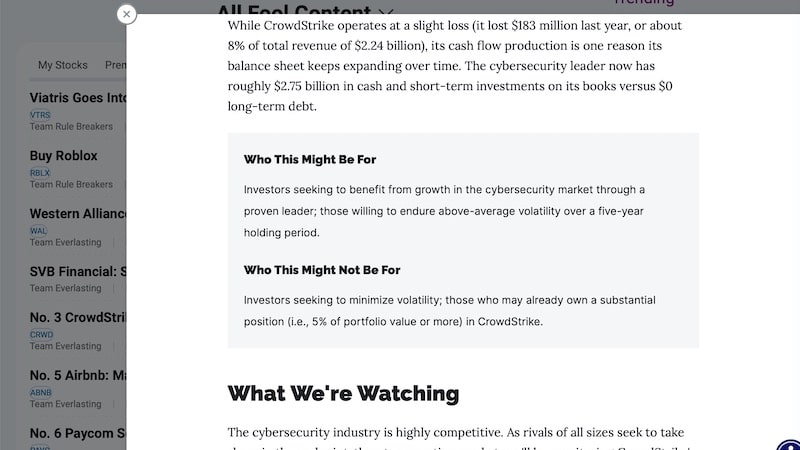 Each month, Stock Advisor updates its "Timely Stocks" list (previously Best Buys Now) of the ten active recommendations that can be worth buying shares of first.
This list contains the best five open positions from Team Everlasting and Team Rule Breakers. The entry price and underlying reasons to why to buy shares now are explained in the report so you understand the potential rewards and risks.
The monthly report provides a brief writeup containing these sections:
What the company does
What we like now
Who this stock might be for
Who this stock may not be for
What factors Stock Advisor is watching
You can expect the newest picks to make the list for most weeks. But you might also see recommendations that Stock Advisor first suggested over a year ago.
These suggestions can help you get exposure to more companies and industries if the new recommendations are not a good fit or you're ready to invest in several ideas at once.
Watchlist
The interactive watchlist lets you track the performance of previous recommendations and ones that your Motley Fool subscription doesn't currently recommend.
In addition to tracking the stock's price history, this feature also lists any articles where Motley Fool mentions the company. Reading this content can help you research potential holdings and monitor stocks you own.
Personally, I don't invest in every monthly pick for various reasons but I add certain companies to the watchlist to track their performance. This feature prevents overlooking potential investment ideas.
Asset Allocation Tool
Receiving multiple stock recommendations can make it challenging to build a diversified portfolio that also fits your risk tolerance.
The asset allocator can help you find choose an optimized blend of stocks, ETFs and cash. This tool is similar to a stock screener by highlighting Motley Fool stock recommendations that can be a good fit for your portfolio.
This focused guidance can be more effective than trying to pick the best Starter Stocks and Best Buys Now.
CAPS Community
Premium members can interact with other Motley Fool members in the CAPS community. This online discussion board is similar to Bogleheads.
Instead of focusing on index funds, CAPS lets you read and share opinions about specific stock tickers or copy the investment portfolio of other members.
You can also see which stocks are most popular with Fool members. These stocks can differ from what's in the Stock Advisor portfolio.
I like visiting this forum to see what other subscribers about the Motley Fool recommendations. You may also see chatter about non-recommended stocks to find acompanies to potentially invest in or avoid.
Yet the best reason to consider a premium subscription is for the two monthly picks.
Investment News
Motley Fool also publishes many free investment news articles each day. Some articles focus on a specific stock and others discuss an investing theme. If an article mentions a stock that you're watching, you receive a notification when the Fool mentions the ticker.
These articles can be good follow-up information after reading the initial buy report. You can also discover new investment ideas for stocks outside the portfolio.
Investing in individual stocks requires more portfolio monitoring than passive investing. Stock Advisor can send you text and email investing alerts for stocks you're watching.
Investment Guides
There is a lot to learn a lot about investing and retirement planning as a new investor. Motley Fool has several resources providing general investing information. You can read guides on how stocks work, asset allocation and retirement planning.
Stock Advisor also sends regular emails highlighting sections of the Motley Fool philosophy.
Podcasts
Motley Fool offers free and members-only investing podcasts. In addition to reading the stock pick summary, Stock Advisors can listen to an in-depth podcast about the company.
You can also enjoy these free Motley Fool podcasts:
Rule Breaker Investing. Fool co-founder David Gardner offers his view of the most disruptive and innovative publicly traded companies.
Motley Fool Money. A daily podcast covering the latest market headlines from a long-term investment perspective.
Premium subscribers can also access the Fool Live dashboard which features live real-time video programming each day. This service is like CNBC and can help answer your investing questions and learn about the latest market events.
These podcasts are enjoyable if you're more productive with listening instead of reading. For example, you may listen to these while exercising or driving.
Other Motley Fool Newsletters
Motley Fool offers several newsletters in addition to the entry-level Stock Advisor. These other newsletters cost more than Stock Advisor. You might consider them if you're an aggressive investor or have plenty of free cash.
Rule Breakers
For $299 annually, you get two monthly recommendations for top growth stocks. The stocks in Rule Breakers are smaller and more volatile than the Stock Advisor picks.
It's not uncommon for Rule Breakers to invest in a stock first. After the initial rapid growth and volatility phase passes, Stock Advisor will recommend the stock.
Rule Your Retirement
This $149 annual service includes recommendations for mutual funds and exchange-traded funds. There are also tips and strategies for maximizing Social Security benefits.
Everlasting Stocks
You can get access to 15 stocks that Motley Fool co-founder Tom Gardner personally owns in his portfolio plus new recommendations.
As its name implies, this service buys stocks that you can hold for several years and potentially decades. Its annual cost is $299.
Millionacres
Real estate investors can get exposure to real estate stocks, REITs and crowdfunded real estate through Millionacres.
Real Estate Winners costs $249 a year and recommends REITs with at least one new monthly recommendation. Non-accredited investors should consider this service.
The mid-tier Real Estate Trailblazers costs $1,999 per year and is for established investors. Its investing team invests at least $250,000 in assets that fit four major trends.
Accredited investors can find some of the best crowdfunded commercial real estate offerings with Mogul for $2,999 per year.
Options
For $999 a year, you can get access to an "Options University" to learn options trading strategies, from basic to advanced. There are also options trade recommendations and a weekly news commentary.
What Others Are Saying About Motley Fool
Here is the experience that other investors have with Motley Fool.
This service has a 3.6 out 5 Trustpilot score with over 7,000 reviews.
"I find that after Buy recommendations, little effort is expended tracking a stock's progress. Sell recommendations are exceedingly rare, and when they occur, it's after a significant loss has already occurred.
These comments are based on the last 18 months of membership and have nothing to do with the recent correction. There is a balance between Buy and Hold for 5 years vs. admitting it's time to pull out of a prior recommendation." – Leo G.
"I subscribe to the Stock Advisor service and greatly appreciate the investment information I receive. It has been very helpful in my taxable investment portfolio of stocks outside my retirement mutual funds. I often listen to the periodic (~1-2 times/month) additional investment webinars offered. But it does get a little annoying the upselling that occurs for additional services and costs, with numerous emails." – Potsy
The Motley Fool has a 3.82 out of 5 rating with 143 reviews.
"The quality of the recommendations and research is very good and unbiased and most of it is accessible to those of us not born into any wealth. I like being able to make my investing decisions with no pressure from anyone and doing my own follow-on research." – Tanya C.
"I don't have the time or energy to research companies myself, so I pretty much buy stocks they recommend and usually learn something about most of these companies along the way. Not every stock they have suggested has been a winner for me, but I can't complain. Overall, I'm very pleased with the results I have gotten." – Greg G.
Motley Fool Alternatives
Actions Alerts Plus is one of the most common competitors to Motley Fool's Stock Advisor.
They offer portfolio guidance, stock ratings and even have a monthly call where they answer investors questions.
Morningstar Premium is another main alternative to Motley Fool. See how Morningstar compares to Motley Fool.
Frequently Asked Questions
These questions can help you decide if Motley Fool is worth it.
Who Should Consider Motley Fool?
New and experienced investors ready to buy new stocks can benefit from Motley Fool Stock Advisor. You will benefit the most from Stock Advisor if you own few or no stocks.

The Stock Advisor Starter Stocks list is a good starting point to build your stock portfolio. From there, you can new monthly picks until your portfolio has at least 30 stocks. Motley Fool recommends the 30-stock benchmark but you can decide the best number for you.

You should avoid Motley Fool if you're a short-term trader or focus on earning dividends. Stock Advisor is best when you can hold single stocks for at least three years.
Is Motley Fool a Scam?
Motley Fool is a legit service that has been helping individual investors since 1993. During that time, we have seen several stock market recessions and Motley Fool is still around.

You can see the performance for each Stock Advisor pick since its 2002 inception. This level of transparency lets you see the performance of each monthly pick. Stock Advisor also compares the pick to the performance of the S&P 500.

However, it's important to perform your due diligence, maintain a diversified portfolio and have a long-term investment horizon. This isn't a "get rich quick" investment strategy like swing trading or only relying on technical analysis.

One common complaint is the constant marketing for pricier premium newsletters. This is a common practice for investing sites.
What are the Motley Fool customer service options?
There is an online database of support articles that can help you navigate the various features. You can also get email support when you have questions about your account.
Summary
Motley Fool is a well-respected source of stock investing ideas. The Stock Advisor newsletter's two monthly picks reduce your research time to invest in quality stocks that you can hold for several years.
You will also find investment ideas from a variety of sectors that you may not have the time to research by yourself.