Real estate investing is a popular stock market alternative. Investors can earn steady dividends, but finding the best real estate investments can be time-consuming.
Millionacres is a service that new and experienced investors can use to build a real estate portfolio. Better yet, the minimum investment is as little as $1,000.
This Millionacres review will help you decide if the service is right for you.
Summary
Millionacres offers monthly recommendations for real estate stocks, REITs and crowdfunded individual properties. These investments can earn competitive returns and have minimal risk.
Pros
Monthly recommendations
Open to all investors
Can earn dividends
Cons
High annual cost
No refunds
Real estate only
What is Millionacres?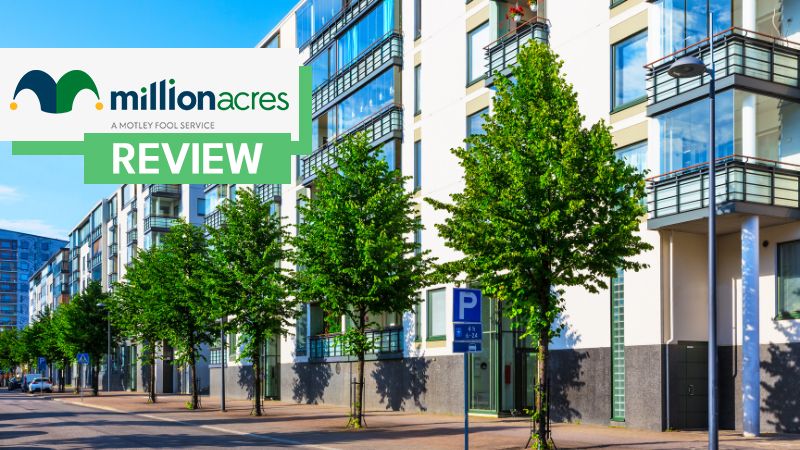 Millionacres offers free and premium content focused on various real estate investments. Motley Fool runs the platform in addition to its stock investment services, such as Stock Advisor.
The platform covers these real estate investments:
Real estate stocks
Crowdfunded real estate
Real estate investment trusts (REITs)
Private placements
Land investments
Single-family rental homes
Multifamily apartments
Commercial real estate
To be a successful investor, you have to understand how investments work and the potential risks. Millionacres can help with this.
The service doesn't replace the need to perform your own due diligence. However, it can increase the probability of finding profitable real estate investments.
There are several free resources that can help you learn the basics of real estate. Millionacres also offers two premium services to benefit investors further.
Who is Millionacres for?
Millionacres is for investors who want exposure to public and private real estate investments in the United States.
While real estate investing can be expensive, Millionacres identifies financially accessible investments. The service is great for investors who are willing to invest at least $1,000.
Non-accredited investors can find investment ideas through the platform. The Real Estate Winners service offers monthly recommendations and "top 10" quarterly investment rankings.
Accredited investors with a liquid net worth above $1 million or a qualifying annual income can access most investments. The Mogul subscription is built for high net worth investors.
This service can be a good alternative to owning rental property.
How Does Millionacres Work?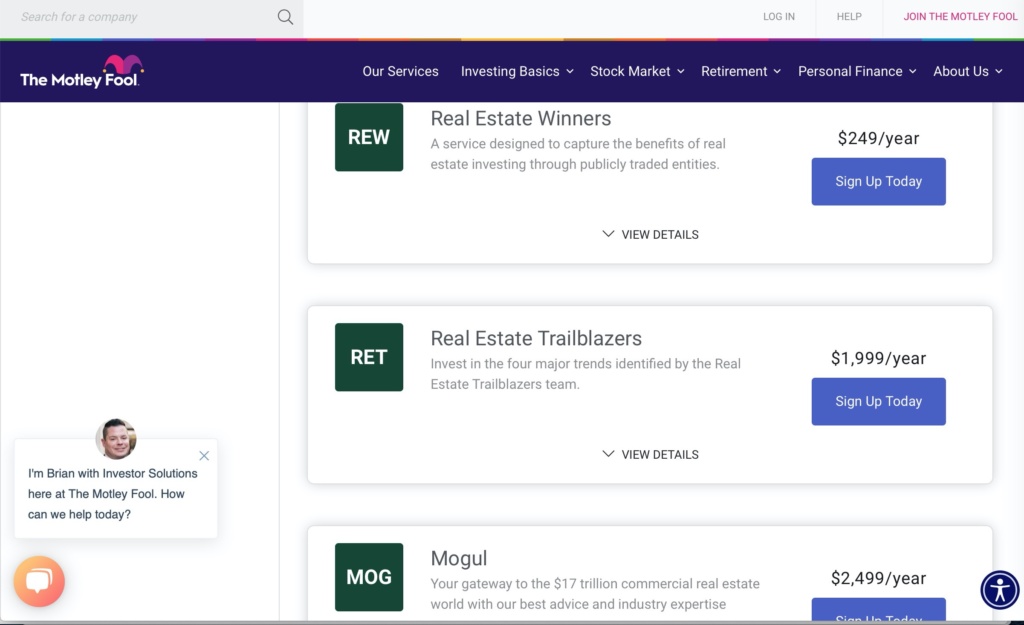 Millionacres does offer free content. However, it requires a paid subscription to maximize the platform and view the monthly recommendations.
There are two different subscriptions available, including:
Mogul – $2,499 per year
Real Estate Trailblazers – $1,999 per year
Real Estate Winners – $249 per year
It's also possible to access exclusive interviews and scoring models to receive additional insights.
The service looks for the best investment opportunities via online stock brokerages and crowdfunding platforms.
Millionacres doesn't partner with real estate developers to provide exclusive deals. Instead, it is an investing newsletter specializing in real estate.
While the offerings are available to everyone, most people don't have the time to search for opportunities on their own. This is where Millionacres provides benefits since it does a lot of the research for you.
Dividend Income
It's important to note that stocks and real estate can make money with rising asset prices and dividend payments.
Real estate can earn higher dividend income than non-real estate stocks. REITs trading on the stock market must distribute at least 90% of their profits to shareholders.
However, assets with above-average dividend yields can be risky if they have weak financial fundamentals.
Millionacres can help you find investments with sustainable dividends and sound growth potential.
Millionacres Subscriptions
Beyond the free content, two different subscription services are available. Each option caters to different investment strategies.
The better choice depends on how much you want to invest and if you're an accredited investor. Also, evaluate how much you're willing to spend on a subscription.
The annual cost for either service is high but competitive with other specialty products.
Fortunately, it may be easier than anticipated to recoup your subscription cost. This is because real estate investments tend to have higher dividend yields than stocks.
Mogul
Price: $2,499 per year
Best for: Accredited investors
Mogul is better suited for accredited investors. Most recommendations in this subscription are only available to this exclusive investor class.
That said, this subscription tier does also recommend publicly traded equities and REITs accessible to non-accredited investors.
The $2,499 annual fee makes Mogul one of the priciest investment newsletters. You will need to be able to invest a large sum of money to recoup the subscription costs.
Investment Recommendations
According to Mogul, subscribers can expect between three and four new recommendations each quarter.
Unlike most investment newsletters, there isn't a fixed publishing schedule. For example, new picks aren't released on the first Thursday of each month.
Instead, Mogul recommends potential investments when new opportunities arise.
Investors can get trading ideas for these asset classes:
Real estate equities – Stocks and REITs available on investing apps
Crowdfunded commercial real estate – Individual offerings and REITs
Most of the recommendations for crowdfunded commercial real estate are available through CrowdStreet. The service might also recommend individual offerings on other crowdfunding platforms.
These private placements can be riskier than publicly traded stocks and REITs, but they have higher potential returns. They also require a multi-year investment horizon.
Like other platforms, only accredited investors can invest in private placements for crowdfunded real estate.
For crowdfunded real estate, unaccredited investors will only be able to invest in crowdfunded REITs that hold a variety of properties. The fund managers decide which properties to buy or sell.
Publicly traded real estate stocks and REITs are open to all investors since they trade with any stock brokerage. These investments are more liquid and don't require a multi-year investment commitment.
However, it's worth noting that the potential returns are lower.
Mogul states the target annual yields for crowdfunded placements is between 6% and 12% per year. The target returns for public stocks and REITs are between 3% and 6%.
Mogul Score
The Millionacres team uses a 100-point Mogul Score to recommend individual properties. This scoring model is only available with the Mogul subscription.
Some of the Mogul Score criteria include:
Platform: Is the crowdfunding platform reputable and easy to use?
Deal quality: Is it a good deal with favorable terms and growth potential?
Sponsor history: The sponsor's finances and investing history
Potential return: Are the potential returns worth the investment and risk?
Macro real estate trends: The performance of similar real estate deals
These scores explain why the Mogul investing team recommends a specific property. The scoring summary can make it easier to decide if an offering is a good fit for your portfolio.
I was hesitant given the fee to join, but I've been incredibly impressed with the Mogul Score process. I've made some changes to my portfolio by getting into some of the REITs you recommend and just made a commitment to the Sonata at Columbia Station offering. It also got me to update my accredited investor documentation. Thanks for the nudge and the insight.

Kevin W.
Private Interviews
Subscribers can view interviews with real estate professionals in different niches. These interviews can help you understand how real estate investing works from an insider's perspective.
In-Person Events
Users can attend in-person investing conferences. While these events were put on pause in 2020, they will resume as the situation with COVID-19 improves.
Investment Taxes
The tax treatment for investing in individual properties is different from trading real estate stocks and REITs.
Crowdfunded private placements receive a Schedule K-1. This tax form can arrive later in the tax season and is more complex than a Form 1099 that stock brokerages issue.
You may need to hire an accountant to file your taxes and verify there are no reporting errors.
Despite the potential hassles, the K-1 Form lets you deduct income losses and depreciation. In turn, this helps reduce taxable passive income.
If you don't want to deal with this tax form, you should only invest in the publicly traded real estate equity recommendations.
You can also consider investing in crowdfunded REITs like Fundrise offers.
Real Estate Trailblazers
Price: $1,999
Best for: Investing $50,000 or more into publicly-traded real estate
The mid-tier Real Estate Winners offering is for accredited and non-accredited investors. However, customer reviews and the service's sales page indicate this newseletter is best if you can invest at least $50,000 into the model portfolio.
This high annual subscription cost also means this service is only for serious real estate investors. Additionally, the subscription is non-refundable.
You can receive investment ideas for these sectors:
Data infrastucture
E-commerce
Real estate software and platforms
Sunbelt migration
The service plans on offering a fifth real estate trend with its True Trailblazers sub-portfolios. Few details are publicly available at the moment.
You can anticipate monthly recommendations and portfolio updates.
Real Estate Winners
Price: $249 per year
Best for: Non-accredited investors and publicly traded investments
Real Estate Winners costs $249 per year and is the better option for non-accredited investors. Each recommendation is available to any investor, regardless of their net worth.
You may also prefer this service if you want real estate recommendations at a lower cost.
This service can benefit people who want to start by investing $1,000 in real estate.
You can hold these recommendations in a taxable brokerage account or an individual retirement account (IRA).
Investment Recommendations
Members will receive at least one new recommendation each month. Most suggestions will be for equity stocks and REITs trading on the stock market.
Subscribers can buy these recommendations from investing apps such as Robinhood, Webull and Fidelity.
These investment ideas are highly liquid and can be traded quickly. However, you won't be able to directly invest in individual properties like accredited investors can with Mogul.
Additionally, these suggestions don't use the Mogul Score. Fortunately, each report lays out the pros and cons to help you determine if the investment is right for you.
Quarterly Investor Alerts
Subscribers receive monthly investment ideas. They also get quarterly updates with the ten best portfolio recommendations to buy now.
These rankings let investors buy multiple positions of existing portfolio suggestions. Subscribers even receive updates when notable events happen, such as earning announcements.
Private Resources
Users can read premium reports that provide information about investing in certain real estate sectors. These reports are provided in addition to the free investment guides.
Some of these publications cover assets that Real Estate Winners won't recommend as they may require you to invest in individual property. But, these offerings can be a good match for your investment strategy.
While this information adds additional value, the monthly recommendations are the main benefit of the subscription.
Is Millionacres Legit?
Yes, Millionacres is a legitimate way to find real estate investment ideas. The service recommends public and private offerings available on stock and crowdfunding platforms.
Instead of using an investment service or stock screener to find tech or growth stocks, this tool focuses on real estate.
Investors who are serious about investing in real estate as an income-generating asset can benefit from Millionacres. The service makes it easier to find investments with the best potential returns.
Like any investment, there are natural market risks. A stock market recession or a downturn in commercial real estate can cause reduced or negative returns.
Nonetheless, real estate can be an effective way to diversify your investment portfolio. Depending on your strategy, either Mogul or Real Estate Winners can help with investment diversification.
Positives and Negatives
Before subscribing to Millionacres, here are some pros and cons to keep in mind.
Pros
Multiple investment ideas
Can invest in recommendations online
Open to all investors
Can earn above-average passive income
Cons
Potentially expensive annual fee
Some recommendations are only for accredited investors
No refunds or credit transfers
Only focuses on real estate investments
Millionacres Reviews
This investment research service doesn't have a separate Trustpilot score for Millionacres. As a benchmark, Motley Fool has a 3.6 out of 5 Trustpilot rating with 5,855 customer reviews for its various premium publications.
Here are some of the testimonials:
"I'm happily building up my real estate portfolio…and very much appreciate the opportunity and guidance to diversify into this asset class. Great job to you and the team!" — Ken K.
"I was hesitant given the fee to join, but I've been incredibly impressed with the Mogul Score process." — Kevin W.
"I've essentially built a nice portfolio of REITs thanks to your recommendations and have added to nearly every position this past month." — Kerry N.
"Motley Fool subscription has been a GOOD experience. The only reason I did not give five stars = they seem to offer stock investment ideas that would fit higher income families. I am a teacher and my income is just under $40,000 / year." — Rickey L.
Related Article: Top 9 Unaccredited Real Estate Investing Platforms
FAQs
Here are some common questions you may have about this real estate investment service.
Is it safe to use investment recommendations from Millionacres?
Every investment opportunity has some level of risk. The ideas offered by Millionacres are no different.

Millionacres offers recommendations that can increase your odds of making profitable investments. However, not every pick will make money. Furthermore, natural market risks can impact your investment performance.

Keep in mind that Millionacres doesn't provide personalized advice. You still need to perform your own research to decide if an investment aligns with your investing goals.
What is the Millionacres cancellation policy?
All sales are final for Real Estate Winners and Mogul. It's not possible to get a refund or request a credit transfer for another Motley Fool product.

You can have your subscription expire at the end of the one-year membership period. This cancellation policy is similar to other investment sites that charge comparable prices.
What customer service options does Millionacres offer?
Customers can email or call Millionacres to ask questions about their membership and the premium material.

Neither subscription can provide personalized investment advice. You must perform your own due diligence to decide if you want to invest in a specific recommendation.
Is Millionacres worth it?
Millionacres can be worth it if you want to invest in public or crowdfunded real estate. The monthly recommendations and ability to view portfolios of active positions can be helpful.

If your potential returns will exceed the annual costs of your subscription, it could be worth it to try the service.

Non-accredited investors should consider starting with Real Estate Winners. This is because many of Mogul's crowdfunding recommendations are only open to accredited investors.

Summary
Millionacres can make it easier to invest small amounts of money in real estate. Accredited and non-accredited investors can benefit from an annual subscription.
The service may pay for itself since real estate can earn yields that rival the average stock market performance. However, you must decide if the cost is worth the amount you plan to invest.