If you don't have the time, skills, or cash to own rental property, investing through a crowdfunded real estate site lets you own rental property without all the headaches.
In addition, your investment might earn a 12% yield while the average historical return for the broad stock market is approximately 8%.
This article will help you find the best crowdfunded real estate companies to help you choose a platform that is best for you.
Top Crowdfunding Real Estate Sites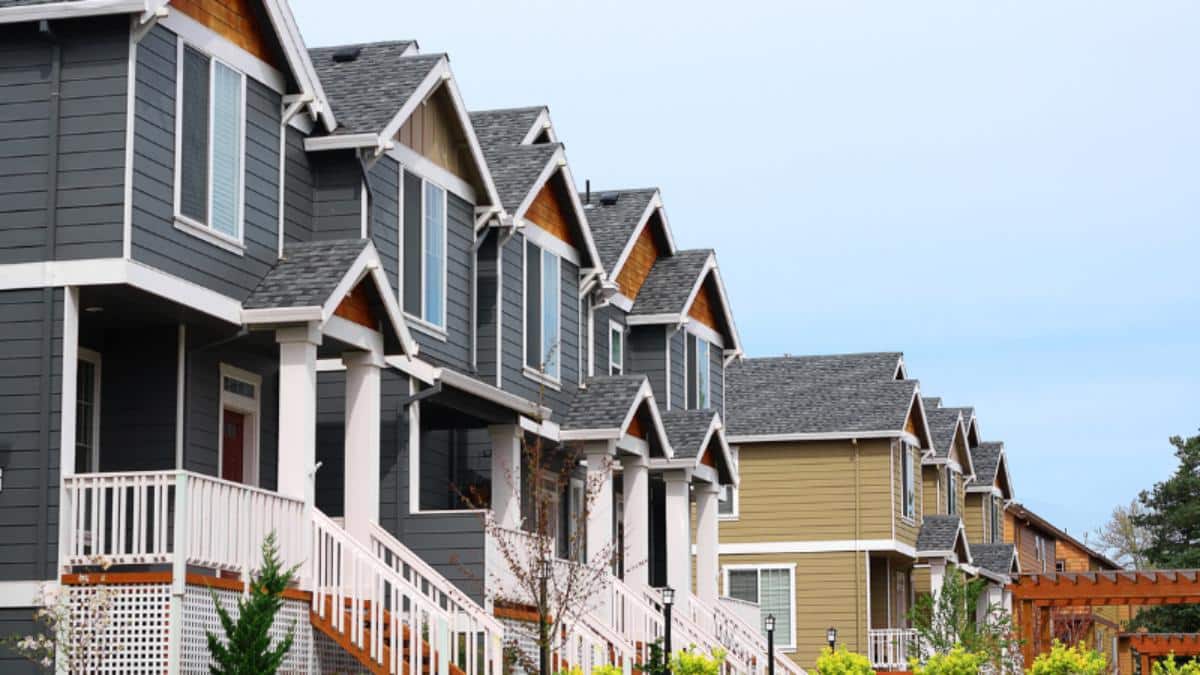 There are roughly 100 different crowdfunding real estate sites you can invest with, but that doesn't mean they're all excellent opportunities.
Before you give just any company your business, give the below recommendations a try.
You can also open an IRA with many of these companies, which can help minimize your tax bill.
1. DiversyFund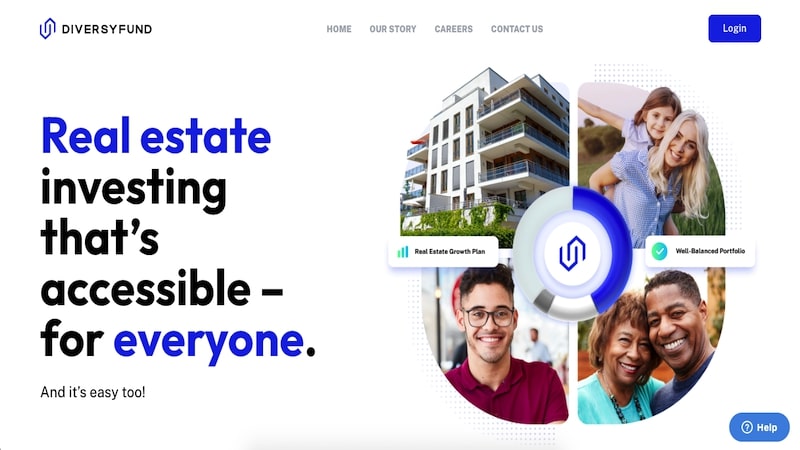 DiversyFund is another crowdfunded real estate platform open to all investors. You can invest in both its private growth and income REITs.
The DiversyFund team is based in California and they invest in what they know best, commercial real estate.
You can invest in one of the DiversyFund REITs with a minimum $500 investment. Investing in individual properties requires a larger initial investment.
2. Groundfloor
Groundfloor allows both accredited and non-accredited investors too. This company focuses on debt investments instead of equity investments.
Borrowers borrow funds for refinancing or rehabbing residential real estate properties. The borrowed funds are invested through crowdfunded real estate fundraising.
Potential investments are graded A through G so investors can decide on the level of risk they want to take with their investment.
Most investments through Groundfloor are short-term–no longer than 12 to 18 months and sometimes even shorter.
Groundfloor has a minimum investment amount of just $10. And there are no fees for investing with Groundfloor.
The Groundfloor website says that the company's average return on investment over the past six years is 10%.
Learn More: Groundfloor Review
3. CrowdStreet
CrowdStreet invests in commercial real estate, and most investments have a minimum $25,000 investment.
You might like CrowdStreet because it focuses solely on commercial real estate, as opposed to other platforms that also invest in residential properties.
This gives CrowdStreet the privilege of being one of the very few crowdfunded companies that let accredited investors invest directly in commercial real estate.
Although other crowdfunding platforms invest in commercial real estate, with them, you're still investing through the lender or managing company.
Being a direct investor offers higher income potential, as you can easily find deals with a minimum projected yield of 20%.
Of course, it also means potentially higher risk since the investing company can't use other investment assets to offset losses.
To your benefit, CrowdStreet has a current 5% acceptance rate for borrower applications. Most crowdfunded platforms have a 5% to 10% acceptance rate.
Learn More: Crowdstreet Review
4. RealtyMogul
RealtyMogul has a platform for accredited and non-accredited investors.
Accredited investors can invest in individual commercial and residential properties, which even include mobile home parks.
Another option for both accredited and non-accredited investors is to invest in one (or both) of RealtyMogul's REITs.
The Income Reit (formerly MogulREIT I) focuses on debt investments that pay a fixed monthly dividend.
But if you can invest for at least three years, you might want to consider the Apartment Growth REIT (previously MogulREIT II).
It has more upside potential as investment properties appreciate in value and generate more income. But first, you must wait for property values to increase and sell for a profit.
The tradeoff is that you receive a smaller monthly dividend in the meantime.
The minimum initial investment for each REIT is $5,000. Subsequent investments must only be at least $1,000 at a time.
Individual Properties
You can also invest in individual properties. Most new offerings have a $10,000 minimum investment.
Your potential returns can be higher than investing in a REIT. Unfortunately, the platform no longer supports 1031 exchanges like in the past.
Learn More: RealtyMogul Review
5. YieldStreet
YieldStreet is another impressive real estate platform for accredited investors. One exception is the Prism Fund which non-accredited investors can access.
Per their website, investments have an 8% to 20% target return.
All projects have a maturity date of between one and three years.
If you want to diversify your portfolio beyond commercial and residential real estate, you can also invest in these assets:
Marine shipping vessels (boats and vessel deconstruction)
Legal assets (Invest in legal expenses and receive payment when settlement is made.)
Small business financing
Of course, you can also invest in regular residential and commercial offerings.
If you don't want to invest in individual placements or you're a non-accredited investor, consider the Yieldstreet Prism Fund. You get exposure to several assets, can receive an 8% dividend distribution and the minimum investment is $500.
Learn More: Yieldstreet Review
6. Fundrise
If you're a non-accredited investor, Fundrise might be your best option. Unlike other crowdfunding platforms, investors are welcome from all 50 states.
You only need to invest $10 to create your starter portfolio. Fundrise invests your money in a basket of commercial and residential properties located across the United States.
Some of the current property types include:
Apartment development and renovation.
Rent-stabilized apartments.
Home construction.
Commercial developments.
When your account balance reaches $5,000, you can begin investing in advanced plans that focus on a specific investing strategy:
Supplemental income.
Balanced investing.
Long-term growth.
Investing in advanced plans lets you earn a potential annual dividend yield of up to 12%.
And, you don't have the daily stock price fluctuations you experience with publicly traded REITs.
With a $10,000 or $100,000 minimum investment, you can unlock advanced strategies. These curated portfolios may focus on a specific real estate market or property type.
Learn More: Fundrise Review
7. Streitwise
Anybody can invest in the 1st Streit Office REIT, which has an 8-9% dividend target. You need approximately $5,000 to open a position and this real estate platform is open to non-accredited investors.
There is a one-year lockout period on your invested funds, and in fact, to receive the full redemption value, your funds must be invested for at least five years.
So, treat your Streitwise investments as the equivalent of a five-year CD.
But the current dividend rate is significantly higher than the 5-year bank CD average rates of roughly 1%.
So, this platform can be a better place to park your cash and earn more income. They also didn't pause redemptions during the pandemic so you could sell when necessary to raise funds for other investments and expenses.
Streitwise also tends to charge fewer fees than other crowdfunded companies. However, a 2% annual asset management fee is withheld from your dividend income.
The company's founders have also invested $5 million of their personal funds into this REIT. You may appreciate this participation as the leadership makes money when you make money and this investment philosophy can help prevent scams.
8. PeerStreet
PeerStreet specializes in debt investment loans for accredited investors. Most loan terms last from six to 36 months with a 6% to 9% return.
You can consider using PeerStreet for your short-term investments in residential properties.
It's also possible to invest in commercial and multifamily deals.
While most crowdfunded companies charge an annual 1% administrative fee, PeerStreet charges between 0.25% and 1% for each investment, making it a low-price leader.
Another reason to consider PeerStreet is its automated investing feature. You can create investing screens that filter open opportunities by several factors:
Property type
Loan maturity date
Geographic region
Borrower
As you await new investment opportunities, you can stash your uninvested cash in a PeerStreet Pocket account. This high-yield savings alternative earns a competitive interest rate that can be higher than online banks.
9. EquityMultiple
Accredited investors can invest in debt and equity offerings on EquityMultiple.
It approves less than 10% of borrowing requests in an effort to ensure no loan application will default.
You can browse the open and closed listings to get an idea of the opportunities they offer.
Some of the property types include:
Hotel
Office
Multifamily apartments
Condos
Self-storage facilities
Student housing
Industrial properties
One recent closed offering was a 16-home residential subdivision in Kahuku, Hawaii. This proposal had a 12-month term with a 10% income rate.
In the offering proposal, you can view two proposed house drawings plus more information about the lender and borrower.
The minimum investment is different for each offering type:
Short-term notes: $5,000
Individual properties: $10,000
Managed funds: $20,000
10. Modiv (Formerly Rich Uncles)
Modiv offers two different REITs:
Modiv Inc. Class C (NYSE: MDV): Holds commercial properties across the United States as a publicly-traded stock. You can purchase with most investing apps.
Brix REIT: Non-traded REIT investing college student housing.
This option is open to accredited investors that pays a monthly dividend. Plus a 13th dividend annually.
Their success is due to acquiring property leased to credit-worthy tenants under long-term, triple net agreements.
Benefits of a REIT include:
Enjoy competitive returns
May reduce overall portfolio risk
Potential to earn steady dividend income
Yearly tax savings
Long-term capital appreciation
Portfolio diversification
For non-accredited investors, your best option might be Fundrise.
Learn More: Modiv Review
11. HoneyBricks
HoneyBricks does real estate investing a bit differently than other companies we've mentioned here.
With HoneyBricks, you purchase real estate tokens that represent real fractional ownership in high-quality commercial real estate. You can purchase HoneyBricks tokens with crypto, fiat (USD), or you can also stake your current crypto holdings.
There are a number of benefits to investing in tokenized real estate through HoneyBricks, including lower transaction fees, tax advantages through direct ownership, and improved liquidity.
HoneyBricks is building a secondary market that will allow token holders to sell their tokens once they meet minimum holding periods.
Although HoneyBricks' revolutionary technology is one of its most obvious key differentiators, its approach to real estate is also world-class.
Their investment team has invested over $5 billion across 1,000's of real estate assets throughout the US. Each property is comprehensively vetted and only <1% make it onto the marketplace.
Whether you are familiar with crypto or not, HoneyBricks is a great option if you are interested in taking advantage of the latest technology and want to start growing your wealth in high-quality commercial real estate.
12. Fund That Flip
Fund That Flip is a real estate fintech that was founded in 2014 with the goal of helping everyday people invest in real estate.
The company is a hard money lender that lends real estate investors short-term funds to "fund that flip."
As an investor, you can invest your funds in the loans that Fund That Flip funds. You'll earn up to 10.75% annually on your investment.
In addition, you won't pay any out-of-pocket fees when you invest through Fund That Flip. However, the company does collect a spread on each loan.
The spread amount is disclosed in the terms for each note the company offers.
The minimum investment amount is $5,000 and you must be an accredited investor to participate.
Learn More: Fund That Flip Review: Invest In Real Estate Online
13. HappyNest
Happy Nest makes commercial real estate investing possible for the 'everyday investor.' You only need $10 to get started, eliminating all excuses why you can't invest in real estate.
While the returns aren't typically quite as high as some other crowdfunding platforms, Happy Nest targets a 6% average return and pays monthly dividends.
What we love most about Happy Nest is the ability to round up your purchases to invest automatically. This way investing in real estate requires little effort yet has the potential to provide decent returns.
Happy Nest doesn't charge a monthly or annual fee; however, they aren't 100% transparent about the fees charged per listing, which can be a downside.
Learn More: HappyNest Review
14. Cadre
Cadre focuses on economic development in low-developed areas. The investments have tax benefits, but the investment minimums for Cadre are too high for the everyday investor. You must be an accredited investor to sign up.
Cadre offers deal-by-deal investments that allow you to choose your investments individually, much like many other crowdfunding platforms, but it's a $50,000 minimum investment.
Cadre has a secondary market that allows investors to sell their deals six months after they bought them. However, Cadre has the final say regarding whether you can liquidate your investment.
Cadre charges two fees – a transaction fee of 1% and an annual assets under management fee of 1.5%, and Cadre's historical rate of return is 18.6%.
15. Arrived Homes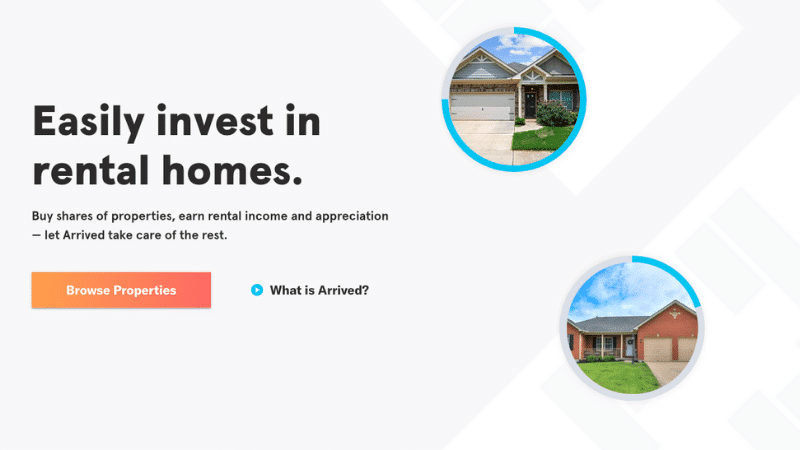 Most crowdfunding websites focus on commercial real estate, but Arrived Homes is different. Investors using this platform can invest in residential properties without becoming a landlord. With a low $100 minimum investment, it's an excellent way for anyone to start investing in residential real estate.
Arrived Homes started in 2019 and has $29 million worth of property in its portfolio and almost 100 properties.
The platform is user-friendly, and you choose the homes you want to invest in yourself. There's no guarantee the homes you choose have tenants in them yet, though, so you may not earn dividends right away.
Arrived Homes pays quarterly dividends, unlike other platforms that pay monthly, so you'll receive a payout (if there are tenants) every three months or four times a year.
Arrived Homes charges a 1% annual assets under management fee plus a sourcing fee which they detail in their listing.
Learn More: Arrived Homes Review
16. FarmTogether
With FarmTogether, you can invest in farmland without owning it yourself. On this platform, you can invest in different types of farmland, which may not seem like a great investment, but agriculture has a steady rate of return, and food is necessary.
The platform is open only to accredited investors.
On average, FarmTogether offers a 7% – 13% rate of return, and the investment is entirely passive. When you invest with FarmTogether, you buy shares of a company (not a REIT) but an LLC.
You can earn money from lease payments and profits when FarmTogether managers sell the property.
There's a $10,000 investment minimum, a 1% origination fee, and a 1% annual management fee.
Learn More: FarmTogether Review
17. AcreTrader
With AcreTrader, you can become a farmland owner by crowdfunding your investment with other investors. As an investor, you own a few acres of farmland which often includes cash crops.
AcreTrader offers average returns of 3% – 11%, but it's a long holding period of five to ten years.
Only accredited investors can use the AcreTrader platform, and it requires a minimum $10,000 investment.
You earn monthly income from farmers who rent your parcels. So as long as you have farmers renting, you'll make an income. But, of course, you also earn money when you sell the parcels.
Investors pay an annual fee of 0.75% of the acres' value, and there are one-time fees when you initially invest too.
Related Article: AcreTrader vs. FarmTogether
AcreTraderDisclosure: "This is a sponsored promotion for the AcreTrader platform. Well Kept Wallet may have investments in companies represented on the AcreTrader platform. This informational is by no means a promotion, solicitation, or recommendation of any specific investment."
How Do These Crowdfunded Real Estate Sites Compare?
| | | | |
| --- | --- | --- | --- |
| Company | Non-Accredited Investors | Min To Invest | |
| Diversify | Yes | $500 | |
| Groundfloor | Yes | $10 | |
| CrowdStreet | No | $25,000 | |
| Fund That Flip | No | $5,000 | |
| RealtyMogul | Yes | $5,000 | |
| YieldStreet | Yes | $1,000 | |
| Patch of Land | No | $5,000 | |
| Fundrise | Yes | $10 | |
| Streitwise | Yes | $5,000 | |
| PeerStreet | No | $1,000 | |
| EquityMultiple | No | $5,000 | |
| Senior Living Fund | No | $50,000 | |
| Sharestates | No | $1,000 | |
| AlphaFlow | No | $10,000 | |
| Cadre | No | $25,000 | |
| Modiv | No | $1,000 | |
| HoneyBricks | No | $1,000 | |
| Fund That Flip | No | $5,000 | |
| AcreTrader | No | $10,000 | |
| FarmTogether | No | $10,000 | |
Summary
Anybody in any income bracket can now invest in crowdfunded real estate.
It can be an effective way to earn steady passive income while avoiding stock market volatility.
Crowdfunded real estate deals require a longer investment horizon than publicly-traded REITs.
But investors can easily access real estate deals that normally cost a small fortune.