One popular way to make passive income these days is through real estate investing.
However, you don't have to own a brick and mortar property to be a real estate investor.
Yes, that is an option. And owning traditional brick and mortar properties can be a passive income source if you do it right.
However, there are also other ways you can make passive income via real estate investing.
Our Top Picks
How to Earn Passive Income With Real Estate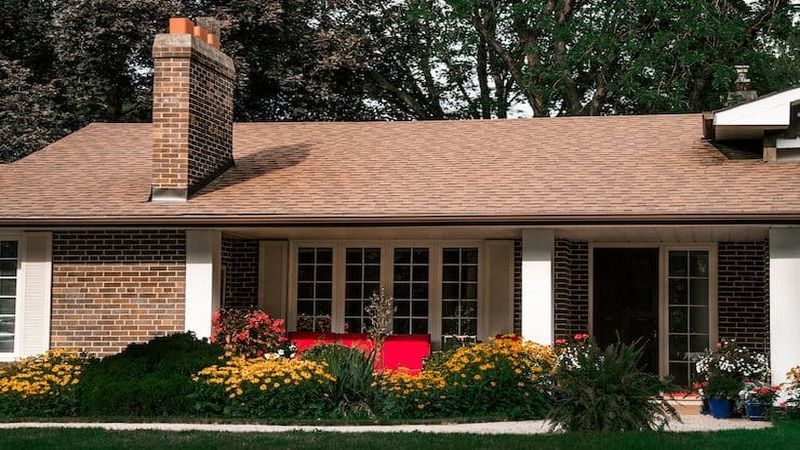 The investment world has changed regarding real estate investing. That means that you are not limited to owning residential or commercial rental properties firsthand.
If you want to make money with real estate investments, there are many options. One such option is traditional real estate investing. Another option is crowdfunded real estate investing.
Crowdfunded real estate companies are similar to today's peer-to-peer lending companies. Like peer-to-peer lending, they offer a platform that matches real estate investors with investment choices.
They help people looking to invest money in real estate in a passive manner. Also, investors can avoid bargaining with sellers. No need to get involved in the transfer of ownership and management of those properties either.
We'll talk about the many ways to earn passive income with real estate so you can decide which avenue is best ofr you.
Here are more details for each of the ways you can earn money with real estate.
1. Traditional Real Estate
Traditional real estate ownership isn't always passive income, but it can be – when done right.
When you own traditional real estate, you typically have two choices. You are generally choosing to own either residential real estate rentals or commercial real estate rentals.
However, you could also own farmland, timberland or other types of real estate you can rent out.
If you choose to own traditional real estate directly, know that someone will have to manage the properties you own. Tenants will call, having questions about the house. Or they might call to notify you of necessary repairs.
You'll need to perform maintenance and upkeep on the property. Tenant applications will require your attention. Background and employment checks will have to be done. Plus, you'll need to collect and deposit rent money.
Does Your Property Cash Flow?
It's important to know what your exact bottom line profit could be in order to make sure your property cash flows. A property "cash flow" is when the incoming rent outweighs the outgoing expenses.
Expenses on rental properties include taxes, repair, maintenance, property management fees, etc.
One factor that helps determine whether an investment property is a good investment is cash flow. If you have a positive cash flow each month after expenses, the property is less risky.
2. Investing in an REIT
A REIT (real estate investment trust) is a type of passive real estate investment income. In a sense, a REIT is similar to a mutual fund. It houses a variety of different investments within each fund.
The difference is that REIT investments are all encompassed in real estate.
For instance, a REIT might include ownership of several different investment types:
Commercial office buildings
Shopping malls
Timberland
Warehouses
This is just to name a few. There are many other types of real estate properties the REIT can house.
It's riskier to invest in just one single real estate investment, such as owning a rental home. So the variety of investments in REITs means less risk for an investor. With the REIT, you don't have all of your eggs in one basket.
REITs can be exchange-traded, non-traded or private. You can purchase exchange-traded REITs through any broker.
They're registered with the SEC (Securities Exchange Commission). And they file regular reports with the SEC. Also, they're listed on national securities exchanges such as the Nasdaq or the NYSE.
But there is one downside to the exchange-traded REIT. Chiefly, its performance can mimic the performance of the exchange it's listed on.
For example, let's say a REIT is listed on the NYSE. If the NYSE plummets, the REIT value could plummet too.
Non-Traded REITs
A non-traded REIT works a bit differently. Like an exchange-traded REIT, a non-traded REIT is listed with the SEC. It also files regular reports with the SEC.
However, non-traded REITs are not listed on an exchange and are not publicly traded.
This makes a non-traded REIT what is called an illiquid asset. An illiquid asset is tougher to liquidate than a non-traded REIT. However, both types of REITs are indeed passive forms of real estate investing.
Private REITs are a third option. These investments are not listed with the SEC and do not file reports with the SEC. They can be riskier than the other options simply because there are no connections with the SEC.
3. Groundfloor
Groundfloor has been helping people invest in real estate for years. They have a minimum investment amount of just $10.
Groundfloor solicits debt-based real estate investments. Borrowers who want to refinance or rehab residential properties take out short-term loans.
Investors who invest in those loans provide loan funds through crowdfunding. Investment terms are typically short; usually no more than 18 months, but sometimes longer.
Available investments are graded A through G, allowing investors to better understand what level of risk they want to take when investing. The lower the grade level, the higher risk the investment is.
Both accredited and non-accredited investors can invest with Groundfloor.
Groundfloor doesn't charge any fees for investors. Also, they have investments that produce both monthly and deferred returns. Groundfloor is SEC qualified.
Learn More: Groundfloor Review: Is Groundfloor Legit?
4. DiversyFund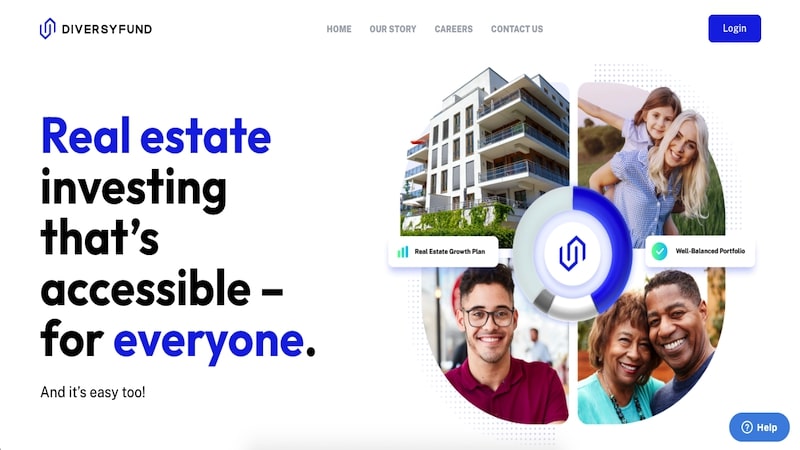 DiversyFund has a unique way of helping you build wealth with commercial real estate. They start by purchasing (primarily) multi-family apartment buildings that are already generating income but need improvements.
Then, they renovate the units so they can increase rent and cashflow. After a time, they sell the buildings for maximum profit.
In the interim, investors like you earn distributions on the profits. Those distributions are reinvested so you can earn even more money.
DiversyFund currently has two investments to choose from: the Growth REIT and the Series A Round.
| | |
| --- | --- |
| Fund Name | Minimum Investment |
| Growth REIT | $500 |
| Series A Round | $25,000 |
With DiversyFund, non-accredited and accredited investors can invest in the Growth REIT. However, only accredited investors can invest in the Series A Round.
There are no fees with DiversyFund. Because they do the investing directly, they've cut out the middleman and the fees that come with a middleman.
Learn More: DiversyFund Review: Invest In Real Estate With Only $500
5. Fundrise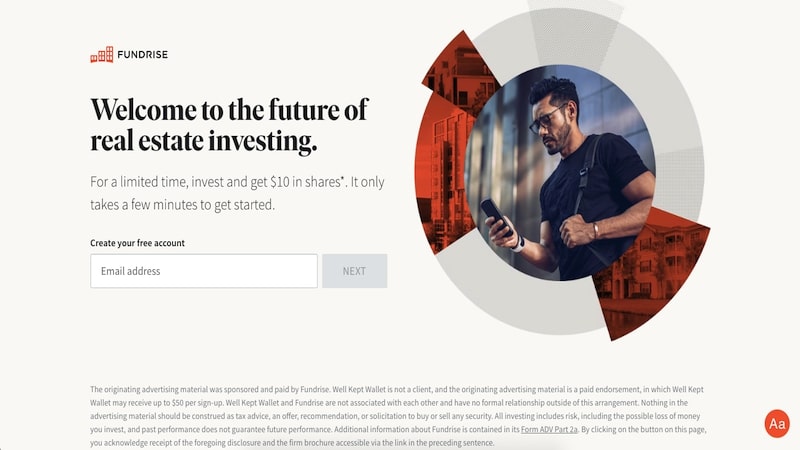 Fundrise is an online real estate investment platform that has a minimum investment requirement of $500. They focus on commercial property investment in the form of what they call eREITs.
An eREIT is a hybrid of an exchange-traded REIT (real estate investment trust) and a non-traded REIT.
One important thing you need to know about Fundrise and its eREITs is the cost savings. The Fundrise eREIT has low fees. And that is one of its main benefits to you as an investor.
Traditional REITs can come with really high fees, sometimes as high as 15% or more. However, Fundrise's eREIT comes with an annual management fee of just 1%.
Like many non-traded REITs, Fundrise's eREIT doesn't fluctuate with the stock market. This makes it less vulnerable to stock market fluctuations. Sometimes those fluctuations have little to do with the real estate market.
How it Works
Investors who want to invest with Fundrise get to browse through their list of eREIT investment funds. They can choose which one(s) are most suitable for them.
Fundrise's eREIT offerings have a goal of offering successful REITs for every investor. Also, they work to cut out the middleman. Middlemen such as stockbrokers make money by charging investors fees.
Instead, Fundrise makes sure that their REIT profits go directly to the investor.
Who Can Invest with Fundrise?
Fundrise is different from some real estate crowdfunding companies in one major way. With Fundrise, you don't need to be an accredited investor to invest with them.
Also, as mentioned earlier, they have a minimum investment threshold of $500. This amount is lower than many other companies. So it's affordable for almost every level of investor.
What Else Should I Know?
When you purchase an eREIT product from Fundrise, you're not going through a broker. Instead, you're purchasing directly through the issuer of the trust.
This is what allows Fundrise to charge such low fees. They describe each offering in detail on their site. Also, investors get notified when new assets are added to the eREITs they are invested in.
They have four different eREITS currently available for new investors:
Starter Portfolio
Supplemental Income Portfolio
Balanced Investing Portfolio
Long-term Growth Portfolio
As a part of the Fundrise investor team, you can invest in one, two or all of the eREITs the company offers.
Learn More: Fundrise Review: Invest In Real Estate With Only $10
6. Streitwise
Streitwise is a crowdfunded-type REIT that manages commercial real estate. As a real estate investor with Streitwise, you get access to a professionally managed portfolio of private real estate assets.
However, you can do that at a much more affordable level. The minimum investment with Streitwise is just $1,000.
If you invest in Streitwise, your initial investment is held for at least one year. Afterwards, you are able to redeem shares on a quarterly basis.
Investments are made primarily in office buildings and mixed use buildings. To date, the Streitwise REIT has shown average annual returns of ten percent.
Dividends are paid out on a quarterly basis and can be reinvested or taken as passive income.
Who Can Invest?
Investments are open to both accredited and non-accredited investors. However, non-accredited investors are subject to Streitwise investment stipulations.
As a non-accredited investor with Streitwise, you must invest less than ten percent of your total net worth. The net worth number can't include your home.
Also, you have to invest less than ten percent of your annual income as well. These rules are in place to protect non-accredited investors from over-investing.
What Else Should I Know?
There is an an ongoing 2% annual management fee. All fees are taken out before dividend distribution. There is also an early exit penalty if you redeem your shares early.
While this fee might seem high, it's really not. In fact it's lower than what many REITs charge. The difference is that Streitwise is open and honest about their fees.
7. RealtyMogul
With RealtyMogul you typically invest in real estate by purchasing shares of stock in one of their LLCs. The LLC then invests in another LLC that holds title to the property.
RealtyMogul runs the business in this manner to minimize overhead with a minimum investment of $1,000. It also provides investors with access to more investment choices.
How it Works
As I mentioned, you're typically buying stock shares with RealtyMogul. They have a wide variety of investment properties they buy, including:
Multi-family dwellings
Office buildings
Self-storage facilities
Medical buildings
Industrial sites
Single-family investments
And more
RealtyMogul offers loan investments as well as equity investments. The term on loan investments generally runs six to 12 months.
Conversely, equity investments are longer term – between three and ten years. These types of investments are available to accredited investors.
The company also offers REITs that non-accredited investors can participate in. One of the RealtyMogul REITs focuses more on multi-family dwellings. The other offers a variety of commercial properties.
Who Can Invest with RealtyMogul?
RealtyMogul allows accredited investors as well as non-accredited investors.
Note that non-accredited investors can only invest one of RealtyMogul's REITs. They have MogulREIT 1 and MogulREIT 2 to choose from if you're a non-accredited investor.
As an accredited investor, you can invest in any offering you choose.
What Else Should I Know?
Account fees with RealtyMogul run between 0.50% and 0.60% per year. Profits get distributed monthly or quarterly.
RealtyMogul has a complicated vetting process. And they end up approving only about 10% of the deals they're offered. In other words, they won't lend money to just anyone. This is good for investors like you and me.
Learn More: RealtyMogul Review: Invest In Real Estate With Only $1,000
8. Roofstock
Roofstock isn't a crowdfunded real estate investing company. Instead, they make it easier and less expensive for you to own rental properties.
If you're an accredited investor, you can invest in multiple properties via equity investments. However, Roofstock's main goal is to make owning rental properties super easy.
All of their available rental homes are listed online. You browse the homes and choose which one(s) you want to buy.
They share the price, neighborhood statistics, cash flow potential and more. Roofstock even takes care of property management for you.
Once you choose a home, Roofstock arranges financing, closing and all other details. After you've closed, rental income starts coming in.
Who Can Invest?
Both accredited and non-accredited investors can buy through Roofstock. There's no minimum investment required, however when buying properties you will need a down payment.
What Else Should I Know?
It's free to make an offer, but after your offer is accepted Roofstock charges a fee. The fee is 0.5 percent of the offer or $500, whichever is higher.
Also, when purchasing properties through Roofstock, you'll need 20-30% of the purchase price as a down payment.
Learn More: Roofstock Review: Is It A Legit Way To Purchase Real Estate?
9. CrowdStreet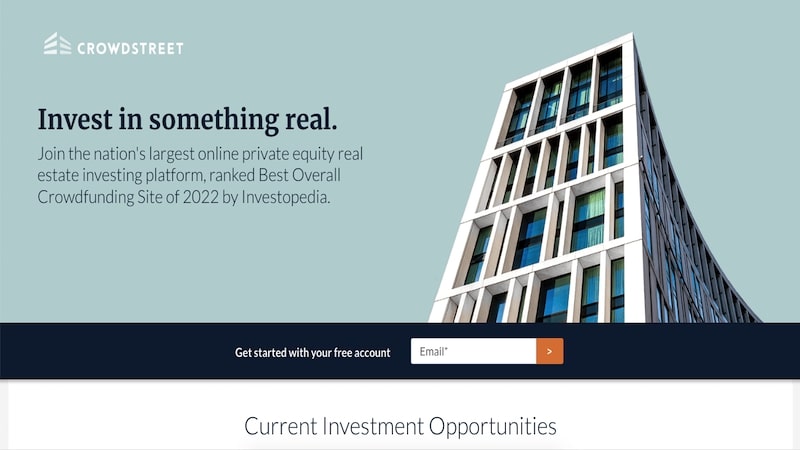 CrowdStreet was formed by a team of experts in commercial real estate, private equity, software development and online marketing. They specialize in commercial real estate investing.
They offer both equity and debt investment deals to investors. In addition, CrowdStreet offers comprehensive documentation on all real estate deals before and during the investment process.
With CrowdStreet, you don't buy shares in a real estate mutual fund or invest in a company that owns dozens of properties.
Instead, you buy a stake in specific properties you choose, based on the investment information shared on CrowdStreet. CrowdStreet connects you directly with real estate developers.
CrowdStreet provides you with comprehensive information on available properties so you know the details of the deal. Their website has training information as well, for investors who are new to real estate investing.
Who Can Invest?
CrowdStreet is only open to accredited investors. The minimum investment amount is $10,000.
What Else Should I Know?
The minimum investment length with CrowdStreet is 36 months. Some investments go up to 360 months.
There are no fees when you invest with CrowdStreet. Their real estate developers (called sponsors) pay all fees.
In addition, you can use your self-directed IRA to invest with CrowdStreet.
Learn More: CrowdStreet Review: Is This Real Estate Platform For You?
10. AcreTrader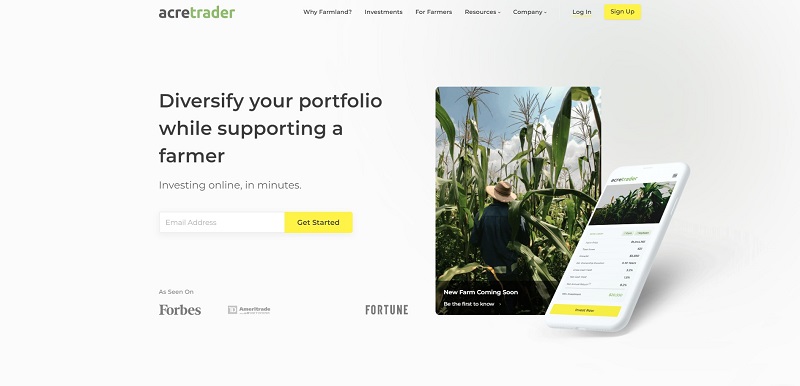 AcreTrader helps people invest in crowdfunded farmland investing? Why? Well, in their words, farmland investing yields a historically higher ROI than many other crowdfunded investing avenues.
According to the AcreTrader website, farmland investing as a whole has earned an average of over 11% since 1990. People will always need food, and we'll always need farmland to grow food on.
So, the AcreTrader investment theory does make sense.
You start by choosing a farmland investment entity to invest in. AcreTrader accepts less than one percent of the farmland parcels they review for acceptance into their program.
You can choose from two types of investments: Investments in the value of the land over time, and profits from the rent payments made by farmers.
AcreTrader shares annual profits with investors in each entity. You can use AcreTrader to invest in taxable investments or in self-directed IRAs.
Who Can Invest?
Investment purchases with AcreTrader are currently available only to accredited investors. However, anyone can open an AcreTrader account to receive updates and learn more about investing in farmland.
What Else Should I Know?
The investment terms with AcreTrader typically run for 3 to 5 years. However, there are some longer term investments that will run 5 to 10 years.
The minimum investment amount varies with each entity. However, AcreTrader says that most investment options require a minimum investment of between $10,000 and $25,000.
Fees include an 0.75 percent annual management fee, some pass through fees and some selling fees. See the AcreTrader website for more information.
Learn More: AcreTrader Review: An Easy Way To Invest In Farmland
Summary
There is a variety of different options out there for real estate investing. So this means nearly anyone can become a real estate mogul.
Learn the details of the different real estate investment options available. Research them to decide which one is best for you. By doing so, making money through real estate is a viable investment choice.
Have you decided after thorough research that passive real estate investing is more suitable for you? Is it a better fit than traditional ownership and management?
If so, consider one of the options listed above as your potential source for passive investment income.
Thanks to today's crowdfunding companies, you can invest in real estate on almost any budget.