Investing in individual stocks can be a rewarding way to earn passive income and expand your investment portfolio.
But not every stock is going to make money. Fortunately, investment newsletters can make it easier to consistently find winning stocks. 
These newsletters can be a useful tool when researching stocks that fit your investment goals in addition to your risk tolerance. 
What Is The Best Investment Newsletter?
These newsletters cover a variety of the best investment strategies to help you build a diversified stock portfolio. Each investment newsletter recommends at least one new stock each month.
These newsletters are also affordably priced, letting you use them if you invest small amounts of money. As a reminder, also make sure to do your due diligence and research each stock to decide if it's a good fit for your portfolio.
If you are looking for more detailed investment advice than you'd get from a platform like Kiplinger's Personal Finance, here are some of the best investment newsletters.
1. Motley Fool Stock Advisor
Motley Fool Stock Advisor is one of the best investment newsletters for most investors. One reason is that you get two monthly stock picks.
Most monthly stock recommendations can be in one of these industries:
Technology
E-commerce
Medical technology
Finance
Travel
Cybersecurity
You may be familiar with several companies that Motley Fool recommends. But others may be brand-new to you but are leaders in their industry.
Motley Fool Stock Advisor recommends stocks they believe will outperform the S&P 500 index for the next three to five years. If you buy a Stock Advisor pick, plan on holding it for several years.
Their long-term "buy and hold strategy" is different from most stock newsletters which use trailing stops to reduce investment losses. Another investment newsletter may recommend selling if a stock price drops by 20%, for instance.
In addition to the two monthly stock picks, Motley Fool's Stock Advisor provides a list of ten "Starter Stocks." The Stock Advisor team recommends these stocks as a foundation for almost any investor.
Subscribers also have access to the entire recommendation history of Stock Advisor dating back to 2002. This access provides full transparency to see what some of the best and worst Stock Advisor stock picks were.
This history also builds trust with the investor as the stock newsletter history can be elusive. Many newsletters like to promote their best recommendations yet hide their average and worst returns.
In addition, you might be able to take advantage of a money-back guarantee if you aren't satisfied with the Motley Fool's investment analysis.
Why We Like It:
Two monthly stock picks
Buy and hold investment philosophy
Costs $79 for the first year
Best for: Two monthly stock picks, long-term investors
Price: $79 for new members (55% off) for the first year and then $199
Learn More: Motley Fool Review
2. Seeking Alpha
Seeking Alpha Premium provides a wide array of opinions on stocks and ETFs from experienced investors.
Subscribers can also receive daily investment newsletters that focus on a specific sector or the latest market headlines. These newsletters are available with a free subscription too.
A premium membership includes these benefits:
Receive up to 15 daily investment newsletters
Unlimited article access
Stock screener with exclusive stock ratings
Listen to earnings and conference calls
There are 15 daily newsletters you can subscribe to for free. Each newsletters lists the highlights for a specific investing topic like the stock market headlines, dividend investing or global markets.
You can research investing ideas by contributor or by stock ticker. These articles can be an effective way to see the bull and bear reasons to buy, hold or sell a stock.
Seeking Alpha now has a stock picking service called Alpha Picks where you get 2 stock picks to buy and hold per month. It is normally $199 per year but you can get for only $99 with this link here.
If you're not sure where to start, there are many trending trade ideas on the Seeking Alpha homepage.
You can track new articles by stock symbol or follow a specific author.
Another benefit of Premium membership is tracking an author's stock rating performance. An author must assign a bullish, neutral or bearish rating to each article.
This long-term transparency can be better than most newsletters. Other newsletters usually don't publish their long-term performance once they exit a position. The Motley Fool's Stock Advisor is a notable exception.
The stock screener tool is powerful too. You can research stocks using the Seeking Alpha Quant Ratings. This rating system can be more in-depth than many online brokers.
Some of the Quant Ratings screens include:
Value
Growth
Profitability
Momentum
Earnings per share revisions
You can use these ratings to find growth stocks and dividend stocks.
Seeking Alpha provides more investing ideas than most newsletters. It's possible to find trade ideas for almost any investing option.
Why We Like It:
In-depth research for stocks and ETFs
15 daily investment newsletters
Quant Ratings stock screener
Best for: Reading bull and bear coverage of stocks and ETFs, screening stocks
Price: $19.99/month when billed annually or $29.99 month-to-month
Learn More: Seeking Alpha Review
3. Oxford Club Communique
The Oxford Club Communique is the flagship newsletter of the Oxford Club investment research firm. You will receive one monthly stock pick for large-cap stocks with promising growth potential.
This newsletter also features trade ideas that are more volatile but can have more upside potential, if successful.
Keep in mind that these stock recommendations are separate from the standard portfolio and are also usually for biotech companies developing cutting-edge medical technology.
The annual subscription fee is also competitive at up to $79 per year for a basic subscription. The quality of research of investment recommendations are similar to other flagship investment newsletters from popular publishers.
Better yet, you can access a money-back guarantee if you aren't satisfied with your purchase.
Why We Like It:
Three portfolio samples
365-day 100% money-back guarantee
Affordable pricing
Best for: Investing in large-cap stocks and biotech companies
Price: $49 for the first year and then $79 ($129 for a print subscription)
4. INO Stock of The Week
The INO Stock of the Week is a free investing newsletter that sends a weekly stock recommendation to your email. You only need to provide your first name and email to enroll.
As this isn't a premium service, you won't get an extensive research report as some stock idea newsletters provide. You also won't be able to track the performance of past recommendations or view a sample portfolio of current holdings.
Each weekly report shows the following information:
Company name and stock ticker
Brief company background
Fundamental reasons to buy the stock
Technical reasons to buy the stock
INO doesn't recommend when to buy or sell your shares as everyone's investment situation is different. The recommended stock doesn't necessarily include the potential investment risks and reasons to sell.
You should use a stock screener or your broker's research tools to provide in-depth research tools.
As you are getting a new stock option each week, you may decide to avoid some suggestions that don't match your investment strategy or risk tolerance.
It's also difficult to invest in every stock idea if you can only invest small amounts of money.
In addition to the free weekly stock suggestion, INO offers a premium MarketClub platform for short-term trading. An annual subscription costs $449 but you get buy and sell signals for the stocks that interest you if you want to use technical data.
Why We Like It:
It's free
Weekly stock idea
Show fundamental and technical reasons to buy
Best for: Weekly stock pick, free investing newsletter
Price: Free
5. Oxford Income Letter
The Oxford Income Letter recommends dividend-paying stocks and individual bonds. This service even suggests whether to place a portfolio recommendation into your taxable or tax-advantaged retirement account.
You may decide to only use this service to buy stocks. However, if you can invest at least $1,000 at once, the individual bonds can be less volatile than bond funds. You will receive a CUSIP to know exactly which bond to buy.
There are four model porfolios. Three are designed to help you earn upfront recurring dividends or long-term compound interest while the fourth is a bond-only portfolio.
Why We Like It:
Several model portfolios
Recommended dividend stocks and bonds
Low annual price (as low as $49/year)
365-day satisfaction guarantee
Best for: Income-focused investors and earning stock dividends
Price: $49 for the first year and then $79 each renewal
6. Value Line Investment Survey
Value Line is a well-respected investment research firm founded in 1931. There are several investing newsletters to choose from in print and online.
The Value Line Investment Survey is their flagship product with several different versions. Each version covers a different number of stocks.
Selection and Opinion: Weekly research reports for four sample portfolios that each consist of 20 stocks ($199/year).
Investor 600: Covers 600 large, actively traded companies. Can be best for conservative investors as these stocks are more stable ($199/year)
Investor 900: Includes Investor 600 stocks plus 300 small and mid-cap stocks. Better for more aggressive investors ($249/year)
Small Cap Investor: Covers 1,700 small and mid-cap stocks ($225/year)
Savvy Investor: Reviews 3,400 small and mid-cap stocks ($795/year)
The weekly market commentary can be similar to reading personal finance magazines.
As there are hundreds or thousands of stocks to compare, Value Line includes a ranking system to find potential trade ideas. You will need to decide which stocks to invest in as Value Line doesn't recommend specific stocks in each report.
Why We Like It:
Weekly market reports
Extensive coverage
Reviews large, mid and small-cap stocks
Best for: Weekly stock market reports, covers most American stocks
Price: $199 to $795 per year
7. Stansberry's Investment Advisory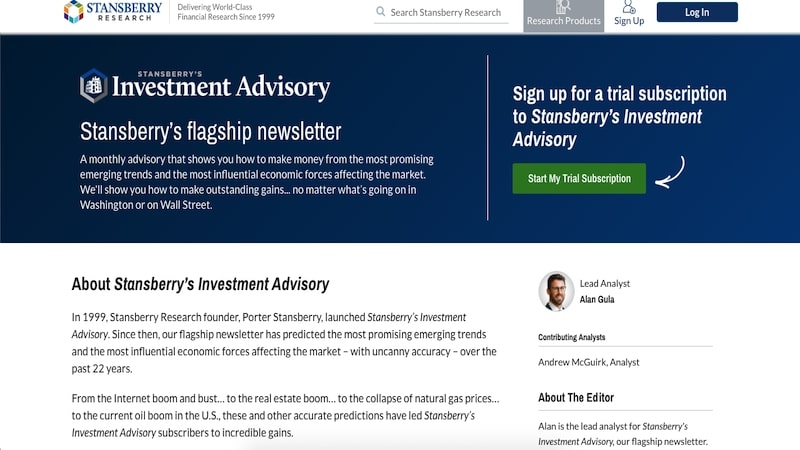 Stansberry's Investment Advisory is the flagship stock newsletter of Stansberry Research. It costs $199 per year.
You get one new monthly stock pick and a daily market commentary via email. The daily commentary includes free insights from some of the other Stansberry Research newsletters.
The investment newsletter states the average holding period is at least one year per option.
The stock picks come from a variety of industries including:
Technology
Biotech
Banking and finance
Insurance
"World Dominators" (Industry-leading companies)
These stocks have high trading volumes and some are already household names. You can buy these monthly stock picks using any free investing app.
Each monthly recommendation includes a multi-page story describing the reasons to buy the stock and why you might sell. This newsletter also has a maximum buy-up-to price and uses trailing stops to help you decide when you might sell the stock.
The monthly newsletter also performs a portfolio review of the existing holdings. They are rated as a buy, hold or sell.
You can use this guidance to help research stocks and choose which ones to buy or avoid.
Other Entry-Level Stansberry Research Newsletters
You might get an offer to add a discount subscription to another Stansberry entry-level newsletter. These newsletters have a broad focus but recommend different stocks than the Investment Advisory newsletter.
There are two other entry-level newsletters:
Retirement Millionaire: Recommends large-cap stocks and ETFs for retirement
True Wealth: Invests in stocks that are "cheap, hated and in an uptrend"
Both products have a similar $199/year price tag. True Wealth is the most aggressive of the three options with Retirement Millionaire as the most conservative.
However, Retirement Millionaire isn't a substitute for earning fixed income as it's not going to recommend "ultra-safe" bonds and CDs.
Expect to buy stocks of growth-focused companies like Amazon that don't pay dividends but are not volatile like a penny stock or a fast-growing small cap tech stock. Other stock recommendations can pay a dividend.
Stansberry's newsletter, Investment Advisory, does a good job of balancing the more aggressive strategy of True Wealth with the relatively more conservative large cap stocks that Retirement Millionaire favors.
Why We Like It:
Recommends stocks from many growing industries
Can read a daily market recap summary
Extensive research report for each monthly pick
Best for: Buying stocks from multiple industries, one monthly recommended stock
Price: $199 per year
Learn more: Stansberry Research Review: Is the Investment Newsletter Worth It?
8. Nate's Notes
Nate's Notes is one of the oldest stock publications This monthly publication consistently has some of the most consistent performance track records according to Hulbert's Financial Digest which tracks newsletter performance.
It's run by Nate Pile who was one of the first investors to recommend buying Apple stock in the late 1990s. His specialty is investing in biotech and high-tech stocks.
The newsletter has a model portfolio of "core stocks" and "non-core stocks." Nate recommends buying more core stocks as their share prices can be less volatile.
Each month, the newsletter reviews the performance of the largest stock market indexes like the S&P 500 and Dow Jones Industrial Average.
Nate also reviews the stocks in the model portfolio. As there are many stock picks to choose from, he may recommend selling a full or partial position depending on the stock performance.
He also recommends new stocks and ETFs but the newsletter doesn't mention a minimum number of new monthly stock recommendations.
There is a model portfolio and an aggressive portfolio. The newsletter labels stocks with the best price-to-growth potential as "First Buys" that investors can buy first.
Each portfolio has a "Buy" and "Strong Buy" price point. Investors can use the price recommendation to decide how much stock to buy.
Why We Like It:
Two model portfolios
Favors high-tech and biotech stocks
Recommends the best stocks to buy first (i.e., "First Buys)
Best for: Investing in biotech and high-tech stocks, two example portfolios
Price: $289 per year
9. Empire Stock Investors
Legendary investor and former hedge fund manager Whitney Tilson oversees the Empire Stock Investor newsletter.
Some consider Tilson to be one of the industry's most well-connected professional investors.
Empire Stock Investor is an entry-level newsletter that mostly recommends large cap stocks. Subscribers get one new stock recommendation each month with an average holding period between three and five years.
Subscribers can also read Whitney's daily e-newsletter which provides his insight on the latest market news and investing trends.
Why We Like It:
Run by a highly-respected former hedge fund manager
Recommends large cap stocks which can be less volatile
Access to a daily e-newsletter that cover current market events
Best for: Investing in large cap stocks
Price: $49 for the first year and then $199
10. Zacks Premium
With Zacks Premium, you can enjoy an extensive collection of free and exclusive analysis from America's leading investment research firm.
Each month, this specialized insight can be an excellent tool for finding multiple investment ideas instead of waiting for a single monthly stock pick.
The platform offers daily market commentary and free stock ratings.
A paid subscription gives you access to these features:
In-depth research reports for stocks and funds
Focus List portfolio for long-term investment ideas
Stock screener
Exclusive ratings
And much more!
Zacks' newsletter can simplify the process of buying individual stocks for short-term trades.
Their proprietary system, The Zacks Rank, has beaten the market by an average of +25.08% for more than 30 years.
Using earnings estimates, it approximates the probability a company will outperform the stock market.
The free version can suffice for basic research. However, upgrading to Zacks Premium ($249/year) is better if you want access to in-depth research reports, portfolio samples, stock screeners, and many other invaluable resources.
These tools can be useful and time-saving if your online brokerage doesn't provide third-party analyst reports.
Like many stock newsletters, you have a 30-day trial period for Zacks Premium.
Why We Like It:
Analyzes many stocks and funds
Short-term and long-term investment ideas
Daily market commentary
Best for: Investing in multiple strategies, in-depth research reports
Price: $249
Learn More: Zacks Premium Review
11. Fidelity Investor
There are a few newsletters that recommend investing in mutual funds. Fidelity Investor is a good option if you want to buy Fidelity mutual funds.
This online broker has one of the largest families of actively managed funds. Not every mutual fund is worth holding due to high fees and underperformance compared to index funds.
Instead of looking at the mutual fund name, this newsletter focuses on the current fund manager. The best managers can be more likely to outperform the market more consistently.
Of course, any active mutual fund will have periods of underperformance. It's important to research the investment strategy, mutual fund fees and diversify your portfolio.
Fidelity Investor has five different mutual fund portfolios:
Global Quant Growth
Global Quant Income
Growth
Growth & Income
Income
These portfolios recommend several Fidelity-managed mutual funds. Many Fidelity mutual funds have low investment minimums and competitive expense ratios.
One benefit of buying mutual funds is getting exposure to multiple stocks with one investment instead of only one company.
There are many Fidelity mutual funds. But investors will need to have a Fidelity brokerage account to use this newsletter to avoid sales commissions and high investment minimums that other brokerages may charge.
Why We Like It:
Focuses on mutual funds instead of individual stocks
Most funds have low investment minimums
Fidelity is one of the largest mutual fund families
Best for: Investing in Fidelity mutual funds, growth stocks or income investing
Price: $34.95 for the first 6 months, then $229 per year
Learn More: Fidelity Investments Review
12. Buyback Letter
The Buyback Letter covers companies currently engaging in stock buybacks.
Many companies repurchase shares which reduces the total number of outstanding stock shares and can increase the stock price. That said, stock buybacks don't guarantee rising share prices.
Several factors, including company growth and positive investor sentiment, can also help share prices rise.
The standard edition of this newsletter is the most budget-friendly option. It costs a reasonable $195 per year.
A Standard membership includes these perks:
Six sample portfolios
Buy, sell and hold recommendations
Weekly market insights
However, upgrading to the premium edition costs $79 per month making this option an expensive newsletter.
This version comes with a five-stock portfolio that changes monthly meaning you may have to sell your shares every few weeks.
Why We Like It:
Recommends multiple stocks
Tracks stock buybacks
Multiple investment strategies
Best for: Investing in companies buying back shares, several example portfolios
Price: $195/year (Standard Edition) or $79/month (Premium Edition)
13. Motley Fool Rule Breakers
Aggressive investors may appreciate Motley Fool Rule Breakers which invests in growing companies that are still too volatile for entry-level investment newsletters.
While you won't get penny stock suggestions, you will receive two new stock picks each month from Rule Breakers that are primarily for technology as well as biotech companies.
In addition, on the weeks without a new recommendation, Rule Breakers will send an update on the best stock ideas to buy now within the sample portfolio.
Consider joining Rule Breakers if you're looking for something more aggressive than Motley Fool's Stock Advisor if you have a higher risk tolerance.
Why We Like It:
Two monthly stock picks
Aggressive investment strategy
Affordable first-year price
Price: $99 for the first year of Rule Breakers, and then $299 each renewal
Learn More: Motley Fool Rule Breakers Review
14. Money For the Rest of Us
An investing newsletter can provide more than monthly stock picks. Money For the Rest of Us is one of these types of newsletters.
This newsletter provides:
Five portfolios (ETFs and funds for different risk appetites)
Stock market commentary
Weekly podcast episodes
Video lessons
Member forum
The publication's ideal investor is somebody that can invest at least $100,000 and has a long-term outlook. According to the publisher, over 50% of subscribers have at least $1 million to invest.
Unlike most investment newsletters, this one doesn't chase the latest fads or recommend "hot stocks." In fact, this service describes itself as a "comprehensive multi-media investment education platform."
Why We Like It:
Multiple model portfolios
Many educational tools
Long-term investment horizon
Price: $50 per month, $450 per year or a $1,200 lifetime membership
Additionally, a 30-day free trial applies to the annual and lifetime membership options.
15. Morningstar Newsletter
Morningstar offers several investment analysis products, including four monthly newsletters specializing in a specific asset class.
For individual stock picks, Morningstar Investor can be the best fit.
There are two different model portfolios:
Tortoise: Focuses on high-quality businesses with strong balance sheets.
Hare: Recommends fast-growing companies possessing several competitive advantages.
Your subscription also provides market commentary on current events and alerts about portfolio positions and watchlist stocks.
This service is in addition to a Morningstar Premium subscription which can make researching potential investments easier.
Why We Like It:
Two model portfolios
Covers multiple investment topics
Print subscriptions is available
Price: $145 per year (Digital) or $165 for print and digital
16. Sure Dividend
Dividend investors can find the details they need to maximize their passive income through high-quality dividend stocks. Sure Dividend free business overviews of dividend-friendly stocks.
You can also subscribe to several premium publications:
Top 10 REITs Service ($79/year): Recommends REITs yielding at least 4%.
Top 10 Dividend Elite Service ($79/year): Dividend stocks with over 25 years of rising dividends
The Sure Passive Income Newsletter ($199/year): Looks for long-term investment ideas with rising passive income.
The Sure Retirement Newsletter ($199/year): Best securities yielding 4% or more that are a good fit for retirees.
The Sure Dividend Newsletter ($199/year): Flagship newsletter offering the most research on dividend stocks.
The Sure Analysis Research Database ($999/year): A subscription to all five services. You can also access over 700 research reports.
Each service provides monthly updates that assign risk scores to each recommendation. You can also read special reports for additional investment ideas.
These newsletters are competitively priced and Well Kept Wallet readers can enjoy $41 off the yearly price by using coupon code WKW41off.
Why We Like It:
Multiple newsletter options
Specializes in dividend stocks
Offers retirement newsletters
Price: $38 to $958 after $41/year savings with discount code WKW41off
How Do These Investment Newsletters Compare?
| | |
| --- | --- |
| Newsletter | Lowest Cost Option (Annually) |
| Motley Fool Stock Advisor | $79.00 |
| Seeking Alpha – Alpha Picks | $99.00 |
| INO | $0.00 |
| Value Line | $199.00 |
| Strawberry's Investment Advisory | $199.00 |
| Nate's Notes | $289.00 |
| Empire Stock Investors | $49.00 |
| Zacks Premium | $249.00 |
| Fidelity Investor | $229.00 |
| Buyback Letter | $195.00 |
| Oxford Club Communique | $49.00 |
| Oxford Income Letter | $49.00 |
| Motley Fool Rule Breakers | $99.00 |
| Money For The Rest Of Us | $450.00 |
| Morningstar Premium | $145.00 |
| Sure Dividends | $79.00 |
Methodology
In evaluating stock and investment newsletters, we considered a variety of factors to identify the best options in the space.
The criteria we examined included:
Minimum of one new stock pick each month
Subscription-based
Offers detailed investment advice
Reputation among industry leaders
Cost
Track record
FAQs
Before you sign up for an investment newsletter, these questions might be able to help you choose the best option for your needs.
Summary
The best investment newsletters can be a useful tool but not every investment idea will be profitable. However, it's important to research each recommendation and only invest in stocks that fit your investment goals and risk tolerance.
Related: Morning Brew Review: Is it Worth it?