Are you trying to sharpen your money skills? Reading the best financial magazines can improve the way you manage money and help you become a better investor.
If you're an avid reader like me, consider adding some of these to your reading list.
Top Financial Magazines
These magazines cover a variety of topics, including investing, managing money and financial news.
Reading about the latest happenings and learning about different money products can help you build and manage wealth wisely.
1. Barron's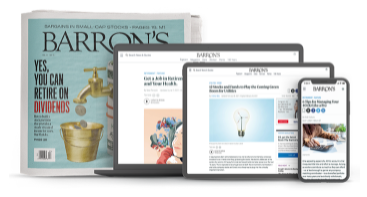 Barron's is a long-time favorite for investing news and commentary. You can read daily news articles to get stock market updates, company analysis and stock picks.
The article content is easy-to-understand for casual and experienced investors.
Most of Barron's in-depth coverage is in their weekly magazine. The articles can also help you understand how to invest in stocks and funds.
Barron's Highlights
Annual digital cost: $96.00 for the first year
Publishing frequency: Weekly
Print option available: Yes
You can read this magazine online. Buying a print subscription allows you to receive the weekly edition in the mail.
"Market Week" is one section you may enjoy most from the weekly edition. This section recaps the weekly market movements for the U.S. and international markets.
You can also get investing ideas to diversify your portfolio.
2. Kiplinger's Personal Finance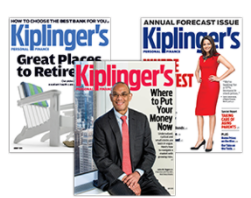 Kiplinger's Personal Finance helps you manage your money better and get investing ideas. This financial magazine is for personal investors of any age who need money advice.
You may consider this magazine if you want to start investing in stocks but still mostly invest in index funds. For example, I have been subscribing to Kiplinger's since 2008 because I appreciate their investing and money management advice.
One reason why I value it is for the monthly stock and ETF investing ideas.
Other magazines may only focus on individual stocks. Morningstar is one of the few online platforms to cover mutual funds and ETFs besides Kiplinger's.
Kiplinger Highlights
Annual digital cost: $29.95
Publishing frequency: Monthly
Print option available: Yes
Kiplinger's also covers ETFs and mutual funds that offer more diversity than stocks if you can only invest small amounts of money.
Print and digital copies are available.
3. The Economist
The Economist is a well-respected financial magazine for international economic news and current events. You can read the report from a different perspective as the Economist headquarters are in England.
Most American news outlets don't provide the same level of in-depth analysis of foreign news. For instance, the Economist contributors can offer a local look of political and economic events.
Each weekly issue focuses on key happenings from every continent. This magazine doesn't provide stock tips or money management advice.
However, the weekly content can give you an in-depth look at the events and industries that affect your portfolio performance.
Both the online-only and print-only subscriptions cost the same for a one-year plan. Also, you can get a print and digital combo plan. You may also be able to enjoy introductory pricing for your first few months.
The Economist Highlights
Annual digital cost: $189 (or $55 for 12 weeks)
Publishing frequency: Weekly
Print option available: Yes
The digital plans include the daily Espresso briefing that lands in your email each morning.
This daily briefing recaps key news events from the past day. You can also listen to finance podcasts and watch webinars about global financial activities.
4. Bloomberg Businessweek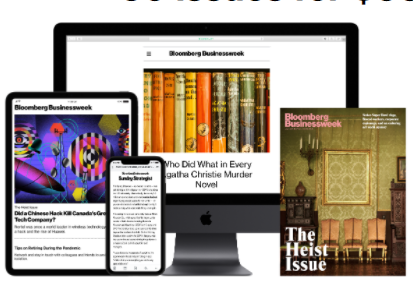 For business news and commentary, Bloomberg Businessweek is one of the best outlets. It can be a good alternative to the Wall Street Journal, which focuses more on the daily news.
The Journal publishes in-depth business content, but you may appreciate Bloomberg's scope.
Bloomberg Businessweek Highlights
Annual digital cost: $290 ($12 for the first $12 weeks)
Publishing frequency: Weekly
Print option available: Yes
Businessweek can also be better than the Economist if you would rather have a magazine that focuses more on U.S. financial news. This publication covers some global news as well.
Whether you choose the digital or print plan, you get live streaming access to Bloomberg Television. You may like this channel if you stream cable TV to watch CNBC or Fox Business.
5. Forbes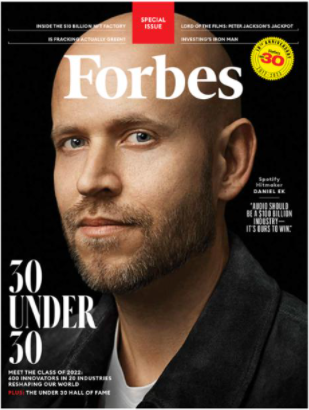 Subscribing to Forbes is a great option if you're a business professional wanting inspiration to build wealth.
Most of the magazine content focuses on successful business leaders. You can learn from their experience to improve your business and finance smarts.
Forbes Highlights
Annual digital cost: $49.99
Publishing frequency: 9 issues per year
Print option available: Yes
You can also read about upcoming business trends. Forbes is known for its lists of the world's wealthiest people. To be sure, the Forbes 400 is one list that many people enjoy reading.
6. Grant's Interest Rate Observer
Grant's Interest Rate Observer is one of the priciest financial magazines you can read. However, you will find in-depth market analysis that cheaper daily publications don't offer.
Editor James Grant has been publishing this Grant's for over 35 years. Many financial magazine and investment newsletter publishers highly esteem Mr. Grant's research.
Each issue includes micro and macro analysis. You can also gather long and short ideas for stocks, bond investing and alternative assets.
What you won't see are clear-cut stock tips such as "Buy 'stock XYZ' at this price." You will need to do some homework to make your own investing decisions.
As the publication name implies, Grant's analyzes government and corporate interest rates. Interest rates were notably higher when this magazine launched three decades ago.
While bank interest rates for high-yield savings accounts are at historic lows, corporate debt and government debt influence the stock market moves.
While Grant's is an expensive product, you can subscribe to the free email newsletter– Almost Daily Grant's.
This newsletter can give you an idea of what to expect from a typical issue. The online website also has curated articles, and you can request a free sample issue.
Grant's Interest Rate Observer Highlights
Annual digital cost: $1,425
Publishing frequency: Twice-monthly
Print option available: Yes
This newsletter may not be a good option if you're a new investor and only want a basic knowledge of how to invest.
Also, you may avoid this publication if you only invest in index funds or target-date funds (unless you enjoy in-depth financial commentary).
7. Investor's Business Daily
Investor's Business Daily (IBD) can offer extensive investing reports and advice. IBD is a competitive alternative to Barron's.
This financial publication can be suitable for new and experienced investors. You can read articles covering market news.
Your IBD Digital membership comes with these perks too:
Stock lists and trading ideas
Stock ratings
Personal coaching
Investing workshop webinars
IBD can be a good option if you use a free investing app with barebones research tools. The premade stock lists can help you quickly find quality stocks to invest in. Of course, no stock pick is guaranteed to make you money.
The webinars and other educational resources can improve your investing knowledge and make you a confident investor.
As we live in a digital age, the daily IBD edition is online-only. Or you can subscribe to a weekly paper edition for $36.95 per month. This weekly newspaper compiles some of the lengthier articles and a recap of the key market news.
Investor's Business Daily Highlights
Annual digital cost: Two months for $20 (then $34.95 per month)
Publishing frequency: Daily
Print option available: Yes
It may not be worth subscribing to IBD if your online stock broker provides advanced research tools and analyst reports.
Other financial magazines are better if you want to track business news or world events.
8. Money
Money is now a free online-only personal finance magazine. You will receive a daily email with topics that affect your daily habits.
The daily articles focus on these topics:
Banking
Careers
Insurance
Investing
Retirement
Travel
These articles provide a general overview of what's happening in the economy. You can also find ways to make money and save money.
You can subscribe to two other free newsletters as well. Retire with Money publishes twice a week and provides retirement advice.
Dollar Scholar is a weekly email that answers money questions that readers ask. This newsletter can supplement the daily content you read. You can send your questions and see if the editor responds to it in the next weekly issue.
Money Highlights
Annual digital cost: Free
Publishing frequency: Daily
Print option available: No
Money is a good resource for free money advice. However, you should consider Kiplinger's if you want a budget-friendly financial magazine with more in-depth content.
9. Wall Street Journal
The Wall Street Journal needs little introduction as it's a leading source of financial news. This recommendation is an online daily newspaper, and they offer a print edition.
The Journal covers investing news, but most of the content is for business news and current events. You must subscribe to the sister publication Barron's for in-depth investing news.
The articles you read can help you understand what to expect from the economy and business sectors.
Most of them provide more information than the free news websites. However, the opinion articles are also a popular section to challenge the way you think.
There is also a WSJ Magazine that focuses on a luxury lifestyle.
Because the Wall Street Journal is a premium news outlet, you may see stories before other national outlets.
Wall Street Journal Highlights
Annual digital cost: $38.99 per month
Publishing frequency: Daily
Print option available: Yes
A subscription isn't worth it if you are happy with your free sources for current events and business news.
Despite its namesake, the Wall Street Journal, you won't see any investment research.
10. Motley Fool Stock Advisor
The Motley Fool Stock Advisor is an investing newsletter that provides a new stock recommendation two weeks each month.
On the off-weeks, you receive an updated "Best Buys Now" list highlighting the five best active recommendations to consider investing in with new cash.
Stock Advisor is the entry-level premium service for The Motley Fool. It costs $99 for your first year and $199 each renewal. There is a 30-day satisfaction guarantee.
This premium product recommends US growth stocks from the major sectors. These recommendations tend to be the leaders in their industry and the advisory team believes their shares are currently worth holding for at least the next three years.
You will receive exclusive market commentary about the stocks that the service covers.
In addition, the Fool publishes several free articles and podcasts each day covering the stock market, individual companies and investment strategies.
Motley Fool Stock Advisor Highlights
Annual digital cost: $99.00
Publishing frequency: Weekly
Print option available: No
This is one of the most affordable platforms for finding investment ideas and getting regular updates on your stock picks. Other publications can be better for general stock market commentary.
Summary
These financial magazines make it easy to learn more about many money topics. You can learn about investing or read in-depth news reports.
These publications can improve your money skills and optimize your free time.