Investment newsletters can help you research options for your portfolio. However, most newsletters only publish monthly, so you must wait several weeks for your next investment idea.
If you need frequent research and multiple investment options, Barron's Magazine might be a good solution for you. Your subscription includes weekly issues that can provide investment tips and stock market commentary.
This Barron's Magazine review closely examines the subscription benefits and how this platform could help improve your investment research.
Summary
Barron's provides stock recommendations that can rival investment newsletters while providing detailed, daily commentary instead of a single monthly write-up. It's possible to receive a weekly newspaper by print or digital. This service is ideal for investing in individual stocks.
Pros
Daily stock commentary
Multiple stock picks
Online and print editions
Cons
Potentially expensive
Potentially no free trial
Clunky mobile app
What is Barron's?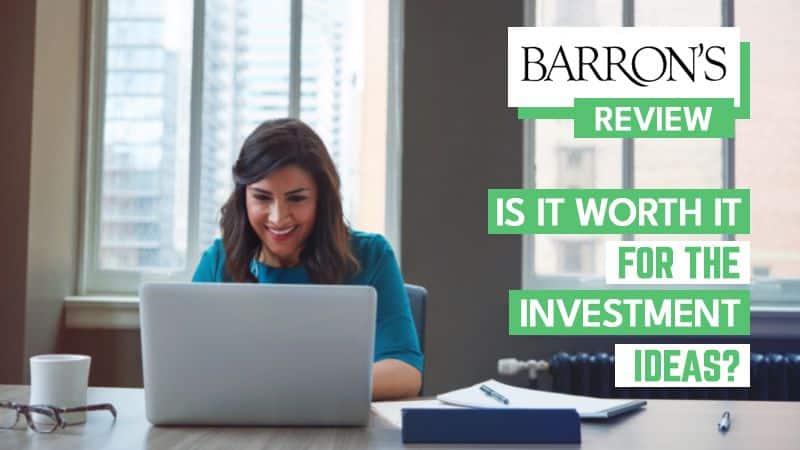 Barron's is a weekly stock market newspaper that has been in publication for over 100 years. Digital and print subscriptions are available.
Its parent company is Dow Jones & Company, which also publishes The Wall Street Journal (WSJ) and specializes in business news as well as financial news.
This publication is for individual investors and professional money managers who want to know about the latest market trends and weekly investment ideas.
The investment topics receiving coverage include:
U.S. stocks and funds
Foreign stocks
Bonds
Economy and policy
Income investing
Technology
Retirement
Stocks receive the overwhelming majority of attention. However, sub-topics like bonds, technology and more receive regular coverage as well.
In addition to the weekly magazine, subscribers can read daily columns about various investing and financial topics. You can find articles on specific companies and learn more about investment sectors.
The content can be more in-depth than free investment sites as this is a paid service. This platform will issue buy, hold and sell opinions plus detailed write-ups.
That said, you should still conduct your due diligence before acting on any commentary.
An investment newsletter can be more effective if you want to follow a strategy like high-tech investing or value investing and stick with one voice to avoid conflicting opinions.
In comparison, Barron's is better if you want general investment suggestions. You will receive many, so it's impractical to act on all of them.
Nevertheless, you can form a watchlist for the most relevant suggestions.
What Does Barron's Offer?
Barron's offers several investment research features for U.S. and international financial markets.
Market Week
The weekly magazine is one of the best Barron's subscription benefits because you receive premium market commentary and investment suggestions.
Depending on your subscription option, you can receive it digitally or by mail.
The Market Week section in every issue tracks the closing prices for notable stocks and funds. This feature can also be an easy way to monitor the performance of domestic and international stock market indexes.
Additionally, each issue covers a core investment theme, such as renewable energy, food or cryptocurrency. Alternately, it may describe significant changes for a specific company.
The magazine also recurring columns cover other topics, including:
Individual stocks
Mutual funds
Options
Commodities
Regulation and legislation
Company announcements and filings
Reading the entire issue can provide a comprehensive understanding of the stock market's current strengths and weaknesses. The articles focusing on a specific company can be helpful if it's currently in your portfolio or watchlist.
Stock Picks
Barron's ongoing financial market commentary is valuable. However, receiving multiple stock picks each month is also a unique feature. Readers will find bullish and bearish picks in the weekly magazine.
The Stock Picks page lets you track the performance of each investment idea to its benchmark index.
For instance, that can be the S&P 500 for large caps and the Russell 2000 for mid-caps. This comparison makes it easy to see if it's possible to beat the stock market.
You can also quickly visit the research articles that include recommendations.
These frequent recommendations cover various industries and almost always are individual stocks. Many focus on the United States financial markets.
Periodically, there are selections of foreign stocks and ADRs, which can be harder to trade.
Only a few articles each month cover funds and ETFs since most of the coverage revolves around companies and industries. The articles provide bullish and bearish analyses.
Other services could be better if you prefer this diversified investment option.
Lists & Rankings
In addition to stock picks that can help you find the best stocks to buy, the online platform compiles annual "Top 100" lists.
These include topics like:
Financial advisors
Independent advisors
Influential women in U.S. finance
Private wealth management teams
Sustainable companies
This content won't necessarily help you find the best investment ideas, but these lists can be useful if you're seeking to support a particular service as they align with your values or are an industry leader.
Data
The Data section shows real-time quotes and historical details for companies and indexes.
Some of the fundamental and technical data available include:
Analyst ratings
12-month price history
Financials(P/E ratio, cash flow, etc.)
Performance to peers
Technical charts (upper and lower indicators)
This information is competitive with many free investing apps and aids in your ability to research financial news articles in a timely matter.
You will still need to use a different service to read third-party analyst reports that dig deeper than many of Barron's articles.
Barron's 400
Barron's 400 index is a model portfolio. As its name implies, 400 stocks from various industries meet the criteria of 24 fundamental indicators.
Each index component has an equal weighting. Additionally, semi-annual rebalancing happens in March and September.
The index has had competitive returns since its inception compared to the S&P 500 and Dow Jones Industrial Average.
This feature can make it easier to find investment ideas and track how often Barron's has issued a stock pick for a particular company.
Advisor
Financial advisors can read insights focusing on managing a client's money instead of general financial commentary. The articles can show how advisors can help get exposure to specific assets.
There are also news articles about legal actions and brokerage developments that can impact advisors.
Penta
As Barron's will most likely appeal to investors with a high net worth, the Penta section highlights luxury lifestyle activities.
These articles may cover alternative investments, real estate, philanthropy and travel. The topics are different from the typical investment commentary of publicly-traded stocks and funds.
This content can provide ways to diversify a traditional stock and bond portfolio. It can also inspire investors to utilize their investment gains to improve their quality of life.
Writing Style
Barron's writing style is conversational and not overly complex. That said, it requires having some investment knowledge to understand the content.
Overall, there is a balanced mixture of articles requiring less than five minutes to read and others that classifies as a "long read."
It is usually easy for readers to identify the potential risks and opportunities in an article.
The content competes with many investment sites that assist investors of various experience levels in researching stocks and keeping tabs on the overall market.
Barron's writers include stock symbols and basic graphs as necessary to provide detailed information. Not every article includes buy or sell recommendations, but articles may highlight the impact on investors and particular companies.
You won't be overwhelmed with complex investment ratios and charts that only hedge fund managers and advanced traders may understand. There are publications only for professional investors, but Barron's isn't one of them.
How Much Does Barron's Cost?
Depending on your preferences, there are three different Barron's subscription options.
Digital
A digital-only subscription is the most affordable and can cost as little as $4 per month as new members can qualify for introductory offers. The standard monthly price is $19.99, which equals $240 annually.
This normal price is slightly more than many investment research publications that usually cost around $199. However, you will almost always get access to more information.
The membership benefits include:
Daily access to Barrons.com
Electronic access to weekly magazine issues
Mobile and tablet apps
Along with reading the weekly edition, the daily articles do an excellent job of keeping investors up to date and covering topics that won't make the next magazine.
While it's challenging to replace the experience of reading a physical newspaper, this option is more cost-effective as all articles are screen-friendly.
You may also join this tier if you live in a rural area and can't get home delivery.
Print + Digital
If you still prefer the printed weekly edition, the Print + Digital plan normally costs $29.99 per month. Introductory pricing can reduce this to $9 per month for the first 12 months.
Subscribers in many metro areas are able to receive Saturday home delivery of the weekly edition. The carrier may offer home delivery on Sunday or Monday morning by 7 a.m. as well.
Depending on your ZIP code, the publisher may need to mail your issue, and it can take several business days to arrive.
In addition to the printed weekly edition, you have full access to Barrons.com. This website includes an e-edition of the print magazine plus daily digital-only columns.
You can review your delivery options during the signup process to determine if this option or the Digital plan is a better fit.
Barron's Digital Bundle
This bundle provides discounted digital access to three publications.
These include:
Barron's (investment news and stock picks)
MarketWatch (investing and personal finance)
WSJ (business and corporate financial news)
The everyday rate is $49.99 per month, but new subscribers only pay $6 per month for 12 months.
Barron's Magazine Reviews
There are several reviews that indicate customers enjoy reading the content regularly. However, there are many complaints from Android and Apple users that the Barron's app user experience leaves much to be desired.
Additionally, overseas subscribers may struggle to find a convenient time to cancel their subscription as they must call customer service during normal business hours in the United States.
Here's how Barron's stacks up on the different rating websites:
These are a few Barron's Magazine review excerpts:
"I love Barron's, have been reading it for years." — Jackie W.
"You can purchase a subscription online but you can't cancel it online. You need to make a call. This is a big problem if you are overseas and not in the US. Really a great product…" — Flavio P.
"Content is solid enough to warrant spending 3-4 hours over the weekend reading through the magazine. Companies/stocks discussed…are good if you are looking to slightly underperform the market but have less volatility." — Silvia81
"Constant repeated articles intentionally disguised as new. Change the title and re-release. Don't bother changing the title – just say it was released 2 minutes ago even though it was actually released the first time many hours ago." — Peter B.
Barron's Magazine Alternatives
These investing publications also provide information that can help provide educational and research tools.
Bloomberg Businessweek
Bloomberg Businessweek provides a deep dive analysis of businesses and is a direct competitor to Barron's. The coverage can pertain to publicly-traded companies, private organizations and small businesses.
There are not as many actionable stock picks, but it's better at analyzing the underlying factors of a company. The content can help you understand how a company is overcoming challenges or using recent success to grow.
Money Magazine
If you prefer personal finance advice, Money Magazine is a better fit. It's a free digital service, so the investment research isn't as extensive.
The content from Money Magazine is more basic and educational. As a result, it can be better for new investors and those who primarily invest with index funds but occasionally dabble in individual stocks.
Wall Street Journal
Wall Street Journal is an iconic publication that provides recurring stock market commentary that can be sufficient for basic research. However, you won't receive many investment ideas.
This service is better if you want detailed financial news reports instead of investment analysis. Either platform can improve your investment research process, but you must decide which commentary you prefer.
Is Barron's Worth It?
While there is no free trial for first-time customers, you should consider subscribing to Barron's if you want a comprehensive review of the financial markets.
Its weekly magazine highlights companies that can be worth investing in and may introduce you to various investment themes.
The daily market commentary can also make it easier to optimize your investment strategy. Updates about the general market or a specific company can even help monitor your portfolio and rebalance if investment conditions change.
Consider avoiding Barron's if you're a passive investor or don't want the frequent investing commentary.
Instead, you may be able to get by with a cheaper service that provides less frequent recommendations and research.
Summary
Investing magazines offer great insight into financial news. Barron's is one excellent example that is worth considering.
They provide their customers with daily commentary instead of a monthly write-up. Plus, their subscriptions are competitive with other investment newsletters.
For most subscribers, Barron's provides the insights they are looking for with stock recommendation details that can rival other newsletters.