Seeking Alpha and The Motley Fool both offer extensive investment ideas for individual stocks.
Either service can help you become a better investor with free and premium research.
However, one platform might be a better match for your investment strategy than the other. Our Seeking Alpha vs. The Motley Fool comparison can help you decide which one is ideal for you.
How the Services Work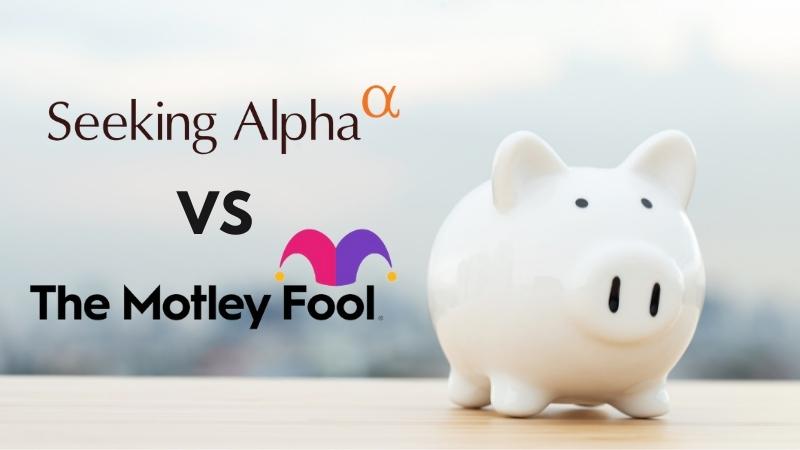 When comparing these two platforms, understanding the basics is important. Here's a breakdown of how each service works.
Seeking Alpha
Seeking Alpha features bullish and bearish investment commentary from independent authors with investing experience.
The service also publishes several complimentary newsletters that highlight the latest stock market news and investment trends. These articles cater to many investment strategies, including short-term trading and long-term holds.
It's possible to read a limited number of free articles each month, but a paid membership is necessary for unlimited access.
A Seeking Alpha Premium membership provides tools like:
Exclusive stock ratings
A portfolio tracker
10+ years of financial reports and earnings transcripts
A stock screener
Paid subscribers can also follow authors, receive member-only investment recommendations and get a model portfolio.
The Motley Fool
The Motley Fool publishes free daily articles about the stock market as well as single stocks and funds. You can read many articles for free without a monthly limit.
Like most investment research services, the in-depth research and best investment ideas can be found within the premium newsletters.
Services such as The Motley Fool Stock Advisor provide two monthly stock picks. You can also view the model portfolio and the investment performance of previous recommendations.
While you can easily find multiple investment ideas from the free and premium research, the content focuses on a long-term "buy and hold" investment strategy. The Motley Fool stock picks have an average holding period of three and five years.
This platform also publishes personal finance content that can help you learn more about retirement and other financial decisions besides investing.
How Motley Fool and Seeking Alpha Are Similar
Both platforms provide these features to help research stocks quickly.
Investing Ideas
You will find long-term investment ideas, primarily for stocks. Both platforms also offer coverage for ETFs.
The articles and research reports highlight growth stocks in these asset classes:
Banking
Consumer staples
Insurance
Energy
Tech
Medical
Online retail
Precious metals
Real estate
Transportation
Both services use fundamental analysis to analyze potential investments.
Model Portfolios
A paid subscription with either service can help you view model portfolios for a particular investment strategy. These ideas can streamline your research process and provide focused investment ideas.
For example, a paid service focusing on established large-cap companies may avoid stocks that might be too volatile for your risk tolerance but can appeal to aggressive investors.
The Motley Fool follows a more traditional newsletter publication approach by offering several services with monthly stock picks.
You can join one or multiple newsletters for a yearly fee to access new monthly recommendations and a list of foundational stocks that can be a good buy at any time.
Seeking Alpha theoretically provides more subscription opportunities as many authors have a portfolio and exclusive ideas behind the paywall. You can follow multiple authors with your premium subscription.
Podcasts
You can listen to free investing podcasts to help you cover more ground if you need something to listen to while you commute, exercise or garden.
The Motley Fool Money and Seeking Alpha's Wall Street Breakfast are the flagship productions for each service. Each daily podcast reviews the latest market headlines and may provide analysis on specific stocks and funds.
Both platforms also offer weekly podcasts about focused strategies. Plus, after listening to a podcast, you can search the respective site for in-depth commentary.
Search Capabilities
You can search either platform by company name or stock symbol to find research when you are building a stock watchlist.
In addition to reading the latest coverage, you can also dig up old articles to gauge the accuracy of the author's opinion. These articles can also help you learn more about the potential investment.
Each service also has a stock screener to filter stocks by specific ratings.
Here are the search capabilities available to subscribers:
| | | |
| --- | --- | --- |
| | The Motley Fool | Seeking Alpha |
| Search Bar | Lists free and premium research articles plus provides basic financial data | Displays recent articles, financial history and ratings |
| Stock Screener | Filter recommended stocks for your active newsletter subscriptions(Paid members only) | Includes stocks and funds with Seeking Alpha and author ratings |
| Portfolio Tracker | "My Watchlist" lets you track the performance of current holdings and potential investments(Paid members only) | Track the performance and ratings of your existing holdings |
Both services let you perform basic research, including researching the stock price history and financial valuation. A paid subscription is necessary to view in-depth analysis and ratings.
How Motley Fool and Seeking Alpha Are Different
While they have similarities, each platform has some differences that will make one better than the other depending on your investment research needs.
How Services are Offered
These services offer investment ideas in different ways. Here's how they differ.
Model Portfolios
Seeking Alpha doesn't moderate model portfolios like most investment newsletters. Instead, you must usually follow a certain author and await their commentary.
The Motley Fool has specialized model portfolios for every paid newsletter. However, you must pay a separate annual fee for each premium service.
Research Articles
While the research quality is similar between services, the investment commentary may appeal to different investors.
For example, The Motley Fool articles typically are more casual and are for long-term investors. As a result, they may be better for newer investors and those who prefer basic details.
Seeking Alpha articles are more professional, which experienced investors may prefer. These articles can also provide technical details along with presenting a bullish and bearish case.
Stock Ratings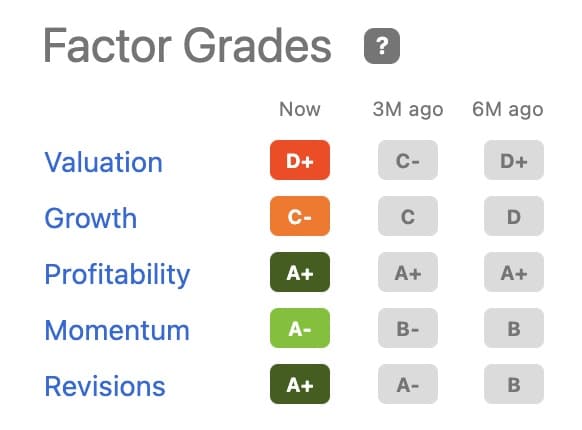 Looking beyond the articles, Seeking Alpha offers more extensive ratings. For example, you can view author ratings, Wall Street analyst ratings and the Seeking Alpha Quant Ratings to help decide if a stock has bullish, neutral or bearish investment potential.
The Motley Fool only provides buy, hold or sell ratings for stocks within its paid newsletters. Unfortunately, you won't see ratings for specific factors like valuation, growth or profitability.
Neither service provides individual investment advice.
Contributors
Another key difference is how each platform sources its content from authors and presents investment recommendations.
Seeking Alpha
Seeking Alpha is more diversified and has numerous contributors in the online community. For example, readers will need to discern if the author is bullish or bearish along with their investment methodology.
Several authors also weave technical analysis into their commentary and may mention target trading prices. You can follow a specific stock or author to avoid redundant commentary.
As a result, Seeking Alpha can be better if you like the diverse variety of investment opinions.
The Motley Fool
The Motley Fool uses staff writers for its premium newsletters. Independent contributors generate free content, but authors don't rate stocks or offer a model portfolio.
Writers avoid nitty-gritty pricing details such as "buy up to prices" and stop losses to prevent market timing. Instead, each article adheres to the buy-and-hold investment philosophy.
As long as you maintain a long-term investment outlook, The Motley Fool's content can have fewer competing voices. While it can be harder to find the bullish and bearish opinions, you have a straightforward path for reading about a company.
Investment Philosophy
Both outlets cater to long-term investors who want to hold stocks for at least one year before selling. Still, there are some nuances between the investment strategies.
Seeking Alpha authors may encourage a shorter investment period to maximize market momentum for a specific stock or asset class. However, the strategy can be different for each contributor.
The Motley Fool recommends stocks they believe will beat the stock market over the next three to five years. This service doesn't use stop losses or trading price ranges to enter or exit a trade.
Price
The premium services for either company are competitively priced when you want an entry-level newsletter or an advanced service.
Free Trial
One difference between both services is the risk-free trial period.
The Motley Fool offers a 30-day refund period on entry-level publications, but you must purchase an annual subscription upfront. There is no monthly payment plan available.
On the other hand, Seeking Alpha Premium allows you to get a free two-week trial with no prepayment required.
The Motley Fool
The Motley Fool has many different newsletters that you can purchase.
Here are the annual prices for the platform's newsletters:
Newsletter
Annual Cost
Key Features
Stock Advisor
$79* for the first year and then $199
Flagship service analyzing large-cap growth stocks
Two monthly recommendations
Weekly updates of the 10 Best Buys Now
Rule Breakers
$99 for the first year and then $299
Recommends high-growth stocks with more volatility
Two monthly recommendations
Weekly updates of the five Best Buys NowReal Estate Winners$249Focuses on real estate stocks and REITs
One monthly recommendation
10 best ideas update quarterly
Everlasting Stocks
$299
Curates the best long-term opportunities
Instant access to 15 stock recommendations
Fewer new recommendations than Stock Advisor
Rule Your Retirement
$149
Three model portfolios for different allocation strategies
Analyzes index funds and ETFs
Provides retirement planning advice
The Motley Fool Options
$999
Only recommends options trades
Options University learning resources
*May offer new member discounts
Seeking Alpha
Seeking Alpha offers several paid plans that provide different member benefits. You can pay month-to-month or purchase a discounted annual subscription.
Here's a breakdown of Seeking Alpha's pricing:
Plan
Cost
Key Features
Premium
$189 annually (Normally $239)
Unlimited article access
Track author ratings and performance
Stock Quant Ratings
7 day free trial
PRO
$2,400 annually ($1,199 savings) or $299.99 monthly
Exclusive investment ideas
Additional research tools
Weekly emails
VIP customer service
No ads
Customer Service and Experience
Support options can be a big factor when choosing between two services. While each platform offers email and phone support as well as forums, online tutorials and FAQs, there are some key differences.
The Motley Fool is a more interactive platform, but Seeking Alpha has a concierge service in their Pro Plan. This gives them access to customer support representatives who can help with their needs.
Who Are They Best For?
These summaries can help you choose the best investment site for your investing style.
Seeking Alpha
Consider Seeking Alpha if you prefer open-ended investment research from numerous author backgrounds. It can be easier to read the bullish and bearish insights from multiple contributors.
The stock screener and rating tools can also provide more insights than your brokerage research tools. These features help provide fundamental and basic technical analysis for nearly any publicly traded stock and fund.
The Motley Fool
Long-term investors may find The Motley Fool to be the better fit as each stock pick has a multi-year holding period.
You might also prefer this platform if you find the abundance of author opinions and rankings at Seeking Alpha overwhelming. Instead, you receive two monthly stock picks and weekly portfolio updates.
The lower annual fee can also be more appealing if you don't need access to the additional Seeking Alpha research tools.
Related: Motley Fool Rule Breakers Review
Which is Best Overall?
When it comes down to it, each service has its strengths and weaknesses. Overall, it's a wash.
Consider The Motley Fool if you want to primarily rely on the analyst team to recommend stocks and have a long-term investment focus.
Investors who prefer in-depth analysis of stocks and funds outside the model portfolio will benefit more from Seeking Alpha.
In addition, Seeking Alpha is better if you're pursuing several investment strategies and are an active investor making regular buy and sell trades.
Competitors
If you aren't sure that Seeking Alpha or The Motley Fool are the right options for you, these investment research platforms can also help you research investment ideas and track your current portfolio.
Morningstar
A Morningstar Premium subscription lets you read analyst reports for stocks, ETFs and mutual funds. This service is best known for its Morningstar ratings for funds.
Additional premium features include a portfolio analyzer and a stock screener.
This service costs $34.99 monthly or $249 per year with an upfront payment. You can take advantage of a 14-day free trial to ensure it's the right platform for you.
Learn more: Morningstar Investor Review: Is It Worth It?
Zacks
Zacks Investment Research offers analyst reports for many stocks and funds.
It's the leading investment research firm focusing on stock research, analysis and recommendations. Since 1978, they have provided unparalleled stock research, analysis, and recommendations to both novice and experienced investors.
With nearly 800,000 members, Zacks also provides specialized insight from market experts who provide detailed guidance on how to accomplish financial success in today's stock market.
Zacks, using its proprietary system – the Zacks Rank, has beaten the S&P by an average of 25.08% over the last 33 years.
By analyzing earnings estimates, the Zacks Rank approximates the probability a company will outperform the stock market.
Investors interested in a long-term strategy will appreciate the Focus List. It highlights the top 50 stocks set to outperform the market over the next 12 months.
Both experienced traders and beginners will have access to priceless tools like valuation rankings, stock screeners, and many other resources (both free and paid) to help elevate their investment strategy.
A Zacks Premium annual membership costs $249 per year, but investors are welcome to try it for 30 days absolutely free.
Learn more: Zacks Premium Review: Is It Worth It?
Verdict: Should You Use Seeking Alpha or Motley Fool?
You can find many investment ideas using Seeking Alpha or The Motley Fool. The better service for you depends on which research tools you want as well as your investment style.
Seeking Alpha lets you explore investment opportunities and pursue different investment strategies. However, The Motley Fool can be better for hands-on guidance since you receive specialized stock picks.
Regardless of which option you choose, both Seeking Alpha and The Motley Fool can help you discover new stock ideas.