Are you looking for a better way to research stocks?
Free stock research tools can help you make informed investment decisions. Sometimes, using a paid service like Zacks Premium can be worth upgrading for in-depth research reports and time-saving stock screeners.
You may already read Zacks free research articles as you perform your due diligence. This Zacks Premium review can help you decide if upgrading is worth the investment and we provide our own insights after using the research tools.

Summary
Investors can view stock rank lists and analyst reports. The platform also has impressive charting and screening tools but your broker may offer similar features for free.
Pros
Stock rank lists
Analyst reports
30-day free trial
Cons
No model portfolio
Active investors only
No monthly plan
What is Zacks Premium?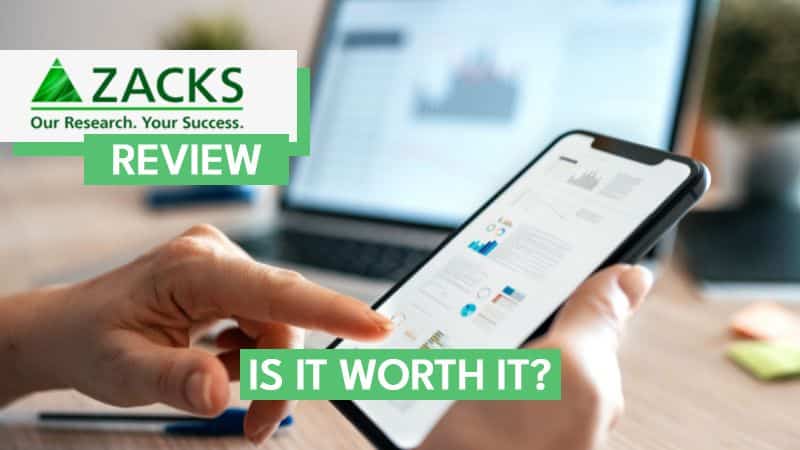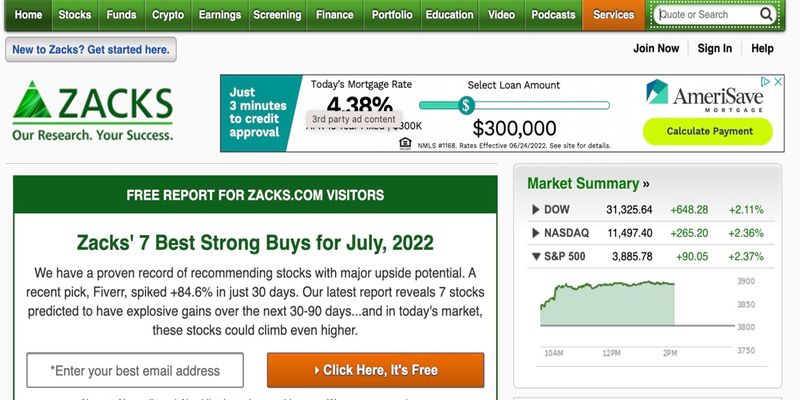 Zacks Premium is the entry-level paid tier of their investment research service.
Premium benefits include:
Stock rankings
Focus Lists (longer-term stock recommendations)
Premium stock screeners
Analyst reports
You will want to consider this service if you want to view the various scoring factors that determine a stock's overall rating (Zacks Score) and in-depth commentary. I appreciate the scoring model to quickly find stocks with bullish or bearish trends.
This information can be most valuable for short-term traders. Long-term investors may also appreciate this research to identify excellent entry points to buy stocks at a discount.
How Much Does Zacks Premium Cost?
A Zacks Premium membership costs $249 per year after a 30-day free trial. There is also a 90-day money back guarantee.
Zacks Free
Zacks' free version lets you read stock market news articles and may mention specific stock symbols and stock ratings. While these articles can provide investment ideas, you cannot access Zacks analyst reports for the mentioned stocks.
Right now they are offering a free report on 5 Stock Set to Double.
Zacks Ultimate
Active investors may also consider Zacks Ultimate that lets subscribers see the Zacks short-term and long-term investment portfolios. You may consider this option if you want to see how Zacks analysts invest their cash.
However, Zacks Ultimate costs $299 per month. Zacks Premium can be the better option if you want robust research tools but don't need a model investment portfolio like a stock newsletter offers.
Key Features
These are the exclusive perks that accompany a Premium membership.
Zacks Rank
With so many potential investment options, it can be hard to decide which stocks and ETFs are worth buying now.
The Zacks Rank is one of the best reasons to consider upgrading to Premium. This score predicts how the stock will perform for the next one to three months.
In the author's opinion, the Zacks scoring model is the best reason to become a paid subscriber. The list updates daily and you can look at several style scores to find potential investments fitting your criteria.
Investors should consider this score for short-term investment decisions but may consider other metrics for long-term holdings.
The Zacks Rank applies a five-point rating to stocks and ETFs:
Strong buy
Buy
Hold
Sell
Strong sell
There are approximately 200 stocks with a #1 Zacks Rank indicating the asset is a "Strong Buy."
The ranking system predicts that tickers with a #1 rating have the best chance of outperforming the market for the next 30 days.
Four factors determine the stock rank:
Agreement: Are brokerage analysts increasing or decreasing their earnings estimates? Rising estimates lead to a higher score.
Magnitude: The impact of earnings estimate revisions on the analyst consensus estimate.
Upside: The difference between the most accurate estimate and the consensus estimate.
Surprise: Was there a positive or negative earnings surprise last quarter?
Zacks updates the rankings nightly using these four factors. These four factors are also present when reading the analyst reports.
You should still perform your due diligence and research potential investments and not solely rely on the Zacks Rank.
Personally, I use the current ranking to research investment newsletter suggestions to buy, put on a watchlist or avoid. Viewing the industry rank and sector rank can also make evaluating a stock easier.
Style Score
A style score is a secondary metric that can enhance the Zacks Rank.
The style scores fit a specific investment strategy:
Growth
Momentum
Value
VGM
The VGM style score is the weighted average of the growth, momentum and value scores.
Seeking Alpha Premium has a similar style rating system with Quant Ratings. You may prefer Zacks as you can also access expert research reports similar to what a brokerage offers instead of reading opinion articles from experienced investors.
After using similar stock ranking services that only assign a grade similar to the Zacks Score, I appreciate the next-level style scores. I use them to decide if the stock is ranked well for its growth prospects, intrinsic value, or short-term momentum.
It's worth saying that the style score is a great secondary research tool but I still rely on fundamental data such as the balance sheet to make an investment decision.
Focus List
The Zacks Rank feature is suitable for short-term investments of three months or less. But the Focus List includes 50 stocks that can be better long-term investment ideas.
Stocks on the Focus List have varying Zacks Ranks but the service predicts can outperform the broad market for the next twelve months.
Some of the recommendations have been on the list for over five years.
This list mentions the original recommendation price and the current share price. You can also see the current Zacks Rank and access the analyst report.
You can use the Focus List to narrow your potential investment ideas that fit your strategy.
This list encourages me to look for long-term investments as the Zacks Rank and style scores are ideal for short-term trades, which can lead to timing the market. I also like model portfolios as they give a better sense of a research site's investment philosophy.
Industry Rank
In addition to rating individual stocks and funds, Zacks ranks the best and worst industry sectors. These rankings are exclusive to premium subscribers.
The ratings update weekly and you can see the prior week's rank to track the changes.
These rankings can make it easier to find stocks that give you exposure to a specific sector. You can scroll through the industry ranks or use the platform search engine to find investment ideas.
Some of the industries include:
Canadian oil and gas
Midwestern banks
Iron mining
Homebuilders
Semiconductors
Several industries only have one or two stocks. Others have several dozen investing plays as they are in a general category.
You can also filter industries by earnings trends and fundamentals.
This tool can help investors decide if a potential investment has favorable or unfavorable market conditions. These ratings can provide valuable research in addition to the analyst reports and Zacks scores.
The author likes these ratings as it makes it easier to research investment trends and learn more about a specific sector. Instead of wasting time with search engine queries, you can find curated reports with a short list of potential investments.
Focusing on a specific industry can improve your investment strategy as a short-term trader as you can become well-acquaintated with several stocks and maximize their ups and downs. This investing style isn't for everybody but Zacks makes it achievable.
Analyst Reports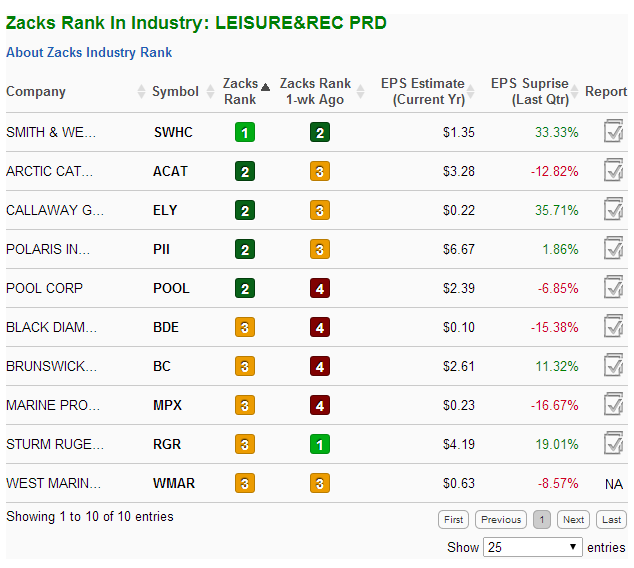 The in-depth research reports are another of the best Premium features in addition to the Zacks Ranks. Reports are available for stocks and ETFs.
These reports are similar to what online discount brokerages like Fidelity and TD Ameritrade offering individual commentary. But, these reports can be valuable if you're a research nerd or your investing app doesn't supply third-party research.
Each Zacks report includes these details:
Short-term Zacks Rank (1-3 months)
Long-term Zacks Score (6-12 months)
Company summary
Financial fundamentals
Reasons to buy
Reasons to sell
Highlights from the last earnings report
Industry comparison
These reports strive to show the bullish and bearish reasons that determine the current buy or sell ratings.
The ETF and mutual fund analyst reports don't include as many factors as the equity research reports. However, they are in-depth and let you read the bullish and bearish case. You will enjoy more commentary than most free platforms.
Investors can use these reports to gain a better understanding of the company and current market conditions. However, investors must decide if buying, holding, selling or avoiding a stock fits their investment strategy.
I rely extensively on third-party reports to help fill in the gaps that the official company releases leave. Zacks has helped more investors within the last decade and they have become a trustworthy service.
Earnings Prediction Filter
One unique stock screening tool that Zacks offers is its Earnings ESP (Expected Surprise Prediction). In fact, this feature is a pivotal factor in helping investors find stocks with a unique advantage to the overall market.
This tool can help you find stocks with the highest probability of having a surprise earnings report. The report may be positively or negatively surprising and you can see the impact from last quarter's earnings event.
The ESP filter has a 70% accuracy rating, according to Zacks. This tool can be most effective when researching stocks with a Zacks Rank between 1 (strong buy) and 3 (hold).
If you're comfortable buying stocks before it reports earnings, this research filter can lead to better gains as its long-term accuracy is respectable. However, you shouldn't rely on it alone as other fundamental and technical indicators are important.
Stock Screener
The Zacks screening tool is similar to other stock screeners as you can filter stocks by fundamental or technical indicators. You can also access the Zacks Rank and style scores with a free account.
Upgrading to Premium lets you access over 45 predefined screens for different strategies. These screens can help traders and long-term investors.
Some of the Premium screens include:
Undervalued #1 stock rankings
Stocks with the highest return on equity
Positive dividends and growth
Momentum stocks with low price-to-sales ratios
Overvalued stocks
The screener results display the Zacks Rank and last closing share price. You will need to click on the stock symbol for in-depth research.
You can also screen ETFs and mutual funds.
An in-depth screener can be as valuable as the Zacks scores and research reports. In addition to the advanced screening filters, I like adding parameters to whittle down the search results.
Charting Tool
Zacks offers an interactive chart that is excellent for technical analysis. This charting tool is more robust than basic investing apps and competitive with traditional online brokerages.
There are also charts to research fundamental data.
I wouldn't subscribe to Zacks Premium only for the charting tools like you might join TradingView, but it's a useful secondary benefit to perform all of your research in one place. The various stock lists and stock screens remain the best reason to upgrade.
Portfolio Tracker
You can add your portfolio positions to track your investment performance. This tool comes in handy when you want to track the investments you find using Zacks or see the current rankings for your holdings.
The tracker displays these scores for your holdings:
Zacks Rank
Industry rank
Value score
Growth score
Momentum score
VGM score
You can also filter holdings by the current number of broker upgrades and downgrades.
Other premium investment sites incorporate their proprietary rankings in the portfolio tracker as they should to make the platform easy to use.
The tracker becomes more useful if you use multiple brokerages. Additionally, you can quickly glance at your favorite metrics once you decide which ones work best for you.
Premium Insight
Zacks offers plenty of free research articles about market events and investment themes. Premium members can access exclusive reports, videos and podcasts.
Topics can include:
Analyst upgrades and downgrades
Fiscal stimulus
Inflation risk
Zacks monthly market investment strategy
This content can be similar to what investment sites produce and mention stocks that can be investment plays.
Reading these articles can keep your investment service subscription costs lower and reduce your research time. I reiterate, the best reason to use Zacks Premium continues to be its rating lists and analyst reports.
The Premium-only content may offer more stock recommendations. For instance, an article may list the affected stocks with a Zacks #1 Rank or are on the Focus List.
Free members will need to guess the complete list of stocks that Zacks includes but doesn't directly mention in the article.
Is Zacks Premium Worth It?
Upgrading to Zacks Premium is worth the cost if you regularly use the rank lists and analyst reports. Short-term and long-term investors can benefit from this service, although traders have more to gain from the constantly updated rank lists.
The stock screener, charting tools and portfolio tracker are also helpful as you don't need to rely on your investing app to research stocks. You may see every detail you need in the Zacks platform.
Further, the 30-day free trial is plenty of time to decide if the tool helps you out.
When to Avoid Zacks Premium
A subscription may not be worth it if your broker or other investment research platforms already provide the tools you need to analyze stocks and funds.
The $249 annual fee is reasonable but can be expensive if you already have access to third-party research reports and stock ratings.
Zacks Premium may not be a good fit if you want a stock picking service that recommends specific stocks. This service provides research tools but its rating tools are not a substitute for newsletters that suggest when to buy or sell positions from a model portfolio.
How to Join Zacks Premium
It's easy to join Zacks Premium and only takes a few minutes to sign up.
You can join Zacks Premium by following these steps:
Visit Zacks.com/premium
Enter email address
Submit credit card information
Enjoy the 30-day free trial
Purchase annual subscription after trial period
You will have full access to the Premium features during the trial period.
It's also possible to try out Zacks Ultimate and the other Zacks stock picking services but may need to pay a small fee. These tools recommend specific stocks in a model portfolio.
Before buying a Zacks recommendation, you can research the potential investment using the Premium tools.
What Customers of Zacks Are Saying
When it comes to understanding how an app or product works, finding current reviews can help. Here's a look at reviews for Zacks.
| | | |
| --- | --- | --- |
| Website | Rating | Number of Reviews |
| Apple App Store | 4.2 out of 5 | 3.6K |
| Google Play | 4.3 out of 5 | 5.42K |
| Better Business Bureau | 3.7 | 40 |
| Trustpilot | 2.5 out of 5 | 74 |
Reviews for Zacks are plentiful. The positive reviewers are happy with the features and their investment returns.
Negative reviews ranged from complaints about of a lack of good advice to cost for services to customer service.
Here are excerpts from actual customers of Zacks that you might find helpful:
"I'm a lifetime member of Zacks top ten picks for the year. I started out buying a little of each stock for a couple of years just to see how they would do. Now I invest heavily in the top ten and it has paid off handsomely. I would recommend the top ten to everyone."

Mark W.
"Since I invested with Zacks recommendation utilizing their Zacks ranks; I'm down over 20% average across the board."

Walt H.
"The rank scores (1 to 5) feels random sometimes, i.e. you might have a core =1 (strong buy) for a stock that has sub-scores of F for all criteria of value, growth, and momentum. The opposite is also true with stocks ranking at 5 while scoring A for all criteria of value, growth, and momentum.

I have not made any significant gains by following the rank scores nor any of their portfolios."

YA
"They are salesmen first, researchers second. I've asked them multiple times how that 26% per year return was accomplished. Crickets. Use their stock screener as a first step in doing your own research."

McGinty
Positives and Negatives
As with any service you consider signing up for, it's important to understand the benefits and downsides. Here are some of the pros and cons of Zacks Premium.
Pros
Ranks stocks, ETFs and mutual funds
Lists short-term and long-term investment ideas
30-day free trial
Cons
No model portfolio or trade alerts
Ratings may change frequently
An annual subscription can be expensive
Zacks Alternatives
Zacks can be an effective research tool, although these platforms may be a better fit for your investing needs and budget.
Motley Fool Stock Advisor
Stock Advisor provides two new monthly stock recommendations they expect to outperform the market for at least three years. Each monthly stock pick includes a brief analyst report listing the bullish and bearish reasons for investing.
There is also a "Best Buys Now" list of 10 stocks that update weekly and can be like the Zacks #1 stock list.
Investors can also read a list of 10 starter stocks that updates annually and is similar to the Zacks Focus List. The service believes these stocks are a good fit for most investors and can be less volatile than the monthly stock picks.
However, Stock Advisor doesn't cover stocks that are not active recommendations in the model portfolio. Its stock screener and research tools are also less potent than Zacks.
An annual subscription for new member costs $99 for the first year and then $199.
Read our Motley Fool review to learn more.
Stock Rover
Stock Rover is another potential alternative to Zacks Premium to help you research stocks.
Investors can use Stock Rover to access these investment tools:
Stock screener
Comparison tools
Analyst reports
Technical and fundamental charting
Portfolio tracking
Special $79 Stock Advisor Introductory Offer for New Members"
*Billed annually. Introductory price for the first year for new members only. First year bills at $79 and renews at $199.
This service is best for screening and charting stocks and funds using different technical and fundamental metrics. You can find investment ideas by running screens that copy the investment strategies of famous investors.
It's possible to research ETFs and mutual funds too, but the platform is best for stocks.
Analyst reports are available for the Dow 30 stocks. But all subscribers must spend an extra $49.99 per year to access reports for the 7,000 stocks that Stock Rover covers.
Zacks can be the better option if you want unlimited analyst reports and prefer the Zacks Rank system for finding stocks versus more conventional screening metrics.
Morningstar Premium
Morningstar Premium covers stocks and funds with its famous Morningstar rating system. Analyst reports, screening tools and portfolio tracking tools are available too.
This service may be better for investors that prefer ETFs and mutual funds yet still want stock research access. It also provides more fundamental research while Zacks Premium tends to be better for technical traders.
In addition to research reports and investment ratings, subscribers can use the Portfolio X-Ray tool to see if their portfolio asset allocation is adequately diversified.
The platform also publishes investing news articles like Zacks and other investment outlets.
A Premium subscription costs $29.95 monthly or $199 per year.
Read our Morningstar Premium review to learn more.
Seeking Alpha Premium
Seeking Alpha Premium is a close competitor to Zacks Premium, although Zacks has a more user-friendly free platform. This service offers commentary from many professional investors, Quant Rating style scores and an in-depth screener.
It's tools are excellent for short-term traders and long-term holders that want commentary, technical and fundamental research all in one place. Its portfolio tracker is also useful.
The better option depends on which scoring model and research commentary you prefer.
A Seeking Alpha Premium subscription costs $239 per year.
Read our Seeking Alpha Premium review to learn more.
Summary
Zacks Premium can provide in-depth research tools for active investors that brokers and investing newsletters don't offer.
A subscription is worth it if you use the rank lists and analyst reports. Be sure to also use the stock screener to compare stocks and analyze multiple metrics with a single screen.
Want to give Zacks a try? Get their free report on 5 Stocks Set to Double.