If you want to invest in individual stocks and need some suggestions, you might be considering an investment newsletter from Stansberry Research.
This investment research firm offers several monthly publications that can assist beginner investors and experienced investors with almost any investment strategy.
This review takes a closer look at the company's products that can help individual investors find more stocks to invest in.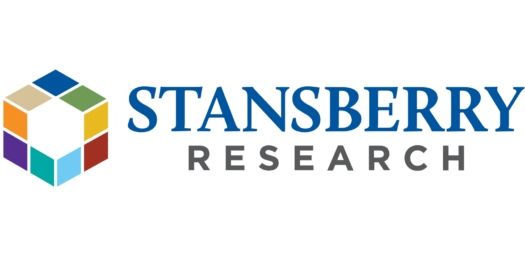 Summary
An annual newsletter subscription to Stansberry Research starts at $199 per year and offers one monthly stock pick. The research is in-depth, and you can find a product for most investment strategies. The minimum investment period is one year for most recommendations.
Pros
Many newsletter options

Competitive pricing

Free daily publications
Cons
No stock screener

Can be expensive

One monthly recommendation
What is Stansberry Research?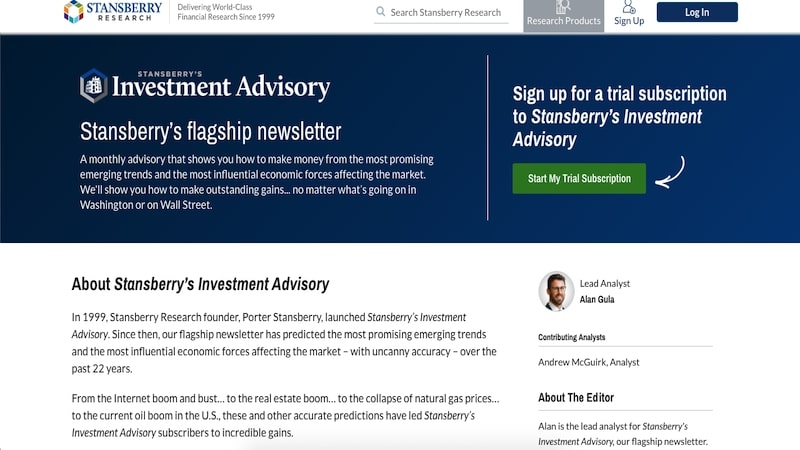 Stansberry Research has been publishing investment newsletters for over two decades. Long-time investors may even recall the frequent TV and radio advertisements from Congressman Ron Paul.
Today, you can buy annual subscriptions to over 20 publications for entry-level and advanced strategies.
You can get monthly stock recommendations for these investment goals:
Technology stocks
Dividend stocks
Commodities
Precious metals
Future trends
Value stocks
Individual bonds
Options
Cryptocurrency
It's possible to buy most recommendations with any free investing app.
The company also offers custom portfolios that recommend between 20 and 50 investment ideas. These can be an easier way to build a diversified portfolio.
The service doesn't offer managed portfolios since it's only a research platform. It's up to you to perform your due diligence for each recommendation and decide if you should act on the buy or sell recommendation.
In addition to investing newsletters, Stansberry Research also publishes an investing podcast, YouTube interviews with financial leaders and daily market commentaries for free.
How Does Stansberry Research Work?
Like most investment sites, there is a free and premium version. You must become a paid subscriber to at least one of the investment newsletters to receive new stock recommendations.
Most newsletters only offer one new recommendation each month. This is the standard publishing frequency for the newsletter business.
Each issue includes these details:
A several-page writeup about the stock recommendation
Financial analysis via charts and graphs
Competitor analysis (i.e., the stock pick vs. its peers)
Potential investment risks
Buy-up-to price and stop-loss amount (these reduce downside risk)
Portfolio review of open recommendations
After reading the report, make sure you research the recommendation yourself to understand how it works. Then, you can decide if you want to buy or avoid the monthly pick.
In addition to the monthly recommendations, you can also receive complimentary daily publications. These cover different investment topics and provide market commentary so you can explore more investment ideas.
Related Article: Morning Brew Review: Is This Newsletter Worth it?
Who Can Join Stansberry Research?
It's possible to join from any country as long as you can trade stocks available on the U.S. stock market.
The company recommends subscribing to an entry-level service ($199/year) where you can start investing at least $1,000. You can decide to divide your balance up with fractional shares to get diversification.
How Much Does Stansberry Research Cost?
Here is a closer look at the different products available to investors and how much you can expect to pay each month.
Research Services
Most investors subscribe to at least one Stansberry Research newsletter.
Annual pricing for a newsletter subscription starts at $199. Advanced investors with a large portfolio balance can anticipate paying at least $1,500 per year for specialized services.
Macro-Level Services
The annual subscription for most entry-level newsletters is $199 and comes with a 30-day trial subscription. This price is competitive with most investment newsletters.
These products offer nearly 30 newsletters and include the flagship Stansberry's Investment Advisory, True Wealth and Retirement Millionaire.
Because of their low price and the wide reach of their investment recommendations, these publications are the most popular subscriptions.
You can take a brief online quiz to see which services are a fit for you. Each recommendation even has a safety rating showing if the letter practices a conservative, moderate or speculative investment approach.
Every publication also recommends how much free cash you should have to invest before subscribing and the average holding period.
Specialized Investment Research
The Specialized Investment Research products are advanced newsletters that pursue more aggressive strategies and may focus on a specific asset class.
Experienced investors with a sufficient cash position may consider subscribing to these more expensive newsletters. Most of these products cost between $1,500 and $4,000 per year.
These advanced newsletters don't offer a trial period, and all sales are final.
One exception is the Stansberry Innovations Report which costs $199 per year and has a 30-day trial period.
Some of the investment focuses of these newsletters include:
Options
Income markets (i.e., bonds and closed-end funds)
Cryptocurrency
Precious metals
Commodities
Small-cap stocks
Biotechnology
Lifetime Subscriptions
It's possible to secure a lower rate if you wait for promotions, bundles or purchase a lifetime subscription.
If you're able to buy a lifetime subscription, you still pay an annual maintenance fee that's usually $49 for the starter Macro-Level Services and $199 for the advanced newsletters.
Of course, the annual renewal fee can depend on the publication and the offer you sign up for.
Complete Portfolio Solutions
If you want a premade investment portfolio that includes recommendations from multiple publications, you can save money with this option.
Three different subscriptions are available. However, you must call to get a quote to receive a personalized offer.
The three subscriptions offered are:
The Total Portfolio: Hedged portfolio, 40 recommendations
The Income Portfolio: Generates extra income, 20-30 recommendations
The Capital Portfolio: Entry-level model portfolio, 20 recommendations
Free Publications
You can also subscribe to free services to get a taste of the Stansberry culture before deciding to become a paid-up member.
Keep in mind that these free products don't provide in-depth research, and you most likely won't find any stock picks. However, you can read the market commentary and decide for yourself if Stansberry Research is legit.
Key Features
Here are some of the best features of Stansberry Research.
NewsWire
NewsWire provides free stock market headlines, similar to CNBC. These short articles may also present bullish and bearish commentary for the affected company.
You can also receive a pre-market and post-market email briefing covering the most important economic and corporate headlines.
These briefings even mention the events the NewsWire team is closely watching, such as jobs reports, company earnings and current events.
Tip of the Week
You can read a free investing tip each week from one of the research firm's authors. These articles don't recommend buying a specific stock.
Instead, you can learn about different investment strategies that can help you research stocks and have a plan to sell.
Stock of the Week
While most of the Stansberry products require a paid subscription to get new stock recommendations, the Stock of the Week publication provides a free stock pick.
These are stocks that are usually in the entry-level portfolios, have high liquidity and tend to be leaders in their industry.
You won't get a full report, but you will receive the company name and a detailed overview of the business.
Education Center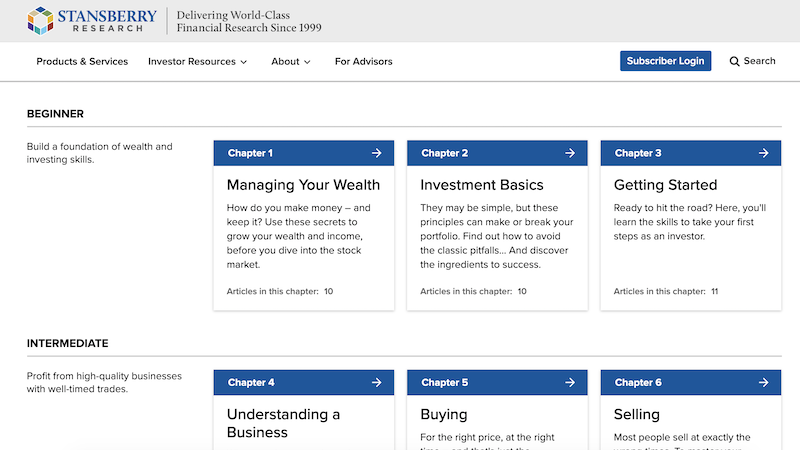 New and experienced investors may benefit from reading the various educational articles. This is a free resource covering a variety of topics to improve your research skills and develop a long-term investment strategy.
Stansberry Investor Hour
The Stansberry Investor Hour is a weekly podcast available for free on any of the popular podcast platforms. Its current host is Dan Ferris, senior analyst of the Extreme Value newsletter.
Each episode interviews experts from various industries so you can learn more about different sectors and investment themes.
Stansberry Research Reviews
Stansberry Research has few user reviews on online forums. Despite the lack of investor ratings, the service isn't a scam.
However, you should perform your due diligence for each investment recommendation and only subscribe to services matching your investment goals.
Better Business Bureau
This research service isn't BBB accredited and, as of publication, it has a 1.57 out of 5 rating from 23 customer reviews.
This rating doesn't do Stansberry Research any favors. Most of the complaints are for the many email solicitations for other services and the auto-renewal policy.
Your subscription automatically renews each year. Before signing up for a service, read the terms and conditions near the payment details.
Apple App Store
With 62 ratings on the Apple App Store, Stansberry Research only received 2.6 out of 5 stars.
While this is better than the BBB rating, it doesn't really portray the service favorably. However, most of the negative reviews have to do with the app itself not functioning properly.
Google Play
Stansberry Research has 46 ratings on Google Play and earned a score of 3.2 out of 5 stars.
As with the ratings on the Apple App store, the majority of the negative reviews involved criticisms of the app itself. Positive reviews on Google Play praise the service's research and news.
Alternatives to Stansberry Research
You may prefer these other platforms to get more recommendations or enjoy different research tools.
Motley Fool
The Motley Fool offers several different newsletters that have a similar focus and pricing as Stansberry Research. This platform is also several years older than Stansberry Research.
Motley Fool Stock Advisor is the best option for most investors. It's an entry-level newsletter that offers two monthly recommendations (instead of one for Stansberry Research) and costs $199 per year.
The service also offers newsletters for advanced strategies like options and technology stocks.
Another difference between these companies can be the holding period for recommendations. Most Stansberry newsletters intend to hold an asset for a year, but this can be longer.
The Motley Fool plans on holding stocks for at least three to five years and doesn't issue buy-up-to-prices and stop losses like Stansberry.
Millionacres
Millionacres is part of the Motley Fool family and focuses on real estate investing.
There are two different services available through Millionacres.
The first is Real Estate Winners. This is for any investor, and you'll receive at least one new public real estate investment trust (REIT) recommendation each month. The cost is $249 per year.
The second service is Mogul. This is for accredited investors who want recommendations for crowdfunded real estate and publicly-traded real estate stocks. An annual subscription is $2,499.
The only Stansberry Research product focusing on real estate is True Wealth Real Estate. You must call to get a price. The entry-level newsletters may periodically recommend real estate stocks.
Seeking Alpha
Seeking Alpha providers investing newsletters from many contributors.
This service also has an impressive stock screener and stock rating tools that Stansberry Research doesn't offer.
Starting May 22, 2023: Seeking Alpha Premium is $239/year with a 14-day free trial
Zacks
You may also like Zacks if you want in-depth analyst reports for just about any stock or ETF.
This service doesn't publish a run-of-the-mill newsletter like Stansberry Research or Motley Fool where you must wait for a monthly recommendation.
Instead, the platform uses a rating system ranging from "Strong Buy" or "Strong Sell" in regards to how likely the stock is to outperform the market over the next 30 days.
While the Zacks Rank can be ideal for trading stocks short-term, there are also lists for long-term investors.
It's free to see the Zacks Rank, but you must become a Premium subscriber to read the in-depth analysis and use the stock screener to find potential investments.
FAQ
Choosing the best investment research tools is vital to being a successful investor. These questions can help you decide if Stansberry Research is worth it.
How much does Stansberry Research cost?
The entry-level newsletters with a broad investment focus like Stansberry's Research Advisory, True Wealth and Retirement Millionaire cost $199 per year.

Most of the specialized newsletters cost between $1,500 and $5,000 per year
What are the Stansberry Research customer service options?
You can contact Stansberry Research by email or phone. In some cases, you may need to call to order a subscription to a high-end service.
How do I cancel my Stansberry Research subscription?
You will need to call before your auto-renewal date to cancel your subscription. The company will send you a renewal email approximately 30 days before charging your payment card on file.
Does Stansberry Research sell your information?
You will receive marketing emails from Stansberry Research and their business partners in the Agora Network.

However, the company can't access your brokerage account details as they don't manage your investments or connect to your investment portfolios.
Summary
Stansberry Research offers investment newsletters for almost any investor wanting to buy individual stocks and ETFs.
Its prices are competitive with similar services. However, you may want to avoid this service if you only have small amounts of money to invest or prefer index funds.
Since there are so many subscription options, consider starting with one or two to understand the service. If you subscribe to too many at once, you may get conflicting guidance.
For most subscribers, the entry-level products do an excellent job at balancing risk and providing quality research that other newsletters don't.