Dividend-paying stocks are one investment that will let you earn consistent income from stocks, even during a bear market. With many dividend stocks to choose from, it's impractical for investors to buy shares of each one.
It's vital to find high-quality companies with strong expected total returns and a low chance of reducing their dividend payments.. Investors can utilize Sure Dividend to make the research process easier when building a dividend stock portfolio.
This Sure Dividend review shares how the platform works and ways investors can benefit from the service.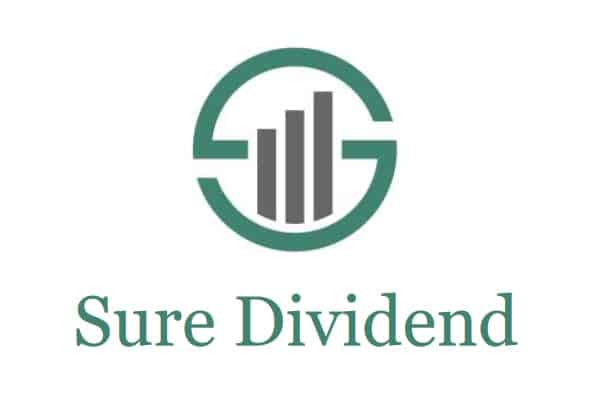 Summary
Dividend investors of any age can benefit from this service and receive at least 20 monthly investment ideas. There are many ratings spreadsheets to find securities to invest in or avoid. However, some of the advanced plans can be pricey if you have a small portfolio balance.
Pros
Several monthly services

Model portfolios

Lots of additional data

Flexible refund policy
Cons
Limited entry-level analysis

Dividend investors only

Potentially expensive plans
What is Sure Dividend?
Sure Dividend is a dividend investing newsletter that looks for high-quality dividend growth stocks. The service has over 9,000 members.
It is ideal for investors who want to earn dividend income from individual stocks that can exceed the average dividend yield of an S&P 500 index fund. Investors near or in retirement may also consider this product to earn passive income.
In addition to free articles, investors can subscribe to one of the platform's three premium services to receive curated investment ideas.
Dividend income is one way investors can grow their net worth over the long term, even from businesses with consistent share prices. This investment idea won't make you rich overnight, but you can earn recurring income.
Premium members will receive monthly lists featuring the service's best investment ideas. There is also a research platform for the company's highest tier of service, the Sure Analysis Research Database, that covers over 800 companies..
How Does Sure Dividend Work?
There are three services that recommend various income stocks and REITs. These investment suggestions have sustainable yields and a favorable five-year share price growth forecast.
The investment analysis contains these factors:
Dividend risk score
Five-year forward expected total returns
Five-year forward expected growth rate
Fair value price
Expected valuation return
All of the premium research incorporates the above metrics to rank the best investment ideas.
Premium subscribers will also have access to these research tools (depending on the tier of service joined):
Investment lists: Monthly write-ups of the best dividend stocks and REITs
Dividend spreadsheets: Downloadable sheets categorizing dividend stocks
Portfolio building guides: Educational resources for investors
Stock analysis: PDF reports for over 800 stocks with quarterly updates
Its introductory Dividend Ideas Plan is suitable for investors who are starting their dividend-investing journey or have a portfolio value exceeding $10,000.
There are also two advanced services that offer more research tools for investors with larger portfolios. You must subscribe to one of these plans to receive their investing newsletters that maintain a model portfolio with buy and sell recommendations.
How Much Does Sure Dividend Cost?
Previously, you could purchase a subscription to a specific newsletter for $199 per year. To make things easier, the platform now offers three bundles with different pricing and features.
The Sure Analysis Research Database
The Sure Analysis Research Database gives you full access to the platform. In addition, it costs $999 per year.
Benefits of this subscription include:
Quarterly analysis updates for over 850 securities
Weekly Top 10 securities email
Three-page research reports
Daily spreadsheet updates
Everything from the Dividend Pro and Dividend Idea plans
This service is best when your investment portfolio exceeds $100,000. Having this high threshold provides enough wiggle room to invest in multiple ideas and justify the annual cost.
It's important to note that there is sometimes a waitlist for new investors to join the database.
The Dividend Pro Plan
Consider the mid-level Dividend Pro Plan for $499 per year to get access to three newsletters.
These newsletters are below:
The Sure Dividend Newsletter: Focuses on expected total returns to suggest stocks.
Sure Retirement Newsletter: Suggests investments with a dividend yield above 4%.
Sure Passive Income Newsletter: Uses safety and growth data to make suggestions.
Each newsletter comes with a portfolio-building guide so that you can add recommended stocks to your existing allocation. You will also receive the two monthly reports that the Dividend Ideas Plan subscribers receive.
The Dividend Ideas Plan
While you won't receive access to a portfolio building guide with this plan, you will see the risk ratings for many investments.
Plus, you will get actionable buy recommendations for high quality dividend growth stocks with 25+ years of rising dividends, as well as REITs with 4%+ dividend yields
These research tools can be an excellent alternative to a stock screener.
The platform costs $99 per year, but Well Kept Wallet readers can use special discount code WKW32 to get it for only $67 annually.
This introductory plan provides two monthly reports:
Top 10 Dividend Elite Service
Top 10 REITs Service
These reports are published on the first and second Sundays of each month, respectively.
Every stock idea receives a one-page summary analyzing these factors:
Company overview
Current events
Safety and dividend risk (i.e., is the current dividend yield sustainable?)
Growth
Value
Expected total return
The top 10 rankings remain fairly consistent month-to-month with few replacements. You can also see the risk scores for all covered securities with at least 25 years of rising dividends.
Downloadable Sheets
In addition to the monthly reports, you can access many Excel and Google downloadable sheets that contain a running list of stocks fitting a certain trait.
These include:
Dividend characteristics: Blue chip stocks, Dividend Aristocrats, High-yield, etc.
Stocks by payment date: January dividend stocks, February dividends stocks, etc.
Index lists: Dividend-paying stocks in the S&P 500, Russell 2000, etc.
Industry and sector lists: REITs, MLPs, healthcare, energy, utilities, etc.
Guru investor lists: Berkshire Hathaway, Gates Foundation, etc.
Miscellaneous: Large-cap stocks, low beta, high beta, closed-end funds, etc.
Consider this service if you have a smaller investment portfolio or like to casually dabble in dividend stocks. It's also sufficient if you're happy to do more of your own stock research outside of the platform.
Click here to start your 7-day free trial of the Dividend Ideas Plan now, with the Well Kept Wallet discount applied.
Is Sure Dividend Worth It?
Joining the platform is worth it if you want expert insights on high-yield dividend stocks and REITs. It's too easy for uninformed investors to simply chase the highest yield and not realize the underlying risk.
All subscriptions let you view the risk ratings for companies with high dividend yields and a long history of paying dividend income. This information can help you build a diversified portfolio that can eventually help you live on your dividend earnings.
While you should still do your own due diligence by inspecting the company's investor relations page and other third-party resources, you can quickly find which companies to consider first.
Plus, you will also see which ones have the riskiest yields or lowest growth estimates.
Sure Dividend Key Features
Here are some of the best membership benefits. Keep in mind that some of the available features may require subscribing to an advanced plan.
Top 10 Securities
Dividend Ideas Plan subscribers will receive the top 10 list for dividend elite stocks and REITs each month. Additionally, Sure Analysis Research Database members will receive weekly updates along with a three-page analysis report.
While each report covers different types of stocks to avoid significant overlapping recommendations, you can quickly compare each top company by looking at a table listing specific metrics.
These metrics include:
Dividend risk score
Number of years with dividend increases
Current dividend yield
Expected returns
Buying and Ranking Criteria
The various investment ratings are sourced from the Sure Analysis Research Database. Readers can find the ranking procedure near the back of each Top 10 report.
These stock screens are run three to five days before a report publishes and follow this method (copied directly from the Top 10 Dividend Elite report):
Filter for Dividend Aristocrats with a Dividend Risk Score of "A" and expected total returns of 10% or higher.
Sort by expected total returns (the higher the better).
If there are fewer than 10 securities, repeat the procedure for securities with a Dividend Risk Score of "B."
If there are still fewer than 10 securities, repeat the steps above with a minimum expected total return threshold of 9%.
If there are still fewer than 10 securities, continue reducing the minimum expected total return threshold by 1 percentage point and redo steps 1 through 3 until we have 10 securities.
The site states they will omit securities that don't pass a qualitative analysis.
Portfolio Building Guide
Sometimes, deciding which investment ideas to start with is challenging if you have several to choose from.
The mid-tier Dividend Pro newsletters include a portfolio-building guide to help investors set up their dividend portfolios, as well as sell analysis on past recommendations.
This guidance can help optimize diversification and maximize portfolio growth. It can also lower your learning curve so that you can quickly start adding suggestions to your investment account and maximize your membership.
Real Money Portfolio
One downside of the stock newsletter industry is that some publishers won't allow analysts to buy suggested stocks.
This policy prevents pump-and-dump schemes where the newsletter author buys shares of a stock at a cheap price before they recommend it. Then, they sell their shares once subscribers buy a position and push the share price up to make a profit.
Instead, the platform invests alongside investors and will hold up to 30 securities max. This portfolio won't have more than 30% exposure to one industry. Additionally, there is a 10% maximum allocation for a single position.
The Real Money Portfolio will also sell positions as the corresponding newsletter issues a sell recommendation.
Note: The Real Money Portfolio is in the Sure Dividend Newsletter, which is available in the Dividend Pro Plan and Sure Analysis Research Database plan.
Past Recommendations and Sells
The Dividend Pro newsletters have two sell rules.
These include:
Dividend-based: A company reduces or eliminates its dividend.
Valuation-based: Returns are below the S&P 500 or 20-year U.S. Treasury Bond.
Each newsletter issues a maximum of two sell orders per month to avoid reinvesting too much cash at once, which can distort your asset allocation.
Since several stocks may trigger a sell alert, you can view the current status for past recommendations in the monthly issues.
Additional Newsletters
Several of the advanced features require a subscription to the flagship Sure Dividend Newsletter.
You can find extra investment ideas with these complimentary monthly publications:
The Sure Dividend Passive Income Newsletter
Top 10 Dividend Elite Service
Top 10 REITs Service
If you're just getting started or want to try out the platform, your best option is the entry-level Dividend Ideas Plan. This normally costs $99 per year but only costs $67 annually for Well Kept Wallet readers.
The plan presents 20 monthly investment ideas with the best dividend stocks and REITs through the two Top 10 services.
Sure Dividend Reviews
There are no Trustpilot or Better Business Bureau (BBB) customer reviews like other investment research sites have.
However, Sure Dividend is a legit service, and the reader testimonials provide a glimpse of how a membership can improve your investment strategy.
Here are a couple of Sure Dividend review excerpts from the company's website:
"I can't think of anything I would suggest to improve your reports. I always read them, I will never again waste time or money in reading the Motley Fool. Your reports and those of Seeking Alpha are the best."
"This is EXACTLY what I was looking for, and it gives a straightforward answer on the best stocks at any given time. It takes all of the confusion out of this, and makes it so simple."
Frequently Asked Questions
Do you still have questions about Sure Dividend? These frequently asked questions can help.
Summary
Sure Dividend is one of the best dividend investing newsletters since you can get many investment ideas at a competitive price. Each research service is transparent about its rating system and provides additional resources to help investors.
That said, this service isn't a good fit for short-term traders or those wanting aggressive yet volatile growth stocks. Like other stock newsletters, it's advisable to research each idea before buying.
Click here to start your seven-day free trial of the Dividend Ideas Plan now with the Well Kept Wallet discount applied.