Are you looking for a new budgeting tool? YNAB might be the solution you've been searching for.
Creating a budget is the first step in getting your finances on track and can be the answer to your money problems.
Our YNAB review will tell you everything you need to know about the platform so that you can decide if it's the right option for you.
Summary
YNAB is a comprehensive budgeting tool that can help you rein in spending, reach financial goals and get a better handle on where your money goes each month.
Pros
Long list of usable features
Reasonably priced
Goal setting feature
Comprehensive learning center
Cons
It's not free, unlike some comparable apps
You can't link investment or loan accounts
What is YNAB?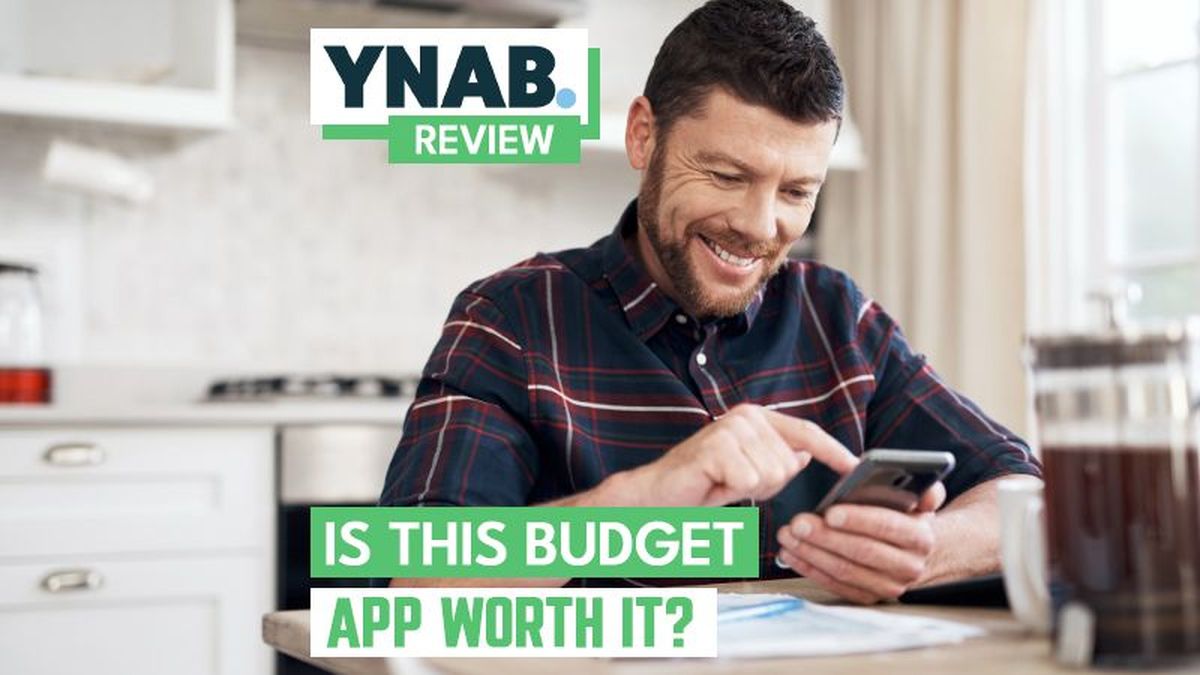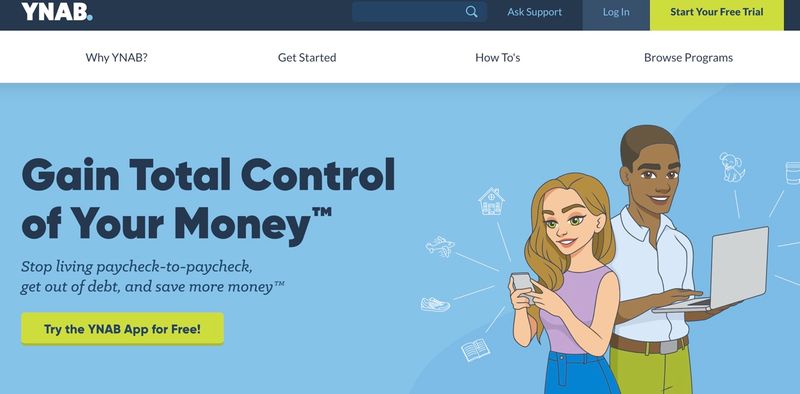 YNAB stands for "You Need A Budget" and is a budgeting tool that was created by Jesse Mecham.
Jesse and his wife, Julie, were college students who had recently married. Money was tight, so Jesse developed a money plan to help them stay on track despite their limited income.
Today, the YNAB software includes apps for Android, iOS and even Alexa. It's grown into a full-fledged budgeting tool that can help just about anyone.
The software even includes a comprehensive learning and workshop section to help you get educated on various personal finance topics.
Who is YNAB For?
YNAB is for anyone who wants to get a handle on their money.
Whether you're a first-time budgeter wanting to start from square one or an experienced budgeter looking to step up your game, YNAB has something for you.
Additionally, the app works best for people within the United States. Users outside the country have reported issues with syncing their bank accounts.
How Does YNAB Work?
YNAB is pretty easy to use. The program is set up to walk you through each step.
Here's a brief description of what you'll need to do when you sign up.
Getting Started
When you're first getting started with YNAB, the site will ask you why you want to use the tool.
Do you want to pay off debt? Break the paycheck-to-paycheck cycle? Save for a big purchase? Choose one or more of the six available options.
Next, it will ask you whether you're budgeting alone or with a partner as well as if your income is fixed or variable.
Once you've answered these questions, it's time to set up a budget.
How to Set Up a Budget
You can start setting up your budget by adding line item expenses and inputting your income amounts. Link any bank checking or savings account to make tracking your money easier.
When you link your accounts, information from those accounts is automatically imported to your YNAB account. However, you also have the option to add your data manually.
You may want to input (or link) your bank accounts before you add your expenses. Otherwise, you'll get a little popup reminding you that you're in the red.
When you do start adding in your expenses, you can choose from the itemized suggestion list.
In addition, you can create your own expense categories.
Note that you can add investment and loan accounts into your YNAB profile in order to get a more comprehensive picture of your money situation.
However, the loan and investment accounts are unlinked accounts only, so you'll need to manually update them on a regular basis if you want an accurate financial picture.
Sticking to Your Budget
Your goal with YNAB is to make your budget your guide so you can determine whether you are on track financially. This is how you avoid overspending.
You're not looking at how much money you have in your account. Instead, you're checking your budget to ensure you're sticking within the limits you've set for each category.
Of course, you can adjust your numbers at any time. Additionally, you may have to do some adjusting as you work to determine reasonable allotments for each category.
Recording every expenditure is key as well. This will happen automatically if you link your bank accounts and are using your debit card for expenses.
However, if you're using other methods to pay for expenses or choose not to link your accounts, you'll need to enter all transactions manually.
Operating manually can be a double-edged sword. On the one hand, you could get in trouble if you forget to enter a few transactions, while on the other, manually entering everything will ensure you stay hyper-aware of your spending habits.
YNAB Features
YNAB has a variety of features that help you stay on track with your money and work to reach your financial goals.
The Four Rules
When Jesse created YNAB, he based the program on four simple rules.
These rules include:
Give your money a job before you spend it (zero-based budgeting)
Break up larger, less frequent bills into manageable monthly expenses
Change your budget as needed
Only spend money that was earned at least 30 days ago
The main motto of the budget is that you need to give every dollar a job. Assign your money to expense categories (or savings goals) before it hits your account.
That way, there's less chance you'll spend it on random expenses that don't fit in with your financial goals.
Then, you'll take those less frequent expenses, such as auto repair, and assign them a monthly budget amount to ensure you'll have the cash to pay for those expenses when you need it.
Furthermore, by only spending money that was earned at least 30 days ago, you'll create sort of a built-in savings buffer.
Budgeting
As you create your budget, you'll see that the program has categories for everything from necessities like transportation and housing to extras like music, gaming and "stuff I forgot to budget for."
When you use your money in a given category, your available balance will decrease.
For instance, if you've assigned $500 a month for groceries and spend $75, your available balance in the grocery category will show $425.
Again, your bank account balances may differ here, but you're living off of your budget instead of your bank account.
Remember that one of the goals of the program is to live on last month's income. So when you have your budget and current account balance information completed, you may see a negative number.
You can get rid of the "negative balance" popup box by either adding more bank accounts with money in them or by "unassigning" a budget category.
It may take some time for you to learn to live on less, but if you work at it (or even earn extra income via side hustles), you'll get there.
Once you've entered all of your budget information, the program keeps a running total of how much you have assigned to bills, which bills you need to pay and what you have remaining.
It even carries over balances each month so that you know the total of an assigned category.
For instance, if you start by assigning $50 per month for car repair and don't use that money in the first month, next month's available balance for car repair will show $100.
Goal Tracking
YNAB has a goal tracking feature as well. You can create separate categories for each financial goal you have and set allotted dollar amounts for your goals each month.
Alternately, you can use the preset goals YNAB has. The platform has a Target feature as well. This will help you know if you're on track to meet your goals.
If you're not, YNAB will show you how you need to adjust your budget to get there.
Reports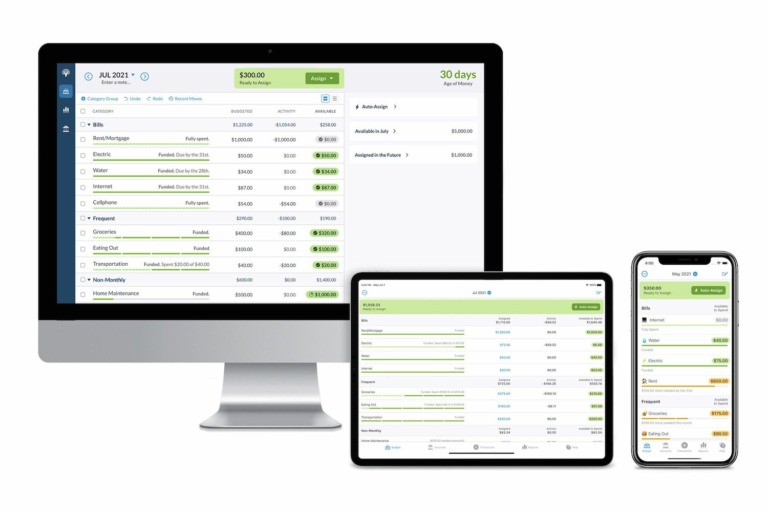 YNAB has a Reports feature that can help you analyze your spending on a monthly, quarterly or annual basis. You can adjust the dates to see how you spent during a given period.
The Reports feature can help you see your spending, net worth or spending vs. income for the time period you choose.
As long as you're accurately recording all of your financial transactions, your reports will reflect a total picture of your money situation.
How Much Does YNAB Cost?
YNAB offers a free 34-day trial to all new members. After your free trial ends, you'll have the option to pay one of two prices to continue your subscription.
Subscription options include:
$11.99 per month
$84 per year (when paid annually)
Once you sign up, you can cancel anytime. Annual subscribers who cancel will receive a pro-rated refund.
You may have to contact YNAB for your refund depending on how you signed up.
Referral Program
YNAB has a referral program that can help offset the cost of the service.
Every time you refer a friend that signs up for YNAB with a paid subscription, you'll earn one month of YNAB free.
There's no limit to the number of referral bonuses you can earn. Just remember to give your friend or family member your personal referral code.
If they don't sign up using your code, you won't get credit for the referral.
FAQs
Here are some answers to some frequently asked questions regarding YNAB.
Is YNAB safe?
As with any financial service, there are always some risks. However, YNAB uses industry-standard 128-bit encryption to protect your personal information.

This security measure minimizes the potential risks associated with using the tool.
What customer service options does YNAB offer?
You can contact YNAB via email or chat. They typically respond quickly, usually within 24 hours.

The site also has an expansive list of help articles.
Does YNAB offer a mobile app?
Yes. YNAB has apps for Android, Alexa and iOS devices.
YNAB Reviews
Before signing up for YNAB, it can be helpful to know what others are saying about the service.
Trustpilot
YNAB scored 3.8 out of 5 stars on Trustpilot.
While most reviews were positive, the negative reviews complained about the price and lack of access to the product outside of the United States.
Apple App Store
The tool earned 4.8 out of 5 stars on the Apple App Store.
Over 38.8K people reviewed YNAB on this platform. The most common issues reported included difficulty with bank connections.
Google Play Store
Google Play Store users rated YNAB 4.7 out of 5 stars.
With over 7.7K ratings, the reviews are mainly positive. However, some users mentioned issues with linking to bank accounts.
YNAB Alternatives
What are some YNAB alternatives you might want to consider if you're still not sure YNAB is for you? Here are some of the top options.
| | | | |
| --- | --- | --- | --- |
| Service | Monthly Starting Price | Features | Trustpilot Score |
| YNAB | $11.99 | Budgeting and goal tracking | 3.8 out of 5 |
| Empower | Free | Budgeting, investments and net worth tracking | 3.8 out of 5 |
| Mvelopes | $5.97 | Budgeting | 3.7 out of 5 |
| Mint.com | Free | Budgeting, credit score monitoring and investment tracking | 2.3 out of 5 |
Empower
Like Mint, Empower is free. However, the budgeting tools on Empower aren't quite as comprehensive as they are on YNAB.
Conversely, Empower gives you the ability to link your investment accounts and track your net worth automatically.
It also has its own investment firm if you're interested in investing with them. Empower's security is better as well and offers 256-bit encryption.
Mvelopes
Mvelopes helps you stay on track with your budget by letting you assign e-cash envelopes for each of your spending categories.
Its cost is similar to YNAB. You'll pay between $5.97 per month or $19.97 per month depending on which version you choose.
However, YNAB is much more effective when it comes to overall support and giving members the tools they need to learn to budget effectively.
Mint.com
Mint is owned by Intuit and is a free budgeting app with over 20 million users. Mint has two features that YNAB doesn't, including credit score monitoring and automatic investment tracking.
While the "free" part of Mint might draw you to choose Mint over YNAB, you'll want to proceed with caution.
This is because Mint sells your data (YNAB doesn't) and uses your personal information to market financial products.
If protecting your personal data is important to you and you don't mind not being able to automatically see your investment data, you'll want to choose YNAB.
Summary
YNAB is a great tool for helping you get a good handle on budgeting and your finances as a whole.
It can help you pay off debt, save more money and reach your financial goals.
If you're searching for a budgeting tool that can help you achieve financial freedom faster, you'll want to take a look at YNAB.