There are many digital money management tools on the market. While most platforms help you get a single piece of your financial life under control, Albert lets you oversee multiple aspects of your overall financial health.
Within this platform, you can take advantage of automatic savings tools, cash back rewards, investing features and more.
Our Albert review will help you decide if the app is the right solution to help you manage your money more efficiently.


Summary
Albert gives you access to personalized money advice when you need it. Plus, the mobile app can manage several areas of your finances.
Pros
Lots of financial tools
Personalized advice from experts
Get your paycheck up to two days early
Cons
App-only functionality
Individual taxable accounts only
What is Albert?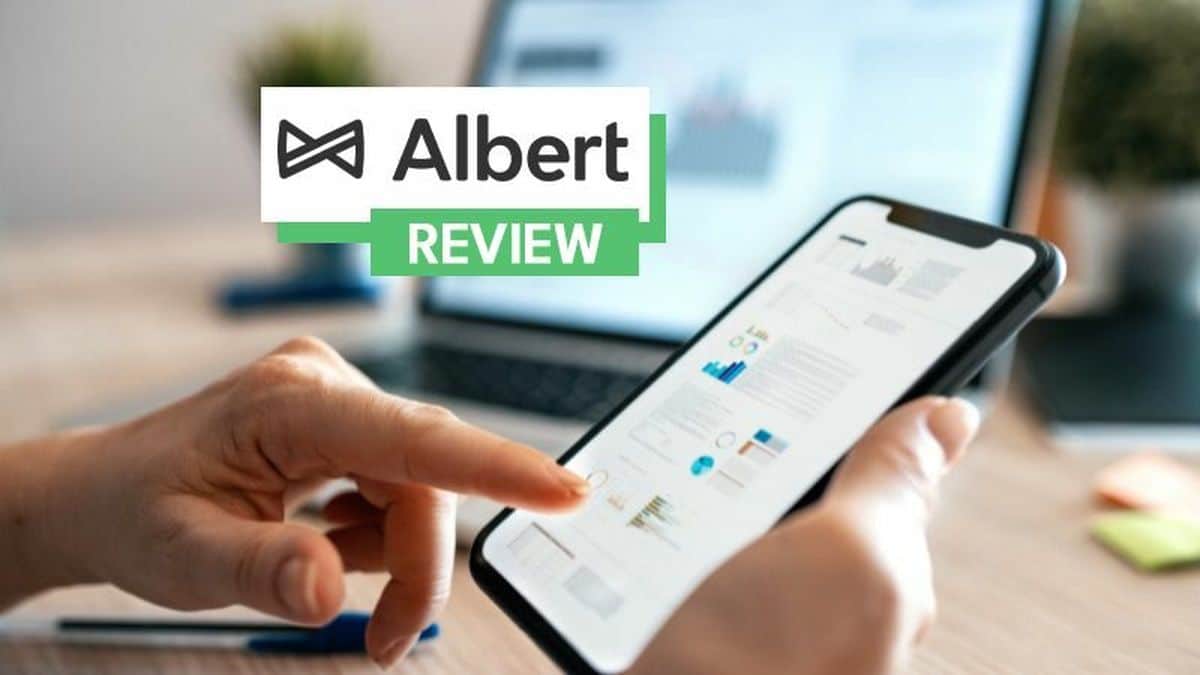 Albert's self-stated mission is to help every American achieve financial stability. It accomplishes this goal using its personal finance mobile app, which offers a lengthy list of features to help you stay on track with your financial goals.
The platform operates according to three values:
Putting you first
Providing human guidance
Keeping money management simple
Money management can be complicated, and Albert's values help to make the process a little easier. The app's products are created to help anyone manage their money, regardless of their financial expertise.
Ultimately, Albert is changing the way people think about their finances in order to help them build a healthier and happier relationship with their money.
Albert Features
Albert offers multiple features that enable it to stand out from its competitors. Here's a closer look at some of its most helpful perks.
$150 New Account Promotion
Everyone loves free money, and Albert offers a $150 new account promotion. After you sign up for a new account, you can become eligible for the bonus when you complete qualifying activities.
These include all of the following:
Set up direct deposit
Get a direct deposit of $500 or more within 45 days of account opening
Receive $500 in direct deposits every 30 days for 90 days
Spend $200 on your cash card every 30 days for 90 days
Before you sign up for the account with the intention of scoring this bonus, you can check your eligibility with the Albert team. Simply email support@albert.com or text Genius to 639-37 to find out more about the promotion.
Budgeting
Albert makes it easy to see all your financial data in one place with its budgeting feature. Within the Overview tab, you can view your spending trends, savings activity and recent bills.
The app will also send you real-time alerts on things like strange transactions, overdraft fees and bill hikes so that you always know what's going on with your spending.
Better yet, Albert monitors your budget to look for savings opportunities. The app will help with bill negotiation, finding fees and subscription monitoring to ensure you are not needlessly spending money.
Cash
Albert offers a Cash account to handle your regular purchases. It comes without any balance requirements, and you won't encounter a maintenance fee or an instant cash advance fee.
With this account, you'll enjoy a seamless mobile banking experience. Not only will you get your paycheck up to two days early, but you'll also have the option to save and invest the funds directly within the app.
In addition, the money you deposit in your Albert Cash account is FDIC-insured up to $250,000.
Genius
When it comes to managing your money, one of the biggest challenges is determining which moves are the right ones for your financial situation. After all, there are plenty of ways you can spend your money.
As a result, it's often helpful to bounce your ideas and goals off of a financial expert.
When you sign up for Albert Genius, you'll have the option to reach out for help whenever you need it. Whether you have big questions about your long-term goals or smaller questions about your budget, you can talk to a Genius anytime.
Instant
Even if you are good at sticking to your budget, an unexpected expense can catch anyone off guard. In fact, if you work with a traditional bank, you might get stuck paying an overdraft fee if you accidentally overspend.
Fortunately, Albert doesn't come with any overdraft fees. Instead, the Instant feature can spot you up to $250 to make ends meet.
The funds are considered an advance on your next paycheck, which means that you'll have to repay Albert on payday.
Importantly, you won't have to agree to a credit check to receive an advance.
Investing
Albert gives you the option to start investing within the platform. Better yet, you'll find a straightforward way to get started.
You can either build your own portfolio or work with Genius to create a customized portfolio that matches your financial goals.
For example, you might tell Genius that you are saving for a down payment on your next home purchase. Additionally, you might indicate areas of interest in the economy to round out your portfolio's direction.
If you choose to harness the power of technology to build your portfolio, the Genius will take some of the stress of investing in stocks out of the equation.
Plus, you can turn on auto-invest to make regular contributions to your investment portfolio.
Saving
Saving money is the bedrock of a strong financial future. If you aren't saving, it's challenging to work towards your long-term financial goals.
Albert gives you a helping hand to improve your savings trajectory. When you sign up, the platform will analyze your income and spending patterns.
After looking at the data, Albert will give you some suggestions on how to pull more savings out of your budget.
If you give the app permission, you can enable Smart Saving. This will automatically transfer a small amount of savings throughout the week to help you build your savings.
As a bonus, you can set specific savings goals to help you stay motivated.
Those looking to stretch their savings potential even further will enjoy the cash bonuses structure. When you save, Albert gives you a 0.10% annual bonus.
Plus, you can withdraw funds from your savings without any transaction limitations.
Albert Pricing
Albert's pricing model is a little bit vague.
The company states that you can pay whatever you think is fair for the service. However, when you dig into the details, you'll be required to pay at least $8 per month for the Albert Genius service.
Albert claims that most of its customers pay more than $8 per month for the service.
There are no interest or late fees, and you won't incur advance fees if you select Albert Cash as your primary bank account.
When it comes to ATM fees, there are none as long as you use an in-network ATM. If you use an out-of-network ATM, you'll pay a $2.50 withdrawal fee.
In addition, you will likely incur fees ranging from .01% to 2% when using Albert's invest feature.
Is Albert Worth It?
Albert offers the ability to handle almost all of your financial to-dos in a single place.
You can set up a cash account with rewards, monitor your savings, build out an investment portfolio, obtain cash advances and more. It's a challenge to find a financial platform that allows you to handle all of this in one place.
However, the company has relatively mixed reviews. As a potential customer, it's fair that you'd want to see a reasonably high Trustpilot rating.
That said, the fact that you'll have the option to pay what you think is fair makes working with Albert less risky.
If you are looking for an all-in-one financial platform, it's worth taking a closer look at Albert.
Albert Pros and Cons
Every financial platform has some benefits and drawbacks to consider. Here's what you should know about Albert before signing up.
Pros
Extensive number of financial tools
Receive personalized advice from financial experts
Cash advances available
Welcome bonus
Cons
Only offers an app
Individual taxable accounts only
Confusing pricing model
Albert Reviews
Feedback from actual users can help you spot what people like and dislike about the platform. In turn, this can help you decide if it's the right fit for your needs.
Here's how Albert fared on various review sites:
These are a few Albert review excerpts from customers:
"This is my favorite banking app. I've tried several, and Albert seems best suited for my needs. Chat support has been friendly, fast, and efficient. Direct deposit with early pay is nice, and the cash advance feature comes in very handy." – Michael S
"The most predatory app I've ever accidentally downloaded. It's next to impossible to get rid of the app, cancel their "services," or get your money back. Scam program alert!" – S. Hagen
"So far this app has been super helpful with helping me to budget my money and get instant transfers from my future direct deposit When I need that extra little bit to get to the next paycheck." – Leasel D
"Relative to the Dave app, the fee for a cash advance deposited into a separate bank account instantly is much higher on this app. Otherwise, the app is wonderful and there's always the "up to 3 days" option with no fee at all." – T. Gendron
Albert Alternatives
Albert isn't the right financial tool for everyone. If you don't think that Albert will work for your money needs, here are some other options to explore.
Acorns
Acorns is an app that focuses on making savings painless. As you work towards your savings goals, you'll have the option to have the app automatically round up your purchases to the next dollar and save the difference.
Not only will Acorns help you save, but it can also help you build an investment portfolio. The app will tuck those savings into an index fund through $5 increments. However, it is limited to saving and investing.
Learn more: Acorns Review: Is Acorns Worth It To Invest Your Spare Change?
Cash App
Cash App makes it easy to send and receive money between friends. Within the app, you can send and receive up to $1,000 during a 30-day period.
Beyond sending and receiving funds, you can get access to a Cash Card. The card is tied to your Cash App balance. As you spend money on this card, you can tap into specialized savings opportunities.
Learn more: Cash App Review: Is it a Safe App to Send and Receive Money?
Current
Current offers a robust selection of money management tools. It has a personal checking account, complete with automated savings and fee-free overdrafts. You can even build Savings Pods, which are focused on financial goals.
The platform is available to adults, but there is also a teen-friendly version of the checking account. It could be the right place to start your banking experience on the right foot.
Learn more: Current Review: A Banking App Where You Can Get Paid Up To Two Days Faster
FAQs About Albert
If you still have questions about Albert, we have some answers that might be helpful.
Summary
Albert offers a robust platform to manage your money with ease. Plus, the flexible payment structure is a perk for anyone on a budget.
You'll be able to skip the hassle of checking in thanks to Albert's many account features. Simply hop on the app to manage your savings and investments, obtain cash advances and get your financial questions answered.