It's three days until payday, and you're out of money. What do you do? You could take out a payday loan. However, payday loans can be costly. Did you know there are alternatives to payday loans that can help you out?
Ideally, having an emergency fund would be your best bet for when you're short on cash. However, not everyone has learned how to build an emergency fund yet.
For that reason, we're going to show you some payday loan alternatives to get you through those months when you're short on money.
Top Cash Advance Apps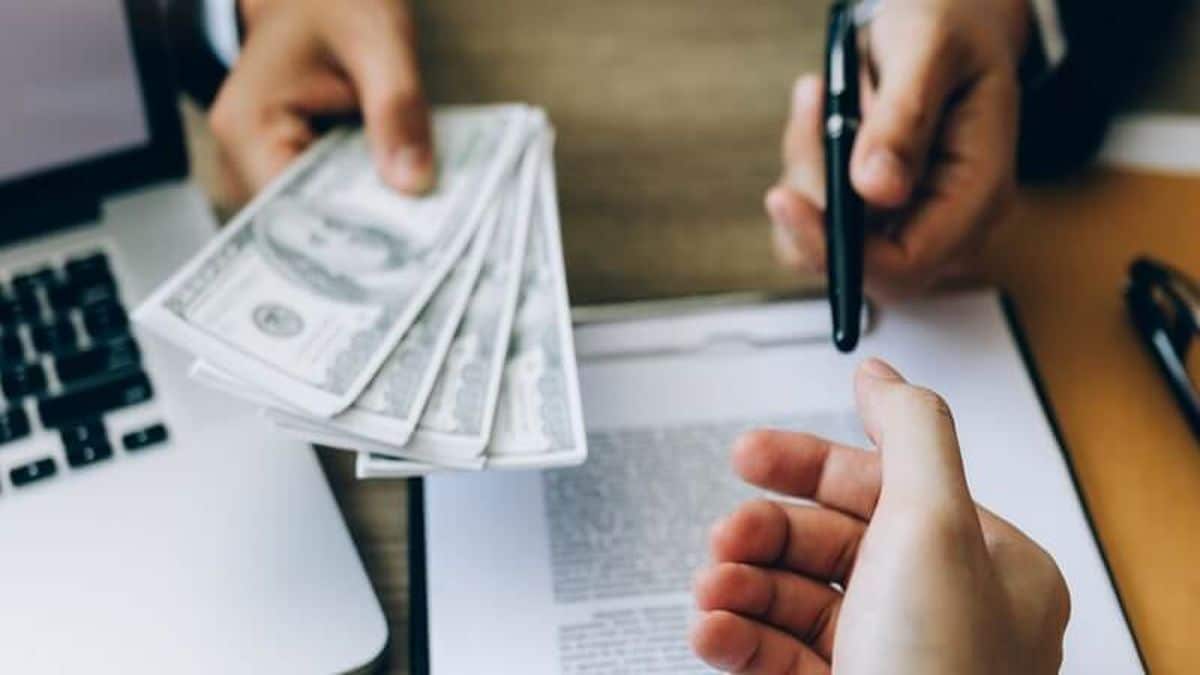 Traditional payday loans can be expensive. They often come with super high-interest rates and other fees as well–in fact, you can pay 400% or more in annual interest on payday loans.
If you're short on cash, the last thing you need is to be doling out extra money in the form of astronomical interest rates.
Check out these cash advance apps you can use as payday loan alternatives and see if you can find a better way to get through those short months.
1. Brigit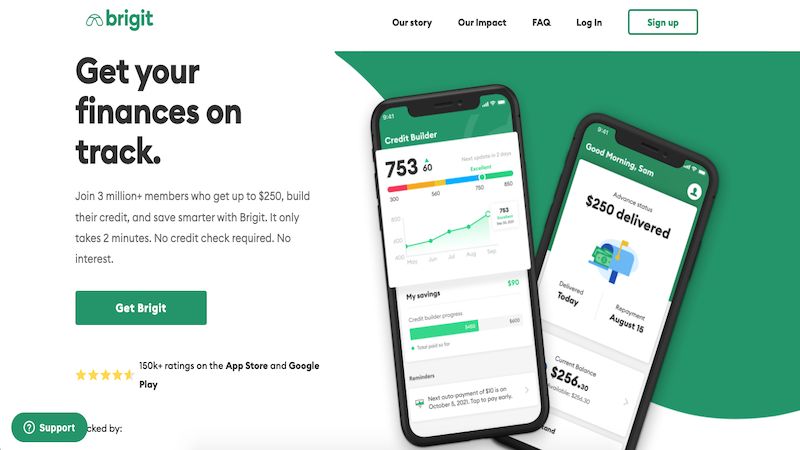 Brigit is an app that will advance up to $250 to your bank account if it thinks you're going to overdraw your account. The app uses algorithms to determine whether they believe your account might go in the negative.
If it determines you're heading toward an overdraft, the Brigit app will send the money to your account. Then you'll pay the loan back on a date you predetermine, one soon after your next payday.
It costs $9.99 per month for the service the Brigit app provides via their Plus membership, but that's a lot less money than most overdraft charges.
Many banks charge between $30 and $40 per overdraft charge. And you can get multiple overdraft charges if you've got several transactions going through while your bank account is in the negative.
Note that the Brigit app has a free account option too. This free basic membership will notify you if it thinks your checking account is going to go into the negative. But it won't provide you with a short-term loan to cover any negative balance.
This feature is great since it can give you time to make a transfer from another account. However, you'll want to sign up for the Plus membership to have access to the payday loan alternative feature Brigit offers.
Learn more: Brigit Review: Get Cash Advances Of $250
2. Earnin
Earnin is a loan app that's free to use. It lets you get paid today for the work you do today. Bonus: There are no interest charges and no fees. Here's how it works.
You start by downloading the app. Once you've downloaded it, you connect to your bank account. This allows Earnin to see when you get paid and how much you get paid.
Earnin also has a GPS component. This feature lets Earnin see when you get to work, how long you stay and when you leave. That's how it knows that you've worked on a given day.
Then Earnin credits your bank account for the pay you earned that day. Once your actual payday comes, Earnin will retrieve the money they loaned you during the pay period.
As I mentioned, there are no fees or interest rates for this service, but the company does recommend you leave a "tip" when you pay back your loan. This tip can be $1 or whatever you want it to be.
The Earnin website even says you can leave a $0 tip. But the tips are what help them cover their expenses. It's your way of paying it forward for the help Earnin gives you. But the tip is optional.
Another thing to know about Earnin is that it only works for hourly and salaried employees. It won't work for freelancers, and it won't work for remote workers because they can't verify you're at work.
Learn more: Earnin App Review: What Is It And How Does It Work?
3. Dave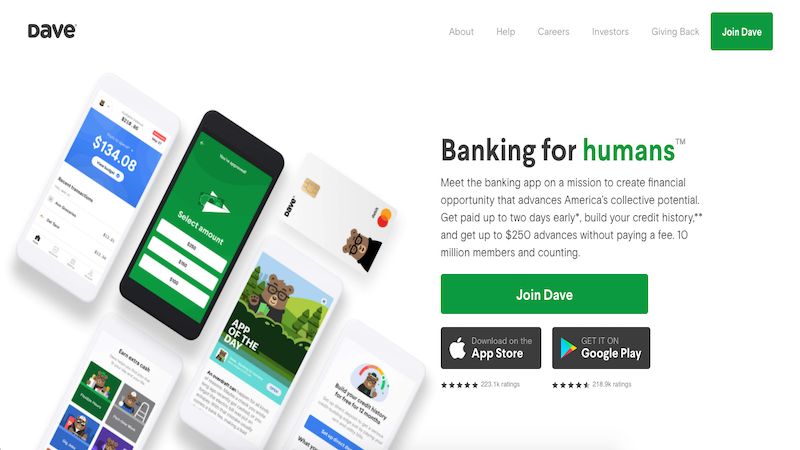 Dave is an app that can connect to your bank account, Or you can open your own Dave checking account. The app helps identify when you have upcoming bills and if you might be heading toward an overdraft.
If your account balance looks iffy, Dave will advance up to $100 without any interest charges or fees. Then it will take the money back out of your account on payday.
If you have a Dave checking account, you'll never get charged anything for overdraft fees. Dave can also help you create a budget and see upcoming expenses vs. pay so that you can manage your money better.
The Dave app will even help you get chances to earn more money by sharing side hustle opportunities with you. The app is affordable at only $1 per month. However, you can get free months of membership by shopping at stores where you probably already shop.
4. MoneyLion
MoneyLion calls itself a "mobile banking membership." Here's how it works.
You start by opening an account and putting money in. It's a fully FDIC insured bank just like other banks, so you don't have to worry about fraud or anything like that.
There are no monthly fees, no overdraft fees and no ATM fees–it's a totally free account. The app has a payday loan type of a feature called InstaCash. InstaCash lets you draw advances up to $250, interest-free.
There's no credit check, and you can pay it back interest-free. Note that it does cost $9.99 per month to have the InstaCash feature, but that's a lot less than you'll pay for a traditional payday loan.
MoneyLion has another feature called a CreditBuilder loan. This aspect lets you borrow up to $500 at a 5.99% interest rate–even if you have poor credit. This loan can help you if you need cash fast too.
Plus, MoneyLion has an investment account also, and you can add as much or as little as you want to that account.
The basic MoneyLion account is free, but you can also get a Plus account for $29 per month. The Plus account has additional features, including a $1 deposit into your investment account every day you log into the app.
5. Solo Funds
Solo Funds is an app that works on a peer-to-peer lending concept. You apply for your short-term payday alternative loan, it gets approved and the money goes into your account. The amount you're approved for is based on the transactions going in and out of your checking account.
As far as fees go, Solo Funds is pretty flexible. When you pay back your loan (the maximum loan duration is five days), you can include a tip for the lender of up to ten percent of the loan amount.
While a tip is not required, it's a great way to reward lenders for helping you out. Note that if you don't pay the loan back on time, Solo Funds will charge you a $5.50 rollover fee. Additional fees apply if they still have trouble collecting your loan balance for the lender.
Note that the company doesn't say how long it takes the fund a loan. This could spell trouble if the loan funds take too long to hit your account, and you overdraft anyway.
However, they do say that if you develop a track record of paying loans on time or early, you'll have a better chance of getting your loans really fast.
For that reason, you may want to borrow money a few times before you need it to develop a good reputation. Then if the time comes when you need to get money fast, you'll have a better chance of lenders grabbing your loan application and funding your loan quickly.
6. PockBox
PockBox works with 50 different banks and lending companies to help you get a short-term loan quickly. They have a loan limit of $2,500 per occurrence.
The process PockBox uses is easy. You start by filling out an online loan application on the PockBox website. Once you finish your loan application, PockBox works to connect you with a lender.
After connection, you typically receive your application results within five minutes. And most loans are funded as soon as the next business day. You can receive loans via Direct Deposit to your checking account, which means you'll likely have the money fast.
Fees and interest rates vary depending on which lender you work with. However, typically, you'll pay a lot less than you would for a traditional payday loan.
You have to have a regular income of at least $800 per month from an employer in order to be considered for loans with Pockbox.
Note that loans approved with PockBox lending partners are considered short-term loans. The definition of "short-term" varies based upon the lender. So be sure and read the fine print of any loan offer before signing on the dotted line.
7. RainyDayLending
RainyDayLending works similarly to how PockBox works. They have partnerships with a variety of lenders to help you get short-term loans. One difference between RainyDayLending and PockBox is that you can get larger loans through RainyDayLending.
In fact, you can apply for loans of up to $50,000 through RainyDayLending. Of course, you'd have to have the income to support a short-term loan of such a large amount, but smaller loans are available.
Other than that, the loan process and loan requirements are nearly identical to PockBox. You can apply online and get an answer within five minutes. And you can get your funds as early as the next business day.
You still need to have a regular income of at least $800 per month from an employer to qualify. There are other qualifications too, but RainyDayLending does work with almost all credit types.
Also, if you read the RainyDayLending rates and fees page, you'll find that the APR of their lenders is quite high.
However, from a percentage basis, they can still come in quite a bit lower than you'll pay for overdraft fees. Their rates are lower than a lot of payday loan companies charge too, but be sure to read the fine print.
Other options, such as Earnin' and Dave, will definitely be cheaper. But if you're in a pinch and need to borrow a large amount of cash on a short-term basis, RainyDayLending might be able to help.
8. Albert
Albert is on a mission to help every American achieve financial stability. One way the platform is achieving this goal is by offering Instant advances of up to $250 to help you make ends meet.
If you need to use the Instant feature, you won't encounter any late fees, interest, or even a credit check. But there is a fee involved for instant delivery. Instead, Albert takes its payment when you receive your next paycheck.
For a short-term cash crunch, Albert is a helpful option to get you to payday. But the cash advance won't solve any long-term cash flow problems.
The downside to Albert is that the pricing model is a bit unclear. Albert Genius, which gives you access to personalized financial advice, is a 'pay what you think is fair' deal with a minimum threshold of $8 per month.
It appears that you can use the Instant feature without paying for Albert Genius, which means that you can likely use the Instant feature for free if you have a connected bank account that receives your regular paycheck.
Other requirements to qualify for Instant advances include receiving a consistent income from the same employer for the past two months, your most recent paycheck was received on time, and your connected bank account hasn't had a negative balance in the last two months.
Learn More: Albert App Review
Other Alternatives to Payday Loans
These additional options aren't loan apps, but they can help cover you in case you are short on cash before payday arrives.
Chime
Chime is an app that works a bit differently than the other resources we've talked about here. Chime is an online financial technology company that offers features to protect you from coming up short before payday.
For instance, if you use your debit card and overdraft up to (but no more than) $100, Chime won't charge you any overdraft fees.
The feature is called SpotMe, and when you use it, Chime will pay back the loan out of your next deposit into your checking account.
There's no fee to use the SpotMe service, but you can leave an optional tip to help make the service available to other members. Also, you need to have monthly Direct Deposits of at least $500 each month to be eligible to use SpotMe.
Also, Chime will deposit your Direct Deposit paycheck as soon as it receives the check from your employer. However, most banks wait to deposit the credit until the date of the check.
You can receive your Direct Deposit paycheck up to two days early with a Chime checking account, so this may help you avoid running short before payday.
Learn more: Chime Review
Even App
The Even app has a payday loan feature they call Instapay. The app uses information from your employer to determine how much money they'll loan you.
In most cases, you can take up to 50% of your upcoming paycheck. You can have the money deposited directly into your bank account, or you can pick it up at a Walmart money center counter.
Then, when your paycheck goes in, the loan gets paid back. However, there's a caveat to this great program, which we'll address.
There are no advance fees or interest to use the app, but there is a monthly subscription price. This is where the caveat comes in. The Even app has to partner with your employer. So if your employer isn't teamed up with the Even app company, you can't use it.
Your employer determines the fee for the service. It's like other benefits where the employer can pay a certain amount, and the employee pays a certain amount.
Talk with your HR department about partnering with Even.
FlexWage
FlexWage is another company that offers payday loan type benefits to your company. When your employer partners with FlexWage, you can get a portion of your paycheck transferred to the FlexWage Visa card and start using it for whatever you need.
This feature is called OnDemand Pay. You choose the amount of your paycheck you want to get early–up to the limit your company has set in advance. Then you pay back the amount you borrow out of your next paycheck.
FlexWage has another feature called Flex Pay. With Flex Pay, you can have immediate access to non-payroll earnings, such as tips, commissions and bonuses.
It works the same way, with the funds being transferred to your FlexWage Visa card.
You can use your FlexWage Visa card to make purchases, get cash at an ATM, etc. Fees for using the services vary based on the terms set up with your employer.
If your employer doesn't use FlexWage, feel free to share its benefits with your HR department to see if you can get them on board.
DailyPay
DailyPay partners with employers to help employees get paid in real-time. DailyPay keeps track of the hours you've worked and builds an available balance for you.
You can transfer all or part of your available balance at any time, for a minimum fee of $1.99 per transfer. When you get paid, DailyPay deducts what you owe (i.e., what you've already been paid for), and it's back to business as usual.
Ready your HR department's DailyPay contract for exact information on fees.
PayActiv
PayActiv partners with your employer to give you access to up to $500 of your earned wages. You'll pay a fee of $5 bi-weekly for this benefit.
You can also pay bills with the money they advance you or get cash from a Walmart money center.
Plus, you can transfer money right from the PayActiv app to your Amazon account and do your Amazon shopping right away.
You can even use your PayActiv funds to pay for Uber rides. Talk to your HR department about incorporating any of these types of benefits to help get you through to payday.
Summary
If you need your paycheck before payday, you've got several options. Of course, our best advice is to help you learn how to live on a budget so you can avoid being short of money. But emergencies happen.
And these apps and tools can help you get through until payday, just in case. Please remember that all of the tools mentioned here involve short-term loans. For that reason, it's important to borrow responsibly.
We recommend you don't borrow more than you can afford to pay back within 30 days.