Are you looking to open your first account or to move from your traditional brick and mortar bank to one that's a bit more in-tune with today's technological world?
Chime is a low-fee online financial technology company designed to leverage mobile technology and automation to deliver a low-fee experience with extra tools to help you save.
This review will tell you everything that you need to know to decide whether Chime is right for you.
Chime Disclaimer: Chime is a financial technology company, not a bank. Banking services provided by The Bancorp Bank, N.A. or Stride Bank, N.A., Members FDIC.

Summary
Chime is a fine choice for people who want an online checking and savings account with a few bells and whistles. It falls short of being great because of its low-interest rates and a lack of other financial services.
Pros
Great customer service
Low costs
No monthly fees
Cons
No local locations
Low-interest rates
Only a few products
What Is Chime?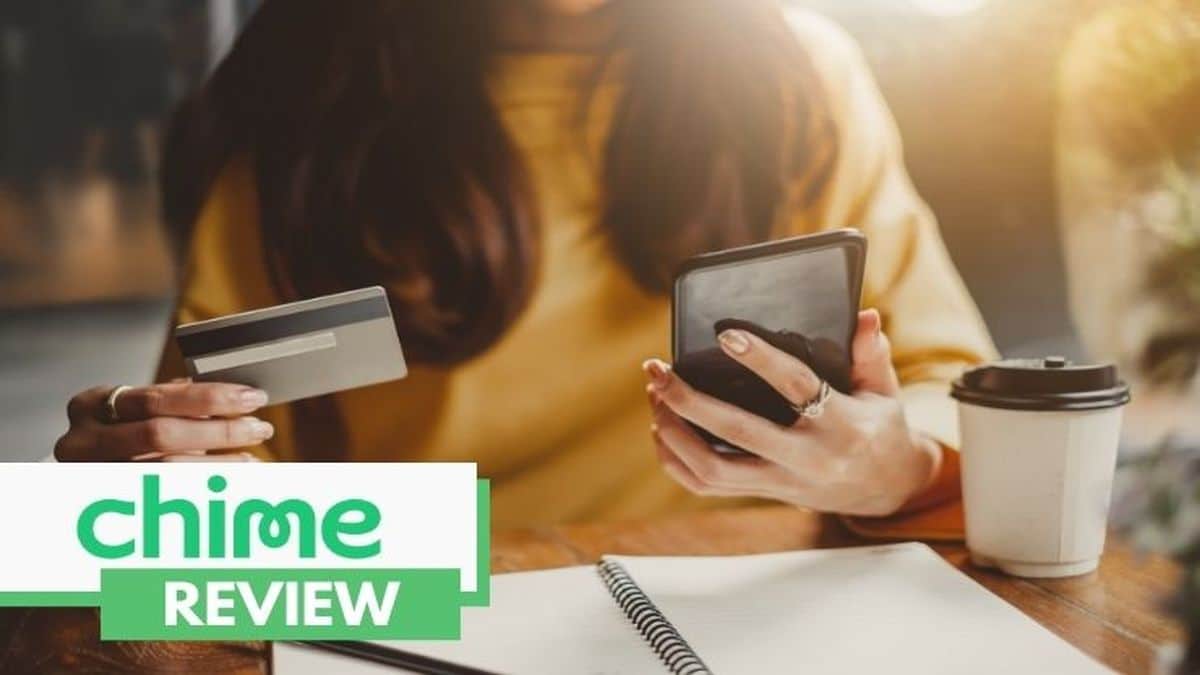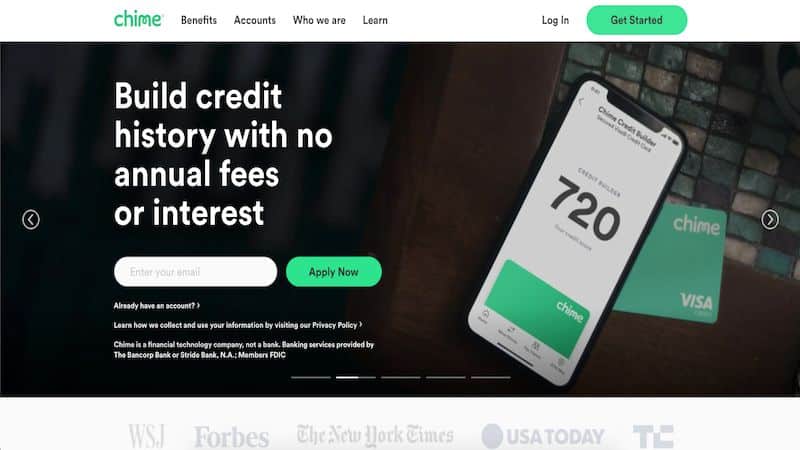 Chime is an online financial technology company that offers basic financial technology services to its customers.
The company contracts with The Bancorp Bank, which handles banking services for hundreds of other private label banking services. This lets Chime focus on keeping fees low, and the user experiences great.
When you sign up for a Chime account, you'll automatically get a debit card, and a checking account called the Chime Spending Account.
You can also sign up for an optional savings account that you can use to build an emergency fund or save toward other goals.
What Makes Chime Special?
Chime offers most of the basics that you get with any checking or savings account. However, there are a few things that Chime does that make them different from many of its competitors.
Get Your Paycheck Early
These days, most people can choose to receive their paycheck by direct deposit. Your employer automatically sends your paycheck to your bank. Then the money appears in your account on your payday.
There's no paper check, and you don't have to spend time visiting the bank to deposit your pay.
If your budget is tight and you regularly have trouble making ends meet, you'll often be left waiting until payday to pay a bill or go shopping.
Chime helps payday come just a bit sooner by giving you access to your paycheck up to two days before your payday.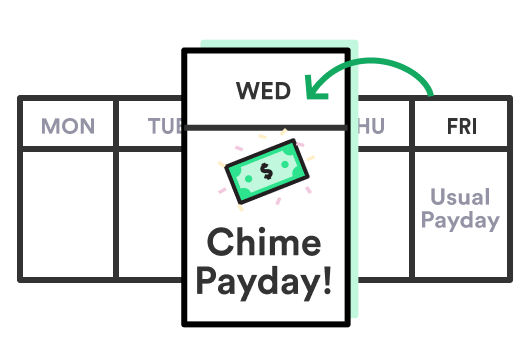 The reason that this works is that employers often send paychecks to their employees' banks a day or two before their official payday. This gives time for the electronic payments to process.
The banks then release the funds to you on your payday. Chime cuts out the waiting, putting the money in your account as soon as your employer sends it to Chime.
The best part of this feature is that there's no special sign up and no fee. If you have a Chime Spending Account and sign up for direct deposit with your employer, you're automatically enrolled.
Free Overdrafts
Does your checking account balance hover near zero or do you have large bills automatically paid from your account? Then you'll probably overdraft your checking account at some point in your life.
It's something that happens to many people. In 2017 alone, consumers paid $34 billion in overdraft fees.
If you enroll in the SpotMe program, you won't have to worry about paying overdraft fees. Chime will cover small overdrafts, free of charge. You're eligible to enroll if you receive monthly direct deposits of $500 or more.
When you enroll, you'll receive a SpotMe limit of $20. Chime will allow debit card transactions that will bring your balance as low as -$20.
When you make your next deposit, Chime will apply it to your negative balance to bring your account back into the black. Over time, you can increase your SpotMe limit to as much as $100.
While the service is entirely free, Chime does allow the people who use it to leave a tip when their account's balance gets back above $0.
These tips to "pay it forward" funding its efforts to spot other customers' overdrafts. Whether you tip or not is up to you. It won't affect your ability to use SpotMe in the future.
Chime extends its fee-free philosophy to more than just overdrafts. They have a clear table of fees on its website, and it charges no fee for many of the services that other financial institutions charge for.
Some examples of fee-free services that Chime offers are external funds transfers, debit card replacements and foreign transactions.
The one fee that Chime customers should be aware of is the cash withdrawal fee.
Chime is part of the MoneyPass and Visa Plus Alliance ATM networks, giving customers more than 38,000 ATMs to make free withdrawals. But if you use an out of network ATM, you'll owe a $2.50 fee for each transaction.
Award-Winning Mobile Experience
As a mobile-first financial institution, it makes sense that Chime would put a lot of effort into its mobile experience. You can download the app on both iPhone and Android devices.
Chime helps you keep on top of your finances with daily alerts about your account balance and instant alerts any time you use your debit card.
They make it easy to track your spending and to know if someone is using your card without your permission.
They also offer strong security options. Using sliders in the app, you can enable or disable your debit card, blocking purchases entirely. This can come in handy if you lose your card.
Or, if you want to add an extra step to making purchases, it forces you to think a bit more about the things that you buy.
You can also disable your card just for certain types of transactions, such as international purchases or one-touch purchases. It lets you add nuance to your security options.
If your friends and family also use Chime, you can use the app's Pay Friends feature to send money to their accounts instantly. There's no cash-out period or waiting for the funds to become available to spend.
If your friends don't have Chime, the account is still compatible with popular peer-to-peer transfer apps like Venmo or Cash App.
One thing that Chime doesn't do is provide you with a traditional checkbook. Instead, Chime will handle writing and mailing checks for you. You can open your virtual checkbook through the app and provide the recipient's name and the amount that you want to send.
Chime will create a check and mail it for you. It usually takes one to two weeks for the check to arrive, so you'll want to plan ahead.
Automated Saving Features
Chime offers automatic savings features to help people set aside extra money for a vacation, to build an emergency fund or any other reason. There are two saving rules that you can use to help you set aside some extra cash.
The most basic saving rule that you can choose is to set aside a portion of your paycheck automatically. You can select a percentage that Chime will move from your Spending Account to your savings account whenever your paycheck arrives.
The other rule that you can choose is to save whenever you spend. When you use your debit card to make a purchase, Chime will round the purchase up to the next dollar. Any extra amount will be deposited into your savings account.
For example, if you buy a latte for $4.36, Chime debits your checking account for $5. $4.36 goes to the coffee shop, and the remaining $.54 is deposited into your savings account.
You can transfer the money back to your checking account if you ever need it, but this kind of automatic saving can help you build a savings account balance without having to put in much effort.
If you want to put your savings plan on the fast track, you can use both of these automatic saving rules at the same time.
Additional Security Features
For the security conscious, Chime offers some added protection.
First, they are fully insured by the FDIC. That means that you're protected, even if they goes out of business.
FDIC protection covers up to $250,000 per account type, so you can get coverage for up to $500,000 across your savings and checking accounts.
Chime also requires that its users set up two-factor authentication, which protects your account if someone steals or guesses your password.
Two-factor authentication requires a second method of verifying your identity, in addition to a password. This extra measure makes your account much more secure.
Finally, your Chime debit card is covered by Visa zero-liability protection. You won't have to pay for unauthorized use of your debit card so long as you notify Chime as soon as possible after the card is used without your permission.
How To Sign Up For Chime
You can open a Chime account through the website or app.
To get started, you'll have to provide your:
Name
E-mail address
Birthdate
Phone number
Once you've confirmed your phone number, you can complete the rest of the application. At this point, you'll give Chime your Social Security number and information on how you plan to fund the new account.
Chime Account
Now that we've covered what makes Chime special and how to get started, we can talk about the specifics of the accounts.
All Chime customers get a checking account, which Chime calls the Chime Spending Account. Plus, you have the option of opening a savings account, but it is not required.
If you don't have a savings account at another bank, there's little reason not to open a Chime Savings Account because there's no fee to do so and no minimum balance requirement.
Chime Spending Account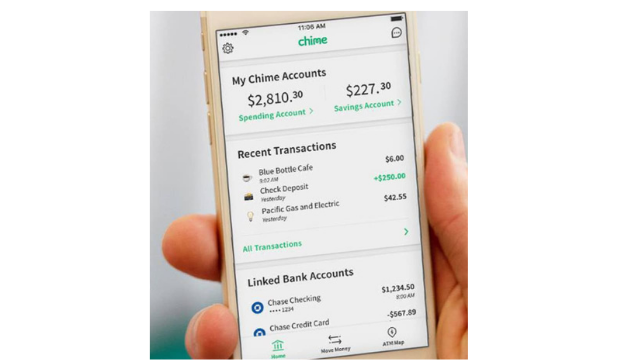 The Chime Spending Account is a relatively basic checking account. There is no minimum balance or monthly maintenance fee to worry about, and it offers the essential features of a checking account.
You can receive direct deposits and make bill payments from the account. You can also use your debit card to make purchases or withdraw cash from ATMs.
Some online banks like Chime pay interest to their checking account holders, but Chime does not. The lack of this element is worth considering if you plan on keeping a lot of money in the account.
One feature of the Chime Spending Account that is relatively unique among online checking accounts is that you can make cash deposits. Many online banks only allow electronic transfers and mobile check deposits.
To deposit cash to your account, you'll have to visit a Green Dot location. There are more than 60,000 Green Dot locations in the U.S.
They are located at retailers such as pharmacies and convenience stores. You can deposit up to $1,000 every 24 hours and $10,000 each month.
The downside is that retailers charge a fee when you make a cash deposit. Some retailers charge as much as $4.95 per transaction for Green Dot deposits.
Chime Savings Account
The things that make the Chime Savings Account exciting are the automatic saving features and instant transfers between Chime accounts. Beyond that, the account is underwhelming when compared to other online savings accounts.
Chime tries to make it easy for its customers to save money. They offer APY rates of up to 2.00%. That's 11x more than the national average.
The Annual Percentage Yield ("APY") for the Chime Savings Account is variable and may change at any time. The disclosed APY is accurate as of November 17, 2022. No minimum balance required. Must have $0.01 in savings to earn interest.
Additionally, the average national savings account interest rate of 0.21% is determined by FDIC as of November 17, 2022 based on a simple average of rates paid (uses annual percentage yield) by all insured depository institutions and branches for which data are available. Visit National Rates and Rate Caps to learn more.
If your goal is to earn interest and grow your savings balance aggressively, then you may want to hold off on a savings account.
But, if you want a steady way of setting money aside, then Chime's automatic savings features can be worth the low-interest rate.
Who Is Chime For, and Is It Right For You?
Chime's stated goal is to offer "consumer-friendly services." It does this through a combination of an easy-to-use app and low-fee accounts.
Chime's primarily appeals to two groups of people.
One group is made up of people who only want a financial institution that works and doesn't charge fees. So long as you can handle working with an online technology, Chime is a good place to go for a fee-free experience.
Working with cash can add to the cost because of ATM fees and Green Dot deposit fees, so they works best if you can go all-in on the cashless aspect of online.
The second group is made up of people who need help with saving. Chime's automated savings features can make it easy to set aside extra money in a savings account.
You won't earn much interest, but at least you'll be saving money. Other apps that help people save tend to charge a fee for their service, so Chime's free savings tools are a good deal.
If you fall into either of these groups, Chime might be a good fit. But if you want to earn more interest from your money or if you want an online financial institution that offers a wider variety of financial services, such as investing or lending, you'll want to find a different bank to work with.
Chime Reviews
Chime's customers seem to be quite happy with the service. The Chime app currently has a 4.8 rating out of 5 on Apple's App Store, with more than 325k customer ratings.
One common theme from member reviews is that Chime's security gives them peace of mind.
"Someone tried to steal my data, and (Breeze) declined it because it was over the limit. I was in a panic and didn't want to order a new card … but I could go into the app and turn transactions off and just turn it back on when I needed to use it." – Marylin
"The best service I've ever used," saying, "My favorite things about this service are SpotMe … SMS notifications … and the UI." Perry J.
Negative reviews often mention long wait times to receive a debit card, but this does not seem to be an issue that most people face. Reaching out to Chime's customer service when things go wrong should help you avoid these delays.
Positives and Negatives
Pros
No monthly fees
Free overdrafts up to $100
Automated savings tools
Cons
Only offers checking and savings accounts
Working with cash can be difficult and costly
Low interest for an online savings account
Summary
Chime is an award winning financial app and debit card. It is a great choice for people who want a basic online experience at a low cost. If all you need is a checking account that won't nickel and dime you, you'll feel right at home.
However, if you're looking for a more full-service online financial institution, you'll have to look elsewhere. Many other online financial technology companies offer different account types, lending services, and investing services, allowing you to keep all your money in one place.