A good credit history can open the door to better financing options for major purchases. It's possible to save thousands over the lifespan of a major loan, like a mortgage, if you have a good credit score.
If you want to increase your credit score, Chime Credit Builder could be the tool you've been searching for. It gives you the opportunity to build credit without annual fees, interest or a security deposit.
Our Chime Credit Builder review can help you determine if this secured credit card is the right solution for you.
Summary
The Chime Credit Builder Secured Visa Credit Card offers a twist on the traditional secured credit card. Its specialized features will help you build credit and unlock more attractive financing on major purchases.
Pros
No annual fees
No interest charges
Reports to three major credit bureaus
Cons
Must have a Chime Spending Account
Must have a direct deposit of at least $200 to Chime
No unsecured credit card options available
What is Chime Credit Builder?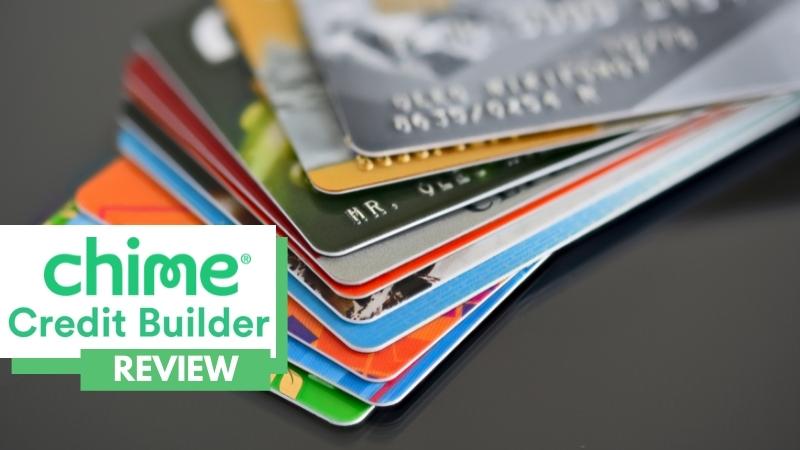 The benefits of a good credit score cannot be overstated. However, building a good credit score can be easier said than done. Many people often turn to a secured credit card, which involves putting down a security deposit.
Fortunately, the Chime Credit Builder Secured Visa Credit Card offers an appealing alternative.
This secured charge card can help you build and improve your credit score. Unlike a regular secured credit card, you will be able to spend funds without any interest rate attached.
Plus, there are safety features in place to ensure that you don't get into debt while using the card.
How Does Chime Credit Builder Work?
If you aren't already a Chime customer, the process of using Chime Credit Builder starts by opening a Chime Spending Account. Essentially, this account functions as a checking account.
Since Chime doesn't charge fees for this account and provides options to help you build your savings automatically, signing up is risk-free. In fact, you might enjoy the straightforward perks offered by the Chime Spending Account.
In addition to opening a Chime Spending Account, you must receive a qualifying direct deposit of at least $200 to that account.
The direct deposit must be made from an employer or government program. This means that you cannot skirt the requirements by sending yourself money via Venmo or PayPal.
Once you've set up the Chime Spending Account and received a qualifying direct deposit, you can apply for the Chime Credit Builder Secured Visa Credit Card.
You won't have to undergo a credit check. However, you will need to set up your spending limit by transferring funds from your Chime Spending Account to your Chime Credit Builder card.
The amount you transfer will act as your credit limit. Each time you make a purchase, Chime will lower your available limit based on how much you spend.
You'll be required to pay off the balance each month. To help you make sure you never miss a payment, Chime offers a Safer Credit Building feature that automatically pays off the balance with the funds from your secured account.
You also have the option to pay your bill manually.
As you make your payments, Chime will report them to the three major credit bureaus. If you are making on-time payments, your credit score should rise. But, if you miss payments or make late payments, your credit score could go down.
Chime Credit Builder Pricing
If you've looked at other credit-building options, you've likely noticed that there can be many fees involved. Although some services are worth the cost, it's still something that has to be factored into your budget.
Surprisingly, Chime Credit Builder is free. You won't run into any annual fees, maintenance fees or international fees.
Plus, you won't have to pay any interest on the funds, which is different from a traditional secured credit card.
The only fee you should keep in mind is a $2.50 ATM withdrawal fee. But, with over 60,000 fee-free ATMs, this shouldn't be a major issue.
Key Features of Chime Credit Builder
Chime Credit Builder can help improve your credit score, which is a huge perk. That said, it's not the only benefit of using the card. Here are some other features that help it stand out from other credit-building options.
No Traditional Deposit
A traditional secured credit card requires a deposit that is tied to your credit limit. With Chime Credit Builder, you'll be able to choose the amount of funds you allocate toward your charge card spending each month.
The big difference is that you'll have the option to transfer funds back to your Chime Spending Account from Chime Credit Builder at any time if you haven't already spent the funds.
No Interest Spending
When you use a Chime Credit Builder card, you aren't really borrowing money. Instead, the charge card allows you to spend the funds you've already allocated to your account.
With that, there is no chance of racking up high-interest debt through this credit-building tool. If you are worried about slipping into credit card debt, Chime Credit Builder is a great option because it has safeguards in place that won't allow you to take on debt.
Credit Reporting For Payment History
Chime Credit Builder reports to the three major credit bureaus, including TransUnion, Experian and Equifax.
In many cases, this reporting can have a positive impact on your credit score. A history of on-time payments is one of the biggest factors that influence your credit score.
If you are making on-time payments, this reporting should lead to a boost in your credit. In fact, Chime commissioned a study through TransUnion that found Chime Credit Builder users saw their credit score increase by 30 points.
On the flip side, you might find your score decreases as a consequence of Chime's reporting if you aren't making on-time payments.
Credit Utilization Not Reported
Credit utilization is another important factor in your credit score. Essentially, your credit utilization ratio is a measure of how much credit you use based on what you have available.
For example, let's say that you have a credit card with a credit limit of $1,000 and you are carrying a balance of $600. In this scenario, your credit utilization rate would be 60%. Since most experts recommend keeping your utilization ratio below 30%, that's a bit high.
Unfortunately, most secured cards have low spending limits, which makes it easy for users to have a higher credit utilization rate.
But, as a cardholder, you won't have to worry about this ratio. That's because Chime doesn't report your utilization rate to the credit bureaus.
Although this might seem like a small detail, it can have a big impact on your credit score.
Automatic Payment Option
Life is busy, and it's easy to forget to make a payment. Unfortunately, forgetting a payment due date can cause your credit score to take a hit.
Chime Credit Builder has a convenient automatic payment option. If you choose the Safer Credit Building Feature, the money you moved to your Credit Builder card can be used to pay your monthly balance on time automatically.
Since your payment history is a big part of your credit score, taking advantage of this automatic payment option can be a game-changer.
Cash Withdrawal
If you need cash, you can make a free withdrawal with your Credit Builder card from one of over 60,000 in-network ATMs.
Essentially, this is a cash advance option through the card. However, you won't have to deal with the relatively high interest rates or fees that come with a cash advance through a traditional card.
No Hard Credit Check
Chime Credit Builder doesn't require a hard credit check during the application process. With that, you shouldn't let a bad credit score or a potential ding to your credit score hold you back from applying for this card.
Customer Reviews
While there are no reviews for Chime Credit Builder specifically, Chime as a whole has received many positive reviews across various customer review websites.
Here is how the company ranks on some of the top rating sites:
Chime customers shared some of the following feedback about the company:
"Chime satisfies all my banking and financial needs even helps build my credit. It also offers "spot me" which let to borrow money until your next payday." -Mitchell
"Terrible service. Disputed a transaction that was unauthorized, 18 days later still no provisional credit or update on the case." – Benjamin Croft
"I really love chime..when I was working it was direct deposit and also the chime credit builder card which help build my credit and I still have it!!!!!" – Regina Pittmom
"Horrible. I tried to apply for the credit builder and the software wouldn't recognize me to my DL. They have no way around this." – Dede BULL
Alternatives to Chime Credit Builder
Chime Credit Builder isn't the only way to build credit. Here are some other reputable options worth considering.
Credit Strong
Credit Strong is a division of Austin Capital Bank and is available nationwide. It offers a hybrid credit-building product that is part installment loan and part savings account.
When you work with Credit Strong, you'll take out an installment loan. However, you won't receive the funds upfront.
Instead, the company will put your funds into an FDIC-insured savings account. At the end of the loan term, you'll receive the principal value of your loan.
Essentially, you'll build forced savings into your budget while growing your credit.
Although the results aren't guaranteed, Credit Strong has a track record of helping customers. Clients who stick with them for a full year could increase their credit score by an average of 70 points.
Self
Like Credit Strong, Self offers installment loans with a twist.
When you take out an installment loan with Self, the company won't give you the funds immediately. Instead, it will place your loan principal into a CD, and you'll start making regular monthly payments.
At the end of the loan term, you'll receive the principal from the loan plus the interest the CD earned.
Extra
The Extra Debit Card is the most similar option to Chime Credit Builder. It connects to an existing bank account and reports your payments to the three credit bureaus.
Extra offers affordable annual plans.
You can also monitor your credit score with Extra, making it a helpful tool as you work to improve your credit.
Chime Credit Builder FAQs
If you are on the fence about trying Chime Credit Builder, these questions might be able to help you decide if it's right for you.
How does Chime Credit Builder actually work?
Chime Credit Builder is a charge card that reports your monthly payments to the major credit bureaus. As a cardholder, you'll move money from your Chime Spending Account to your Chime Credit Builder card before making any purchases.
Can Chime Credit Builder hurt your credit?
Yes. As with all credit-building options, it is possible to hurt your score with the Chime Credit Builder.

Specifically, if you don't make on-time payments to the card, your credit score will likely suffer. The good news is that the Chime Credit Builder offers an automatic bill payment option to help you avoid any missed payments.
How fast does Chime Credit Builder work?
Building credit doesn't happen overnight. That said, Chime Credit Builder will report your payment history each month.

If you are making on-time payments, that's an opportunity for your credit score to increase every month.
Does Chime have a mobile app?
Yes. Chime has a mobile app for iOS and Android devices.
What customer service options does Chime Credit Builder offer?
Chime offers multiple support options. You can call their customer service department at (844) 244-6363, send them an email at support@chime.com or use the mobile app to contact the support team.
Summary
Chime Credit Builder offers an affordable and easy way to improve your credit. The lack of fees combined with proven results of increasing credit scores makes Chime Credit Builder an attractive option.
If you are trying to clean up a bad credit history, Chime Credit Builder is a solution worth considering.
Chime Disclaimer: Chime is a financial technology company, not a bank. Banking services provided by The Bancorp Bank, N.A. or Stride Bank, N.A., Members FDIC.