Years ago, I refinanced my hefty student loan balance for a lower interest rate. At the time, I was paying about 8 percent in interest. Looking back, I wish there were reviews like Credible Review to know all my options.
Refinancing helped bring the interest rate down to about 4 percent. Trust me when I say I was so ready to get out of student loan debt! I could spend less on interest and get out of debt faster.
Back then, I didn't use Credible to help me find a lender. But to be fair, Credible wasn't around yet.
Now, Credible can help you quickly see if you'll save money by refinancing too. Continue reading our Credible Review so you don't miss out like I did.
Summary
Refinancing makes sense when you want a lower interest rate and have plans to pay it off quickly. Credible can help you do that easily.
Pros
Free to use
Personalized quotes
Competitive rates
Cons
Refinancing costs
Prequalified rates are not binding
What is Credible?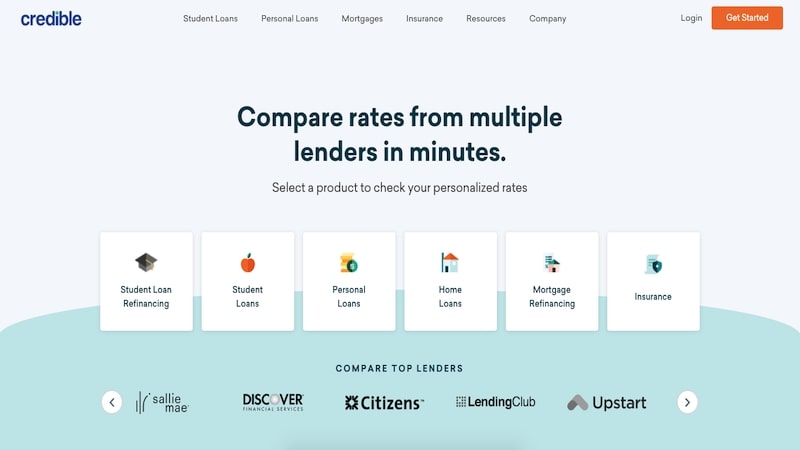 Credible is a loan marketplace that partners with multiple lenders. It's free to use and compare personalized rate quotes.
You may refinance student loans, a home mortgage or credit card debt. They also partner provide quotes for new private student loans.
Seeing all the rate quotes in one place lets you save time. Then you apply with the lender with the best offer. You are never required to apply for a loan from a lending partner.
You can get a personalized rate quote in two minutes. Plus, getting a rate quote doesn't hurt your credit score. And if it doesn't make sense to refinance, the only thing you lose is your time.
None of Credible's 11 student loan refinancing lenders charge the following fees:
Application fees
Origination fees
Prepayment fees
Service fees
Some of Credible's personal loan lenders will charge an origination fee. You can see all the potential fees in the rate quote.
Credible has a 4.6 out of 5 Trustpilot score. This high score indicates that they have many happy users.
| | |
| --- | --- |
| Company | Credible |
| Loan APR Range | 3.99% – 35.99% |
| Minimum Credit Score | 600 |
| Loan Amount Range | $600 – $100,000 |
What Does Credible Offer?
Credible provide personalized loan quotes from multiple lenders for these loans:
Student loan refinancing
Private student loans
Personal loans
Mortgage refinancing
Once again, it's free to compare lender rates for every loan type. No quote affects your credit score. Although, the lender will perform a "hard credit check" when you apply for a loan.
Student Loan Refinancing
You can refinance your federal, private and Parent PLUS loans. Both undergrad and graduate degree loans can be refinanced as well. Credible shows rate quotes from ten lenders. Loan terms range between five and 20 years.
Getting eight lender quotes should be enough to see if refinancing saves you money.
It takes several minutes to get a personalized rate quote. If you like the initial numbers, you can apply for a loan with a lender.
Saving thousands of dollars by refinancing can make Credible worth it. To clarify, you must also choose between a fixed or variable interest rate loan. But a fixed rate is better in most cases as you know your exact loan costs.
Keep in mind that you forfeit any certain benefits if you refinance your federal or Parent Plus loans. These benefits can include forbearance and loan forgiveness. Most private lenders do not offer similar benefits.
Personal Loans
Refinancing high-interest debt is another way to pay less interest. You can get quotes from 18 personal loan lenders. Loan amounts can be between $1,000 and up to $100,000.
Current interest rates range APR with autopay:
3.99% to 35.99%
Loan terms can be between two and seven years. See Credible for rates and terms.
One use of personal loans is to consolidate credit card debt. Medical debt is another common high-interest debt.
Credible's quotes clearly display your interest rate, fees, monthly payment and total loan cost.
Unlike other loan marketplaces, Credible only lets lenders call you if you choose their offer. So you don't have to worry about getting unwanted phone calls or spam email.
Once the lender disburses your funds, you can pay off your current loans. Then you send payment to the new lender at your new interest rate.
Mortgage Refinancing
Credible's newest service is mortgage refinancing. Perhaps you got your current home mortgage when interest rates were higher. Or maybe you have better credit now, and qualify for a better rate.
Regardless, you can compare lender rates in a few minutes. The quote will show your estimated closing costs and lender fees. Take the time to compare rates for the 30-year and 15-year terms.
If you like a quote, you can upload your current mortgage documents. Credible manages the refinance process through closing.
Student Loans
Credible also partners with nine lenders to offer private student loans. These loans are available for college, graduate and professional degrees.
When requesting a quote, specify if you are the student or a co-signer. None of the lending partners charge origination, prepayment or service fees.
These loans can help fund your remaining tuition costs. You may also work a college side hustle to borrow less money.
How to Get Rates from Credible
One nice thing about Credible is that it's easy to use. Credible claims it only takes two minutes to get a personalized quote. After getting a personal quote for this review, I can say that claim is valid.
If you haven't already done so, make a list of your current loans. List the interest rate, current monthly payment and loan balance. Now you can quickly see if you can save money with Credible.
Step 1: Enter Loan Information
Estimated time to complete: 2 minutes
First, you need to prequalify for a loan. Then you answer a few personal credit questions so the lenders can give you an accurate rate quote. This process won't impact your credit score because they're not doing a hard pull.
However, the lender does a hard credit pull if you apply for their offer.
Step 2: Review Offers
Estimated time to complete: 5 minutes
The next step is comparing the personalized offers from each lender. You will see the interest rate, total loan costs and cost breakdown.
If you find a loan quote you like, you apply on the lender's website.
Step 3: Receive Final Offer
Estimated time to receive your finalized offer: 2 business days
The last step is applying for a loan. In this stage, the lender does a hard credit pull to make a final loan offer. It can take one or two business days to get an offer. Plus, you may have to answer additional questions to get an accurate rate.
This offer should be very similar to Credible's initial quote. However, you can still decide to decline the loan offer during this step. For instance, you may find a better student loan company to refinance with.
Should You Refinance?
Refinancing makes sense when you want a lower interest rate and have plans to pay it off quickly.
Sometimes, you won't get a lower interest rate. Or you have to pay added fees which offset any savings. In this case, you should try and make extra loan payments. Focus on your highest interest rate first.
You may need a side hustle to afford these extra payments. The extra effort now can help you save money by paying less interest
Also, Credible can help you decide if refinancing saves you money. You can contact their live customer support team if you have questions. Besides, they will even have a conference call with the lender and you.
Best Rate Guarantee
Credible offers a $200 best rate guarantee. You can file a claim if you find a better rate with a non-Credible partner.
Although you get rate quotes from eight lending partners, Credible isn't always the best option.
Is Credible Legit?
Yes, Credible is a legit company that has a Trustpilot score of 4.6 out of 5. There are many positive reviews. Some of the most liked features include comparison tools and good customer service.
"Great way to have several lenders provide options on loans. I was able to view terms and rates easily."

– Mariana L
" I received very fast service. Customer service was phenomenal. I was in touch with a very knowledgeable rep. "

– M. Harrington
Also, Credible only gets paid if you finish the loan process and the lender disburses funds. Credible doesn't sell your information to other parties. This policy helps reaffirm that Credible is legit.
Positives and Negatives
Here is a quick summary of the positives and negatives of Credible.
Pros
Free to use
Personalized quotes in minutes
Easy-to-read quotes from multiple lenders
Won't get annoying emails or calls from lenders you don't choose
Cons
Refinancing doesn't always save you money
Other lenders may still offer better rates
Summary
Credible lets you quickly see if refinancing saves you money. And saving money on interest for the life of your loans is an easy way to live cheaply. Plus, a smaller monthly payment also means you can get out of debt sooner.
Credible NMLS ID# 1681276 320 Blackwell St. Suite 200. Durham, North Carolina 27701