It's smart to know which jobs for college students pay the best. College is expensive – there's no doubt about that.
According to College Data, the average four-year in-state public college tuition cost for the 2022-23 school year was $27,940. The average cost during the same year for a four-year private college was $57,570.
Need a way to help pay for that? Getting a decent job during college just might help. You might be interested to know that there are some seriously high paying jobs for college students out there.
Interested in making $12, $15 or even $25 per hour as you work your way through college? Check out the jobs for college students below. See which ones might work for you as you look to earn some cash during college.
Work for Yourself During College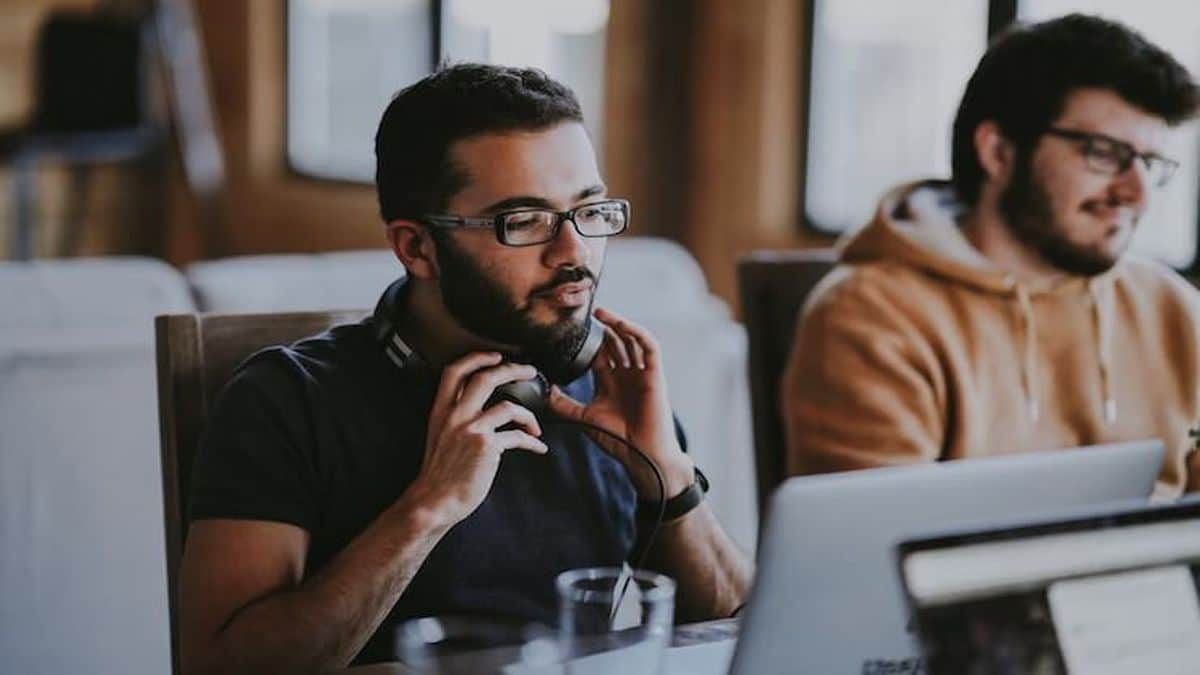 This first list of jobs focuses on jobs you can work on your own. For these jobs, you'll function in an independent contractor capacity. That means you'll be responsible for keeping track of your income and expenses.
You'll also be responsible for paying taxes. Therefore, it's important to set aside a portion of your income as an independent contractor to pay to Uncle Sam.
See if any of these self-employed job opportunities sound good to you.
1. Nanny/Babysitter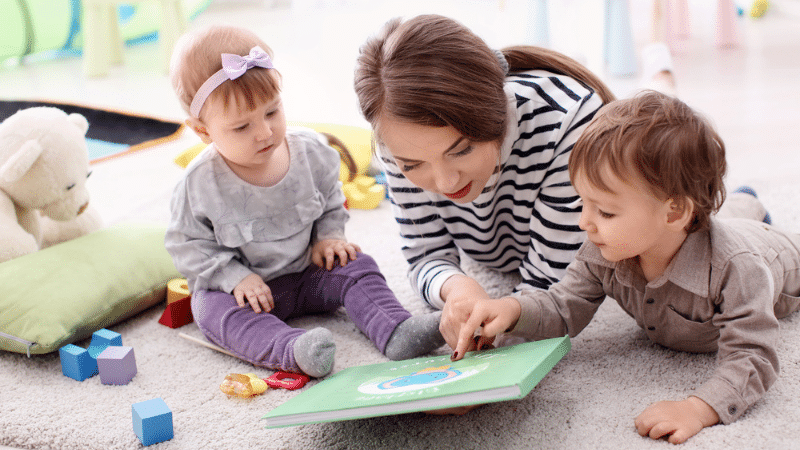 Babysitting and nannying jobs abound in many larger cities. According to PayScale, nannies make an average hourly wage of $16.27. And depending on where you live, you might earn much more than that as a nanny.
Not only are there families surrounding college campuses that may need nannies, some college students need them too.
If you are responsible, love caring for children and like interacting with them, this might be the job for you.
Find jobs by advertising your services to local neighborhoods or even on Craigslist.
You've probably heard of Uber. You may have even requested a ride through Uber. Driving on the Uber platform is a flexible way to earn money, if you're 21 or over.
One of the nice things about working as a rideshare driver during college is that, once you have been cleared to drive, you can make your own schedule. If you're available, you can take riders. If not, you don't have to.
Add exceptional customer service, and you could earn even more since riders have the option to tip drivers. How much you could earn will vary depending on your location and factors such as when and how much you drive.
College campuses are a popular venue for rideshare drivers. This is because many college students don't bring cars to school and need to get to places they might not want to walk to.
Places you might bring riders to as a rideshare driver include:
The grocery store
Entertainment venues such as bars, parties or concerts
A college campus
Their home
While many college campuses are highly walkable, it's not always feasible for students to walk to certain places. If you enjoy meeting new people and want to drive on your own time, consider being a rideshare driver.
3. Tutor
The median pay rate for tutors in the U.S. is $19.27 per hour according to PayScale. Tutoring is another job where you can set your own hours if you work independently.
Advertising on Craigslist and on school bulletin boards and websites will help you find clients. When considering a tutoring career, it's best to focus on the school subjects you're best at.
If you're a whiz at math, consider tutoring math. If English is your best subject, offer to tutor students on grammar and English rules.
Patience is another great asset for those wanting to work as a tutor, as is the ability to communicate well. Also, decide which age group you want to tutor. Would you prefer to tutor similar-aged college students?
Or would you prefer to tutor younger children? Also, you don't have to be an independent contractor if you want to work as a tutor.
While it's great (and generally higher paying) to work on your own as a tutor, you could work for a tutoring center as well. Local tutoring centers abound in most major metropolitan areas.
It's also possible to tutor online with a company like Course Hero.
4. Freelance Graphic Designer
As a graphic designer you can do a number of jobs – especially when you're working as a freelancer. The average wage according to PayScale is $30.14 per hour for a graphic designer.
Freelance graphic designers can do anything from designing websites to designing and selling t-shirts online. Or you could design logos for companies or businesses.
If you want to freelance, you could advertise your services on sites such as Upwork. You could also create designs for t-shirts, mugs, bags and other products and sell them on sites like Redbubble.
Another option could be to approach business website owners about increasing the quality of their site. A new design and easier functionality could really increase web traffic for some business owners.
If you didn't want to go the freelance route, you could always get a traditional job as a graphic designer too. While some companies want people with graphic design degrees, others will hire non-degreed designers.
5. Freelance Writer
If you have a talent for writing, you could make some serious money as a freelance writer. Freelance writers make an average of $24.51 per hour according to PayScale.
As a freelance writer you have a number of job options. You could write for blog owners, you could write business manuals or you could write short stories.
Sites like Upwork or Craigslist could provide you with potential job opportunities as a freelance writer. Or, you could find work by approaching managers or owners of your favorite blogs.
Another way to find work as a freelance writer would be to submit writing pieces to your favorite news or entertainment sites. Freelance writing is another one of those jobs where you can choose your work hours.
This is extra nice because you can schedule your jobs around your school schedule, study time, etc.
If you want to learn more about becoming a successful freelance writer, check out Earn More Writing. Holly, the course creator, earns over $200,000 per year as a freelance writer.
6. Virtual Assistant
A virtual assistant is someone who completes administrative, technical or creative tasks for others. Virtual assistants work remotely. The median wage for a virtual assistant is $17.32 per hour according to PayScale.
Some of the duties a virtual assistant might be assigned include:
Data entry tasks
Blog or website management duties
Management of other team freelancers
Updating or improving websites
The nice thing about a virtual assistant job is that it rarely gets boring. There are usually a fair variety of tasks you'll do in this type of job, meaning it will stay interesting.
Check online sites such as Upwork or Craigslist for virtual assistant job openings. Many times virtual assistant jobs are freelancing positions, but you may find one that's a W-9 position.
7. Photographer
Do you have a gift for taking great photos and some decent camera equipment? If so, you may want to advertise your services as a photographer.
As a photographer and a college student, taking college graduation photos in and of itself could keep you plenty busy. The average pay for a photographer is $18.56 per hour, but as a freelancer you can set your own rates.
And if you use the great outdoors as a venue, you could avoid many of the overhead costs photographers have. With no studio rental costs and no need for an office, it's almost all profit.
8. Resume' Writer
What's one of the very first things your fellow college students will need – even before they graduate? A resume'! If you have a knack for writing resumes' this could be the perfect college job for you.
Talented resume' writers have liberty to set their own fees for writing resumes' for others. I've seen people charge $250 for writing a resume', and I've seen people charge $5,000 to write one.
The main qualification you need to have to be good at writing resumes' is to know how to make people shine on paper. If you're a great writer, that's a terrific start.
You also need to be able to draw out the talents and skills of your clients. Interview them and find those hidden specialized skills, them make them look great on paper.
Find clients by talking with fellow college students and advertising on campus.
9. Pet Care Specialist
If you like dogs, cats and other animals, why not consider working as a pet care specialist?
It's not uncommon to make $15 an hour or more as a pet sitter. Groomers earn an even higher hourly wage.
Some of the types of services you could offer as a self-employed pet care specialist include:
Dog walking
Pet sitting
Yard clean up for dog owners
Dog grooming
You could advertise your services on a site such as Rover when you create a profile listing your experience. You can set your own rates on Rover too.
Or you could advertise locally on bulletin boards at veterinary offices or pet stores. Advertise on sites like Craigslist as well.
Jobs for College Students Working for Others
You might not want to own your own business while simultaneously attending college, and that's okay. Business ownership does entail a lot of paperwork and sales responsibilities.
Conversely, working for others means you complete your shift and go home, free of the company's responsibilities. No keeping track of income and expenses. Leaving serious problems at the feet of the manager.
Check out these jobs where you can work for others but still make serious cash as a college student.
10. Barista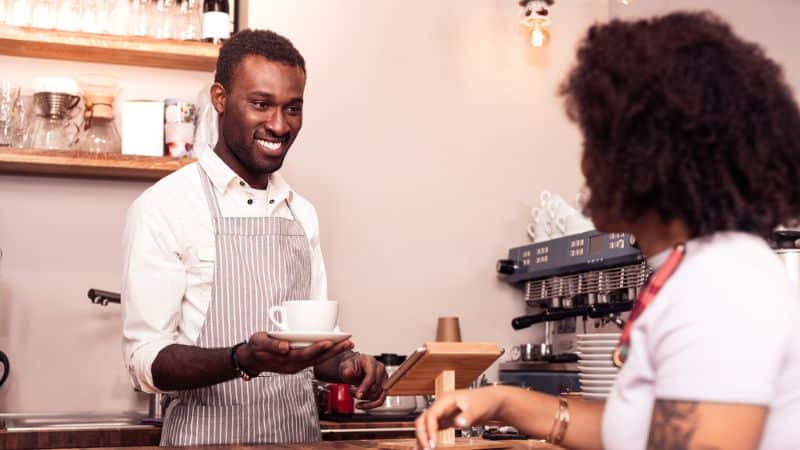 Baristas serve coffee and other drinks at stores such as Starbucks. Payscale states that the average hourly rate for baristas is $11.53.
However, most baristas earn tips as well, which can bring your average hourly wage up higher.
If you're good with people and think you would like making coffee and other drink creations, consider becoming a barista while in college.
Bonus: There are a wide variety of hours available at most coffee shops, which would help you balance your work/life schedule.
11. Companion Care Provider
A companion care provider is someone who spends time with someone. It could be an elderly person or someone who lives alone and simply wants company.
There are dozens of companies that hire companion care providers for a variety of work shifts.
If you like being with people and are a good conversationalist, this might be the job for you.
Payscale states that the average hourly rate for a companion care provider is $13.00 per hour.
This will vary based on where you work. Many companion jobs pay $15 per hour or more.
12. Library Assistant
A library assistant helps out at a local library. In this job, you might help people find books, help check books out or put returned books back on the shelves.
There are a variety of other tasks needed to be done in order to help keep libraries running smoothly as well.
Payscale states that the average library assistant earns $14.37 per hour. Search for jobs at the college you attend or at other local libraries near you.
This could be the perfect job for you if you love reading and books or if you prefer a quiet working atmosphere.
13. Transcriber
As a transcriber, you'll transcribe audio conversations onto written documents. Payscale states that the average hourly wage for a transcriber is $17.97.
Of course, your hourly wage depends on many factors, such as your experience level, your skill level and how fast you can type.
There are many great transcription jobs that will hire beginner transcriptionists.
And even though you may not earn a high hourly wage when you start, you can work your way up quickly as you learn to excel at your job.
Bonus: This job can be done from your home or dorm room any time of the day or night.
14. Hotel Desk Clerk
Hotel desk clerks are responsible for checking people in and out of hotel rooms. They also help ensure hotel guests have what they need.
Although Payscale lists the average hotel desk clerk salary as $11.11 per hour, a quick job search will show you that you can earn $15 per hour or more at many hotels.
This type of job requires you to have great customer service skills and be somewhat organized.
Most college towns have several hotels you can find jobs at, and there are a variety of hourly shifts available as well.
15. Fitness Instructor
Do you love fitness? As a fitness instructor you can do a variety of jobs, such as:
Yoga instructor
Personal trainer
Cardio-fitness classes
Outdoor classes such as hiking, running and biking
And more. The average fitness instructor makes $20.77 per hour according to PayScale. Not bad cash if you love fitness and like teaching others.
Check with local gyms for job opportunities. Or, you could also start your own business and be an independent fitness instructor. Start a hiking or running club. Conduct personal trainer lessons for people at their homes.
Many options here for college students. Also, the shifts aren't very long, giving you more flexibility as you work to balance work and school.
16. Bookkeeper
One of the jobs I had in while in college was working as a bookkeeper for a local electronics store. According to PayScale, the average pay for a bookkeeper is $18.85 per hour.
I liked bookkeeping as a job for two reasons:
I like working with numbers and budgets
It was a backroom job perfect for introverts
Although I'm not an introvert, my busy college life kept me around people a LOT. Working as a bookkeeper during college allowed me to have some serious down time. And I got to make money while doing it.
Some bookkeeping jobs might want you to have prior experience before applying. Others might be okay training you in. The bookkeeping job I had was fine with training me in, and I was working independently within two weeks.
If you love working with numbers and can work your way around accounting programs, you might love being a bookkeeper.
Related Post: Ways to Work From Home as a Bookkeeper
17. Bank Teller
Working as a bank teller could be another great job while you're in college. Many banks will hire for part-time shifts, meaning you can work around your school schedule.
PayScale reports that the average pay for a bank teller is $14.64 per hour. Personally, I worked in the banking industry in some capacity for nearly 15 years. I credit the industry for giving me a love for personal finance.
If you like finance and money, you might like being a bank teller.
18. Landscaper
I'm the first to admit landscaping is tough work. I know people who have worked in the field. It's not easy, but hey, it's exercise, and the pay is nice. Payscale.com says the median wage for a landscaper is $15.08 per hour.
However, I know that in larger cities they're paid even more. The landscapers I know get between $15 and $20 an hour. Not bad cash for a college student.
If you work for a landscaping company, you may work on a variety of job projects. You might mow the lawn of a homeowner or business owner one day. The next day you might be helping to install a retaining wall.
Or, you might work on installing trees and plants for a new home builder. You'll likely never get bored working in landscaping, but you'll definitely earn your keep.
19. Warehouse Worker
If you don't mind moving boxes around, you may want to pursue a job as a warehouse worker. The average pay for a warehouse worker is $15.42 per hour according to PayScale.
One cool thing about working as a warehouse worker is that there are often evening and overnight shifts available. This means you could schedule work shifts outside of when your classes are.
In many companies, warehouse workers are responsible for loading boxes onto or off of delivery trucks. The atmosphere is usually casual despite the importance of handling the boxes carefully.
You're usually not dealing with customers; only your fellow backroom employees. If you like the idea of a casual but active work environment, this might be the job for you.
20. Administrative Assistant
And administrative assistant can be asked to perform a variety of tasks depending on the company they work for. As an admin assistant you may be asked to complete data entry tasks or technical tasks.
You might be asked to run errands or organize office files. Payscale.com says the average wage for an administrative assistant is $17.14 per hour.
21. Dental Receptionist
A dental receptionist makes an average wage of $16.86 per hour according to PayScale.com. Dental receptionists perform the traditional receptionist responsibilities such as scheduling appointments, etc.
However, the also need to deal with insurance claims and other tasks. If you are detail oriented, can multi-task and like helping people, this could be a good job for you.
22. Bartender
PayScale says the average pay for a bartender is $9.09 per hour. However, that number doesn't include tips. Much of the true income a bartender makes comes from tips, and the better you are at your job, the higher the tips.
You don't have to attend bartending school to become a bartender, but it may be helpful or required. Bartending schools generally run 40-hour courses, although some have shorter courses.
Check with local restaurants and bars near you to see what the qualifications are for bartending positions. With tips you can make a pretty decent living – and you'll be working outside of traditional class hours.
23. House/Office Cleaner
If you like cleaning houses or office buildings, this might be a good job for you as a college student. The average cleaner makes roughly $14.39 per hour according to PayScale.
While house cleaners generally work during the day, office building cleaners tend to work at night. This is when the offices are empty and free of workers. Check on local job websites to find cleaning jobs near you.
24. House Painter
When I was in high school I painted interiors of houses. My mom and I worked for a couple of guys that owned rental properties.
Whenever they needed the interior of a property painted, they'd call us out and we'd spend several hours painting. The median pay rate for a house painter is $19.24 per hour according to PayScale.
To find house painting jobs near you, check local papers or online job sites such as Craigslist or Indeed.com.
25. Tax Preparer
The average pay for a tax preparer according to PayScale is $14.97 per hour. Depending on what company you work for, this is a job that could be done nights and weekends.
Tax preparers generally gain most of their working hours during the first half of the year. And many large tax prep companies will pay you for your training. They'll also often allow you to set your own schedule.
Once you learn how to prepare taxes, this is a job you could have for life. You simply need to commit to keeping up on continuing education.
Also, after you become experienced as a tax preparer you could start doing the job on your own. Simply charge a fair rate to family and friends who need their taxes done.
Summary
There are many high paying jobs for college students available.
You just need to do your research and find the right one for you.