Refinancing credit card debt is one of the best steps you can take to get out of debt. Chances are, your credit cards have a high interest rate.
In addition to getting a lower interest rate, more of your monthly payment goes to the principal so you can get out of debt sooner.
Here are some of the best debt consolidation companies to qualify for excellent rates and terms.
Top Companies To Consolidate Credit Card Debt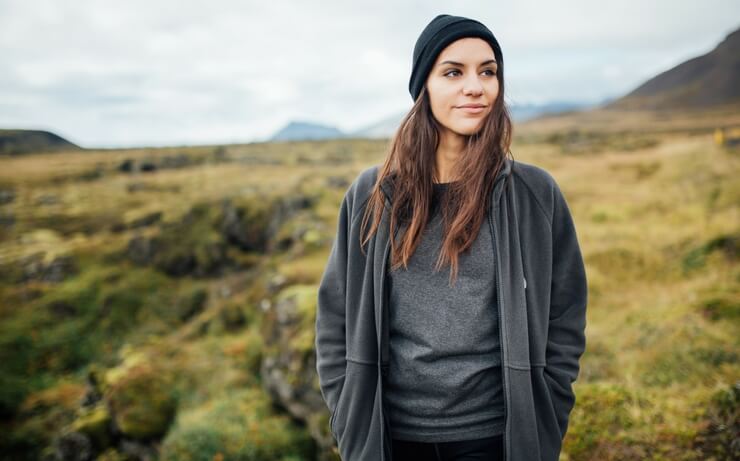 Each platform provides free rate quotes for your loan options. Consider comparing rates from several lenders to make sure you get the best repayment option.
We rank each lender with the highest Trustpilot score first. However, each lender has different lending options and may not be available in your state.
1. LendingPoint
If you have "Near Prime Credit" with a 600s credit score, online lending platforms can be a more affordable option than a regular bank. LendingPoint offers credit card refinancing loans between $2,000 and $36,500.
You may also be able to get a lower interest rate as the shortest repayment period is 24 months. The shortest repayment term is 36 months for most lenders.
If you need more time, the longest repayment period is 60 months.
Since LendingPoint is a direct lender, they offer next-day loan disbursement after approving your loan. As a result, you can receive your loan funds sooner than a peer lending platform.
2. Upstart
Founded by ex-Google employees, Upstart is a pioneer in the lending industry. Young professionals with minimal credit history should consider Upstart.
Instead of only using your credit report, Upstart considers these factors too:
Work history
Field of study
Future potential salary
Being in a lucrative career field means that you might get a lower rate than what other lenders offer. This detailed underwriting process makes this lender unique.
Besides credit card debt, you can also refinance student loans. Or consolidate other personal debts.
Your loan balance can be between $1,000 – $50,000. Three-year and five-year loan terms are your two repayment terms.
It takes two minutes to see if you qualify. If approved, Upstart will send you funds as fast as the next business day.
3. FreedomPlus
If your balance is at least $7,500, FreedomPlus offers competitive rates. Well-qualified borrowers can qualify for loan balances up to $50,000.
The repayment period is from 24-60 months.
FreedomPlus approves most loans within three hours. In most cases, you can receive your funds within 72 hours.
For extra flexibility, FreedomPlus let you choose your payment due date.
You might also qualify with a credit score as low as 620. This minimum credit score is more lenient than many lenders.
4. LendingClub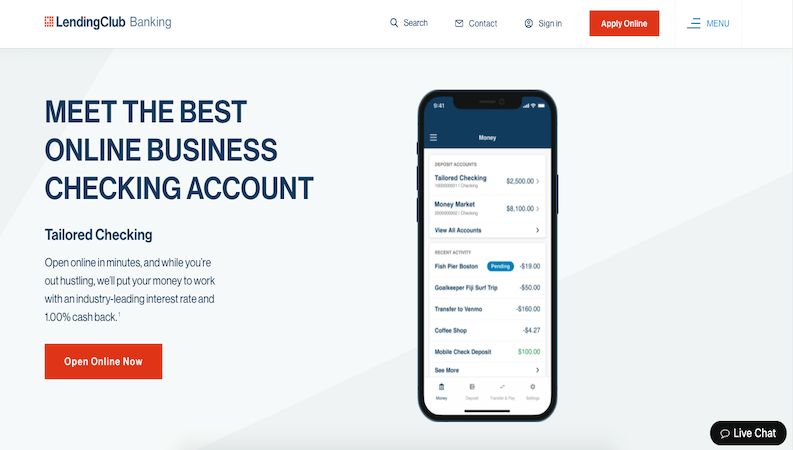 LendingClub lets you consolidate up to $40,000 with a three-year or five-year repayment period. However, you may need a credit score in the 700s to qualify for the highest lending amounts.
You can apply as an individual borrower or with a co-borrower. It's possible to qualify with a minimum 600 credit score.
There is a loan origination fee between 3% and 6% of the loan amount. This fee is common for most lenders but it's the only fee this platform charges.
You can receive your funds within 48 hours of accepting the loan terms.
5. OneMain Financial
You might prefer using a local bank to refinance credit card debt. OneMain Financial lets you complete the entire refinance process online.
If you desire, you can get an online quote but meet a local branch agent to finish the application process.
The loan amounts are between $1,500 and $20,000 with several repayment options.
One advantage of using OneMain Financial is that you can receive your funds the same day when your application is approved by noon Eastern. Some deposits may take up to two business days.
6. Credible
Credible is one of the easiest ways to consolidate your credit card debt quickly. They are a loan comparison site that provides at least three lender quotes from highly-rated platforms.
You won't pay any extra fees by using this service and your interest rate is the same as if you apply directly through the lender website.
You can request to borrow up to $100,000 through Credible's lending network. Loans are available as small as $600.
Remember, the sooner you refinance, the more money you save. Rate shopping takes time, but Credible speeds up the comparison process.
For example, Credible lets you refinance your credit card debt potentially at a much lower interest rate with autopay. If you currently pay 15% or 20% interest with your credit card, imagine the savings.
7. Best Egg
With Best Egg, you can refinance $2,000 to $50,000 of credit card debt. Repayment terms are between 36 months and 60 months.
An origination fee between 0.99% and 5.99% applies to all loans.
It's possible to have two different loans from Best Egg at one time. However, you total loan balance cannot exceed $50,000.
8. PersonalLoans.com
Another loan comparison site is PersonalLoans.com. You can get quotes from multiple lenders for loan balances between $1,000 and $35,000.
Depending on how much you refinance, you have between 3 months and 72 months (6 years) to repay the loan in full.
The PersonalLoans lender network consists of peer lenders and traditional banks. It's possible to get approved for financing with a 600 credit score. Also, you need to earn at least $2,000 in monthly income to be considered by lenders.
9. Upgrade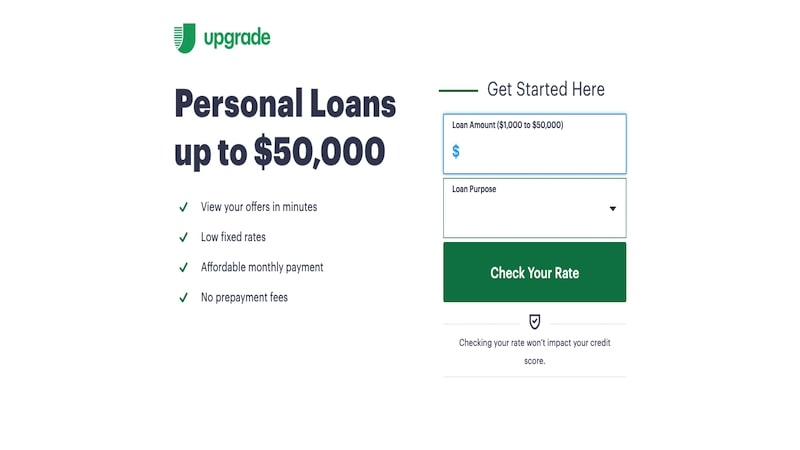 Upgrade offers debt consolidation personal loans of up to $50,000 with a repayment term between 24 months and 84 months.
The minimum borrowing amount is $1,000. While the interest rates are competitive, the origination fee can be relatively high between 2.9% and 8%.
One advantage of using Upgrade is that the lender may send your loan funds directly your credit card provider. You can also receive your funds within one business day.
10. Tally
Tally is a mobile app available for iOS and Android devices. The app analyzes your credit card balances to recommend a repayment plan that can minimize your interest charges.
Instead of getting a traditional personal loan, you may qualify for a line of credit. If so, you monthly fee is $25 plus the line of credit APR.
This fee structure can be lower than what personal loan companies charge for the life of a loan.
In this situation, Tally makes a payment plan for you. Then they send payments to your credit card companies.
But when refinancing is cheaper, you can apply for a regular loan from one of the other lenders on this list.
You may still decide to use the basic Tally service that tracks your credit card payments and makes a personalized repayment plan. The monthly fee is $4.99.
FAQ's
Refinancing credit card debt isn't hard. But the process might be confusing at first because you have several options. This section helps you figure out the best way to refinance credit card debt.
How Do You Refinance Credit Cards?
Compare different loan offers from multiple companies and then apply for the best one. When you submit your application, the lender conducts a hard credit pull to see your entire credit report. This is necessary to either approve or decline your loan request.

After the lender approves your loan request, they deposit the money into your bank account. So it's up to you to send the money to your credit card company.
How Much Can You Save Refinancing Credit Card Debt?
Is it worth the hassle to refinance your debt? The answer depends on how much money you can save.

Here are two quick scenarios to show how much money you can save. Let's assume you have $15,000 in credit card debt. And it has a 15% interest rate.

Option 1: Make the minimum monthly payment
To be clear, with this option you don't consolidate your debt. Also, this example assumes you don't add to the balance amount. And remember to make all payments on time. Late payments mean late fees.

Your estimated minimum monthly payment will be $337 for the next 376 months. That's 31 years of payments! And you pay $18,229 in total interest. Remember, your original $15,000 balance becomes $36,458. In other words, twice your original balance amount.

Option 2: Consolidate Your Debt for 5.99% Interest
This option is a two-year loan and 5.99% interest. You make higher payments each month, but only pay about $1,000 in interest. That's a savings of $17,000 when you consolidate debt! Even if you need to get a five-year loan, you can still save money.
To see these savings, you need a two-year loan with a $655 monthly payment. It might seem hard at first, but pinching pennies for two years is worth the reward.
When Should You Consolidate Credit Card Debt?
In most cases, you save money when you refinance debt. But there are exceptions to every rule. Only refinance when you will pay less in interest and fees than keeping the balance on your credit card.
Summary
In brief, the sooner you choose to consolidate your credit card debt, the more cash you save.
Lowering your interest rate will save you a lot of money and can reduce your monthly payment. When possible, make extra payments to become debt-free sooner and improve your credit.
Disclaimers
For example, a three-year $10,000 personal loan would have an interest rate of 11.74% and a 5.00% origination fee for an annual percentage rate (APR) of 15.34% APR. You would receive $9,500 and make 36 scheduled monthly payments of $330.9. A five-year $10,000 personal loan would have an interest rate of 11.99% and a 5.00% origination fee with a 14.27% APR. You would receive $9,500 and make 60 scheduled monthly payments of $222.39. Origination fees vary between 2.41%-5%. Personal loan APRs through Prosper range from 7.95% to 35.99%, with the lowest rates for the most creditworthy borrowers.
Eligibility for personal loans up to $40,000 depends on the information provided by the applicant in the application form. Eligibility for personal loans is not guaranteed, and requires that a sufficient number of investors commit funds to your account and that you meet credit and other conditions. Refer to Borrower Registration Agreement for details and all terms and conditions. All personal loans made by WebBank, Member FDIC.
Personal loans made through Upgrade feature APRs of 6.98%-35.89%. All personal loans have a 1.5% to 6% origination fee, which is deducted from the loan proceeds. Lowest rates require Autopay and paying off a portion of existing debt directly. For example, if you receive a $10,000 loan with a 36-month term and a 17.98% APR (which includes a 14.32% yearly interest rate and a 5% one-time origination fee), you would receive $9,500 in your account and would have a required monthly payment of $343.33. Over the life of the loan, your payments would total $12,359.97. The APR on your loan may be higher or lower and your loan offers may not have multiple term lengths available. Actual rate depends on credit score, credit usage history, loan term, and other factors. Late payments or subsequent charges and fees may increase the cost of your fixed rate loan. There is no fee or penalty for repaying a loan early. Personal loans issued by Upgrade's lending partners. Information on Upgrade's lending partners can be found at https://www.upgrade.com/lending-partners/.
Accept your loan offer and your funds will be sent to your bank via ACH within one (1) business day of clearing necessary verifications. Availability of the funds is dependent on how quickly your bank processes this transaction. From the time of approval, funds should be available within four (4) business days. All loans made by WebBank, member FDIC.
All loans available through FreedomPlus.com are made by Cross River Bank, a New Jersey State Chartered Commercial Bank, Member FDIC, Equal Housing Lender. All loan and rate terms are subject to eligibility restrictions, application review, credit score, loan amount, loan term, lender approval, and credit usage and history. Eligibility for a loan is not guaranteed. Loans are not available to residents of all states – please call a FreedomPlus representative for further details. The following limitations, in addition to others, shall apply: FreedomPlus does not arrange loans in: (i) Arizona under $10,500; (ii) Massachusetts under $6,500, (iii) Ohio under $5,500, and (iv) Georgia under $3,500. Repayment periods range from 24 to 60 months. The range of APRs on loans made available through FreedomPlus is 4.99% to a maximum of 29.99%. APR. The APR calculation includes all applicable fees, including the loan origination fee. For Example, a four year $20,000 loan with an interest rate of 15.49% and corresponding APR of 18.34% would have an estimated monthly payment of $561.60 and a total cost payable of $7,948.13. To qualify for a 4.99% APR loan, a borrower will need excellent credit on a loan for an amount less than $14,000.00, and with a term equal to 24 months. Adding a co-borrower with sufficient income; using at least eighty-five percent (85%) of the loan proceeds to directly pay off qualifying existing debt; or showing proof of sufficient retirement savings, could help you qualify.
All loans made by WebBank, Member FDIC. Your actual rate depends upon credit score, loan amount, loan term, and credit usage and history. The APR ranges from 6.95% to 35.89%. For example, you could receive a loan of $6,000 with an interest rate of 7.99% and a 5.00% origination fee of $300 for an APR of 11.51%. In this example, you will receive $5,700 and will make 36 monthly payments of $187.99. The total amount repayable will be $6,767.64. Your APR will be determined based on your credit at time of application. The origination fee ranges from 1% to 6%; the average origination fee is 5.2% (as of 12/5/18 YTD).*There is no down payment and there is never a prepayment penalty. Closing of your loan is contingent upon your agreement of all the required agreements and disclosures on the www.lendingclub.com website. All loans via LendingClub have a minimum repayment term of 36 months or longer.
Fixed rates from 5.99% APR to 21.16% (with AutoPay). SoFi rate ranges are current as of January 30, 2020 and are subject to change without notice. See APR examples and terms. Not all applicants qualify for the lowest rate. If approved for a loan, to qualify for the lowest rate, you must have excellent credit and meet other conditions. Your actual rate will be within the range of rates listed above and will depend on a variety of factors, including credit score, credit usage and history, years of experience, our ability to verify your income and employment and other factors. The SoFi 0.25% AutoPay interest rate reduction applies if you make monthly principal and interest payments by an automatic monthly deduction from a savings or checking account. The benefit will discontinue and be lost for periods in which you do not pay by automatic deduction from a savings or checking account. AutoPay is not required to obtain a loan.
If you lose your job through no fault of your own, you may apply for Unemployment Protection. SoFi will suspend your monthly SoFi loan payments and provide job placement assistance during your forbearance period. Interest will continue to accrue and will be added to your principal balance at the end of each forbearance period, to the extent permitted by applicable law. Benefits are offered in three month increments, and capped at 12 months, in aggregate, over the life of the loan. To be eligible for this assistance you must provide proof that you have applied for and are eligible for unemployment compensation, and you must actively work with our Career Advisory Group to look for new employment. If the loan is co-signed the unemployment protection applies where both the borrower and cosigner lose their job and meet conditions.
NMLS# DISCLOSURE
"Credible Operations, Inc. NMLS# 1681276, "Credible." Not available in all states. www.nmlsconsumeraccess.org."