Did you know that there are companies that pay you to advertise on your car? Yes, this means you can earn money while driving your car like you normally do every day.
Making $100 or more each month by putting advertisements on your car can help with your car payments or insurance costs.
How to Get Paid to Advertise on Your Car
The companies mentioned here are legit companies that pay you to advertise on your car.
1. Wrapify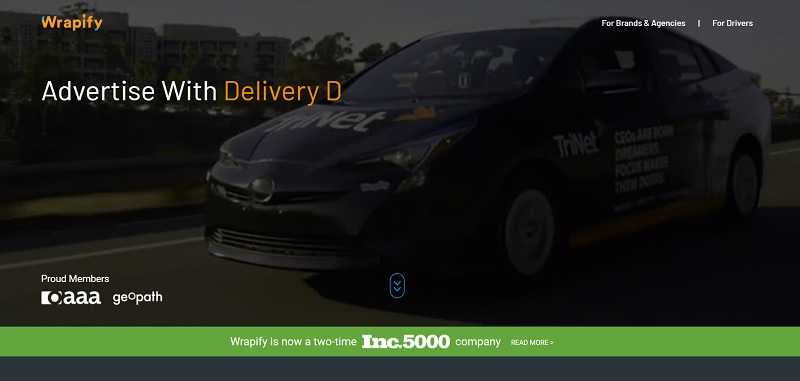 Wrapify launched in 2015 and was named one of Inc. Magazine's top 500 fastest-growing private companies in 2019.
They recently reported that they have a driver base of over 250,000.
Wrapify helps companies advertise in specific areas. Drivers may qualify for a wrap if they spend 25% or more of their commute time in a company's target promotion area.
Signing up with Wrapify is easy. Download the free Wrapify app and follow the instructions to see if you meet their requirements.
Once you qualify, you'll start getting notifications about ad partnerships available to you.
To take advantage of a campaign, snap some photos of your vehicle. After that, follow the instructions regarding when and where to get your vehicle wrapped.
Payments are sent via direct deposit every other week.
How to Qualify
The parameters to drive for Wrapify include:
Passing a basic background check
Driving a 2010 or newer vehicle without significant damage
Being 21 years of age or older
No major driving violations in the last five years
Maximum of two accidents in the last three years
Maximum of two moving violations in the last three years
No cell phone/distracted driving violations in the last three years
Have less than one moving violation and one accident combined
There are other terms and conditions for qualifying that pertain specifically to your vehicle. See the Wrapify website for more information.
How Much Can I Earn?
According to Wrapify, the amount of money you can earn depends on how much of your car is wrapped. The company offers four different wrap levels.
Here's a breakdown of each level along with an average earnings amount:
Full: $264 to $452 per month
Partial: $196 to $280 per month
Lite: $181 to $280 per month
Topper: $174 to $280 per month
Note that your payouts may differ from the averages listed above. Visit the Wrapify website to learn more about how much of your vehicle each level of wrapping covers.
An important detail to keep in mind with Wrapify is that if you choose to end a campaign early, you could get charged "early termination fees."
This is something to consider before you sign up to participate in a campaign.
2. Carvertise
Carvertise is another popular car advertising company. It was founded in 2012 by two college students. Like Wrapify, they will pay for the application and removal of any wrap placed on your car.
Start by filling out your name, email, and phone number on the Cavertise website. The site will then ask you questions about where you normally drive, how many hours a week you drive and more.
If you qualify, Cavertise will match you with advertisers who like your driving habits and schedule. They'll wrap your car to begin the job and remove the wrap when the campaign ends.
You'll get paid each month via direct deposit.
How to Qualify
Carvertise's qualifications for drivers are as follows:
Your car must be 2008 or newer
It has to have a factory finish paint job
You have to drive at least 30 miles per day
Your driving record has to be clean
The Carvertise website doesn't specify what a "clean" driving record is. For more information, contact the company directly.
How Much Can I Earn?
Carvertise claims drivers can earn between $300 and $1200 per campaign, not per month.
Review the details for the campaign to find out the duration and how much you'll get paid to ensure the payout is worth the time commitment.
Learn More: Is Carvertise Legit? Can You Really Make Money Wrapping Your Car?
3. StickerRide
StickerRide started in Europe in 2013. Since their launch, they've expanded to include drivers and advertisers in the United States.
While StickerRide works a lot like other car advertising companies, it does have some unique differences.
To work with StickerRide, register your car by downloading their app on your Android and iOS devices. StickerRide promises data confidentiality with their apps.
After you've downloaded the app, you can start searching for campaigns. When you choose a campaign, a StickerRide rep will contact you to schedule installation.
You can start driving and earning money after the sticker is installed on your car. As with other companies, earnings are based on several factors.
These include, but are not limited to, how much and where you drive.
Drivers with StickerRide might have opportunities to participate in flash mob drives or quests. By taking advantage of these bonus tasks, they can earn extra money.
How to Qualify
StickerRide doesn't have its own set of vehicle or driver criteria. Instead, each campaign has qualifications drivers must meet.
One downside of this is that you won't know if you qualify for a campaign until after you've applied.
I would expect the rules to be similar to what other companies look for in terms of driving and safety records. As it relates to the age and type of your car, requirements will vary for each campaign.
It's safe to assume that having a car with minimal damage is preferred since stickers and wraps don't adhere as well to cars with damage.
How Much Will I Earn?
StickerRide does things a bit differently than other companies when it comes to earnings.
First, you must make sure to turn the app on every time you drive with a sticker on your car. You won't earn anything unless your app is on.
Second, StickerRide pays on a point system. Your earnings for each campaign will equal the number of miles you drive multiplied by your tariff.
The tariff amount you receive depends on the following variables:
The type and number of stickers you have displayed
Your driving location
Time zones
The type of car you drive
How much you earn depends on the rules of the campaign and the tariff. Fortunately, the app will let you see an estimate of how much money you will earn from a campaign before you sign up.
4. FreeCarMedia
FreeCarMedia will pay you to advertise on your car. They mostly do back window decals that you install yourself. The decals come with installation directions to ensure you apply them correctly.
Signing up with FreeCarMedia is relatively easy. You start by filling out the application on the company's website. This includes sharing your driving habits and personal information.
FreeCarMedia will contact you via email when you qualify for an ad campaign. Depending on the campaign, ads can stay on your car from a few months up to two years.
Drivers receive monthly payments.
How to Qualify
The FreeCarMedia website doesn't share many details about who qualifies. The site does reveal that you have to have insurance on your car.
It would be wise to anticipate that you'll have to pass a background check and have a decent driving record.
You should also assume that you need to have a car with minimal damage.
How Much Can I Earn?
FreeCarMedia says you'll get paid $50 to $400 per month.
Your exact earnings depend on the individual advertising campaign. As usual, the back window decals pay less than the full-wrap campaigns.
5. Nickelytics
Nickelytics is a Tampa-based car advertising company that lets you choose between window wraps, light wraps, and full-body wraps.
How it Works
Start by downloading the app on your Android and iOS devices. You'll then share information about yourself and your driving habits so you can get matched with campaigns.
The Nickelytics app tracks your driving routes and habits to match you with companies that best fit your tendencies.
Similar to some of the other apps, you must have the app running every time you drive.
How to Qualify
Drivers must have a valid driver's license and own, rent or lease a vehicle that is 2010 or newer. The company prefers working with people who drive at least 900 miles per month in a metropolitan area.
Additionally, Nickelytics really likes it if you're a driver for a company like Uber, Lyft, DoorDash and Postmates.
How Much Can I Earn?
Earnings vary based on the campaign, but Nickelytics says their drivers earn an average of $250 per month. However, it is possible to earn up to $500 per month.
Summary
If you spend a lot of time behind the wheel, you might as well earn extra money while driving. Advertising on your car can be a great way to help cover some or all of your monthly auto expenses.
Consider checking out these companies to determine which one fits your driving habits.